Movie Review: B.J Novak's 'Vengeance' is Surprising and Darkly Funny
A podcaster finds personal growth while trying to capitalize on the murder of a woman he was hooking up with in Vengeance.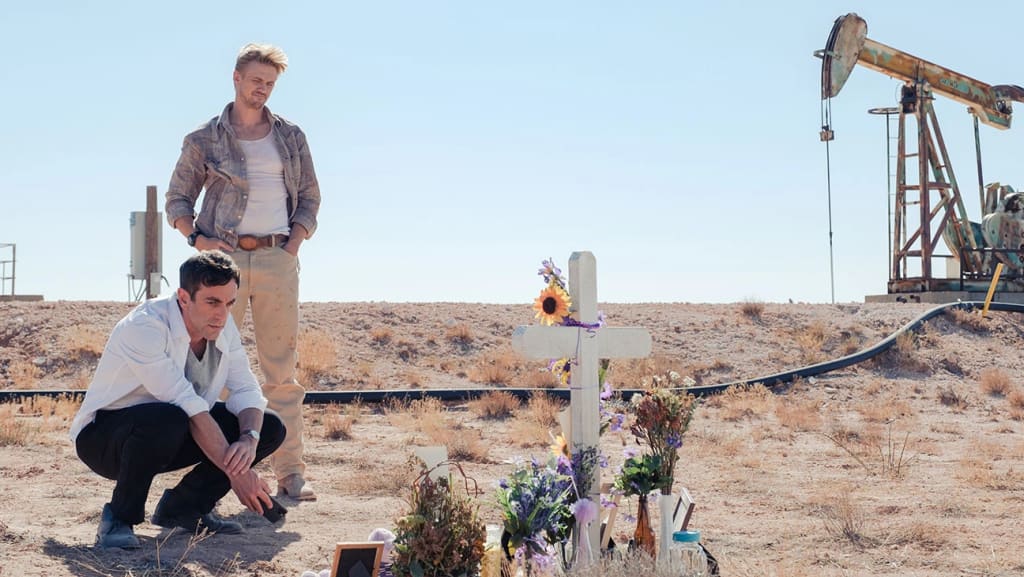 Vengeance stars B.J Novak as a feckless writer bouncing from one meaningless hook up to another while dreaming of being a podcast star. He claims that he wants to tell the story of America but his naked ambition is clear to everyone but him. Novak's Ben Manolowitz's life is turned upside down when he gets a call in the middle of the night telling him that his girlfriend has died.
This is a curious phone call because, as I mentioned, Ben's not a guy who goes for commitment. He doesn't have a 'girlfriend,' he has a series of meaningless sexual encounters that pass the time when he isn't working. The man on the phone, Ty Shaw (Boyd Holbrook), however, is convinced that Ben was his sister, Abilene's (Lio Tipton) boyfriend. Abilene has been found dead of an apparent overdose somewhere in West Texas.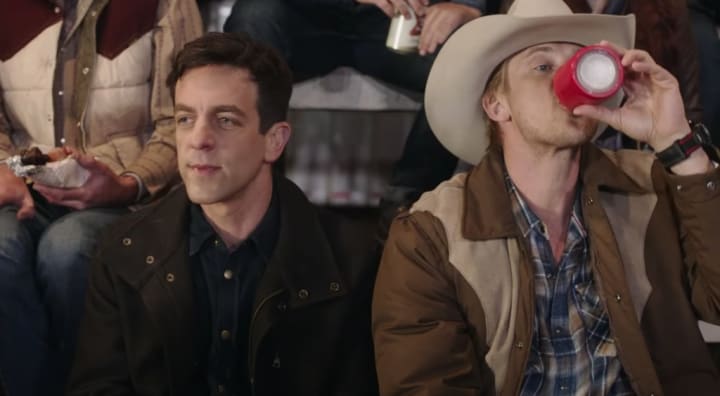 Ty intends to have Ben fly down to West Texas for his sister's funeral and, out of a sense of obligation and curiosity, Ben goes. While in West Texas, Ben finds that he may have a story that could make a terrific podcast. Pitching the idea to his would be producer, Eloise (the radiant Issa Rae), Ben pitches the idea that this part of Texas and the death of this woman he barely knew and the family she left behind, are a perfect microcosm of modern America.
It also helps that Ty and his family are a group of great characters. The family, including Ty, his mother (J. Smith Cameron), his grandmother (Louanne Stevens) and his two remaining sisters, played by Dove Cameron and Isabella Amara, are highly reminiscent of characters from famed podcasts like Serial or similar true crime podcasts. Earnest, naïve, sweet natured oddballs who are endlessly quotable and unaware of how entertaining they are. Along with the family there are interesting suspects including a local drug dealer with a strange connection to the dead woman and the dead woman's music producer, played by Ashton Kutcher.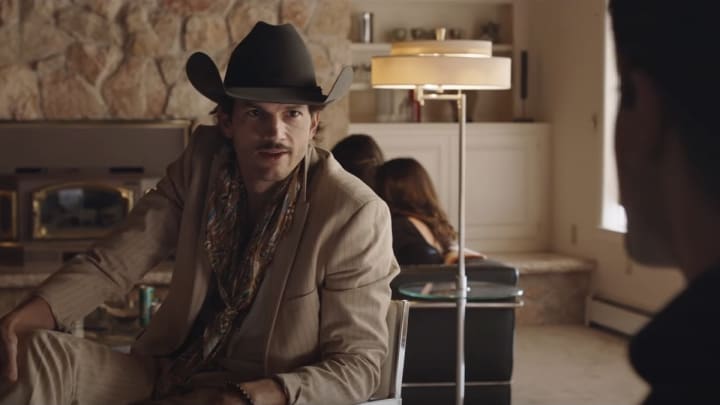 Kutcher proves to be a scene stealer in Vengeance. Novak has written a character for Kutcher to really sink his teeth into, a philosopher cowboy genius and music producer. Kutcher gets an interesting and very entertaining monologue near the end of each act in Vengeance and he never fails to knock it out of the park. His observations about Ben, the podcast, and the dead girl are filled with great insight with a hint of something more behind his words.
What B.J Novak does really well as writer-director-star of Vengeance is give himself the least interesting and fleshed out character. His Ben is the one with an arc, he's the one with something to learn about himself and the world around him and thus his fecklessness, the emptiness of his ambition, and his attempt to give his life meaning through the story of this woman and her family are part of cycle of growth that culminates in the most unexpected way.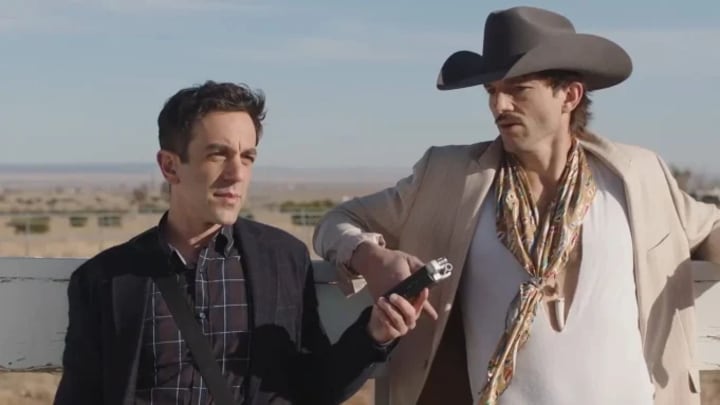 Vengeance exists in an uncanny valley in terms of genre. Is it a comedy? Kind of. Is it a thriller or mystery? Kind of. The movie has a lot of surprises in store and while it doesn't have big laughs there is a strong sense of humor throughout Vengeance that works to set up the ending which takes a number of unexpected twists and turns. For some audiences the lack of a distinct genre can be off-putting or confusing. Vengeance navigates the mix of genres extraordinarily well via Novak's well drawn characters.
Vengeance is a mystery, a comedy, even a bit of a thriller. More than anything however, this is a character piece. Vengeance is about an empty shell of a man finding himself for the first time, challenging his place in the world for the first time and going from being a blank slate to a fully formed adult. How he gets there is surprising and never boring. Vengeance is a terrific movie because B.J Novak crafts it so very well, deploying humor and surprises, modulating the tone between earnest mystery and a sneering humor that is repeatedly punctured by Novak's willingness to turn the joke back on himself.
Vengeance is one of my favorite movies of 2022. It opens in theaters nation wide on Friday, July 29th.
movie
About the author
Hello, my name is Sean Patrick He/Him, and I am a film critic and podcast host for Everyone's a Critic Movie Review Podcast. I am a voting member of the Broadcast Film Critics Association, the group behind the annual Critics Choice Awards.
Reader insights
Nice work
Very well written. Keep up the good work!
Top insight
On-point and relevant

Writing reflected the title & theme
Add your insights