Movie Review: 'Alone Together' is a Harmless Pandemic Romance
The pandemic romance, Alone Together succeeds in slight fashion thanks to stars Katie Holmes and Jim Sturgess.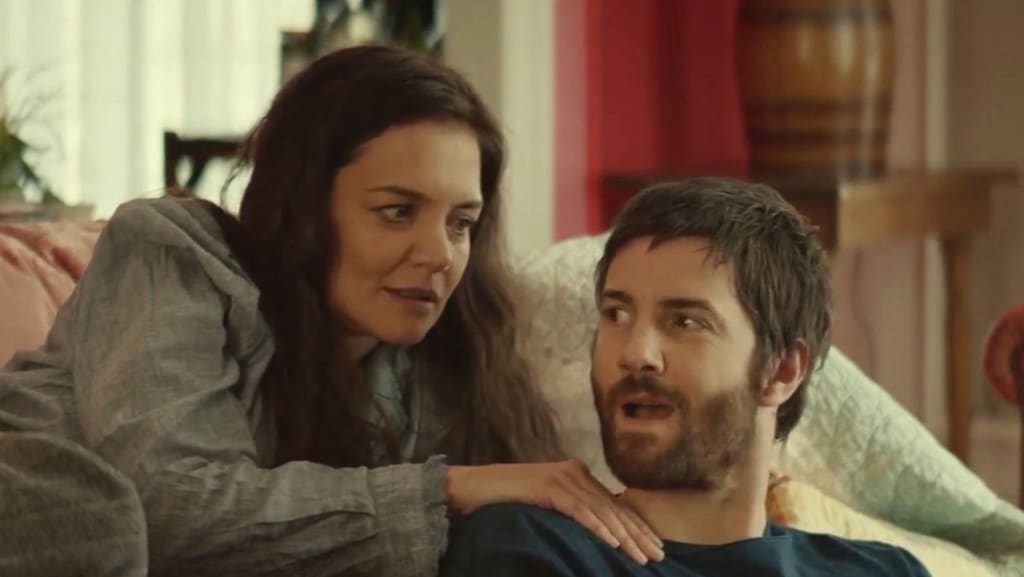 There have been a few pandemic movies but not in the sense of a thriller or expose of the incompetence that caused the pandemic. Rather, so far, filmmakers have preferred telling more human stories than going after the bigger stories that will require a more complex take. The latest small scale pandemic story comes from actor-director, Katie Holmes.
For her second time behind the camera as a director, Katie Holmes settled on a relatively small scale story. Alone Together finds Holmes starring alongside Jim Sturgess as strangers stranded at the same Air B'n B just as the pandemic was beginning to overtake New York City. Holmes certainly isn't taking it easy for her first directorial effort. Despite the small scale story, Holmes takes on the challenge of directing and starring in Alone Together, which is not as easy as Holmes makes it seem in this charming film.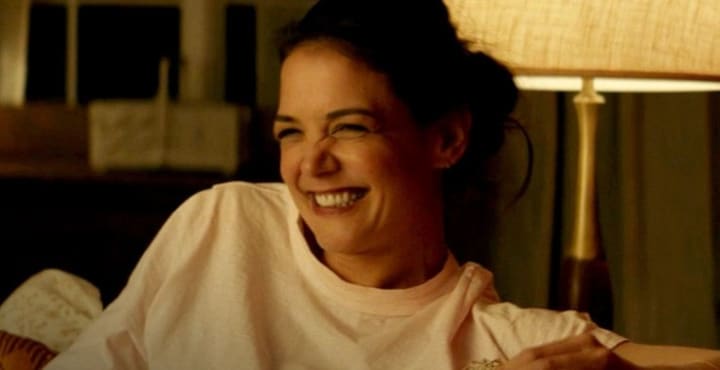 In Alone Together, Katie Holmes stars as June, a New York Times Food Critic who finds herself obsolete as the pandemic closes the city. Though she's promised that her job will be waiting for her, June is placed on leave with other reporters not on the pandemic beat. With time on her hands, June agrees to get out of the city with her fiance, John (Derek Luke). The two have rented a lovely Air B N B in the country, far away from the raging pandemic in the city.
Traveling separately, June is most of the way upstate when John tells her that he's not joining her. John's father has contracted COVID-19 and John is now going to stay with his mother and care for her while praying for his dad to recover. June is understanding, if a little miffed that John didn't say something before she'd already left for the countryside. He had plenty of time as a well crafted and unnerving series of scene takes us back to that uncertain moment of the pandemic, just as things were shutting down. June is trying to get a bus ticket, a train, or rent a car and she can't get any of those. She has to settle for paying an obscene price for an Uber to get to her destination.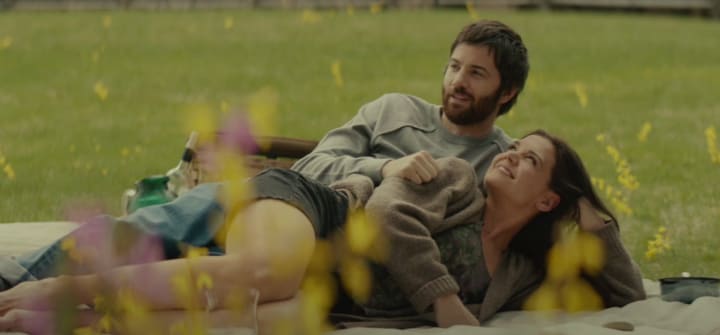 June's troubles increase when she reaches her destination and there isn't a key waiting for her. John is not answering his phone and since he has the contact for the owner of the B N B, June's kind of out of luck. So, imagine her surprise when a man opens the door and inquires as to why she's come to his air B'n B. Charlie (Jim Sturgess) is a fellow New Yorker who also felt it was a good time to get out of the city for a while. He claims to have just rented this home even as June claims to have rented the place two days prior.
Thankfully, Charlie invites June to stay while they sort things out. From there, with the pandemic getting worse, the two are pretty much stuck together. Shelter in place is the order of the day and June, not having a car, means that the two strangers will have to coexist for a little while. It's not hard to guess where this is headed. Two attractive people locked in a beautiful country home together with little to do but bond? Yeah, this is about to become a love story. So why don't I mind the predictability of it all?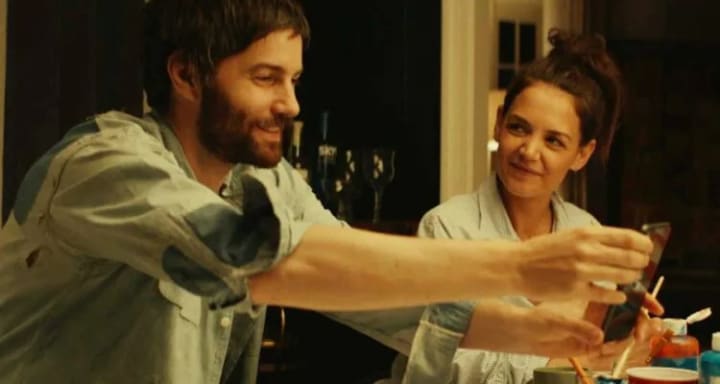 The key to the success of any overly familiar romance story is the chemistry of the two leads. Katie Holmes and Jim Sturgess have wonderful chemistry and since both characters are smart, sweet, and loving, on top of being gorgeous, it's not hard to root for them. Of course, there is the part about June being engaged, but the movie addresses that in an effective manner that both serves to absolve June a little bit, while still being a little unflattering, to say the least.
Katie Holmes' direction in Alone Together is fine, not particularly distinctive, but strong enough for a director on a second feature, especially one pulling double duty as director and star. Holmes appears to know that she's not reinventing the romance genre here and she wisely remains focused on making sure her scenes with Jim Sturgess highlight and flatter their chemistry. It helps that Holmes is working with a strong script that, though mostly locked in one location, does build a little suspense over the ending. Not much, but enough to keep you guessing.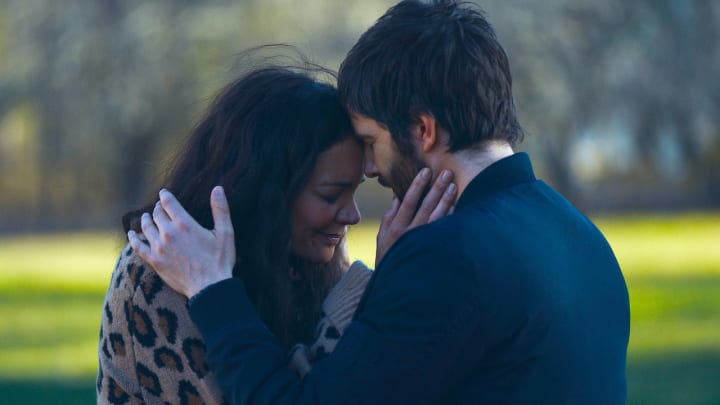 In the end, while some critics will drag Alone Together for its small scale and overly familiar characters, I didn't mind it so much. I liked Holmes and Jim Sturgess so much that I found myself enjoying even the film's two lengthy romance montages. I also didn't mind the use of the pandemic as a backdrop for the romance. There is no one way to do a movie set during the pandemic and Alone Together being a romance is not the least bit offensive, despite what other critics have said.
I didn't find the movie offensive in any way and since I really liked the main characters, I had a good time with the movie. I think you will as well if you don't mind familiar characters and being reminded of those first few weeks of the pandemic. If you do find yourself triggered by the anxiety of those memories the first uncertain weeks of the pandemic, I am being absolutely serious about this, then perhaps skip this movie. Alone Together captures some of that early pandemic anxiety and I can completely understand being upset by that.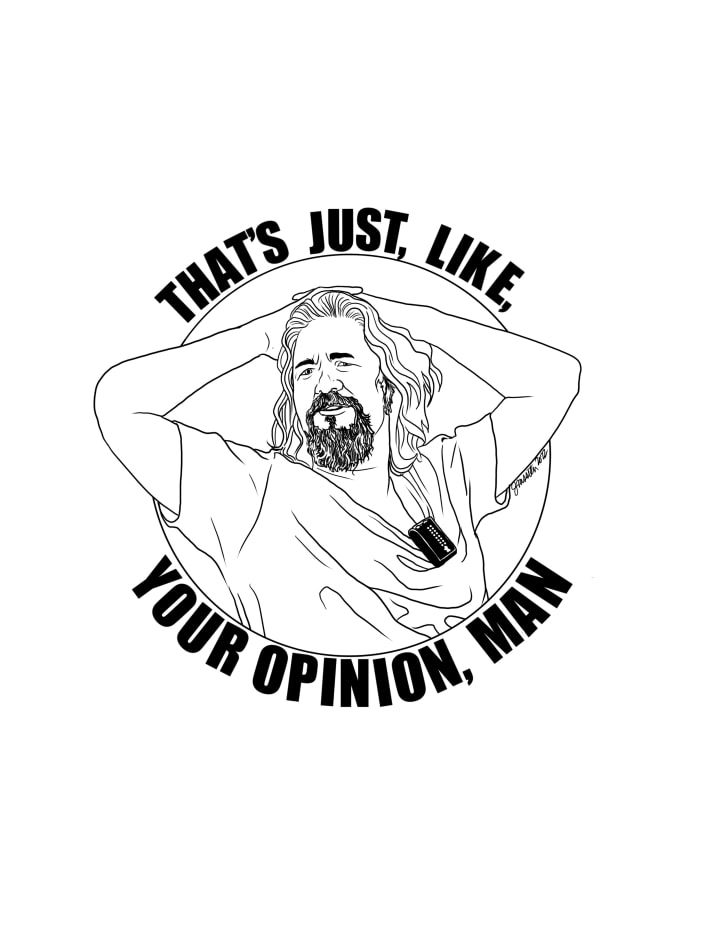 That said, Alone Together is a mostly harmless, mostly charming romance with two wonderful lead performances. Alone Together debuts in limited theatrical release on July 22nd, 2022.
For more reviews of the work of Katie Holmes and Jim Sturgess, find my review archive of 20 + years worth of movie reviews at SeanattheMovies.Blogspot.com. And follow me on Twitter, @podcastsean.
movie
About the author
Hello, my name is Sean Patrick He/Him, and I am a film critic and podcast host for Everyone's a Critic Movie Review Podcast. I am a voting member of the Broadcast Film Critics Association, the group behind the annual Critics Choice Awards.
Reader insights
Be the first to share your insights about this piece.
Add your insights