Movie Review: "Air"
Discover the authentic account of Michael Jordan's journey to becoming a basketball legend.
Hey, basketball fans!
What an inspirational film.
Join me and discover the fascinating true story of a renowned basketball player in the film "Air", currently available in theaters and on Amazon Prime. This uplifting sports drama portrays Michael Jordan's incredible path to becoming one of the greatest basketball players to ever played the game.
Get ready to be inspired by his remarkable journey to greatness!
Meeting The Jordans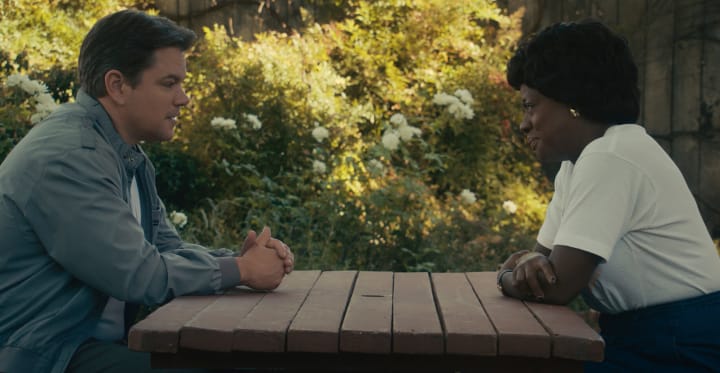 Cast & Crew
Ben Afflick (Phil Knight — Co-Founder of Nike ), Matt Damon (Sunny Vaccaro — Nike Marketing Executive who signed Jordan), Viola Davis (Deloris Jordan — Mother of Michael Jordan), Julius Tennon (James Jordan — Father of Michael Jordan), Chris Tucker (Howard White — Vice President of Jordan brand), Marlon Wayans (George Raveling — Team USA Assistant Coach when Jordan won Gold at 1984 Olympics), Jason Bateman (Rob Strasser — Nike's Director of Marketing), and Chris Messina (David Falk — Jordan's Sports Agent).
Directed by visionary filmmaker Ben Afflick, "Air" takes us on a nostalgic journey through the iconic career of Michael Jordan, witnessing his raw talent, relentless drive, and unwavering determination to be the best. From his roots in North Carolina to his college days at the University of North Carolina, "Air" highlights MJ's early life, his growth as a player, and his remarkable style of play.
The film captures the sheer excitement of his game, showcasing his gravity-defying jumps, phenomenal dunks, and unparalleled athleticism that revolutionized the sport. Witness firsthand the obstacles, triumphs, and personal battles that helped shape his legendary status both on and off the court.
This film beautifully portrays the intense rivalries, fierce battles, and unbreakable bonds between Jordan and his teammates. The "Air" film stands out among other sports biopics for its unique portrayal of Michael Jordan's competitive spirit. Furthermore, this movie goes beyond surface-level storytelling, diving deep into Sunny Vaccaro's relentless to meet the Jordans and catapult the Nike brand to greater heights.
A Defining Decision
Do you know what defined Michael Jordan's career?
Deloris Jordan took it upon herself and allowed her son Michael to receive compensation for his signature shoe. Name one parent back in those days that would go all out for their children and protect future earnings?
The CEO, Phil Knight, initially hesitated but ultimately recognized the benefits for the business and gave the green light to Sunny Vaccaro, a Nike marketing executive, to finalize the deal. This decision proved to be a game-changer for Michael Jordan, as he received revenue from his iconic "Air Jordan" shoes, setting him up for years to come.
Since the Jordans teamed up with Nike, the company has generated over $4 billion annually for decades, with a remarkable $162 million earned in the first year alone. Deloris Jordan's foresight and influence have paved the way for future athletes to earn money through their signature shoes, exemplifying her remarkable impact.
That is the power of Deloris Jordan, who helped pave the way for future athletes to earn money through their signature shoes.
Sunny Vacarro's Relentless Pursuit to Greatness
I was blown away by the exceptional acting in the movie "Air", especially Matt Damon's character, who was portrayed as Nike Marketing Executive Sunny Vaccaro. What drove home for me was when Sunny watched a tape of an 18-year-old Michael hitting the game-winning shot to win the NCAA title.
Known as the "basketball guru", Sunny saw what no one ever seen in Michael. Sunny saw a killer instinct, super confident, and determined individual who represents what Nike is all about. Although Sunny fought to persuading his colleagues to recruit Jordan to Nike, the relentless pursuit finally paid off. The difference maker in the "Air" film was when Sunny went in faith and met with Deloris Jordan in person. Back then, you had to call the parents before meeting with them for an in-person interview.
Instead, Sunny chose to break the rules and followed his gut. It only takes one person to make an altering faith move to determine a brand's success. You can always count on Sunny to do what's best for business, even though it was a risky move.
This is what taking risks is all about.
Even though Sunny knew that Jordan was looking towards signing with Addidas, he knew that Nike was a better fit and preferred representing one generational player instead of showcasing multiple players. Overall, the film gave us a glimpse into the person behind the iconic athlete, making it a truly personal and insightful experience for the audience.
The Expectations of "Air"
The way "Air" was crafted was truly remarkable, as it effectively captures the ambiance of what Nike is all about. The basketball sequences are skillfully choreographed and filmed, immersing the audience into the game and evoking the sensation of being on the court and witnessing Jordan's mesmerizing skills firsthand.
The movie "Air" is a remarkable homage to Michael Jordan, shedding light on his basketball feats and exploring his influence on popular culture and global recognition. It effectively portrays his significant impact on the sport and his lasting legacy, making it a must-watch for all basketball fans and enthusiasts who admire tales of determination, strength, and the pursuit of excellence.
The basketball scenes are expertly choreographed and filmed, accurately capturing the electrifying atmosphere of NBA arenas and the intense playoff games. As a viewer, you can feel the excitement of being a part of a Nike facility, witnessing Jordan in his awe-inspiring presence.
Conclusion
In essence, "Air" is a captivating and inspiring basketball film that honors the remarkable life of Michael Jordan. It highlights his unparalleled skills, unwavering perseverance, and enduring legacy. So, lace up your shoes, grab some popcorn, and prepare to be mesmerized by the enchanting journey of "Air," a movie that will motivate you to recognize the boundless potential within each of us.
Thank you for reading!
If you enjoyed reading this inspiring post, subscribe so you won't miss any upcoming posts and pledge to support.
About the Creator
The Slam Dunk Effect is a place where I write about trailer and movie reviews, along with entertainment where readers come to read.
Reader insights
Be the first to share your insights about this piece.
Add your insights