Movie Review: '80 For Brady' Sure is a Movie
Images flash on screen in a specific order to tell a story in 80 for Brady.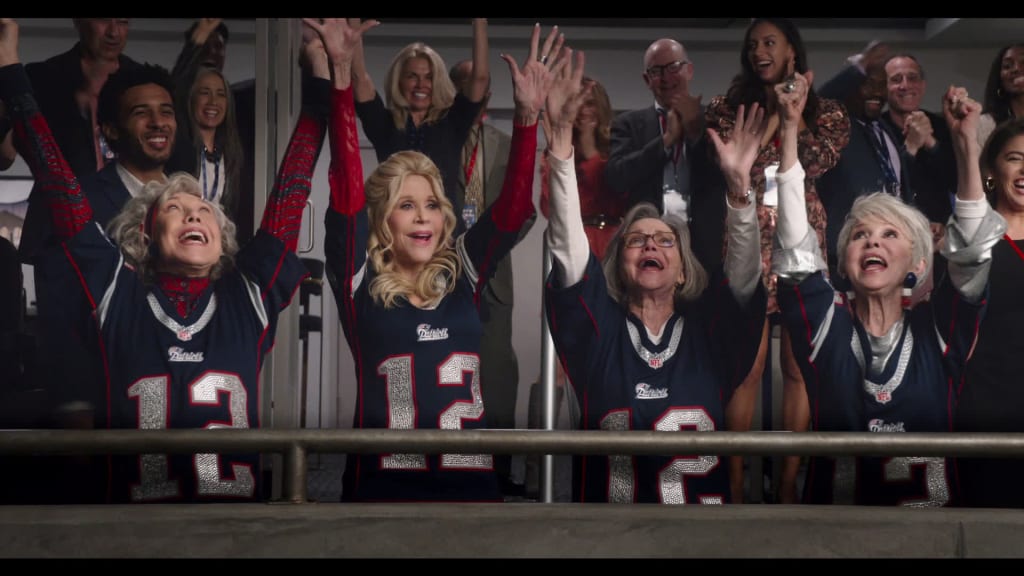 80 for Brady (2023)
Directed by Kyle Marvin
Written by Sarah Haskins, Emily Halpern
Starring Lily Tomlin, Jane Fonda, Sally Field, Rita Moreno
Release Date February 3rd, 2023
Published February 3rd, 2023
80 for Brady sure is a movie that exists. It's got movie stars; it was shot by a director with a camera, and it was edited into what is a series of scenes that seem to make up a story. It is definitely a movie. It's also not that much more than that. Vaguely inspired by the kind of true story best suited to a 3-minute segment on CBS Sunday Morning, then for a big screen feature film, 80 for Brady is a fawning tribute to the ego of the recently retired football star Tom Brady who gets to relive one of his crowning achievements while everyone fawns over how great he is.
80 for Brady stars Lily Tomlin as Lou, a cancer survivor who credits falling in love with football during her recovery to getting her through a hard time in her life. Well, Football, and her three closest friends, Trish (Jane Fonda), Maura (Rita Moreno) and Betty (Sally Field), each of whom also embraced football alongside their friend. This happened when they happened to see a rookie Tom Brady take over as the starter for the New England Patriots.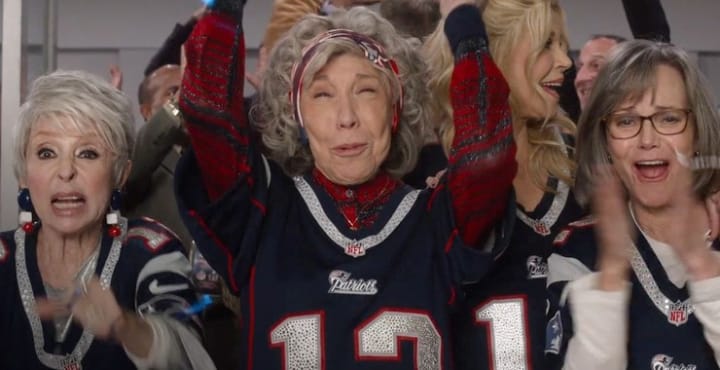 Tom's handsomeness was the initial draw for the foursome but eventually, enjoying the game was an equal part of their excitement. Now, with Tom Brady approaching the end of his career, the film is set in 2017, and the Patriots playing what could have been Tom's last Super Bowl, the foursome decides they want to go to the Super Bowl. They enter a contest in their hometown of Boston, and they enlist friends and family to help them win. Eventually they get tickets, and they are off to Houston, Texas for the big game.
Naturally, the adventure is getting to Houston and absorbing the atmosphere of Super Bowl weekend while each of the foursome works out a screenplay convenient series of anxieties. For Lou, she's hiding that her cancer might be back. Trish is struggling with falling in love too quickly with the wrong men. Maura is dealing with the loss of her husband and how to get back to living a life. And Betty is struggling with her husband of 50 years, a doddering fellow professor who relies heavily on her opinions and approval. She'd prefer he took some initiative of his own once in a while.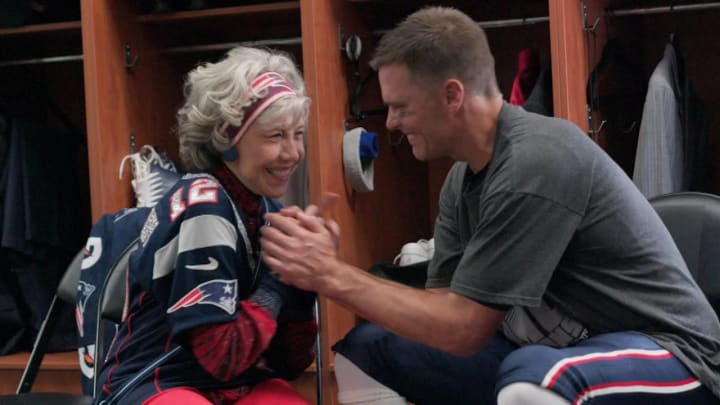 And... that's it. Wackiness ensues, of course, when the ladies accidentally take drugs at a party. Betty proves to have an iron stomach that wins her a spicy chicken wing contest, hosted by Guy Fieri, and, of course, Trish meets a handsome former football star, played by Harry Hamlin, and has to resist jumping right into bed with him. These plots are mechanically processed and boringly resolved with little real conflict and very few laughs, despite the best efforts of these legendary actresses.
The final act of the film is mostly dedicated to licensed footage of the Super Bowl between the New England Patriots and the Atlanta Falcons. Fans will recognize this as one of the greatest come from behind wins in NFL history as the Patriots came from behind in the fourth quarter to beat the Falcons. It's perhaps the biggest moment of Tom Brady's career and a great way to stoke the already outsized ego of the NFL star who also acted as executive producer on the film.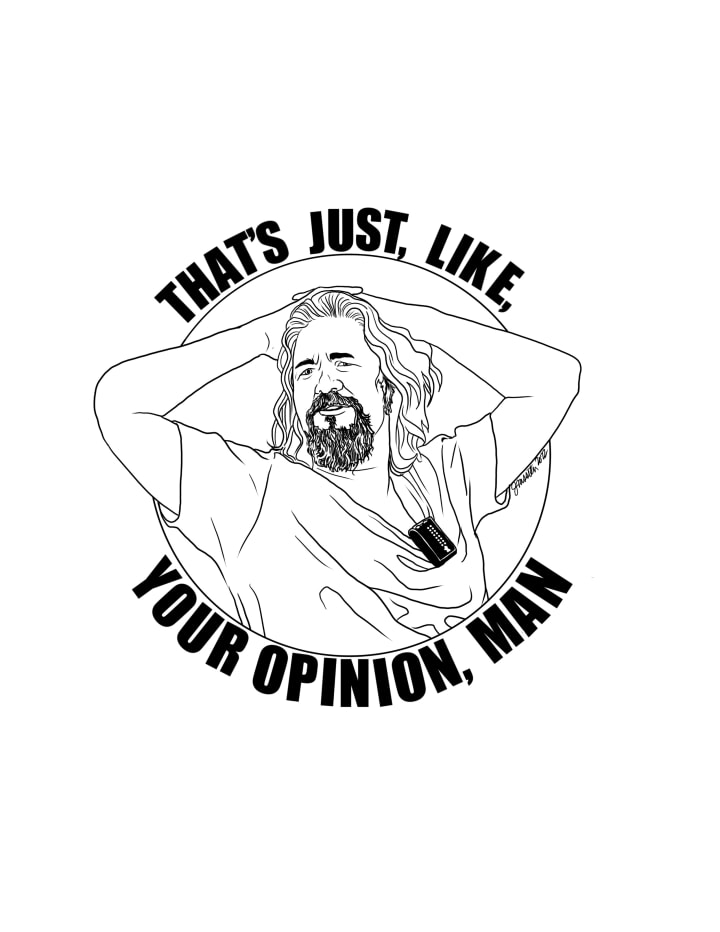 Such ego stroking could be forgivable if 80 for Brady was funny but it's not. There are a couple chuckles but nothing remotely memorable. 80 for Brady isn't a terrible movie, it's not the kind of cringe that hung over the similarly themed, Book Club. Rather, it's just sort of there. 80 for Brady, when it isn't a vanity piece for the ego of Tom Brady, is a mostly competent and entirely forgettable movie. It's got a particular sweetness that comes from these lovely actresses being friends, but that modest bit of charm is not enough to make 80 for Brady worth recommending.
Find my archive of more than 20 years and nearly 2000 movie reviews at SeanattheMovies.blogspot.com. Find my modern review archive on my Vocal Profile, linked here. Follow me on Twitter at PodcastSean. Follow the archive blog on Twitter at SeanattheMovies. Listen to me talk about movies on the Everyone's a Critic Movie Review Podcast. If you have enjoyed what you have read, consider subscribing to my work on Vocal. If you'd like to support my writing, you can do so by making a monthly pledge or by leaving a one-time tip. Thanks!
About the Creator
Hello, my name is Sean Patrick He/Him, and I am a film critic and podcast host for Everyone's a Critic Movie Review Podcast. I am a voting member of the Broadcast Film Critics Association, the group behind the annual Critics Choice Awards.
Reader insights
Be the first to share your insights about this piece.
Add your insights