'Mortal Kombat: Conquest' Review
A product of its era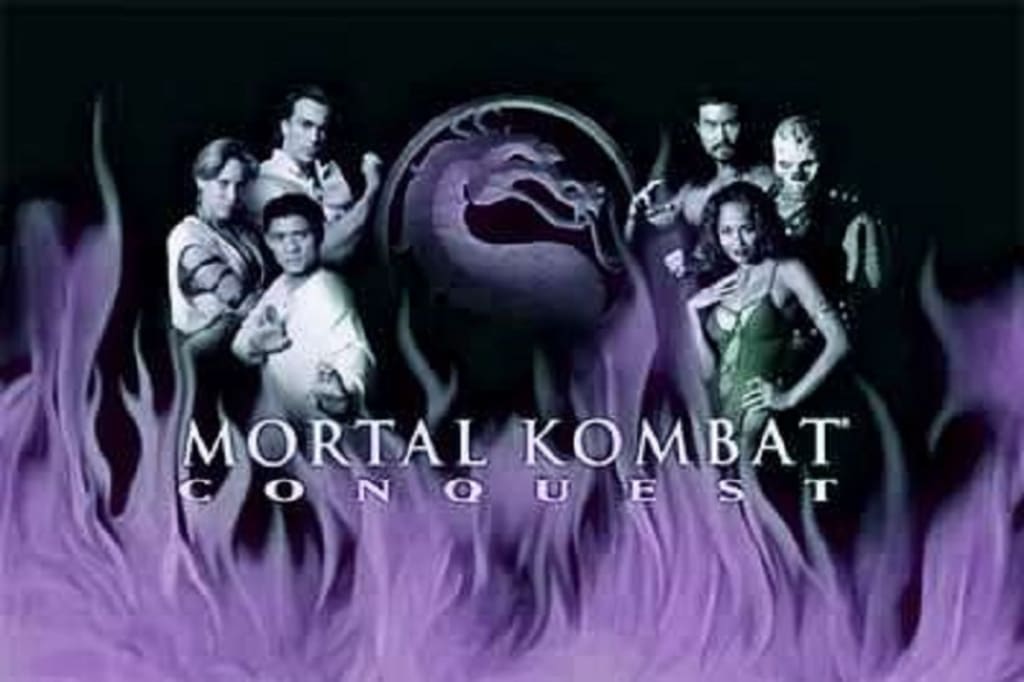 One of my fondest memories was going to Mo's Pizza with my father. He used to give me quarters for the Mortal Kombat arcade cabinet whenever we went. I always picked Lou Kang because he was "the chosen one," but I later moved on to play as Sonya and Johnny Cage. In the 90s, I was mildly obsessed with Mortal Kombat. I didn't have the games because I preferred going to the arcade, but I did have the movie. I probably watched it at least once a week. I even watched the horrid cartoon movie that was made just as an ad for the movie.
I'm not sure how I managed to miss Mortal Kombat: Conquest during that time, but I just heard of it recently. Mortal Kombat: Conquest is a TV series that serves as a prequel to the games and movie (and the cartoon series that I haven't seen). It follows the great Kung Lao during his time as Mortal Kombat champion. I've always wanted a prequel in the way of a game, so I decided to check out the TV show. The first episode starts out with scenes borrowed from the first movie, like the outside of Shang Tsung's island and the outside of the Order of Light temple. The dragon from the movie is even recycled. There's a cut to footage of Shang Tsung fighting in the tournament. He is portrayed by a different actor than he was in the movie, as is every other actor in the show. He easily overpowers his opponent while Raiden tells Kung Lao not to doubt himself. Shao Khan sits on a throne behind the fighters, watching them through his hideous mask. The mask is so bad that I found myself getting distracted by it.
Shang Tsung and Kung Lao fight and Kung Lao is almost defeated. He's only saved by his thoughts of a scantily clad woman named Jen, who we will later find out is Kung Lao's forbidden girlfriend. He uses his last bit of strength to defeat Shang Tsung, which angers bargain bin Shao Khan. This is the last time any concept of the tournament is visited in this episode. Shang Tsung gets banished and Kung Lao is revealed to be a in a relationship with Jen from his vision. Jen's father doesn't want her to be with Kung Lao; in fact, he doesn't want her to be with anyone who can't afford to pay to marry her. While all this is going on, Shang Tsung meets a woman who I thought was Jade, but she is a character invented for the show named Vorpax. She shows Shang Tsung a scorpion that has magic powers and the duo use it to turn Takeda (not the Takeda from the game) into Scorpion.
The TV show is a product of its time, and it would fit well with shows like Xian Warrior Princess and Hercules. It's aged poorly, but it's still watchable. There isn't much CGI, but what's there is either borrowed from the movie or awful. You can always tell where there was a commercial break because random fighting scenes flash across the screen. I find these random fighting sequences a bit odd now, as it takes me out of the experience. I'm watching it online without commercials, so I wish there was an option to skip it. I'm not sure that I would have enjoyed this show when I was younger. Based on the first episode, I don't think that 'The Great' Kung Lao is strong enough to carry the show, but I plan to keep watching and see if it gets any better.
tv
About the author
Jade is an indie author from Louisiana. While her first book failed, she has plans to edit and republish it and try again. She has a senior min pin that she calls her little editor, and a passion for video games and makeup.
Reader insights
Be the first to share your insights about this piece.
Add your insights