Mirzapur Season 3 Munna Bhaiya Alive
Will Munna return in Mirzapur 3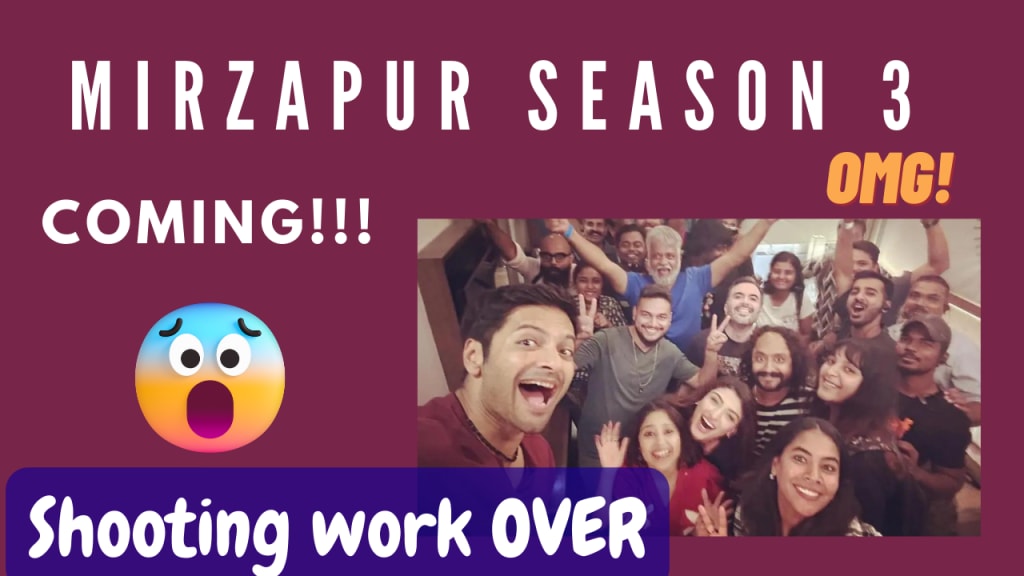 Mirzapur Season 3 Munna Bhaiya Alive
Mirzapur Season 3 Munna Bhaiya Alive
Recently, some updates on Mirzapur Season 3 have made headlines, and after listening to them, fans are definitely going to be happy, especially those who wanted Munna Bhaiya's return in Mirzapur Season 3.
There is absolutely no doubt about one thing: Mirzapur is such a successful series on Amazon Prime that it gave Amazon Prime a lot of new subscribers in India.
I watched the first season of the television show Mirzapur for the first time in my life, and after that, I became obsessed with it. Not only me, but many other people were also incredibly excited for its second season, so when it finally arrived and I got to see it, it was an incredible feeling.
Mirzapur Season 3 Shooting Complete
Now I am excited about its third season, but not as much as I was about season two.
The popularity of this show was also high because, since season 1, it had strengthened its hold among the viewers.
If you've seen season 2, you've probably been anticipating season 3 for quite some time.
First of all, the shooting work for Mirzapur season 3 was completed in the month of December 2022 itself, which was shared by the cast of this series on social media, etc.
Additionally, the more than month-long postproduction work for Mirzapur season 3 has been finished.
Mirzapur is a webseries in which only cinematography or color-grading work is seen; VFX work is not used much in it.
Mirzapur 3 will take another two to three months to edit, according to reports.
And it has come to be known that this time, strong action scenes are also going to be present in Mirzapur 3, for which separate training was also given to particular actors.
Mirzapur Season 3 Release Date in India
For Mirzapur season 3, you will have to wait until quarter 2, according to current updates, and chances are very high that Mirzapur 3 can come between May and June.
The current explanation is that because it is an Amazon Prime "A" category series, Amazon Prime has invested heavily in it. So that's why their expectations are very high, and that's why its promotion work will be for almost 20 to 25 days, and in that time, whether it's a date announcement or a trailer, etc., everything will be told.
Currently, you must have also noticed that all the social media accounts of Amazon Prime regarding Mirzapur have become active because they also know that this series is very important for them.
So that's why Amazon Prime would like to deliver season 3 of Mirzapur in front of the audience in the best possible way.
Season 3 of Mirzapur may require a little more patience. 
Mirzapur Season 3 Munna Bhaiya Alive
Will Munna Bhaiya exist in Mirzapur season 3 or not? Through some theories and some posts on Amazon Prime, it was hinted that yes, Munna Bhaiya is going to come back in season 3, although there has been no official confirmation of this. However, theories suggest that Munna Bhaiya will return in the season 3 finale.
How many of these theories or updates are true will be revealed in Season 3, but one thing is certain: Munna Bhaiya's revenge will be a major plot point because Akhandanand Tripathi aka Kaleen Bhaiya is not slow in avenging his son. 
And like in season 2, this time some new characters will be seen.
So it will be interesting to see whether anyone can depose Guddu Bhaiya from the throne of Mirzapur and whether Kaleen Bhaiya can reclaim the throne of Mirzapur, especially now that Maqbool has left his side and it is possible that Maqbool becomes involved with Guddu.
For all these reasons, we have to consider season 3, and for this reason, the excitement of season 3 is very high among us.
So I believe the producers are aware of these details, and Mirzapur fans will undoubtedly be surprised.
Finally but not least
By the way, what do you think about whether Munna Bhaiya will return in Mirzapur season 3 or not? You can share your thoughts about this with me.
These are the updates that I have received recently, but apart from this and how many episodes will be there in season 3, the new cast edition, such updates are yet to be received, so as soon as I get confirmation on them, I will try my best to inform you until then. You can subscribe to me if you want.
Bye.
Reader insights
Be the first to share your insights about this piece.
Add your insights