Michelle Young – The Bachelorette Spoilers October 2021
Meet Michelle Young as she Begins her Journey for Love on the Bachelorette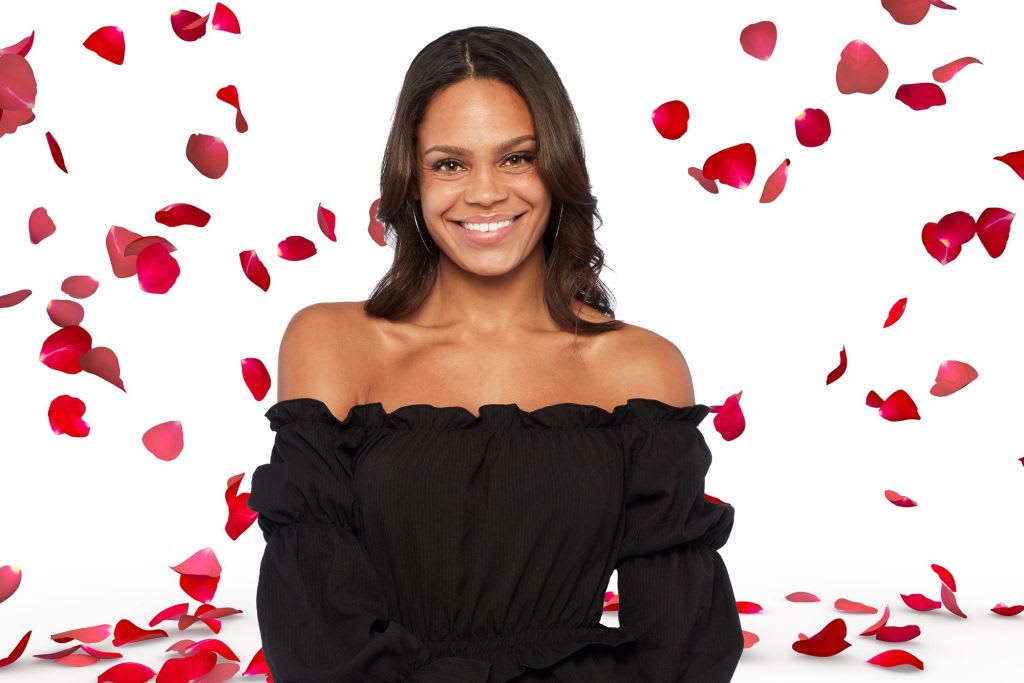 Michelle Young begins her journey to find love. So, the new season of the Bachelorette begins tonight. When Bachelor Nation first met Michelle, it was during Matt James season. To read more about her time on the show; be sure to check out Matt James Begins his Journey for Love on the Bachelor post.
Michelle Young
When Matt James season ended; the franchise decided to go with two seasons of the Bachelorette. First, Bachelor Nation saw Katie Thurston's journey to find love. To read how Katie's season ended; be sure to visit my Katie Thurston's Final Rose – The Bachelorette August 2021 post.
In between Katie and Michelle's season, Bachelor Nation saw many of their favorites from prior seasons. Be sure to check out my Bachelor in Paradise 2021 Spoilers – Who is Engaged post.
So, Michelle was the runner-up on Matt James season. Michelle is from St. Louis Park, Minnesota, and is employed as a teacher. Due to her career obligations; she requested a delay so she could finish the school year without any interruptions.
In college, she played Division 1 Basketball and still loves to play. Let the game begin…
Tayshia Adams and Kaitlyn Bristowe Will Host Michelle's Season
Meanwhile, Tayshia Adams and Kaitlyn Bristowe will return to host Michelle's season. Since things went well on Katie's season; it isn't a surprise they were invited back.
In fact, there have already been reports that they sent some photos of her dates to Reality Steve.
Michelle Young – The Bachelorette Spoilers
Now, back to Michelle's season. Like other seasons, the cat is already out of the bag as Reality Steve has shared some of his intel. In the first place, this season's filming began at the end of July and wrapped up in early September.
So this season is being filmed at the Renaissance Esmeralda Resort & Spa in Indian Wells, California. However this season, there will be many overnight and hometown dates filmed in Minneapolis and other locations. With hometown dates returning this season; Michelle will have the opportunity to visit each of her final four hometowns.
Though there hasn't been as much information about the final four; however, there has already been rumors circulating on the final two.
Early on, there has been several photographs posted online on Michelle's date with Nayte Olukoya. Nayte is from Winnipeg, Manitoba, Canada. After various gigs in bartending and sales for Indeed; he was promoted to a Senior Account Executive this year at Indeed.
In addition, Nayte is considered outgoing; and his smile easily lights up a room. Though he has never had any issues meeting woman; he is looking for that special someone that will go the distance.
The runner-up from Michelle's season is Brandon Jones. Brandon is from Portland Oregon and is a traveling nurse recruiter and a basketball junkie. Though Brandon has had success in his career as a recruiter; he hasn't been successful in recruiting the perfect woman for himself.
Clayton Echard will be the Next Bachelor
Though Michelle's season is starting tonight; there have been multiple reports that Clayton Echard will be the star of The Bachelor in 2022.
When Clayton's season begins in 2022, Jesse Palmer will be the new host. In fact, Jesse has a lot of familiarity with the show as he was the Bachelor in 2004 on the fifth season. Though Jesse didn't end up married to his winner; he is married to Emely Fardo.
Indeed, Jesse's experience with the franchise as well as his background in the NFL; should provide plenty of conversation with Clayton.
As always, I welcome your comments on if you will be watching Michelle Young hand out the roses? Or, Clayton Echard's turn as the star of the Bachelor in 2022?
celebrities
Hi - I'm Lynne Black, Founder of Fashionista Bombshell Whims!
I'm a Freelance Writer/Blogger and Published Author.
My stories and posts offer a peek into my life.
Of course, my goal is to inspire you through my books and articles.