MET GALA 2021. ALL MOST IMPORTANT MOMENTS!!!!
MUST-SEE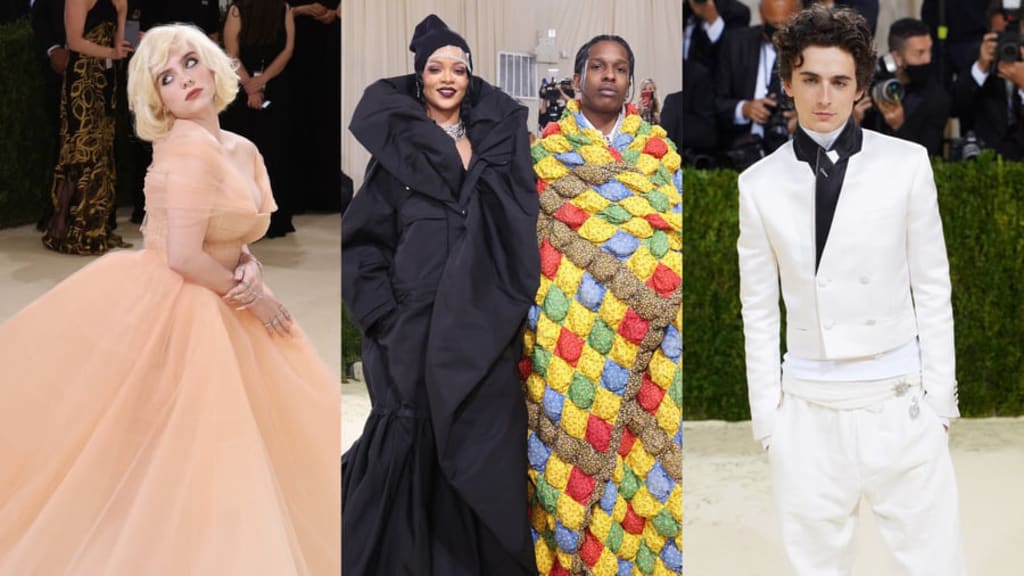 Affectionately referred to as "fashion's biggest night out," the Met Gala 2021 is a fundraising benefit for the Metropolitan Museum of Art in New York City. The event welcomes stars, young creatives, and industry paragons. The Costume Institute will host its first two-part exhibition, on the theme of American fashion, during 2021 and 2022.
This year's Met gala was a smaller, more intimate affair due to the ongoing pandemic, with only about a third of the usual guest list invited to participate in fashion's biggest night. But even so, there was certainly no shortage of major Americana fashions gracing the red carpet. This year's gala theme is "American Independence" which gave attendees a wide berth of ideas to play with from founding fathers in powdered wigs and star-spangled gowns, to Lady Liberty cosplay and, of course, all things red, white, and blue.
LET'S START WITH ALL MUST-SEE MOMENTS FROM THIS BIG AND AMAZING EVENT!!!!
Best Couple Outfit: Rihanna in Balenciaga and ASAP ROCKY in ELT.
Of Course Rihanna Shut Down the Red Carpet at the Met Gala, wearing Balenciaga and CONFIRMING her relationship official with ASAP ROCKY on the red carpet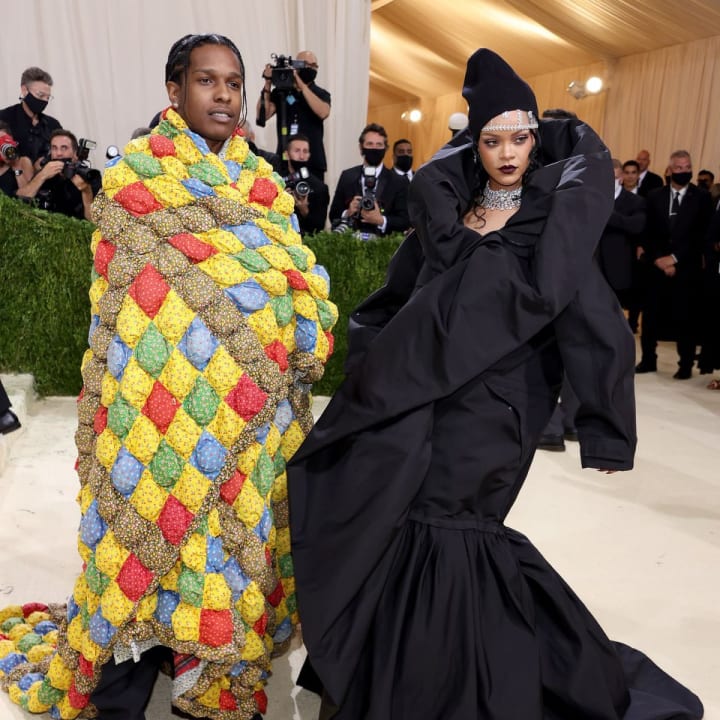 At this Met GALA 2021 Rihanna and ASAP ROCKY FINALLY went out on the red carpet together, thus officially confirming their relationship for the first time.
We're loving the way they both approached the theme. ASAP in a quilt, and Rihanna with a beanie.
Rihanna shows up late to her own Met Gala afterparty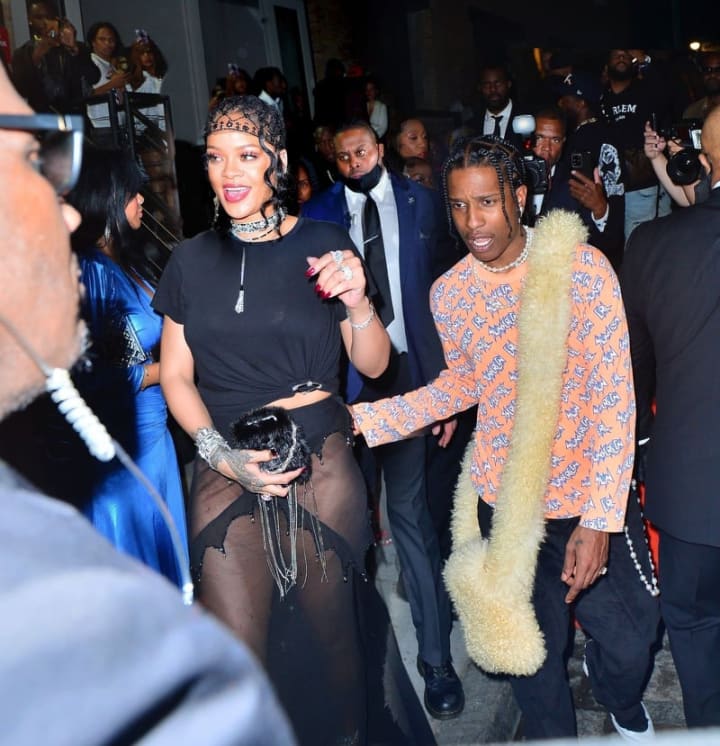 KENDALL JENNER DRESS INSPIRED BY AUDREY HEPBURN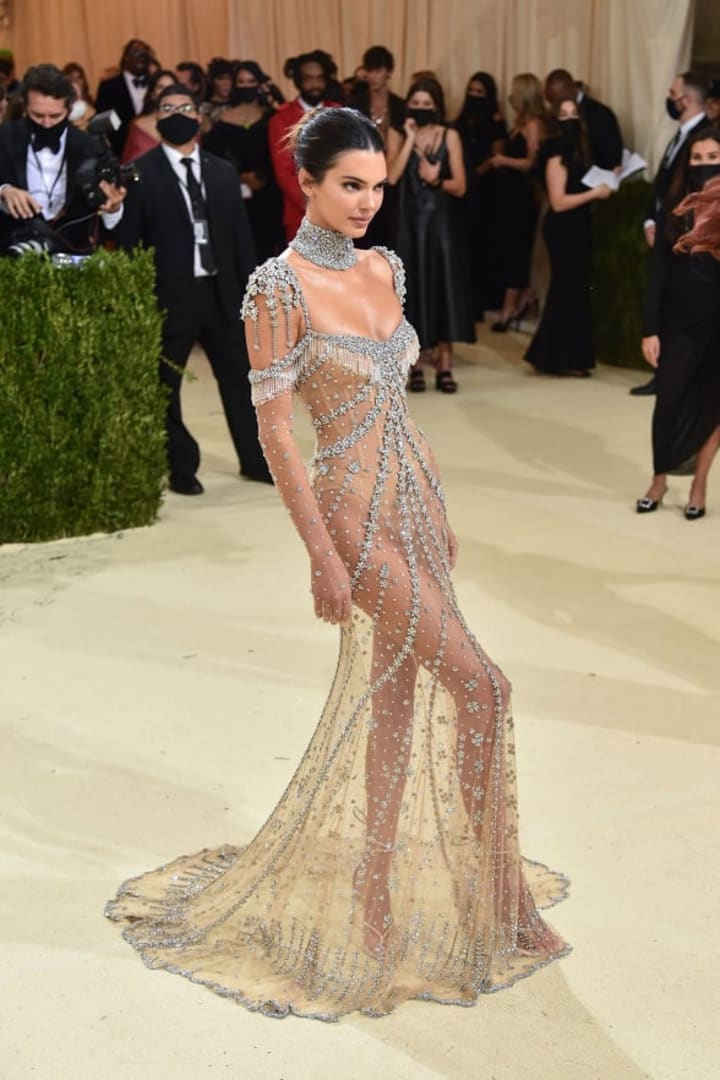 Kendall Jenner returned to the Met Gala this evening on her own. Jenner wore a sheer, jeweled Givenchy dress for the night's American Fashion theme. She opted not to bring her boyfriend Devin Booker as her red carpet date.
BILLIE EILISH CHANNELED MARILYN MONROE IN AN OSCAR DE LA RENTA
Best Holiday Barbie
Now that's how you make a first impression, Billie said she was inspired by Barbie and Marilyn Monroe. She nailed it.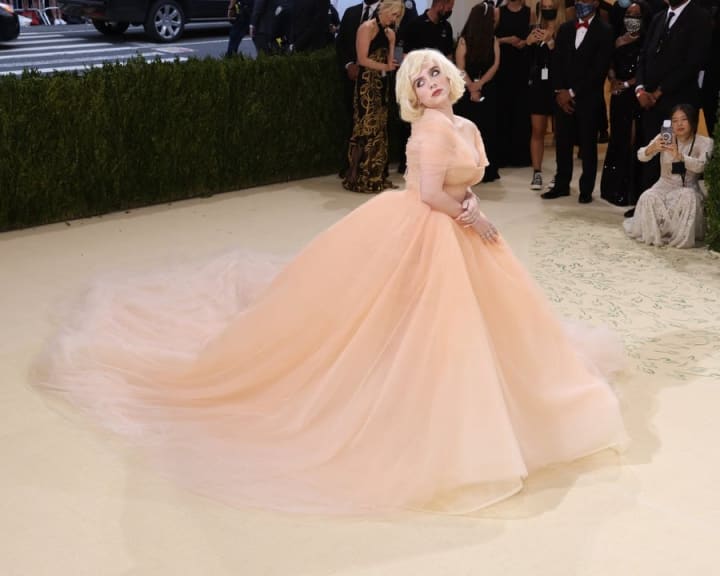 KIM KARDASHIAN covers up in all-black Balenciaga
But Kim Kardashian made a dramatic entrance later in the night, completely covered in black from head to toe, her ponytail emerging from the opaque head covering and trains of fabric trailing behind her. The faceless custom Balenciaga look was anything but anonymous -- Kardashian West has been teasing different masked and bondage-esque Balenciaga looks for weeks. She was joined on the red carpet by the luxury label's elusive creative director, Demna Gvasalia, who was also entirely obscured in black.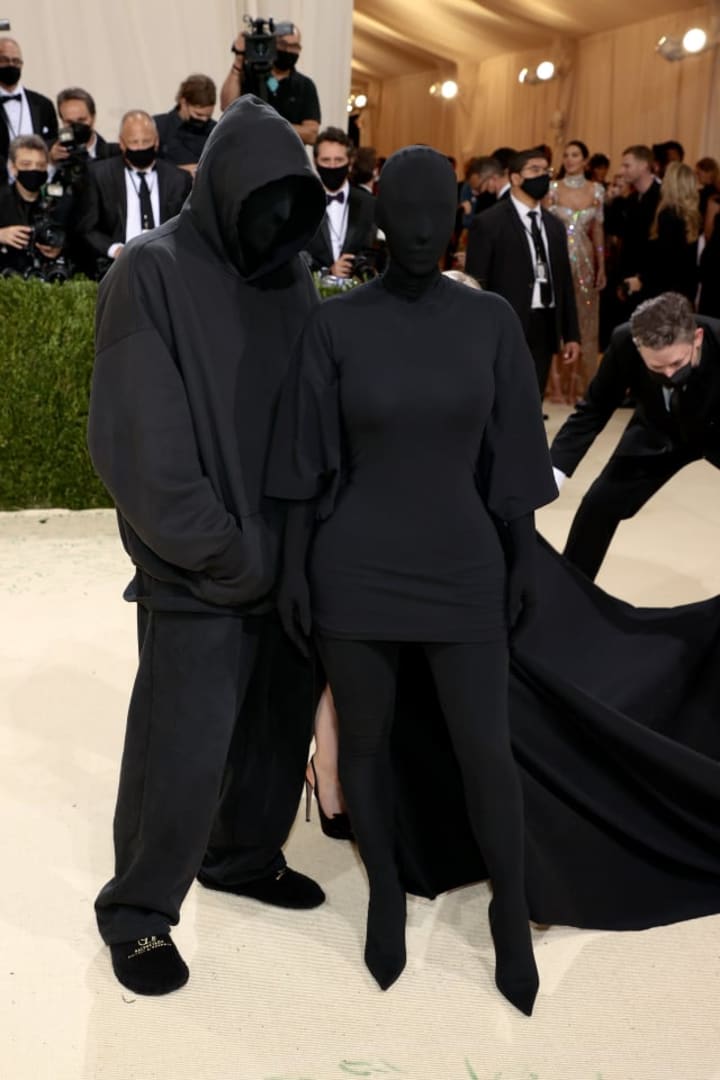 JENNIFER LOPEZ ARRIVED SOLO AT THE RED CARPET and her western look from Ralph Lauren
Jennifer Lopez & Ben Affleck's Masked Kiss Was The Most Swoon-Worthy Moment Of The Met Gala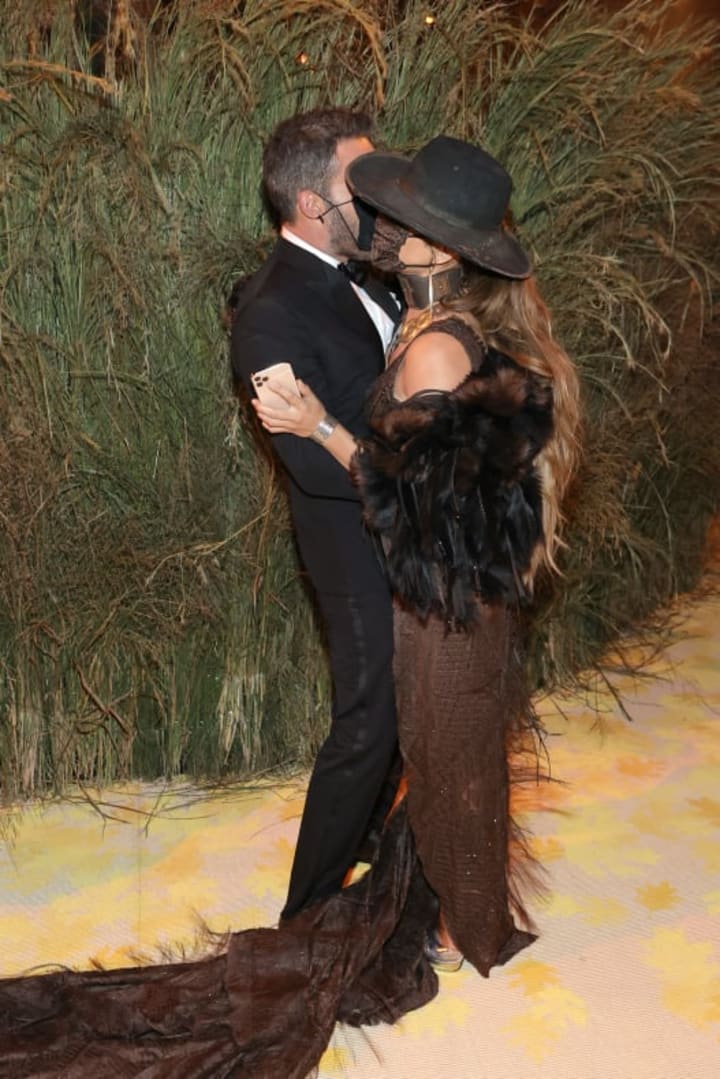 When it comes to actual, non-fictional Hollywood pairs, nobody knows more about achieving relationship stability in front of a watchful crowd than Jennifer Lopez and Ben Affleck, aka Bennifer. The couple that defined early-2000s romance has been back together for some time now, but their newly rekindled romance was ratcheted up to high gear when they appeared together at the Met Gala on Monday night, locking lips through their respective masks.
Dripping in Gold. LIL NAS on his three royal outfits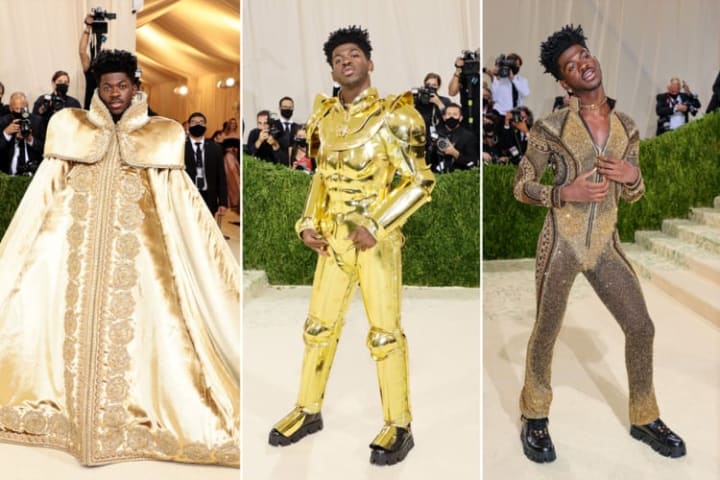 Lil Nas X arrived at the 2021 Met Gala on Monday ready to throw down — fashionably — in a three-part Atelier Versace outfit that required him to strip down on the red carpet with the aid of a dedicated team.
X's first look was a beaded, high-collared golden cape (seen above), which featured a long, sweeping train
Next, Lil Nas X removed his cape on the carpet, revealing a full gold suit of armor underneath, which was complemented with a pair of gold earrings and some subtle gold winged eyeliner.
For his final look of the evening, the performer wore a fitted, long-sleeve black jumpsuit with a plunging zipper, all covered in sparkling gold jewels. He paired the look with black combat boots and accessorized it with a gold choker
NEWLY ENGAGED KATE HUDSON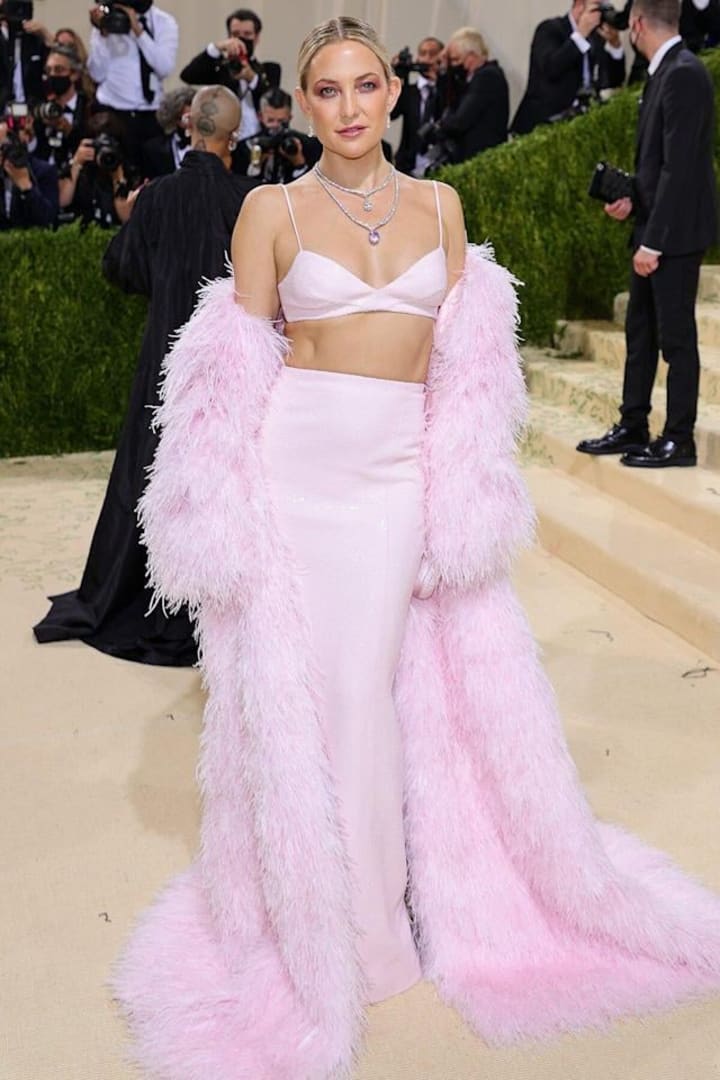 Kate Hudson's style streak continued at the 2021 Met Gala — with one special new accessory.
Just hours after announcing her engagement to boyfriend Danny Fujikawa on Instagram, the actress, 42, walked the red carpet in a pink sequin bra top, maxi skirt and floor-length feather coat by Michael Kors. The star accessorized with Lorraine Schwartz jewels, a matching baby pink clutch plus that new ring on her finger she flashed at reporters as she headed inside.
Her "think pink" vibes even extended to her makeup.
GABBY GOES SOLO in a dress which took 1400 hours to make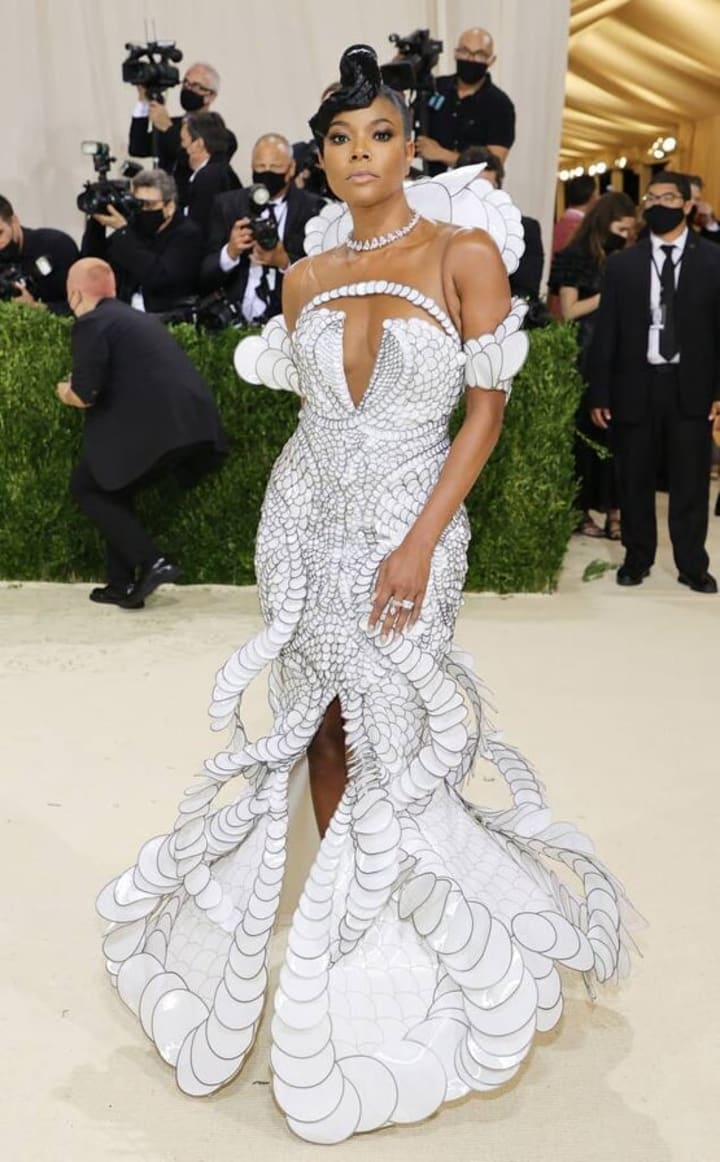 Gabrielle Union's 2021 Met Gala Dress Took 1400 Hours to Make
Gabrielle Union turned heads at the 2021 Met Gala—and it only came at the small expense of a jaw-dropping 1,400 hours to achieve her optical perfection.
In an interview with 2021 Met Gala: Live From E! on Monday, Sept. 13, the actress exclusively dished on the work behind her incredibly stunning look, which was constructed by designer Iris van Herpen.
"We've been working on this since April," Gabrielle tells E! News. And while adding that the manpower took "1400 manhours" to assemble, the star also explained what the dress meant to her, and this year's Met Gala theme centered around the history of American fashion.
"It's all about change," she shared. "What's needed in America, what's needed in fashion, and with each step, this dress changes and you see diffetrent colors. You see different textures and that's what it should be all about.
MEGAN FOX GOES SOLO on the red carpet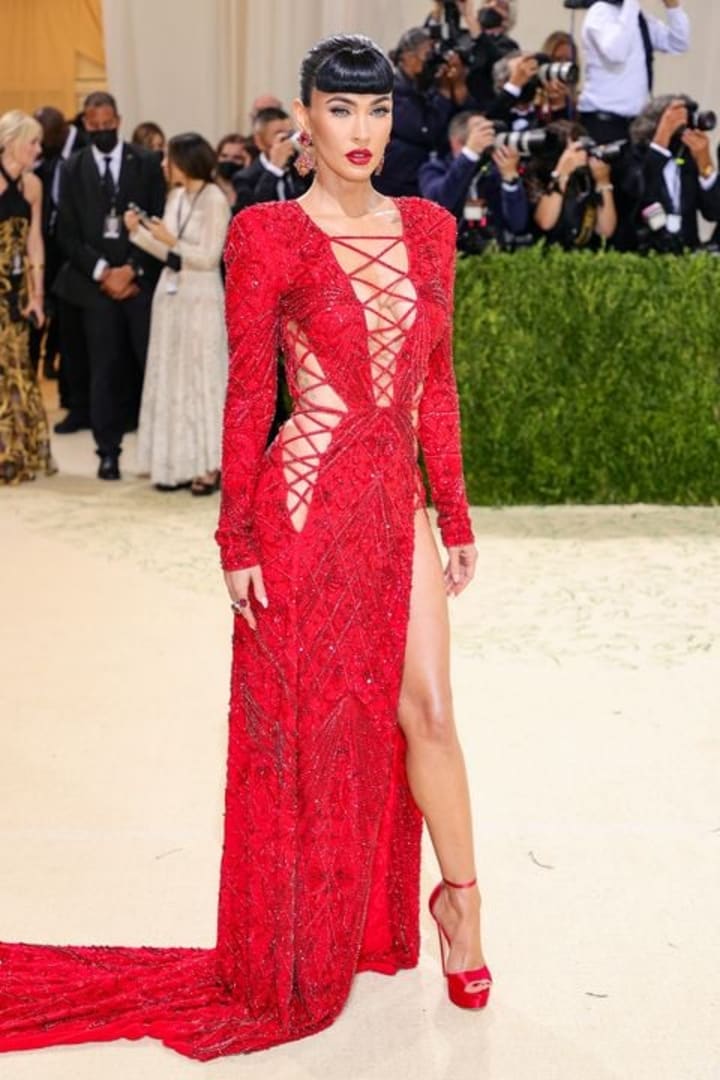 Alert: Megan Fox has finally graced the Met Gala in a plunging, lace-up beaded red gown by Dundas, and she also has BANGS. (Grabbing some scissors to cut my own hair right after I type this.) Fans spotted her getting ready to hit the carpet and she looks absolutely flawless, per usual.
Machine Gun Kelly and Megan Fox match at Met Gala 2021 afterparty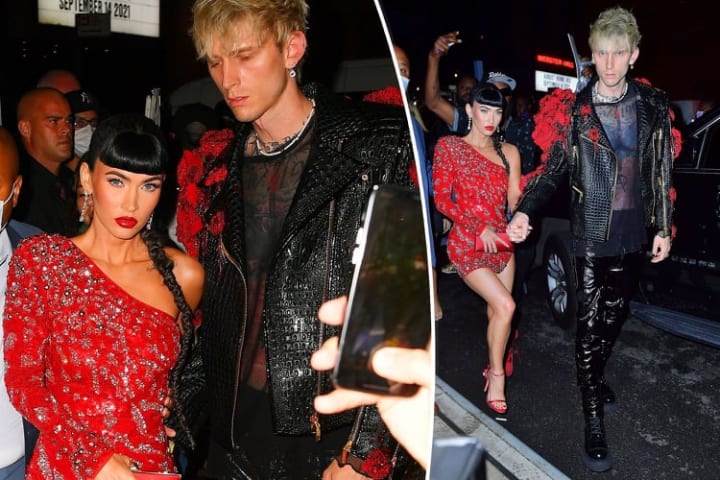 Zoë Kravitz and Channing Tatum 'Didn't Take Their Hands Off Each Other' at Met Gala After-Party, Source Says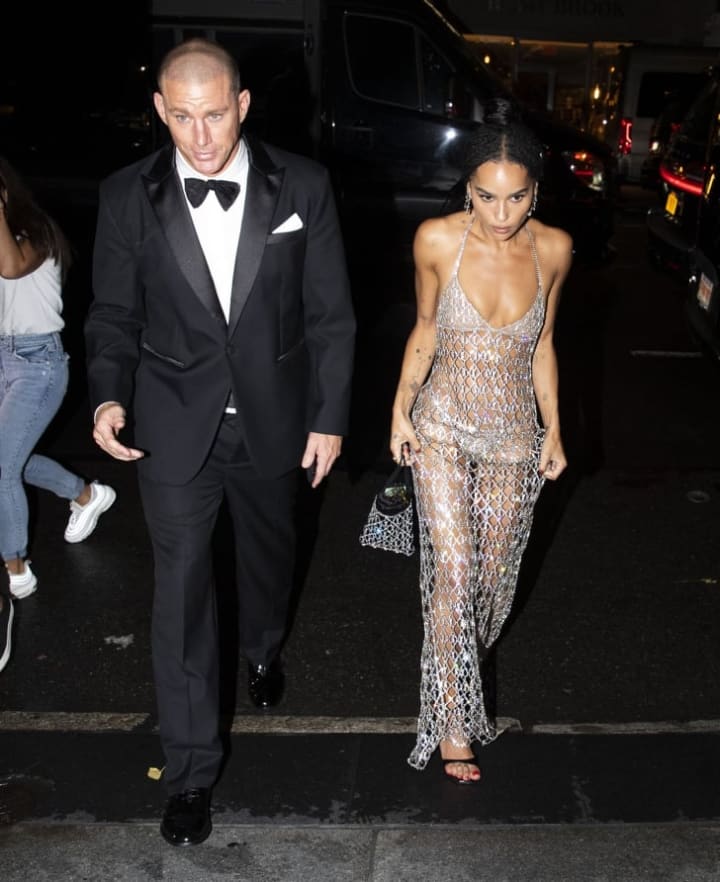 Zoë Kravitz and Channing Tatum may not have walked the Met Gala red carpet together, but they showed PDA at the gala and at an after-party, eyewitnesses tell ET.
A source told ET last month that 41-year-old Tatum and 32-year-old Kravitz were dating after starting out as friends. On Monday, they both looked incredible posing separately at the Met Gala red carpet -- Kravitz turning heads in a sparkly crystal shell dress by Saint Laurent -- and they were snapped heading into the gala together.
JUSTIN AND HAILEY BIEBER 3TH ANNIVERSARY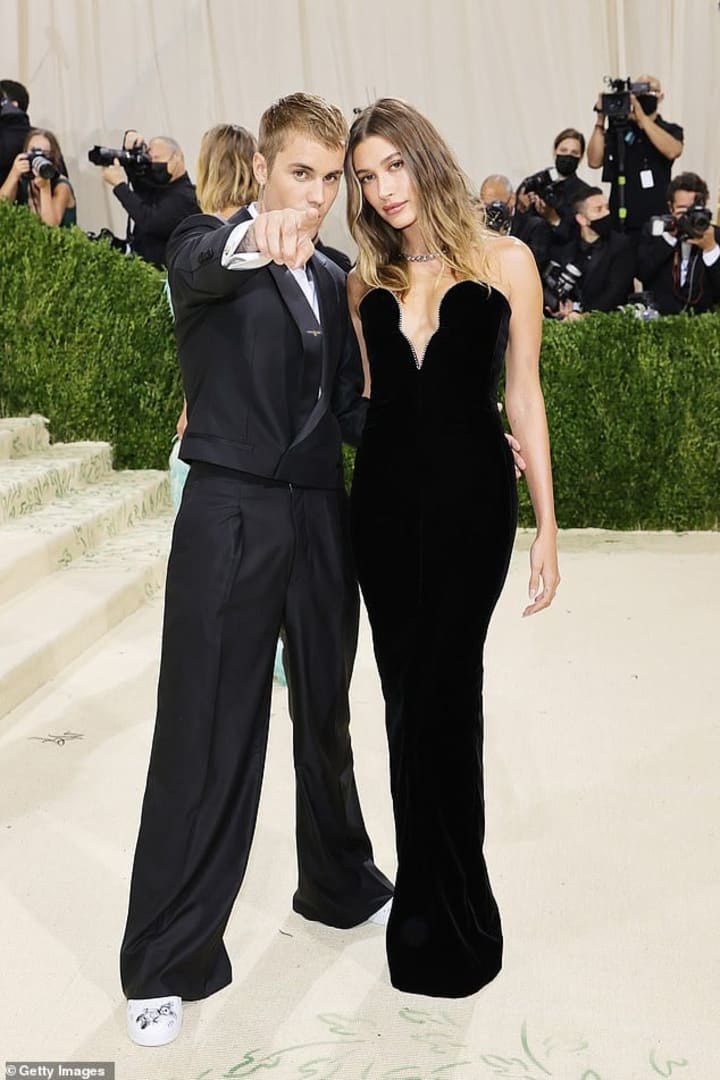 Justin Bieber and wife Hailey match in black at their first Met Gala together... exactly three years since they secretly married at a NYC courthouse
Justin Bieber and his supermodel wife Hailey rang in their third anniversary as a married couple at this year's star-studded Met Gala on Monday night.
As for what inspired his 'stripped-back' ensemble, Justin told Vogue: 'I'm married now, so things have become more adult.'
Despite respectively attending the Met Gala a number of times over the years, they have never gone together.
In May 2018, Hailey attended the event with Shawn Mendes, who she dated from 2017 to 2018, just days before reconciling with Justin.
Two months after rekindling, Hailey and Justin got engaged on July 7, 2018.
Justin Bieber gave his wife of three years, Hailey Bieber, a special shoutout while he performed his most romantic songs at Balenciaga's Met Gala after-party, a source told E! News.
SHAWN MENDES AND CAMILLA CABELO Night OUT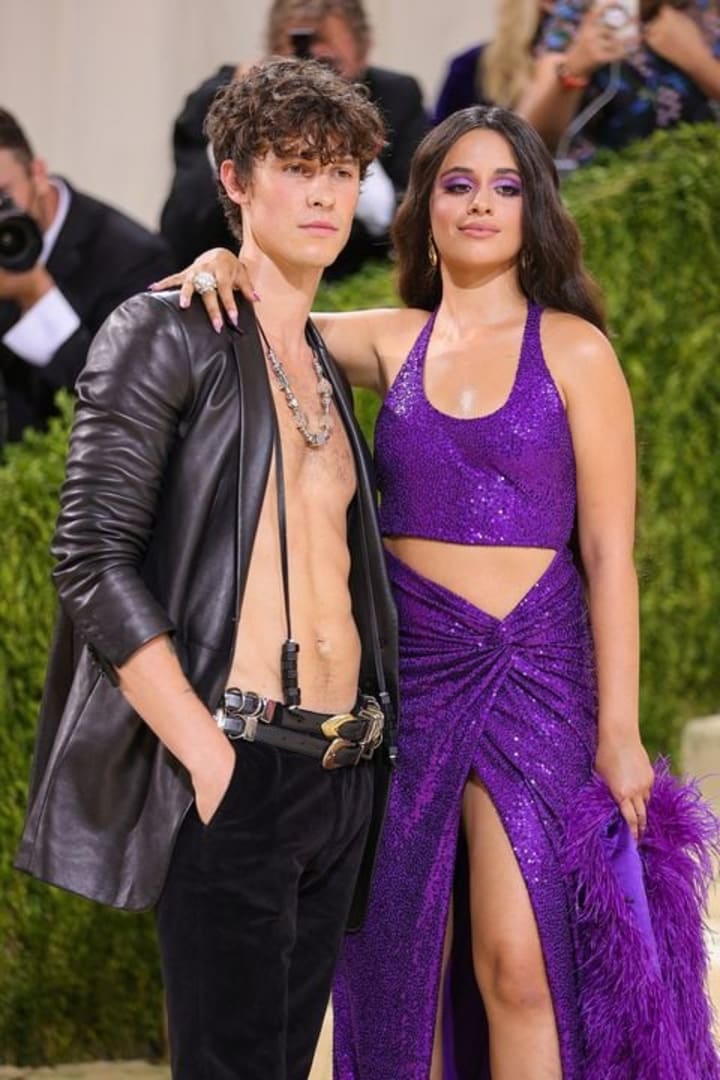 Shawn Mendes and Camila Cabello Had a Cute Lil Date Night Right on the Met Gala Red Carpet
Shawn Mendes and Camila Cabello just made their 2021 Met Gala debut and holy sh*t they looked amazing. Camila stunned in purple glitter gown with a cropped top by Michael Kors, while Shawn complemented her look by wearing all black and an open shirt.
As a reminder, this year's Met Gala is being co-chaired by Billie Eilish, Amanda Gorman, Timothée Chalamet, and Naomi Osaka, and the theme is "In America: A Lexicon of Fashion." Obviously, Shawn and Camila understood the assignment.
TAIKA WAITITI AND RITA ORA Debut Like A Couple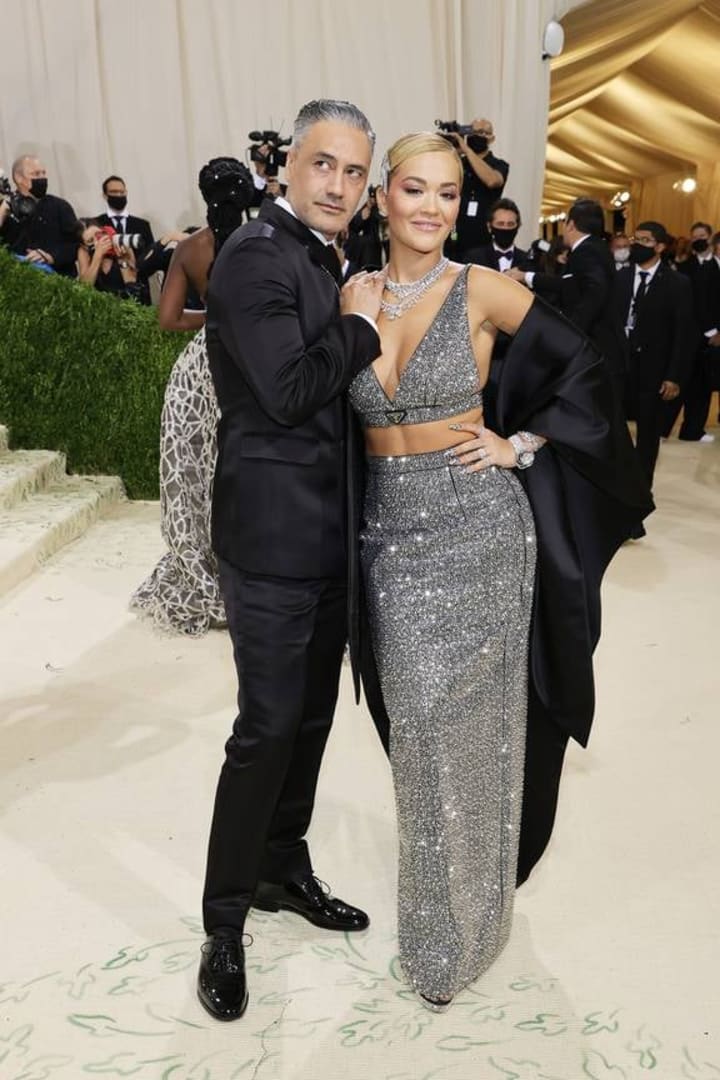 Director Taika Waititi and singer Rita Ora looked resplendent together in co-ordinating outfits at Monday's Met Gala in New York.
The couple, who made their public debut together at The Suicide Squad's LA premiere in August, kicked things up a notch for the swanky affair, in matching black satin and silver.
Rita, 30, sparkled in a silver embellished floor-length skirt and matching strappy top, which revealed a hint of midriff, as well as heels and a handbag in the same material to complete the look.
KIT HARINGTON AND ROSE LESLIE Debut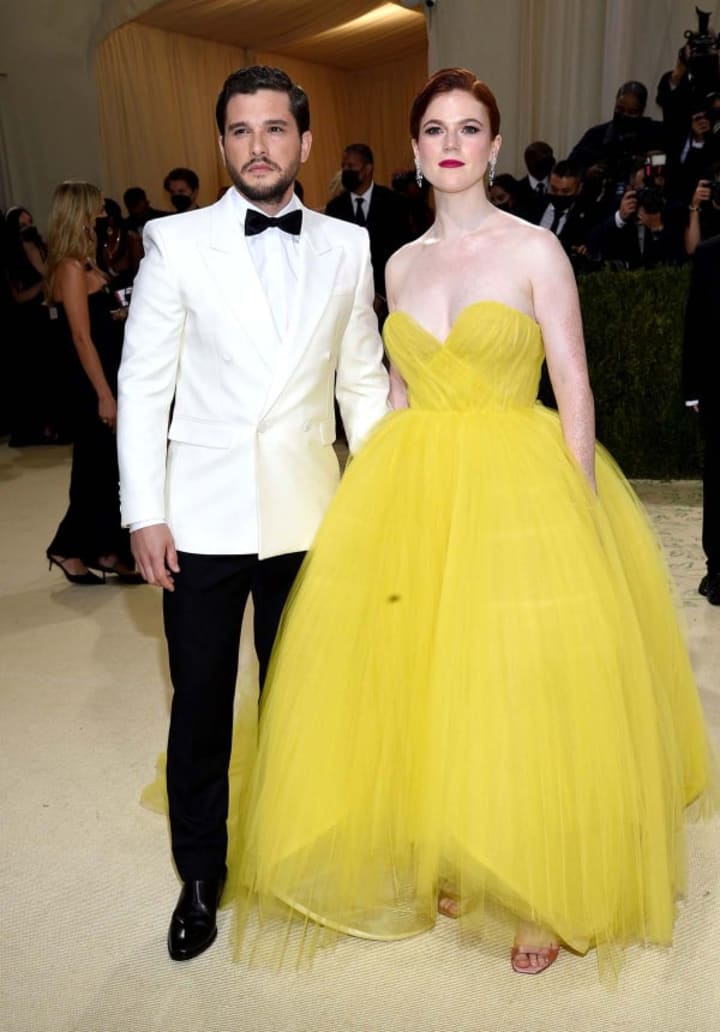 It's a Met Gala debut for Kit Harington and Rose Leslie!
The former Game of Thrones co-stars and real-life married couple looked amazing together on the red carpet at the 2021 Met Gala on Monday (September 13) at the Metropolitan Museum of Art in New York City.
This is the first time that either of the actors have attended fashion's biggest night
Emma Chamberlain Showed UP in a Louis Vuitton Gold Mini at the Met Gala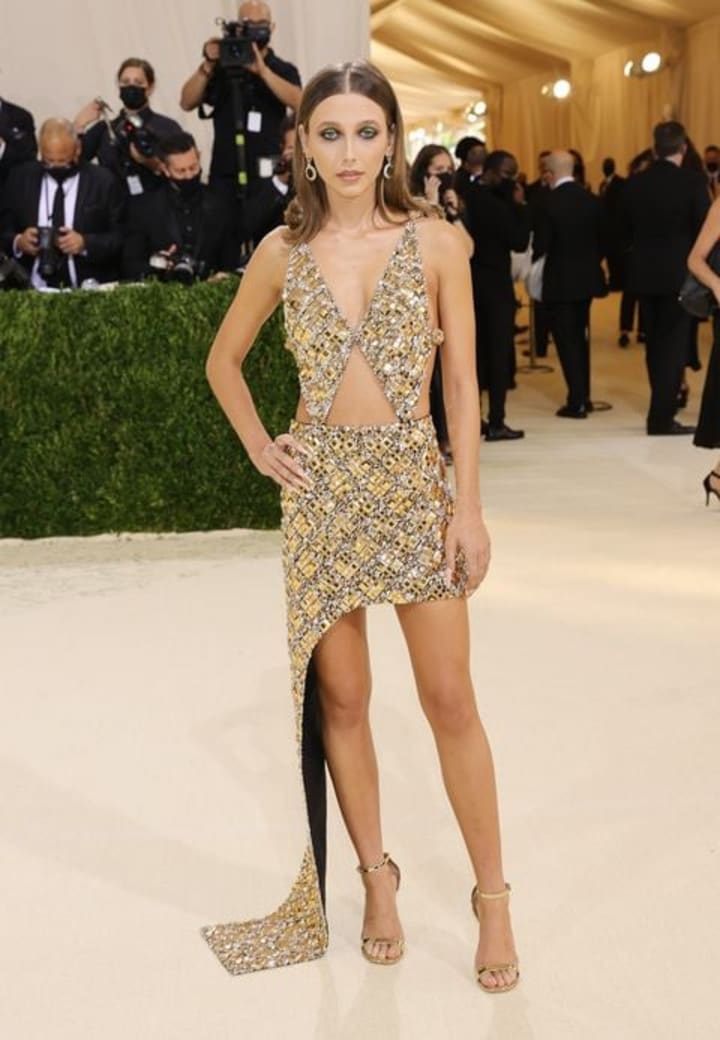 She also went with a retro look, wearing her hair curled at the ends and sporting bold green makeup, and the whole thing is giving me serious Twiggy vibes. The star, who boasts a casual 13.7 million IG followers, was just in Paris last week posting about bread and architecture and her Louis Vuitton 'fits on the platform. (She's clearly a favorite of LV's creative director Nicolas Ghesquière.) Then she touched down in NYC to head to a dinner event on Friday night where she was photographed with Kendall Jenner. And now she's at the Met Gala. What a life, right?
Timothée Chalamet walked the Met Gala 2021 red carpet in £70 trainers, showing us that celebs are just like us regular folk. Apart from, er, all of the fame, status and money, that is.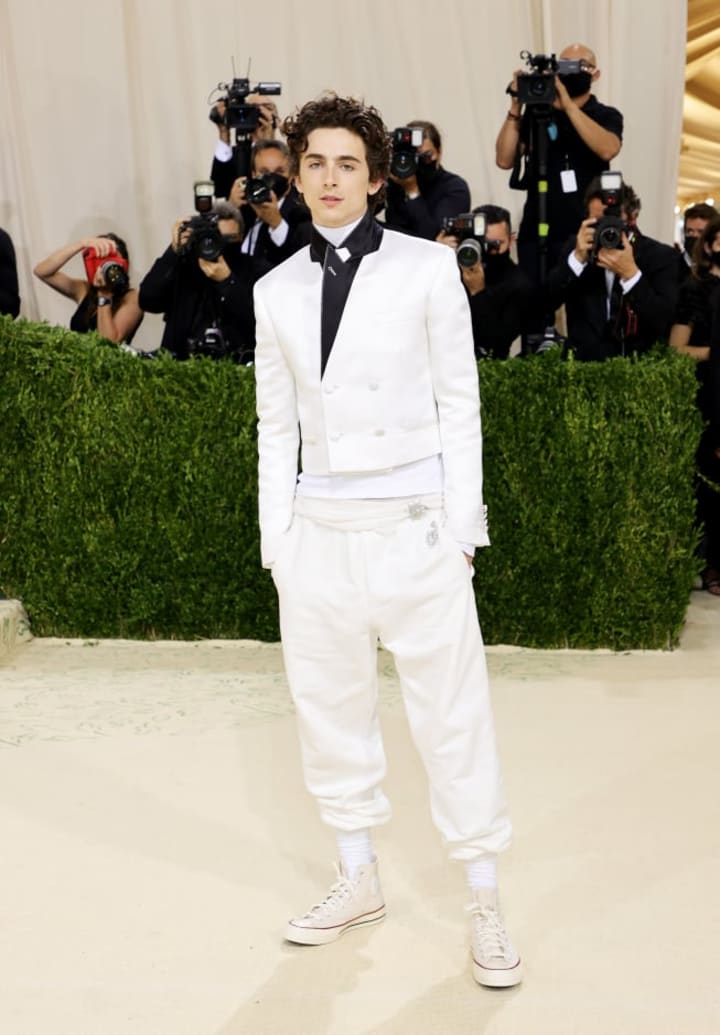 While some stars including AOC and Cara Delevigne made bold statements with their outfits, Timothée opted to prove that comfort is key.
The co-chair for the 2021 Met Gala wore an all-white suit by Haider Ackermann, with details including balloon trousers and a blazer with a black contrast lapel.
However the Call Me By Your Name actor paired this with a street-style staple – a pair of hi-top Converse trainers – to complete the look.
The theme for the first part of the annual event was "In America: A Lexicon of Fashion", and with the Chuck Taylor All Stars he couldn't get more American.
The popular Converse footwear debuted back in the 1920s and are still as popular around the globe today. Plus his pair didn't break the bank.
THANKS FOR READING, GUYS!!
About the Creator
Communication and public relations student, Moldova
Instagram profile: maria.ostasevici;
mother of two awesome Dobermans.
BEST VERSION OF YOURSELF- THAT'S TRULY EPIC
Reader insights
Be the first to share your insights about this piece.
Add your insights