Meet the Harry Potter Super Fan Who Converted a Bedroom into an Incredible Tiny Hogwarts
Much better than a broom cupboard, that's for sure.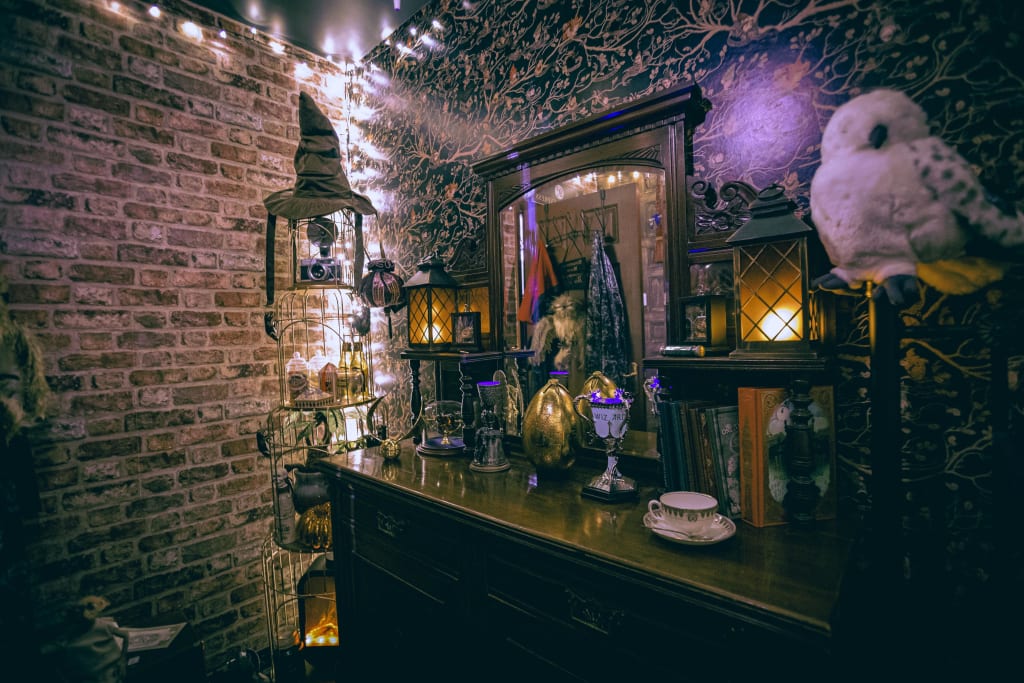 ArcH Photography
As the world around Harry Potter continues to boast new collectables to hoard and themed trinkets to holster, fans of the franchise are setting up shop and establishing some truly magnificent spaces to represent their allegiance to Hogwarts and its wondrous wizarding world.
With that said, there definitely seems to be one die-hard fan in specific that shines brighter than any Patronus charm we've ever seen. With what can only be described as a bite-sized Hogsmead, Michelle Harter of Gloucester, who has been forging the room for quite some time now, has quite literally transformed a spare room into a visually enchanting marvel that boasts every quality you'd hope for as a Potterhead.
Over the course of several years, Michelle has been fighting tooth and nail over every available Potter-themed item in order to recreate what is essentially a tiny common room fit for a house-elf — one of which homes enough fascinating trinkets to make even Hogwarts' Room of Requirement blush. And, despite the room being flooded with enough memorabilia to feed a thousand hungry eyes for all eternity — Michelle still hasn't quite called it a day with her pet project.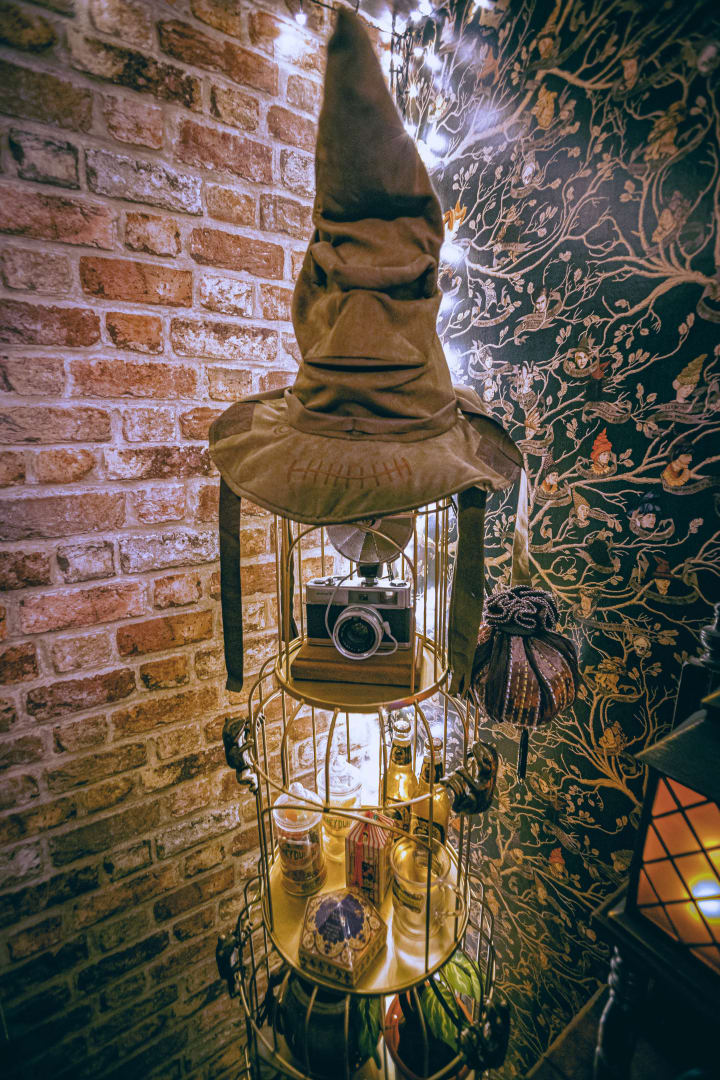 I spoke to Michelle about the room earlier this month...
The Harry Potter room is amazing. Where did the inspiration come from to start creating it?
I'm a mad bitch. I can't decide whether I'm Alice in Wonderland or Luna Lovegood. Like me, both are a little bit weird.

We got into Harry Potter listening to the Stephen Fry unabridged audiobooks on long drives, catching up before the first film came out. It was a fun way to spend family time, as we all enjoyed it, although they were quite long drives.

When our middle son was little, he decided to be a different Harry Potter character at playgroup every day. When my eldest moved out about three years ago, I knew that my youngest would want to move into the bigger bedroom and that the little room would be spare. He always used to say that Harry Potter had more room in his cupboard under the stairs than he had in his bedroom. I guess really, now that all the kids are growing up, coming and going to university and moving out, it's a way of keeping onto their childhoods.
How long have you been working on the room? And is there still room for more?
I've been buying bits and pieces for several years. It started with the Golden Egg and Hermione's time turner from Forbidden Planet during a trip to London about six years ago. I've been collecting pieces here and there ever since – but most stayed in their boxes awaiting a proper home. There's room for some more small pieces, but not much more.

It all came together this year once my youngest finally moved into the front bedroom and we could get the decorator in to put the Black family Tree up. He thought it was all a bit mad.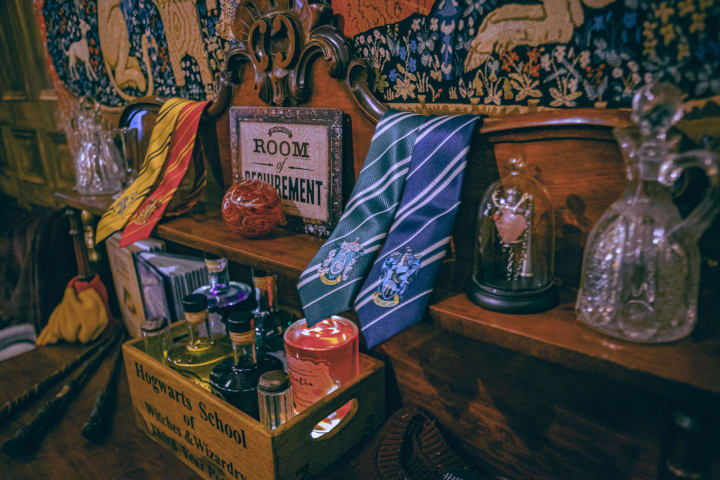 Do you plan on extending the room into other parts of the house?
No, my husband won't let me… though I would love an entire Harry Potter themed house and a house-elf to go with it (a free elf and paid, of course).

Come to think of it, I'd love to move into a castle. In all honesty, if I was to expand it into other parts of the house it would take away the magic of the little room. It's my little secret.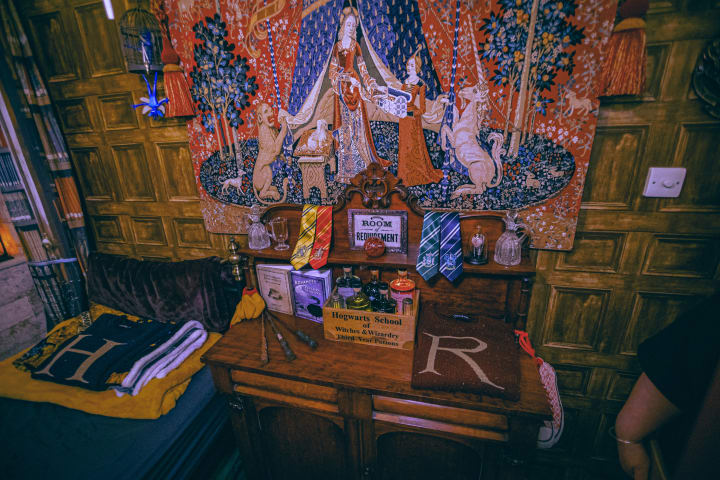 How difficult was it to find all of the Harry Potter-themed merchandise?
The internet in lockdown is a wonderful thing for hunting. Finding things in stock is a bit harder. And some things had to be imported from overseas. We got a lot from the Noble collection, the official Harry Potter store, Etsy and The Shop That Must Not Be Named. A few bits were put together from bargains on Facebook. Luna's Converse's were probably the rarest find. Now I need to find space for a real life Nagini.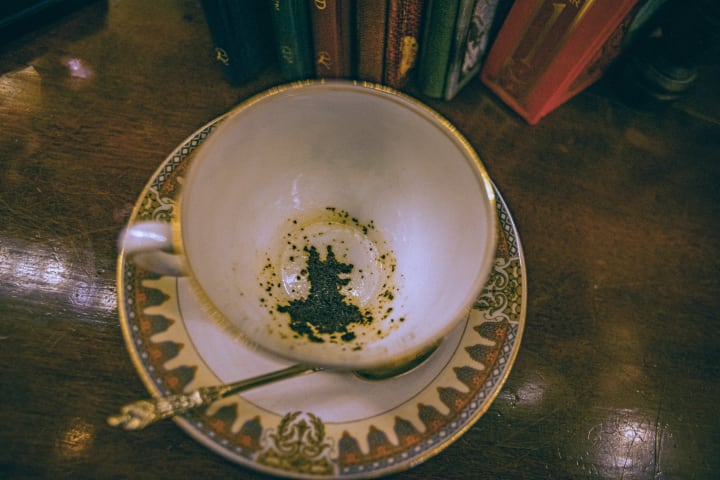 Have you ever considered letting out the room? I know people would spend serious money to stay anywhere remotely Harry Potter-themed.
No way. I'm not risking anybody damaging anything! I would cry. Open to family and friends to stay over only. I like hiding out in there too much to have it occupied.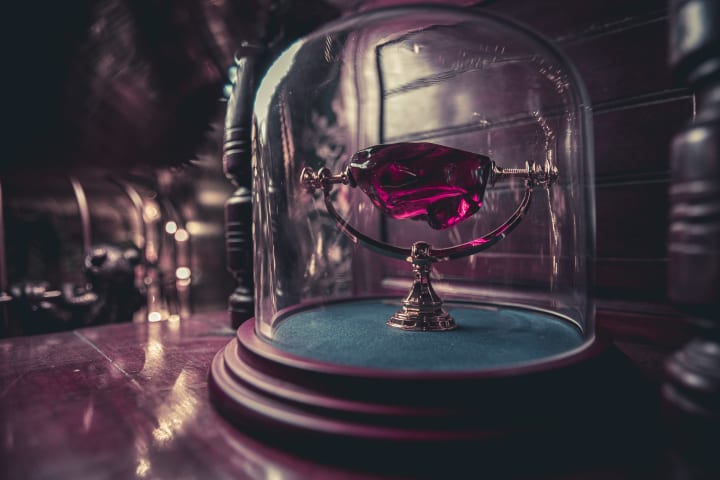 Do you have a favourite part of the room and/or collectable in specific?
I don't know. If I'm not totally in love with a piece then it doesn't go in.

I love my Gryffindor common room tapestry and the Black family tree wallpaper, but Luna Lovegood's Converse's and the Gryffindor scalf (as it was my middle son's as a baby) are probably my favourites. Oh, and my teacup with the Grim. I have a thing for teacups anyway – you should see my Alice in Wonderland shed! But that's a whole other story.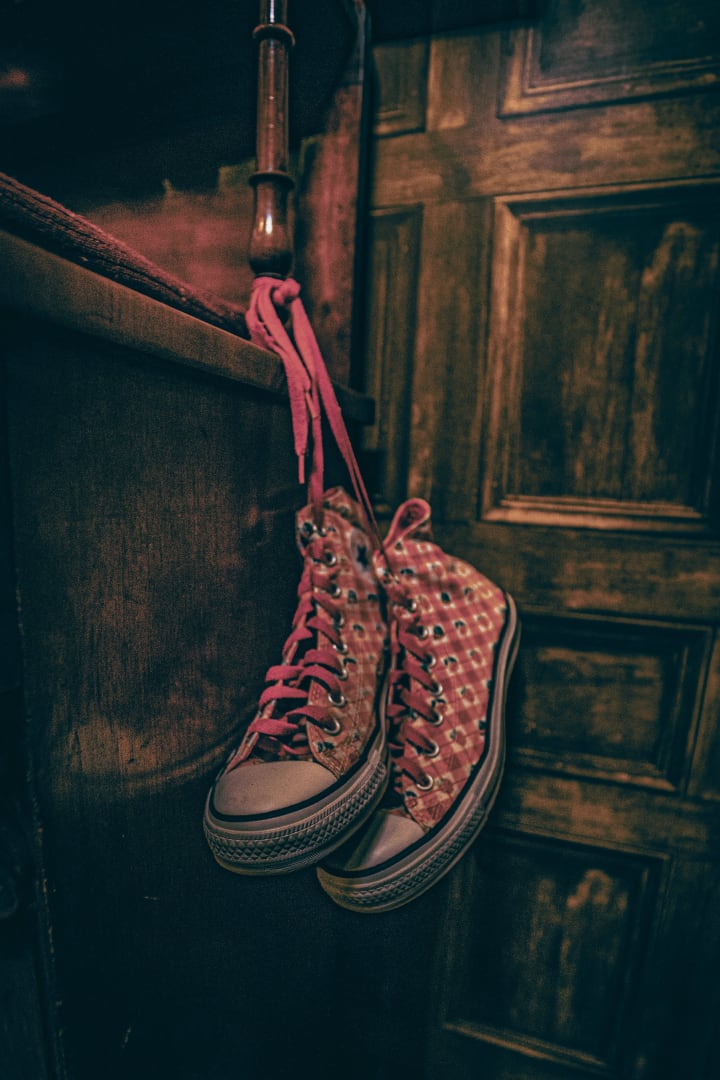 Out of curiosity, what is your favourite Harry Potter film?
I like the first one as you get to know them all, but Goblet [of Fire] is probably my favourite. Love the dragons. They go on more of an adventure with that one but the Triwizard tournament must have been really boring for the spectators. It's a shame that the films miss out so much of the books. Would have been really nice to have seen Winky in the films.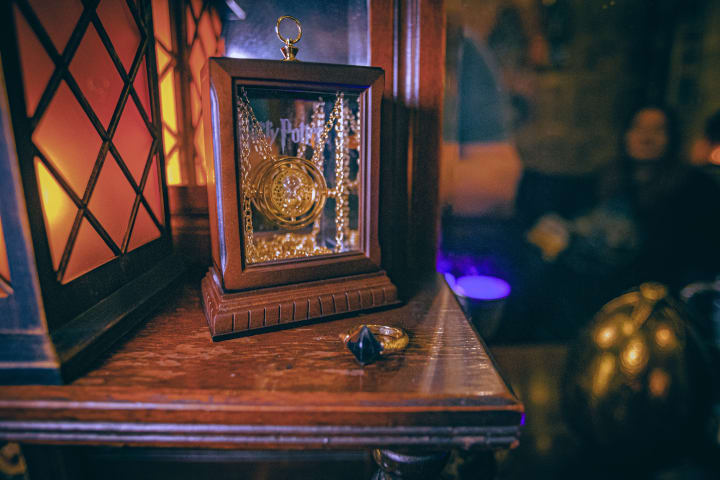 Would you mind sharing roughly how much you've invested in completing the room?
I've tried working it out several times but I get part way through and it scares me, so I stop. Although one of my children did point out that I could have bought them a new car.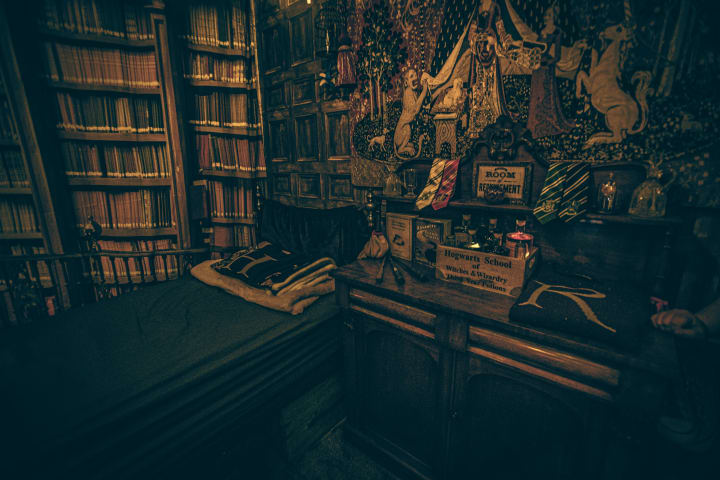 So, from looming over the brochure, would you enrol in Michelle's bitesize Hogwarts School of Witchcraft and Wizardry? If not, and you're drawing towards something a little madder — then might we suggest a trip to the shed? After all, we can only begin to imagine what treasures of Wonderland lie behind those wooden doors.
— Jord Tury