Media Executive is also a Cosplay Bikini Babe.
VP Shannon Kingston shapes the Red Sonja brand by making business decisions and being a model for comic book covers.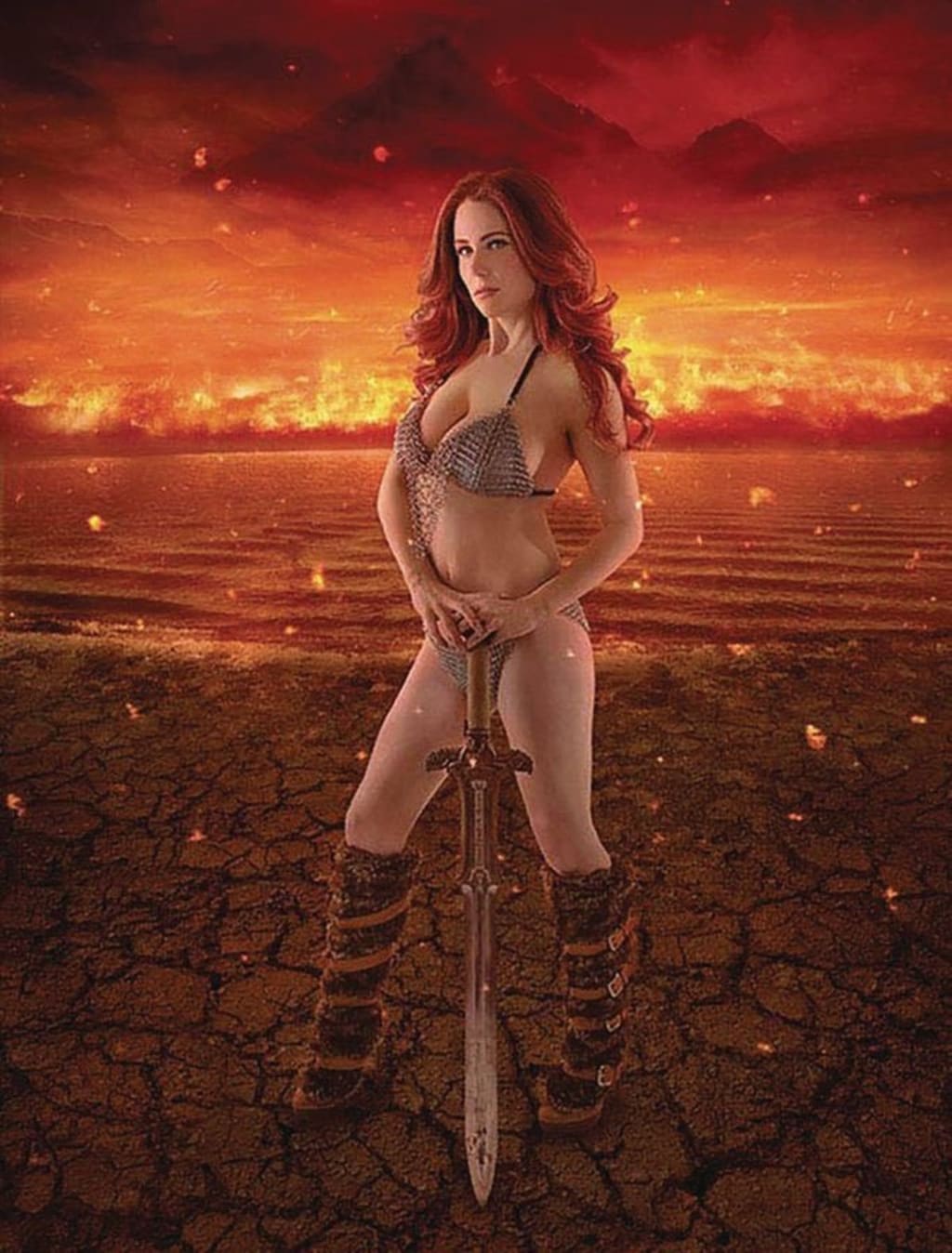 Shannon Kingston is most visible as the operator of the Red Sonja Instagram page, where she curates fan art and cosplay. She does much more than that though. Her title is Vice President of Merchandising, under which she is responsible for "Overseeing all business decisions, finding licensees, assisting in the creative process of all licensees" alongside running the social media. Red Sonja didn't use to have much merchandise, now you can get Red Sonja tarot decks, Funko Pop figures and $1,300 statues (in case you're trying to figure out what to get for my birthday, that's one suggestion). Shannon also voiced twin characters Ayla and Nias for the video Red Sonja: Queen of Plagues. After some initial reluctance, Shannon donned the iron bikini for a cover shoot, and has appeared as Red Sonja or Vampirella (for crossover stories) 11 times.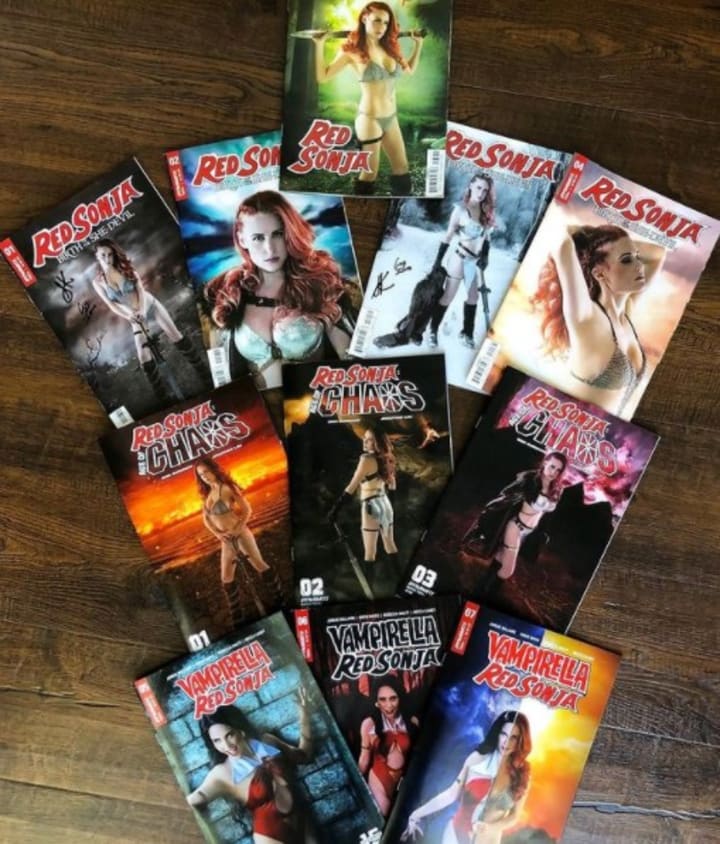 She was born Shannon Schlussel in Long Island on September 3rd. She's not saying what year, but she graduated high school in 2000, so you do the math. Shannon would later change her surname to Kingston because she said no one could pronounce "Schlussel." Shannon would discover a passion for acting while accidentally taking a drama elective at school and she would go on to get a degree in theater from Arizona State University. Shannon would appear on the The Best Damn Sports Show Period, Entourage, Nip/Tuck, MADtv, Guiding Light, Passions and the Hallmark movie Mystery Women: the Mystery Weekend.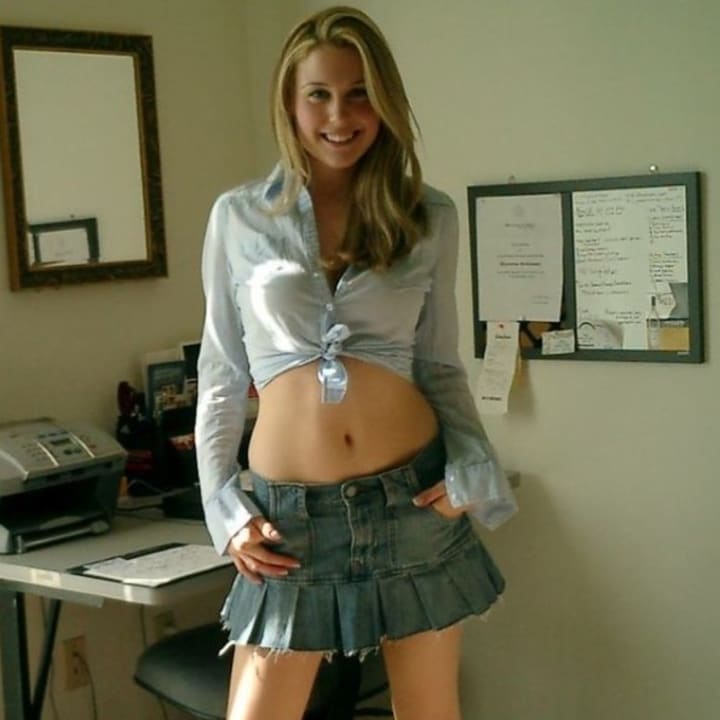 Shannon would come to be a regular at the Playboy Mansion. She's said of being there "Every time I find photos I have dreams about them. Last night I had a dream about Hef and the mansion. Fun times... More innocent than you'd think. Just pool days with some nice people." She appears in a Halloween episode of The Girls Next Door.

Shannon married Luke Lieberman in 2010. Together Luke and Shannon co-own the Red Sonja character. Luke acts as the president of Red Sonja LLC and has written over 50 Red Sonja comics.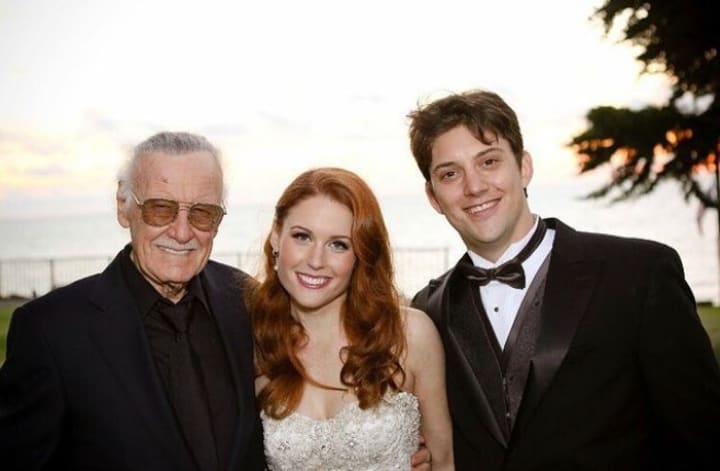 When Shannon launched the social media accounts for Red Sonja, she was not shy about posting sexy photos of herself from the start. However, she demurred from dressing up in cosplay.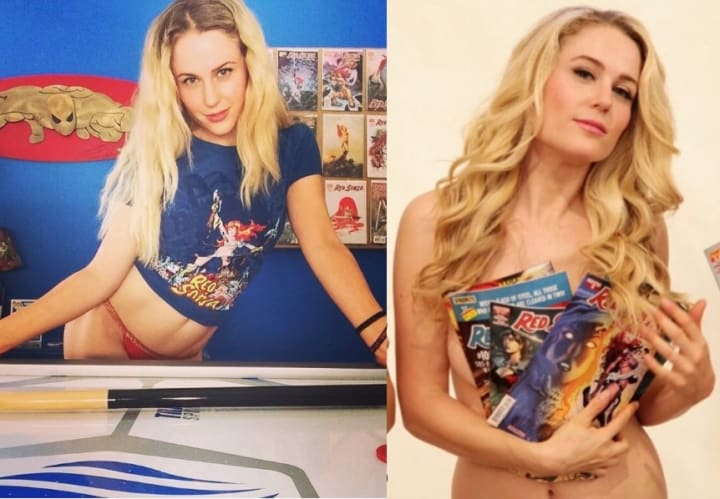 She eventually gave fans what they wanted, "The Real Red Sonja." The resulting photos of Shannon in the iron bikini did not disappoint and it's no surprise that she would become a regular on comic book covers. You can also find Shannon appearing as Red Sonja on posters, mugs, stickers, phone cases, pillows and throw blankets.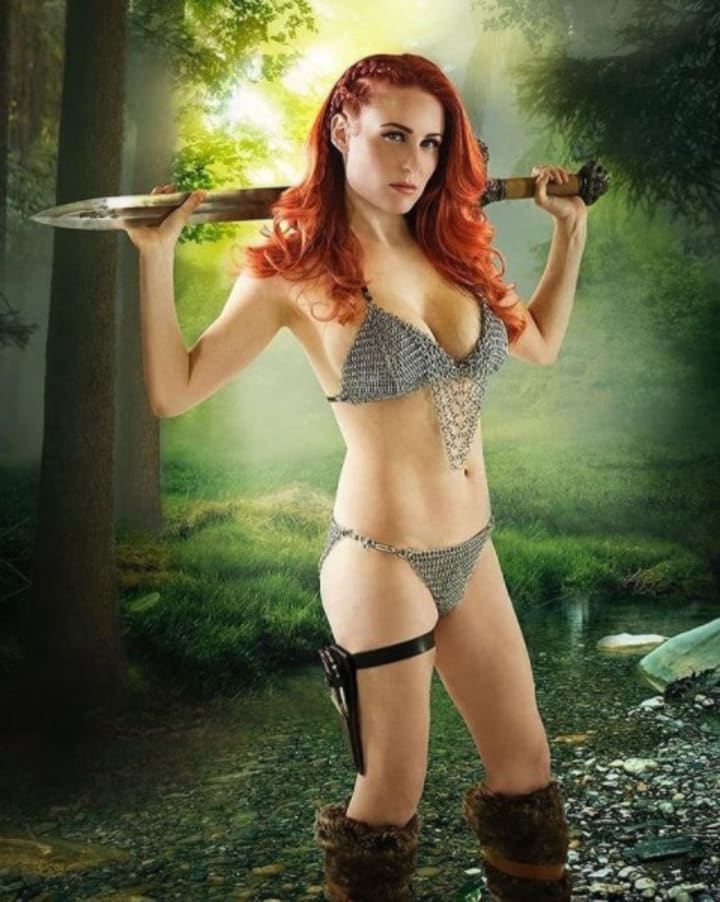 While Shannon is herself a stunner, she has said that true beauty comes from the inside, and that if people want to be a good person, then they should be able to look in the mirror and ask themselves:
"Am I accepting of all races?"

"Do I treat all people equally?"

"Do I do to others as I would want to have done to me?"

"Am I respectful of my elders?"

"Do I pay people compliments and mean it?"

"Do I really listen when I ask someone a question and they answer?"

"Do I hold doors for people, especially mothers with strollers and the elderly?"

"Do I give back to my community and give to charity?"

"Do I power trip?"

"Do I lead with my ego?"

"Do I remember that everyone has their own baggage?"

"Do I remember that you never know what is going on in someone else's life?"
"Do I leave people out in social settings or do I include them in conversation and make eye contact?"
When not promoting Red Sonja Shannon is spending time with her friends and family, going on trips to Flathead Lake in Montana or going as Hermione for Halloween.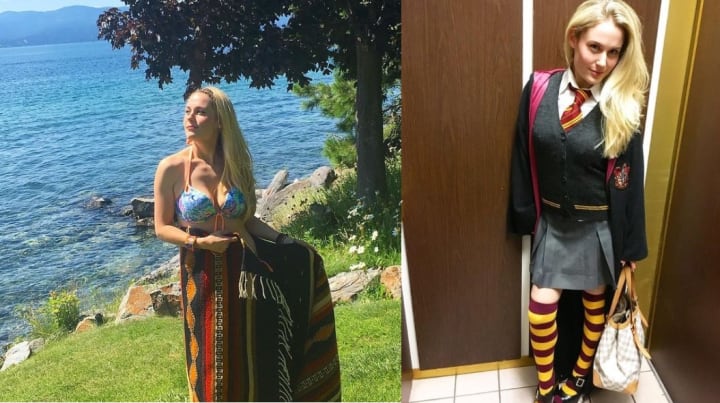 Shannon is still looking fit after multiple pregnancies and fans hope to see more cosplay from her in the future.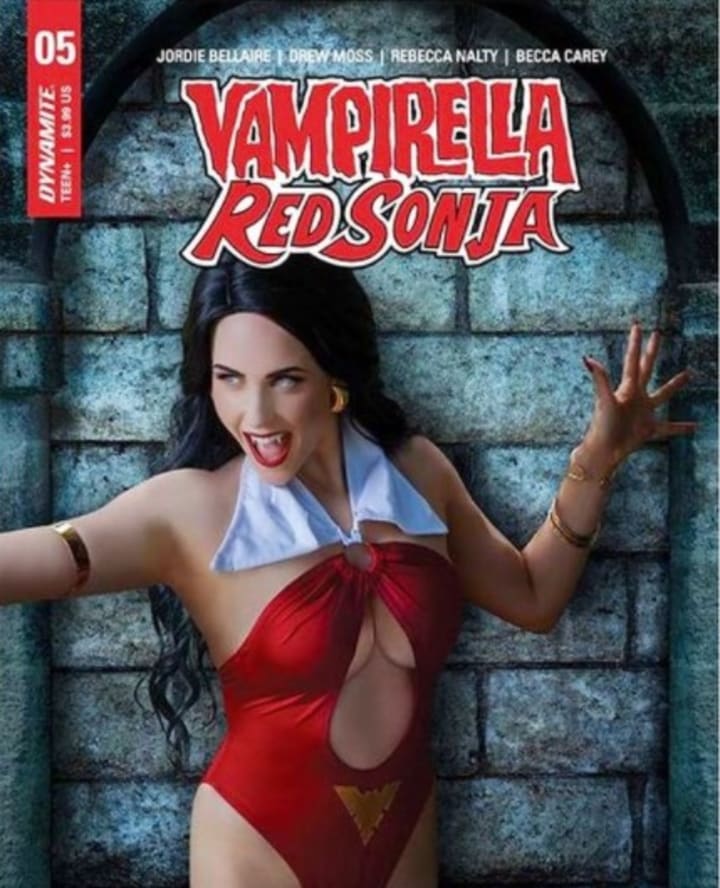 You can follow Shannon's personal Instagram here.
cosplay
About the author
Served in the Peace Corps in Ukraine, 2005-07.
Viscount of Hyrkania and private cartographer to the house of Beifong.
Reader insights
Be the first to share your insights about this piece.
Add your insights