Marilyn's Men: Mrs. Miller
Marilyn's longest marriage was to Arthur Miller, the great American playwright.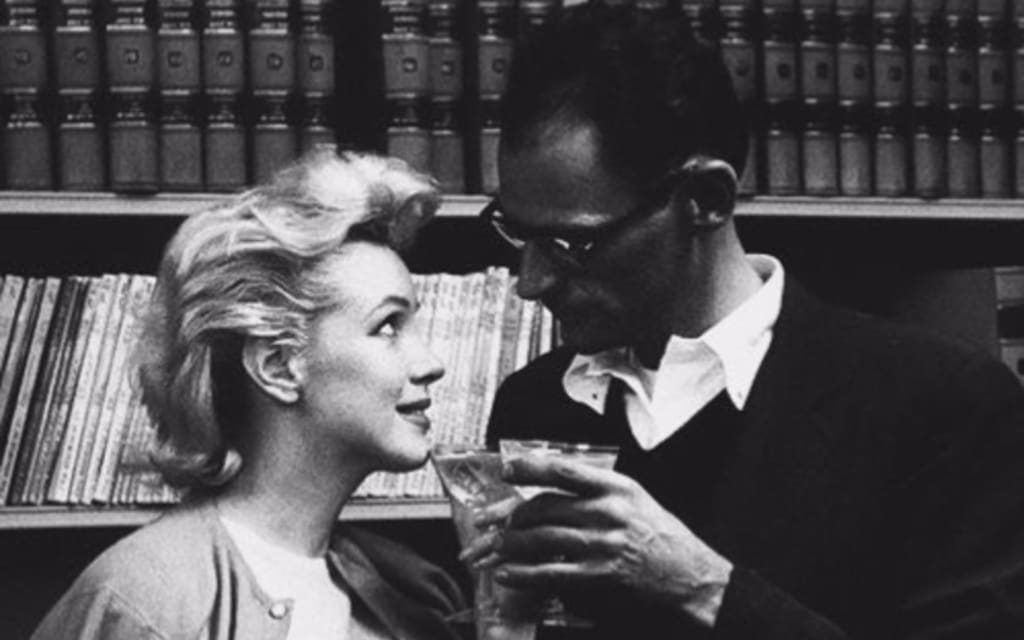 Marilyn's longest marriage was to Arthur Miller, the great American playwright. The couple had met while Marilyn was still married to Joe DiMaggio, an unhappy marriage in which Marilyn was seemingly being punished for who she really was. Arthur offered her love and appreciation for all that she was, every single aspect of her – not just the blonde bombshell seen by the press or the subservient housewife Joe had wanted her to be.
Marilyn and Arthur seemed like an odd match at face value; she, the dumb blonde sex symbol and he, the introverted intellectual writer. Though, in reality, Marilyn devoured poetry, philosophy and any literature she could get her hands on, even reciting W.B. Yeats aloud at parties and analysing Freud in her diaries. The dumb star persona projected onto her by the roles she played could not have been further from the truth, and in marrying Arthur, Marilyn hoped that the world would finally see her intellectual side.
Though they first met at a party in 1951, Marilyn and Arthur did not marry until 1956, once Arthur's divorce from his first wife Mary Slattery was final. For their marriage to go ahead, Marilyn converted to Judaism – a move that she had been discouraged to do due to lingering anti-Semitism post World War Two. Marilyn's new religion led to Egypt banning her films entirely, but she did not care; all she cared about was Arthur. The couple received further bad press due to their seemingly odd match; Walter Winchell stated that "America's best-known blonde moving picture star is now the darling of the left-wing intelligentsia", and Variety announced their marriage with the headline "Egghead Weds Hourglass." Despite the naysayers, Marilyn wed Arthur on the 29th of June 1956 in New York.
From the second their relationship became publicly serious, Marilyn became a person of interest for the FBI. The late 40s had seen the start of a Red Scare in America; namely, the fear of anyone who was even suspected of having ties to the Communist party. The House Un-American Activities Committee had been created in 1938 in order to screen anyone seen as a potential threat to America, and with the increasing tension between the US and the Soviet Union, there was a growing fear of anyone with Communist sympathies, the Soviet Union being a Communist state.
Arthur Miller had been under suspicion of having Communist sympathies since the early 1950s. His 1953 play The Crucible was an obvious allegorical retelling of the trails that were being carried out by the House Un-American Activities Committee, and the mob mentality of Salem's witch hunt mirrors the accusations that were being thrown around Hollywood at the time. When Arthur applied for a routine passport renewal in 1956, the House Un-American Activities Committee took the opportunity to summon him to testify.
On the 21st of June 1956, only days before he would marry Marilyn, Arthur was on trial under suspicion of un-American activities and sympathies. Despite the negative press surrounding her and her soon-to-be husband, Marilyn attended Arthur's trials, publicly supporting him throughout the accusations. The couple were offered for publicity in exchange for Arthur's conviction to 'go away' – if Marilyn had a photograph with the director of the House Un-American Activities Committee, all would be forgotten – but the couple refused. Marilyn's presence at the trials was on a personal level only, to be a source of support for Arthur. This not only risked her entire career and public image, but also led her to be under suspicion herself – though Marilyn was never called to trail. Arthur was found guilty of contempt of Congress, though this charge was repealed in 1958.
Marilyn's dedication to Arthur throughout the scandal of his trial proved that she was serious about him. Marilyn wrote in her diaries :
"I am so concerned about protecting Arthur. I love him and he is the only person, the only human being I have ever known that I could love, not only as a man – to which I am attracted to practically out of my senses about – but he is the only person I trust as much as myself."
She truly loved him, and saw an innate vulnerability in him that possibly reflected the vulnerability she felt. She not only wanted to be protected, but to be understood. Marilyn's marriage to Arthur not only occurred at a time of upheaval for Arthur, but also in Marilyn's career. Her performance as Chérie in Bus Stop (1956) had received critical acclaim, with The Saturday Review of Literature claiming that her performance "effectively dispels once and for all the notion that she is merely a glamour personality." This gave Marilyn a strong basis from which to build a new phase of her career.
In August 1956, Marilyn and Arthur moved to England in order for Marilyn's role in The Prince and the Showgirl. Marilyn's time in Surrey was essentially an elongated honeymoon with Arthur. Like any newlyweds, the couple were eager to start a family, but their time in England would mark the start of a long road of tragedies. In late 1956, Marilyn suffered her first miscarriage, and would have a second before the filming of The Prince and the Showgirl was through. This was just one of many shortcomings Marilyn feared about herself in her innate need to achieve perfection. This would also mark her second suicide attempt. Her deep need for perfection also bled into her acting style; after her time at The Actors Studio in New York, Marilyn was more self critical than ever concerning her craft, and required multiple takes, causing tension on set between her and her co-star/director Laurence Olivier.
Although Marilyn was supported by Miller throughout this difficult time in her career, she could not dissuade the doubts in her mind. Understandably so, she feared rejection and abandonment, having been abandoned by her parents, foster parents and two husbands. Her diaries at the time reflect this fear :
"I guess I have always been deeply terrified to really be someone's wife, since I know from life, one cannot love another, ever, really."
As is evident throughout Marilyn's life, her worst enemy was herself. Her doubts surrounding her image, career and ambitions manifested in terrible anxiety and insomnia, which she had began to medicate with alcohol and doctor-prescribed pills by 1957. However, Arthur's quotes from the time appear to show that her worries were completely unfounded. He adored her.
"She was a whirling light to me then, all paradox and enticing mystery, street tough one moment then lifted by a lyrical and poetic sensitivity that few retain past early adolescence. It was an ironical summer that I will never forget, my soul only half there (at work) and exhilarated with life and at the same time ridden with guilt. I loved her as though I had loved her all my life; her pain was mine"
Arthur's adoration of Marilyn continued after their return to America. Upon completing The Prince and the Showgirl, Marilyn took an 18 month break from acting in order to focus on Arthur and their shared ambition to start a family. Marilyn's choice to dedicate her time to being Arthur's wife was not an expression of subservience or any lack of ambition on her own part. Though she had refused the role of housewife when married to Joe, the prospect of spending time away from her star persona with Arthur, a man who appeared to truly understand the 'real her,' proved to be highly appealing.
The couple moved to a house in Roxbury, Connecticut – the very house that Arthur had shared with his previous wife. With Arthur's two children from his previous marriage also very much present in her life, Marilyn was haunted by the ghosts of Miller's past. This melancholy would unfortunately manifest itself in a number of tragedies for the couple; in the summer of 1957, Marilyn became pregnant once again, but this pregnancy was later determined to be ectopic. In order to save Marilyn's life, the pregnancy had to be terminated, and the world instantly knew when paparazzi hounded the couple to the hospital. Marilyn entered with a blanket over her face, but left hand in hand with Miller. The brave face she displayed to the waiting press was a continuation of her devotion to her fans, who she truly did everything for. However, the brave face only concealed the bereavement she felt – later that summer, she once again attempted suicide.
Towards the end of her break from acting, Marilyn's depression was gradually taking over. Becoming more and more melancholy, Marilyn's mood put a strain on Arthur, who wanted nothing more than to help his wife, but found time and time again that he was unable to. He later said :
"I too was struggling because I could not smash her enemies with one magic stroke, our own relationship was wounded because she was beyond my reassurance, she had no means of preventing the complete unravelling of her belief in a person once a single thread was broken"
With no children and Arthur dedicated to his work, Marilyn found herself alone much of the time with only her thoughts for company, and that was not a situation in which she intended to remain. In 1958, she made a return to acting, albeit in yet another 'dumb blonde' role in Billy Wilder's Some Like It Hot.
Much of the bad press concerning Marilyn's demeanour on set comes from tales told from the production of Some Like It Hot. It was Marilyn's first film in almost 2 years, and she suffered from anxiety concerning her performance, image, and an ongoing need for perfection in all elements of her life. Her medication for anxiety and insomnia proved to affect her memory, making lines difficult to remember and resulting in multiple takes for most scenes. Marilyn once again relied on her acting coach Paula Strasberg for support, as well as Arthur, who was present on set for much of the filming.
Though her performance in Some Like It Hot is not Marilyn's best, it is arguably one of her most famed. The film itself has gained cult status as one of the greatest comedies of all time, and it once again offered a vehicle for Marilyn's singing talent (especially in I'm Thru With Love).
The production of Some Like It Hot marked yet another tragedy for Marilyn and Arthur – in late 1958, they lost another baby due to miscarriage. Marilyn was once again devastated, and, once again, attempted suicide. She took another break from acting, during which time she began therapy.
By 1960, Marilyn and Arthur's marriage was deteriorating quickly. I was not a case of blazing rows and fights, as it had been with with Marilyn and Joe, but rather a radio silence. Both had so deeply wanted the marriage to work, but Arthur was realising more and more that Marilyn was simply beyond saving, or at least beyond any help he could possibly offer. Marilyn was in despair; despair for her continual portrayal as the silly blonde as opposed to the serious actress she so wished to be, and despair that she still had not achieved one of her greatest ambitions – to be a mother.
As a Valentine's gift, Arthur presented Marilyn with his screenplay of The Misfits. The main female role of Roslyn had been written for Marilyn, a chance for her to play the serious lead she had always dreamed of. Production began in July 1960, and proved to be a difficult shoot for all involved.
Roslyn, it seemed, was not only written for Marilyn – Roslyn was Marilyn, or at least how Arthur saw her. Admitting it himself, Arthur later said :
"I based a lot of Roslyn, the girl in my Misfits screenplay, on Marilyn. Marilyn identifies powerfully with all living things, but her extraordinary embrace of life is intermingled with great sadness. In the picture Roslyn dances in the woods, longing for the stability of a tree, sad that she can't be at one with Nature's beauty. Marilyn's tremendous empathy for people and animals is reflected in the movie too… Frank Taylor, our producer, says 'Marilyn hates cages for birds, leashes for dogs and halters for herself."
Some of the film's rhetoric was seemingly lifted from life too. A heartbreaking exchange between Roslyn and Gay in almost exactly identical to what Marilyn recalled her first conversation with Arthur to be;
"What makes you so sad? I think you're the saddest girl I ever met."

"No one ever said that to me before. I'm usually told how happy I am."

"That's because you make a man feel happy."
In The Misfits, Arthur proves that he saw Marilyn for who she was beneath the blonde bombshell persona the rest of the world saw. He saw her beauty, her sensitivity, and he saw how broken she truly was. The Misfits is Marilyn's strongest use of The Method, and the film allowed Marilyn to finally reflect her true self in a picture, but it also marked the undoing of her relationship with Arthur. He finally admitted defeat, knowing that he could do no more to help her.
"I realised now, as I longed for a miracle, that I had come to believe no analysis could reach into her. I had no saving mystery to offer her; nor could her hand be taken if she would not hold it out. I had lost my faith in a lasting cure coming from me, and wondered if indeed it would come from any human agency at all."
Arthur and Marilyn divorced in January 1961.
Of all her marriages, Marilyn gave the most of herself to Arthur. He saw her in a way no man ever did. Perhaps because of his craft, his innate skill at dissecting characters allowed him to see Marilyn for all she was; not just as a sex symbol or a housewife, but as "...a whirling light…all paradox and enticing mystery". As is evident from Arthur's later work, Marilyn never truly left his ind, despite the fact that he remarried and has two more children. After the Fall (1964) and Finishing the Picture (2004) are both thinly veiled retellings of Arthur's final days with Marilyn during The Misfits – perhaps this was his way of attempting to make some sense of how their marriage fell apart.
The sad truth is that, had Marilyn been well, their relationship would have been completely different. Her endless fears of inadequacy, abandonment and failure combined with her enduring depression and increasing dependency on medication created a cloud through which she could not see how desperately her husband wanted to help her. Unlike her previous husbands, Arthur supported Marilyn's work completely. He valued her dedication to her craft, and recognised her intellectualism. She adored his gentle nature, his devotion to all she was and his intelligence.
When Marilyn died in 1962, Arthur did not attend the funeral. When asked why he did not want to come, he replied quite simply "Why should I? She won't be there."
Arthur saw perhaps more of the 'real' Marilyn than anyone else. He loved her through her whirling light days and through the darkest of times, but, no matter how much he loved her (and he did love her), he simply could not save her from herself.