'Mamma Mia: Here We Go Again'
This film will have you laughing and crying all at the same time.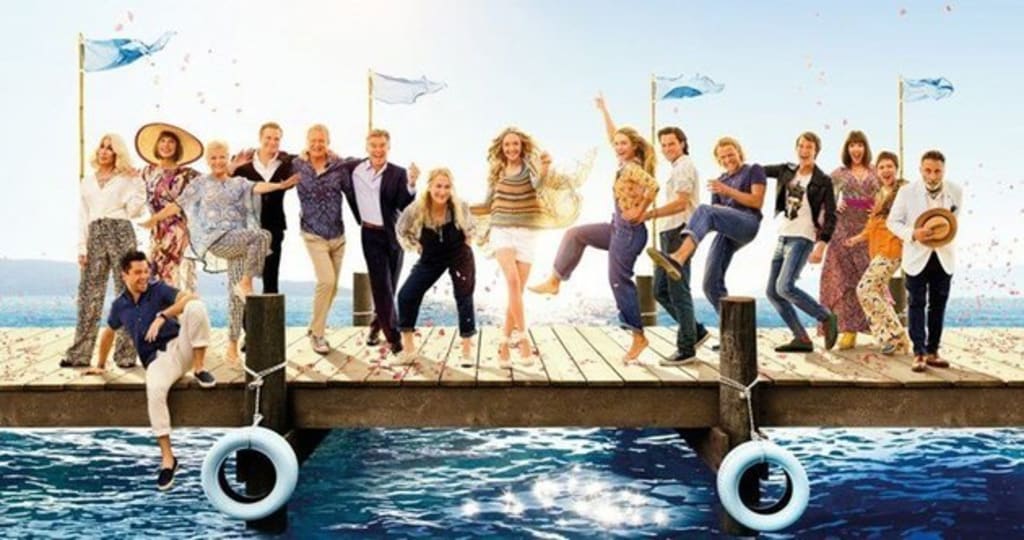 So, after 10 long years we're finally back on the island of Kalokairi with our favourite all-singing, all-dancing friends. I don't know about you but the first film was the best I've ever seen. It truly is one of the most iconic of my generation. It picks you up when you're feeling down, it's the best kind of film to watch on a sick day. I mean who doesn't love a bit of ABBA to cheer them up—especially with this cast singing it. Thus, when it was announced that after a decade of waiting they would be releasing a second one, I was apprehensive. What if it didn't live up to the first?
Let me tell you, it most certainly does. Mamma Mia is my favourite film of all time, but Mamma Mia: Here We Go Again is even better.
The clever interweaving of the prequel and the sequel is hilarious, heart-warming and includes all of our favourite songs. Sadly (or not depending on differing opinions) Pierce Brosnan, Colin Firth, and Stellan Skarsgård have no solos as all of their songs are sung rather sweetly by their younger counterparts. However, they still all bust a move every now and then and believe me when I say there is nothing better than watching our three favourite dads having a boogie together.
Lily James, Alexa Davies, and Jessica Keenan Wynn are fantastic as young Donna, Rosie, and Tanya and it's really interesting to see the backstory behind Donna and the Dynamos. Jeremy Irvine, Josh Dylan, and Hugh Skinner who play young Sam, Bill, and Harry are also incredible. Lily James has an incredible voice, she has captured the essence of Donna perfectly and it's fair to say she's had the best time dancing and singing on a beautiful Greek island pretending to be Meryl Streep….and we're all incredibly jealous!
Speaking of the Streep, her song "My Love, My Life" is outstanding. We all knew she was an amazing singer, but as Bjorn mentioned in a recent interview, no one can tell a story like she can. She brings this song to life in an emotional and hugely moving way. I dare anyone to get through that song without shedding at least one tear. However, despite this film packing more of an emotional punch than the last, it is still unashamedly cheesy and hilarious. Julie Walters and Christine Baranski are on top form, some notable quotes being: "I think my soulmate may actually be carbs" and "Be still my beating vagina". Now if that isn't enough of a reason for tickets to sell out I don't know what is.
But of course, the moment of the film everyone was waiting for; the arrival of Cher. A highly anticipated scene that will not let you down. Not only does she look AMAZING as she gracefully descends into the party, but she is also a fantastic comedic actor, telling Amanda Seyfried's character at one point that "holding a grudge makes you fat". And her solo song "Fernando" is simply sublime. Andy Garcia's character was created especially so that Cher could sing this song and rightly so as it is a truly special moment and one that I would love to see in real life.
I know there are some cynics out there who will try and claim that this film is too cheesy and absurd. But who doesn't love a bit of cheese every now and then?! And, on top of that, there is a far more intricate storyline which packs a huge emotional punch. It is funny, moving, heart-warming and hilarious and I urge every single one of you to go and see it.