Macho Madness
By Mark Cannon Jr.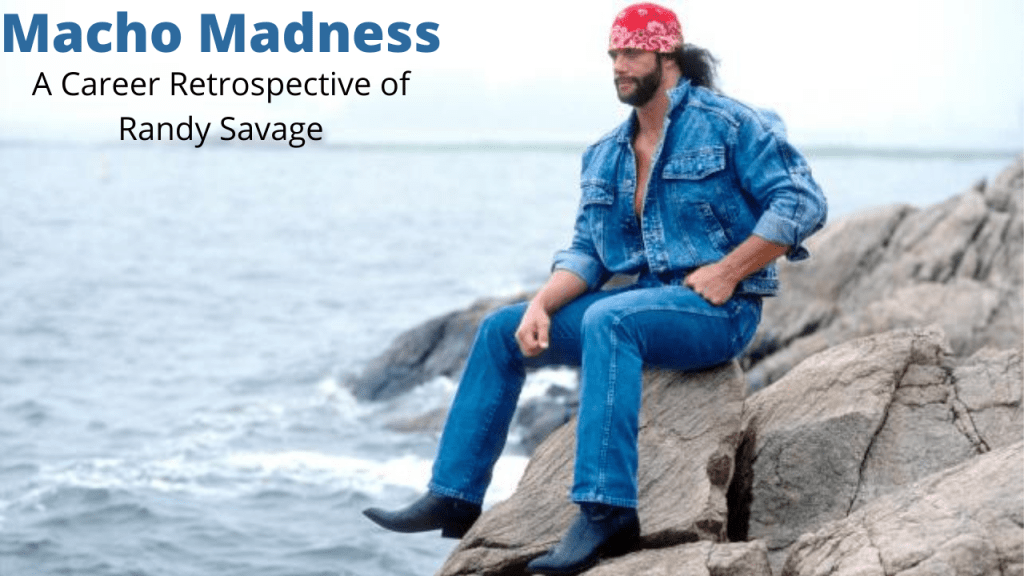 Photo Credit to WWE.com
Randall Mario Poffo was born on November 11, 1952, but we would come to know him as the one and only "Macho Man" Randy Savage. Before entering the world of professional wrestling, Poffo was signed by the St. Louis Cardinals as a catcher straight out of high school. He was placed in the minor leagues to help develop his skills. In the minor leagues, he primarily played as an outfield. Randy injured his right shoulder, which was his natural throwing arm, in a collision at home plate, after this, Randy learned to throw with his left arm instead. Poffo's last season was in 1974 where he finished with a .254 Batting average and had hit 16 home runs.
Randy first began wrestling in the 1973 off-season going by the name The Spider and was a lot like a certain superhero. After his run-in baseball didn't seem like it was going in the direction he had hoped, Randy chose to follow in his father, Angelo, and his brother, Lanny's footsteps, and join the ranks of professional wrestling full time. Randy was a smaller individual most likely at 5'11" give or take an inch or two with a slim physique. If he was going to be successful in the world of professional wrestling he was going to have to add muscle and develop a character. Randy completely changed the way he trained, adopting more of a strength training regiment in order to build a more "wrestler-like" physique. Randy adopted the name "Savage" at the suggestion of his friend and trainer, Terry Stevens, and when Georgia Championship Wrestling booker, Ole Anderson told him that the name Poffo did not fit a man who wrestled like a savage. Randy coined himself the "Macho Man" after his mom had read an article in Reader's Digest proclaiming the phrase "macho man" would become the next hot phrase in pop culture.
Randy's first match was against Paul Christy. Randy worked with his father and his brother throughout the Carolinas, Michigan, the Maritimes, and the eastern Tennessee territory. Randy's father, Angelo felt like his sons were not being utilized correctly and started his own outlaw promotion known as International Championship Wrestling and held events in the Mid-American states. ICW would eventually disband and join with long-time rival promotion, the Continental Wrestling Association where Jerry Lawler reigned supreme. Randy would immediately enter a rivalry with Jerry Lawler upon his arrival in Memphis where he interrupted a broadcast in a frenzied state, threatening commentator Lance Russell and carrying a framed picture of Lawler. Randy demanded that he get a match with the king of Memphis, smashed the framed picture of Lawler over his head before he and Angelo rolled out a long white banner proclaiming Savage wanted Lawler. This established, Randy as a wild man and set him up as one of the king's craziest rivals.
Randy and Lawler would spend the next several months facing one another culminating in a brutal steel cage match. Once this portion of Randy's feud with Lawler wrapped up, he and his brother, Lanny would engage in some titanic clashes with the Rock-N-Roll Express. It was a fateful night in Memphis when Randy and Ricky Morton were on the outside and Macho would piledrive Ricky Morton through the table, to my knowledge this was the first time a table had been used in the U.S. as a weapon. While the Rock-N-Roll got the victory, Savage had made history.
Later on, in 1984, Randy would turn babyface and side with Lawler against Jimmy Hart's first family. Lawler and Savage would face Rick Rude and King Kong Bundy in two matches. The first one ended in a disqualification, so the rematch would be under no disqualification rules. After an intense battle, Rude and Bundy would defeat the King and Macho Man, putting an end to their feud. Savage would again turn on Lawler and they would feud over the Southern Heavyweight Championship. This would lead to a Loser Leaves Town Match where Lawler would get the win and Savage would then head to the World Wrestling Federation.
In June of 1985, the World Wrestling Federation got the services of the Macho Man Randy Savage, little did they know the Madness would soon take over the promotion…sort of. Randy was being billed as "Wrestling's number one free agent" leading to the who's who of managers offering ridiculous amounts of money and perks to acquire the talents of Randy Savage. This went on for weeks and was different than most builds as typically a manager would bring in talent and they would go after a championship. In this case, the managers were trying to woo the client which was a departure from the status quo. Randy would also break from tradition as instead of choosing one of the Federation's established male managers, he would introduce the world to the first lady of professional wrestling, Miss Elizabeth.
Legend has it, Missy Hyatt was Vince McMahon's choice for Savage's manager, but Randy said that he felt his real-life wife would be better suited. Elizabeth auditioned for the role and it was lust at first sight for company officials and Randy and Elizabeth would become a popular on-screen pairing. Savage's charisma was always lightyears beyond everyone else's, with sequenced robes and headbands, bright-colored trunks, and aviator sunglasses, in a time known for its flash and flamboyance, Randy Savage brought class and colorful wardrobes to an entirely new, at times, outrageous level.
Randy would instantly be a thorn in the side of, Hulk Hogan, challenging him verbally any chance he got. The combination of Savage's incredible skills, flamboyance, and his gorgeous valet made him a perfect foil for the Hulkster. Just six months after his debut in the Federation, Savage was challenging, Hogan for the World title. On December 30, 1985, Randy Savage would enter the hallowed halls of Madison Square Garden to face Hulk Hogan for the World Wrestling Federation Championship. The Macho Man was dressed for the occasion, wearing a blue and white sequenced robe with a matching headband and Elizabeth was wearing a blue and white sequenced dress. There was an unmistakable buzz in the garden on this night and Hogan and Savage took them on a thrill ride for fifteen minutes. Savage would get the win via count-out, a rare occurrence in the '80s…a loss for Hulk Hogan.
From here, Savage would face, Tito Santana for the prestigious Intercontinental Championship, Savage and Tito were very similar in size and skill. While Tito lacked the charisma of Savage, he was a solid hand in the ring and a good worker, Savage though? Savage was money. On, February 8, 1986, Macho Man would dethrone Tito Santana and capture the IC Strap in the Boston Garden. Savage and Tito would spend the next few months battling over the championship culminating in a no disqualification match at Madison Square Garden. Savage would go on to defend that championship against virtually anyone you can name, Pedro Morales, Bruno Sammartino, and even the Junkyard Dog. However, amongst these grueling and talented performers, the Macho Man would soon be confronted by an Animal.
On the January 4, 1986 edition of Saturday Night's Main Event, Savage would come face to face with George "The Animal" Steele and the animal would lay his eyes on the lovely Elizabeth for the first time. It was very apparent from the outset that George was infatuated with Elizabeth and as would be the case with any man, Savage took exception to the animal pawing at his valet like a piece of meat. Savage would turn his aggressions towards Elizabeth, however, and blame her for allowing Steele to touch her, garnering him the ire of the crowd. Savage would spend the next several months facing Steele in an on-again, off-again rivalry. As Savage was battling the Animal, he would also face off against a Dragon.
On the November 22, 1986, edition of Superstars, Savage would face Ricky "The Dragon" Steamboat for the Intercontinental Title. Growing frustrated by an inability to keep, Steamboat down, Savage would go outside the ring and grab the timekeepers bell then come from the top rope with it, crushing the larynx of Steamboat, putting the dragon on the shelf for the next several months while he continued to feud with Steele. The Macho Man was a busy individual throughout 86 and 87 as he was facing, Steele regularly while garnering hate from audiences and commentators alike for his heinous actions towards Steamboat and his mistreatment of Elizabeth.
During a match on Saturday Night's Main Event, Steamboat would make his triumphant return to the Federation, coming out during yet another confrontation between Savage and Steele. As Savage would defeat Steele 2 more times on Saturday Night's Main Event showings, he was able to put the animal down and set his sights solely on the dragon, setting up for a historic bout in the Pontiac Silverdome in front of about (Legitimately, 78,000 people) but the company claims 93,000 people were in attendance.
While the match between Savage and Steamboat was only fifteen minutes, it was fifteen minutes of non-stop, heart-pounding action, unlike anything many fans had seen at least in the United States. In my opinion, it was this match that showed the powers at be, in the giant heavy Federation that two average-sized, skillful wrestlers could be a feature attraction and draw crowds as well if not better than enormous, clunky big men. The crowd felt it too as despite being a cowardly, violent bad guy, this performance along with Savage's own flamboyance and unique…charm? Would soon turn him into a fan favorite.
After his crushing loss to Steamboat at WrestleMania, Savage was kind of in-between places, fans were beginning to cheer him even though stylistically, he hadn't changed so he would face enhancement wrestlers while figuring out who to attack next. Savage would get his answer in the form of the Honky Tonk Man. Honky had defeated, Steamboat for the same Intercontinental championship, Savage had held so proudly for over a year. It didn't take long for the arrogant Honky Tonk to make claims of being the greatest Intercontinental champion of all time, a claim that ruffled the feathers…or sequenced robes of the Macho Man! Savage would chase down Honky's manager, and old Memphis acquaintance, Jimmy Har,t and warn the mouth of the south to tell Honky Tonk to keep Savage's name out of his mouth, a warning the Honky Tonk Man would not heed.
Savage would face the Honky Tonk Man on an episode of Saturday Night's Main Event and more history would be made. As Savage and Honky battled, Honky would enlist help from his stablemates, The Hart Foundation, Bret Hart and Jim Neidhart. Savage was able to get the win via disqualification and as the three men…and Jimmy Hart beat down, Randy, Elizabeth stood on the outside looking terrified for her man. Elizabeth would run to the back, leading Jesse Ventura to speculate she had abandoned Savage in his time of need. Liz would return, however, and she would bring some serious back up in the form of heavyweight champion, Hulk Hogan. Hulk would enter the ring to help Savage fend off the attacks of the Honky Tonk Man and the Hart Foundation.
Savage and Hogan would bump back-to-back and Savage would turn ready to fight as he and the Hulkster were not friends at this point. As Elizabeth explained her actions, Savage would…kind of calm down and offer his hand to theHulkster. In a moment that would live on forever and become an iconic image in the annals of professional wrestling lore, Savage and Hogan would ever so slowly shake hands and would later proclaim themselves the Mega Powers as it was the meeting of Macho Madness and Hulk-A-Mania.
On the February 2, 1988 edition of the main event Savage would again face the Honky Tonk Man for the Intercontinental Championship in what was the most-watched wrestling program of all time. Savage would win via count-out. As Savage sat in a heap in the corner, Honky Tonk Man would try to hit him with his trademark guitar, but Elizabeth laid in front of him causing Honky to back off. This didn't stop the Honky Tonk Man though as he wound up and was going to hit Liz with the guitar, Savage would block the hit and send Honky Tonk running away.
With his feud with Honky out of the way Savage would find himself as one of sixteen men in a tournament for the World Wrestling Federation Championship. Savage would beat, Butch Reed, Greg Valentine, One Man Gang, and Ted DiBiase to capture his first Heavyweight Championship. After the match, Hogan would rush into the ring and toss the brand-new championship at Savage, taking a bit of thunder from the Macho Man. It was here we saw the first cracks in the foundation for the mega powers as while Hogan was grandstanding, showing up Savage despite Savage being the champion, Hogan made sure he was center "fending off" DiBiase and Andre the Giant with a steel chair.
These small instances would drive the already wound tight, Savage completely insane and the issues between Hogan and Savage would come to a head-on The Main Event as the Mega Powers fought the Twin Towers of Akeem and the Big Boss Man. During the match, Savage was tossed outside the ring on top of Elizabeth sending her crashing down to the floor. Hogan knelt down next to the fallen Elizabeth, heartbroken that Savage's manager had been hurt. As Savage looked on in disbelief as Hogan showed an uncomfortable level of concern towards Savage's manager/wife. While Hogan stayed over Elizabeth, Akeem reached down and forced Savage back into the ring. Medical Personnel soon came out and wheeled Elizabeth back to the trainer's room and Hogan followed…abandoning his partner, Savage.
Only at the behest of Elizabeth did Hogan return to the ring. As Hogan cheered Savage on once he returned to the ring, Savage was able to get a momentary advantage over Akeem, sending the big man outside to the floor. Hogan pleaded with Savage for a tag, Savage who was not happy about Hogan abandoning him tagged Hogan alright, he slapped him across the face and left the ring. Hogan bewildered by Savage leaving him turned his back on the Twin Towers and they capitalized on the opportunity and attacked Hogan. Hulk was able to make a comeback, however, and get the victory. After the match, Hogan rushed backstage to Elizabeth, where Savage was. Savage was complaining to a still hurt Elizabeth about Hogan leaving him alone when Hogan came in and confronted Randy.
After a verbal confrontation, Savage seemed to leave the room allowing Hogan to turn back to Elizabeth as he did, Savage jumped him from behind busting Hogan open. Referees flooded the room, pulling Randy off of Hogan. Elizabeth would pull herself from the bed and rush to Hogan's side. Savage came back in, determined to assault Hulk once more. Seeing Elizabeth at Hogan's side only enraged Savage more and he dragged Liz by the arm off Hogan before striking Hogan with the championship belt before finally exiting the trainer's room leaving a wake of carnage and destruction upon his exit.
Hulk Hogan and Randy Savage would meet at WrestleMania 5 in an enormous main event for the World Wrestling Federation Championship. Hulk would best Savage to regain the title for the second time. After this, Randy would defeat Jim Duggan to become the King of the World Wrestling Federation. In a coronation led by The Genius (Lanny Poffo), Savage was proclaimed the king and his new valet, Sensational Sherri was proclaimed the Queen of the World Wrestling Federation. Savage and Sherri would feud with the "American Dream" Dusty Rhodes and his manager, Sapphire. This led to the first-ever mixed tag team match at WrestleMania. Savage and Sherri would ultimately lose but none the less, Savage and Sherri were a part of history.
Savage would soon be facing the Ultimate Warrior at WrestleMania 7 in a career-threatening match. Savage had cost Warrior the Heavyweight Championship against Sgt. Slaughter at the Royal Rumble sparking a rivalry that would grow so intense the World Wrestling Federation would not be big enough for both Warrior and Savage. The two larger than life personalities would clash in an epic match at WrestleMania. It took three flying shoulder tackles and a big splash, but Warrior was able to topple Savage and "end his career" After the match, an enraged, Sherri would attack, Randy leading to Elizabeth coming down to the ring and saving Macho Man. In a scene written out of the pages of every hokey romance novel known to man, Liz and Savage reunited and embraced with one another causing tears to flow from the eyes of grown adults.
While Randy's wrestling career was "over" but he regained the love of his lady. Shortly after this Randy would propose to Elizabeth and the two would be married on-screen at Summer Slam 1991. During the reception, Elizabeth went to open what she thought was a gift, instead, it was a cobra left by Jake Roberts igniting Savage's most heated rivalry. With Jake targeting Randy's wife it, complicated things as Savage had just been forced to retire after his match against Warrior. This began a campaign, led by Elizabeth to have Savage reinstated. After a match on Superstars, Jake would verbally punk out, Savage, bating Savage into the ring. Once Savage got in the ring, Jake attacked him, locked him in the ropes, and had his king cobra bite the bicep of Savage. Federation President would shortly thereafter reinstate Savage and make the match official for This Tuesday In Texas.
Savage would attack Roberts as he made his way to the ring. In a short match, Randy would defeat Roberts after a flying elbow drop from the top rope. Not content with just pinning, Jake, Savage would try to assault him again, but Jake would rebound and give him two DDT's this brought out Elizabeth and what followed was one of the most shocking moments of the early years of the World Wrestling Federation; Jake Roberts would slap Elizabeth across the face. This would send the always intense Savage off the deep end in a post-match promo. A maniacal Randy Savage vowed that he would avenge the dishonor of his wife caused by Roberts and warned that they were just getting started. Savage and Jake would have only one more high-profile match and that occurred on an episode of Saturday Night's Main Event that saw Savage again defeat Roberts.
Savage was then named the number one contender for Ric Flair's newly won World Wrestling Federation Championship. Flair would make claims of Elizabeth being with him long before she was ever with, Randy. He would back up these claims with badly photoshopped photos of him with Elizabeth. Savage would face Flair at WrestleMania 8 and have just another classic match on one of wrestling's premier stages. Savage defeated a bloodied Ric Flair to gain a second World championship. This reign would be short-lived, however, and Savage would be defeated by Flair at a TV taping thanks with help from Flair's new-found buddy, Razor Ramon.
At the end of 1992 with the departure of Hulk Hogan and low attendance, the World Wrestling Federation decided it was time to head in a new direction, a younger direction and this meant phasing out members of the old guard, guys like Randy Savage. Savage would be placed as a color commentator for Monday Night Raw and Pay Per View Events, a role that while Randy was good at, he did not like as he felt he still had a lot of great matches in him. While Randy would still have an occasional match, it was clear to many that Vince no longer saw him as a full-time competitor. With his contract set to expire and not being happy as a commentator, Savage decided it was time to leave the World Wrestling Federation and show all those who felt he was past his prime they were wrong.
Macho Man arrived in World Championship Wrestling on an edition of Saturday Night in an often-over-looked departure from the Federation. Savage proclaimed he would be at Starrcade and would either shake Hulk Hogan's hand or slap him in the face. True to his word, Randy appeared at Starrcade, WCW's biggest show of the year, and once again sided with his on- again, off-again friend, Hulk Hogan as he helped the Hulkster fend off the attacks of the Dungeon of Doom, the Mega Powers were once again reunited.
Savage and Hogan would feud with Kevin Sullivan's group, the Dungeon of Doom throughout the first half of 1996 leading to several awful promos, bizarre matches, and things better left not spoken of ever again. In May of 1996. the wrestling world would be knocked on its backside as Scott Hall (AKA Razor Ramon) arrived in WCW. This kicked off a boom period for professional wrestling and a few weeks later, Hall brought his friend Kevin Nash (AKA Diesel) and it was now a war between WCW and the so-called Outsiders. A war that had Randy Savage, Sting, and Lex Luger on the front lines.
At Bash at the Beach, it was scheduled to be a Six-Man tag match between Savage, Luger, and Sting facing The Outsiders and a third mystery man. What transpired next has been written about, documented, and researched a trillion times, Hogan walked down the ramp, dropped the big leg on Randy Savage thus turning his back on not just Randy Savage but the entire WCW organization. Not one to take a betrayal lightly, Savage vowed to get even with Hogan and the two men would renew their heated rivalry at Halloween Havoc 1996.
In an underwhelming match, Hogan beat Savage (A common theme in Savage's career) and we would not see Randy in WCW again for months. Savage would reemerge in WCW at the start of the January 20, 1997 edition of Nitro. Dressed in all black, Savage hopped the guardrail and tossed a steel chair into the ring. Savage revealed he had been blackballed by Eric Bischoff and was not being allowed to compete in WCW. Savage demanded to speak with someone who had, stroke/power to get back in the ring. After attacking wrestlers and head of security, Doug Dillinger, Savage was confronted by, Sting. No words were exchanged, Sting simply walked around the chair Savage was sitting in, smacking the legs of the chair with his black baseball bat. After tossing the bat back and forth, Savage simply left through the crowd with Sting seemingly forming an alliance.
At Superbrawl VII, Hollywood Hogan would face Roddy Piper in the main event. During the match, Savage and Sting would appear in the aisle way causing a buzz throughout the arena. Savage goes to walk to the ring, Sting grabbed his arm stopping him, Savage would jerk his arm away and head to the ring anyway as Sting left to the back. Savage would help Hogan defeat, Piper, joining the New World Order. Now, apart of the N.W.O. Savage and Hogan would make uncomfortable allies yet again. Savage would also feud with Diamond Dallas Page having a trio of matches that won them Rivalry of the year for 1997.
Savage spent a lot of time injured in WCW as his high impact style was catching up to him. While he had a few moments of greatness, Savage in WCW was a lot like Michael Jordan on the Wizards, we saw glimmers of greatness, but the body was no longer able to hold up to the high standard Savage had set. Again, Savage would disappear for a few months to recover from injury, before reemerging again at Spring Stampede 1999 as a special referee for the fatal four-way championship match between Hollywood Hogan, Sting, Ric Flair, and Diamond Dallas Page. For reasons that were never fully explained, Savage helped Page win the match and the championship. Savage would have a feud and match with Dennis Rodman at Road Wild 1999 in a match remembered primarily for Rodman being locked in a portal potty and Savage tipping it over.
Savage would make scarce appearances in WCW for the remainder of the year making his final appearance on the May 3, 2000 edition of Thunder helping the Millionaires Club in a battle royal against the New Blood. Savage would vanish from the wrestling world until appearing on an episode of TNA Impact in 2004, then having a match where he teamed with Jeff Hardy and AJ Styles to face Scott Hall, Kevin Nash, and Jeff Jarrett. On May 20, 2011, Randy Savage passed away in a car accident due to heart complications. Randy left a legacy of classic matches, memorable promos, and segments proving to be an all-around great performer.