Look out for these 5 emerging artists
One of them could be our next Jeff Koons or Damien Hirst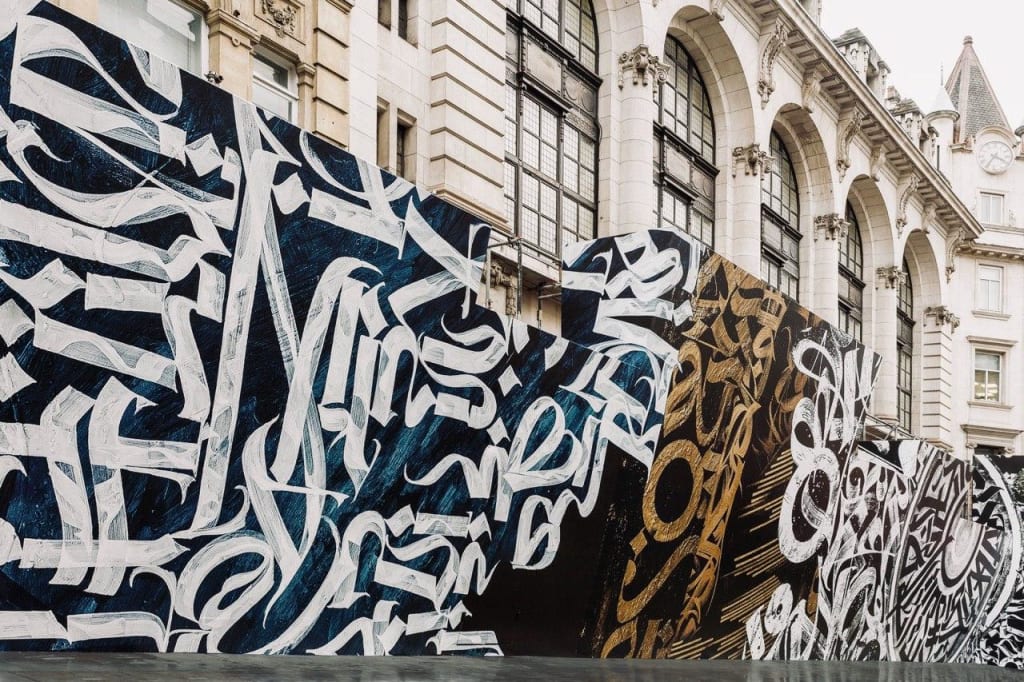 Pokras Lampas, Dover St Installation, London, 2020
An increasing number of fine art graduates decide to pursue the career path of an artist in the hopes of reaching the level of success and international recognition of artists such as Banksy, Jeff Koons, Marina Abramović and Damien Hirst. However, the pool of talented emerging or semi-established artists is so vast that even an art-world expert would struggle to keep up with all the names of up and coming talents. After working in a commercial gallery for 10 months and being exposed to artists of all levels, I wanted to share some of the talent that could be the next Jeff Koons.
The first artist I would like to draw your attention to is Zhuang Hong Yi (@zhuanghongyiart). He is a Chinese artist who works between the Netherlands and China. His most recognised works are colour-changing flower beds – the images you see each present only one painting, shown from 3 angles of view to demonstrate what kind of colour change happens in each one. His colour-changing technique was inspired by a plane journey over the Netherlands where he observed vast tulip fields, one after the other, all different colours. It was then that he decided that this is going to be the main focus of his art regardless of the previously learnt traditional Chinese techniques. Although, Zhuang keeps the link to his roots by a continued use of a traditional medium of fine Chinese rice paper to execute the origami flowers. His works captivate viewers' eyes as the amusing effect of colour change hypnotises and excites them. Zhuang Hong Yi is represented by multiple commercial galleries in London and his works can be easily discovered on a stroll through Mayfair.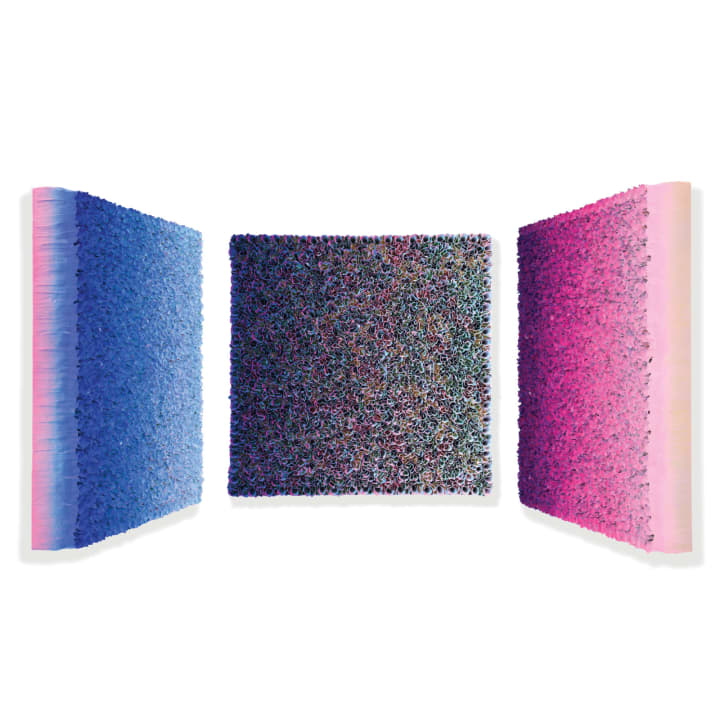 The next artist is Ilhwa Kim (@Ilhwa.k). She is a Korean artist whose main medium is also paper, but she uses traditional Korean hanji paper. Her artworks lie somewhere between a sculpture and a painting – the small pieces of rolled paper are assembled on canvas to create a beautiful composition which may be mistaken for a painting, but upon closer examination, one discovers that all those pieces are actually individual rolls of paper. She often calls her works Seed Universes as each roll of paper is a 'seed' and when all put together they create a unique Universe. Each one of her sculptural paintings is a different Universe, with its distinctive energy and dimensions. Ilhwa Kim also practices a philosophy of Confucianism and often uses her artistic practice as a means of meditation, writing down her thoughts and feelings on the same rolls of paper that she later uses for her artworks. That way, her practice takes on a new meaning and her works become great objects for the focus of meditation for viewers. The use of different colours, sometimes sticking to a specific colour scheme and sometimes mixing all colours together, creates different visual effects in each one of her works. The way she manipulates the picture plane and makes some parts of the painting come out in harmonious waves further creates a sense of movement and flowing energy which is passed on from viewer to viewer. She is represented internationally by the House of Fine Art (HOFA) Gallery, her works are often on view in their London gallery.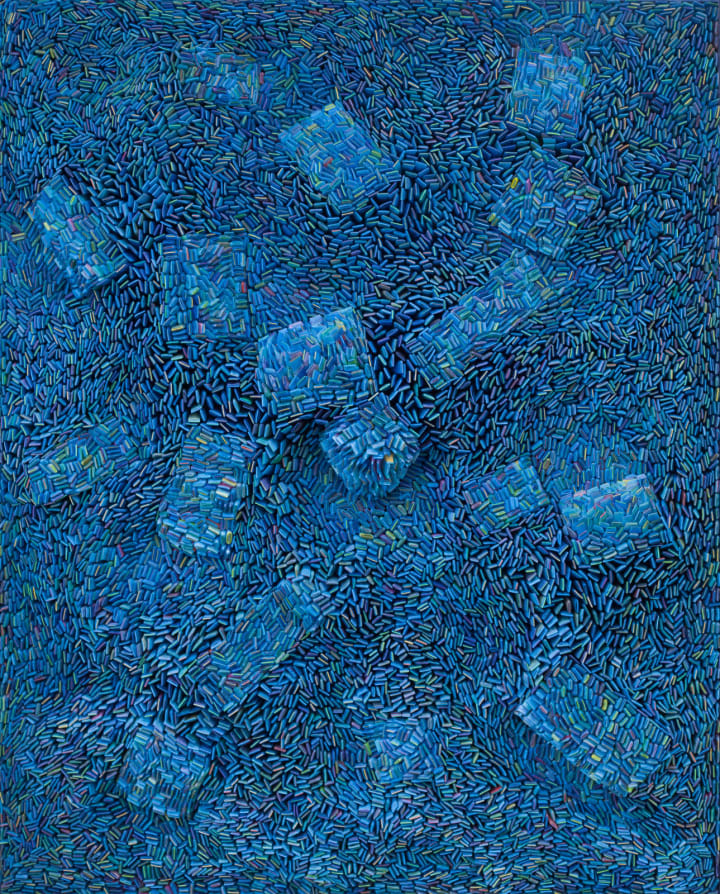 The next artist is called Pokras Lampas (@pokraslampas) and his practice is calligraphy. He is a Russian artist whose original name is Arseny, but he has always used a pseudonym for his artistic practice. Pokras calls himself a modern calligraphy artist who is developing a new style of calligrafuturism. He uses symbols of various alphabets, often mixing Cyrillics with hieroglyphs, for writing Latin words or the other way around to achieve a unique stylistic effect in his works. Pokras notes the importance of the right word for a specific composition that he is trying to create as the length, shape of letters and meaning may not always fit together. The medium of calligraphy is not as widespread nowadays, but his works often resemble abstract art pieces as they are executed on large canvases, often with such complex calligraphy that the meaning is almost indecipherable. His works are not limited to studio-sized canvases, he is often commissioned building murals, outdoor floor decorations and wall installations, and even car customisations. His talent and unique technique have been recognised internationally and brands such as Fendi, Nike, YSL, Lamborghini, Mercedes-Benz and others have collaborated with him. He is represented by one gallery internationally – Opera Gallery - but I am yet to see one of his works in their London branch.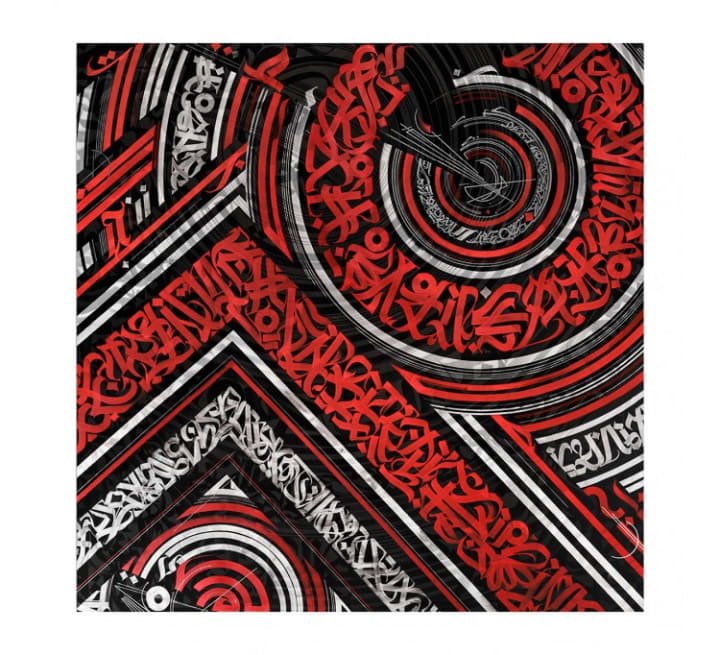 The fourth artist I would like to present is Bran Symondson (@bransymondson). He is an English artist who used to work as a reportage photographer and the life-changing venture that he embarked upon was his service in Afghanistan. Upon his return to London, a new step of his art career commenced – the creation of beautiful art pieces from decommissioned AK-47 riffles and other real weapons as a message of peace. The most common symbol that he uses in almost all of his works are butterflies – which symbolise transformation. His use of real butterflies conveys the splendour of peace which is essential for a beautiful world. He also often inserts symbols of corruption into weapon's bullets which are visible in the artwork, examples of such objects include blood, cocaine, money, diamonds, gold and other objects. His works can also be seen in multiple galleries across London, most notably in Maddox Gallery.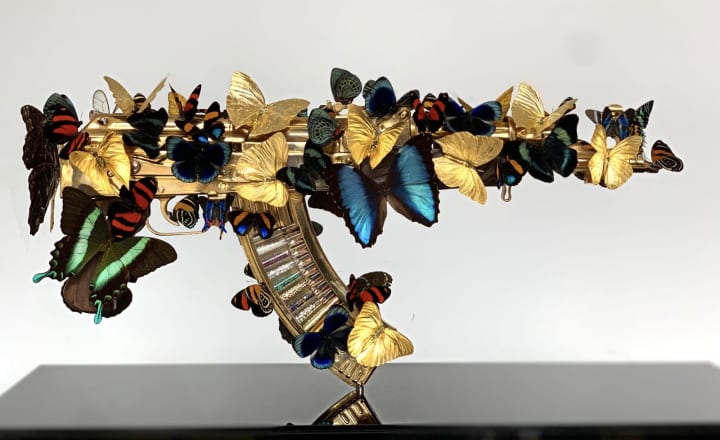 The last name I would like to mention is Loribelle Spirovski (@loribellespirovski). She is a Philippines-born artist who is now based in Australia. She is one of the younger talents who has only been in the art market for a little over 5 years now, yet, she had her first London solo exhibition last year in the House of Fine Art Gallery – marking a new stepping stone in her career. Her speciality is portraiture painting which she executes in oil on canvas. She notes that the purpose of her work is to explore space as well as reflect on herself through her sitters. The exploration of anxieties, inner conflict, struggles and feelings enables Spirovski to create emotionally-charged portraits which prompt the viewer to look into their inner world. She draws "inspiration from artists as varied as Francis Bacon, with his characteristically claustrophobic spatial relationships between figures and their surroundings, David Lynch's dreamlike surrealism, and Olivier Messiaen's static musical tones". She is represented by multiple commercial art galleries around the world – one in the US, two in Australia and the House of Fine Art Gallery in London.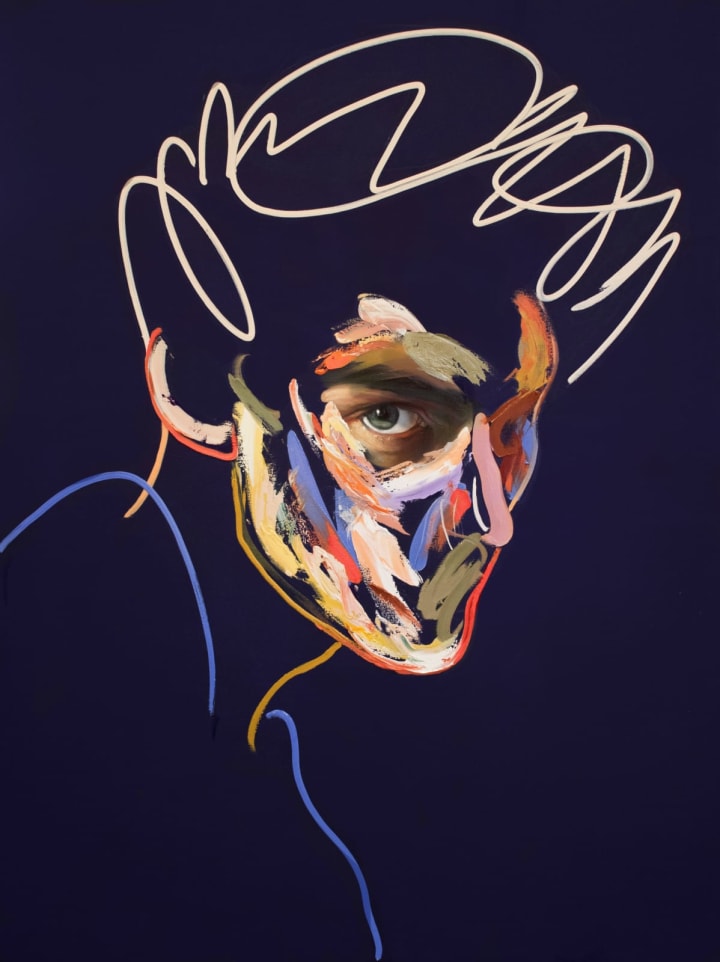 I would highly encourage you to check out these artists, especially if someone caught your eye. It doesn't matter if you can buy their artwork - the important part is that their art reaches an audience. If you are touched by one or more pieces - a connection has been formed. Don't ignore it - you may just find something for yourself in the art of another person.