Lloyd Alexander's Grim Legendary Fantasy
Or Why I Shunned Narnia in Exchange for Zombies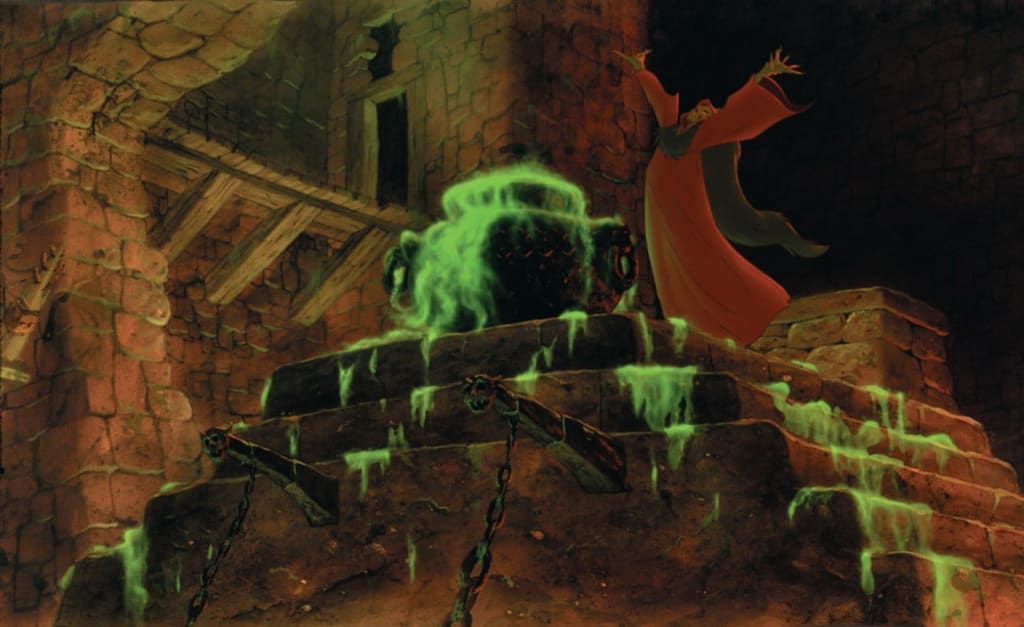 The Horned King Summons the Cauldron Born in Disney's adaptation of The Black Cauldron
It was very in vogue among my childhood friends to become enraptured with the mythical world of Narnia, with all its golden good and brooding evil. My friends among the Swordplay UTSA alumnus Facebook group feel that my own bad experience with Narnia came from starting the Chronicles of Narnia in the wrong place. We read The Lion, The Witch, and the Wardrobe first in fourth grade instead of a more logical starting place, perhaps The Horse And His Boy. I followed along with my class until the girl (I don't even know the kids' names) went through the wardrobe and met the sniveling fawn, Mr. Tumnus, and then I closed the book, dropped it on my desk, folded my arms, and accepted my Unsatisfactory marks in reading for the period.
To be fair, I had not read any fantasy novels up until this point. I was eleven years old. I was still wearing a coon skin hat and insisting I had died at the Alamo in a former life. I rode horses and listened to country music. I wasn't ready for Narnia.
And then my mom bought us a VHS copy of Disney's The Black Cauldron, and I discovered there was a whole series of books the little film was based on. The summer I turned 12 years old, I read each one in a single day for a week, and then I read them again. I never gave Narnia a second chance.
So move over allegorical lion! Get out of the way Dawn Treader! Horse, take your Boy and go home! Because once you go zombies, you don't go back to Narnia! For sheer love of high fantasy adventure and beloved, timeless storytelling, you don't get better than Lloyd Alexander! It's time for Prince Gwydion to fight his way to his rightful place at the right hand of the High King! Time to stare death in the face and grow up too fast alongside Taran, the untried Pig Keeper's Assistant, and defeat the Death Lord in Lloyd Alexander's beautifully wrought saga of bravery and sorcery. Time to dive head first into The Chronicles of Prydain!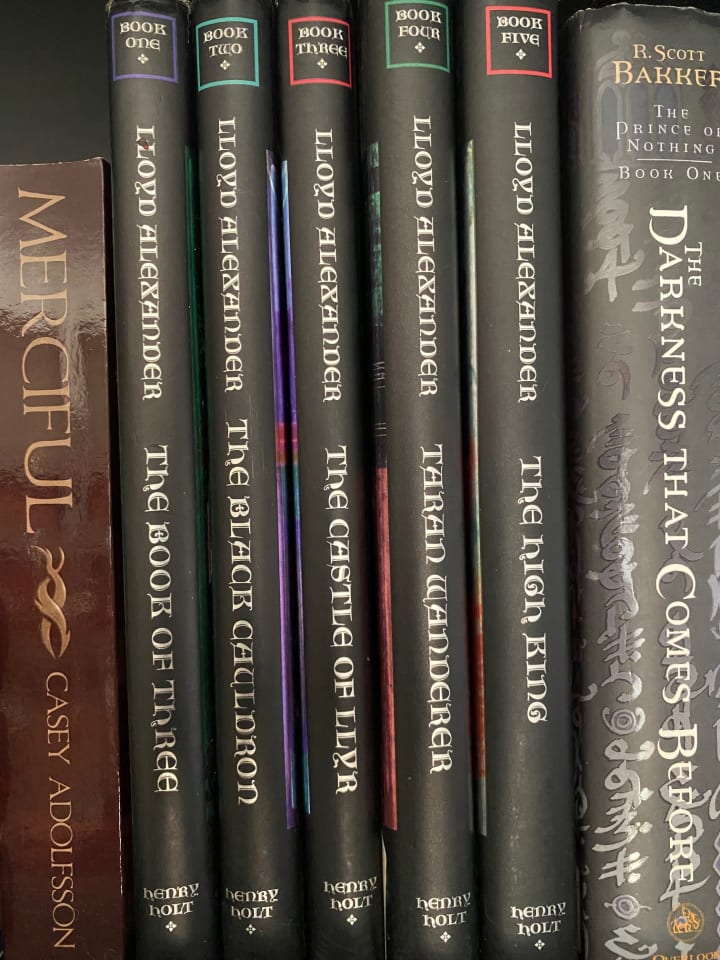 The Setting!
There are five books spanning the length and breadth of Prydain, The Book of Three, The Black Cauldron, The Castle of Llyr, Taran Wanderer, and The High King.
Prydain is modeled after the Welsh countryside and steeped in Welsh folk traditions. Many of the pronunciations of names, locations, and creatures-- which I'm sure I've been saying wrong for 25 years--are meant to be pronounced with the Welsh alphabet.
Prydain is divided into cantrevs, whose people swear fealty to a liege lord, who has sworn their allegiance to the High King of Caer Dathyl. The High King is King Math at the time the tale is told. The free commots, which are largely ignored until the fourth book, have no liege lord and serve only the high king. Of course, Arawn Death-Lord in his westerly bolt-hole of Annuvin serves no master but himself.
The map shown below is actually the map from the fifth book, The High King, which has a much wider view of the kingdom. Each book contains a map of the principle locations of the plot, as well as where each character is met.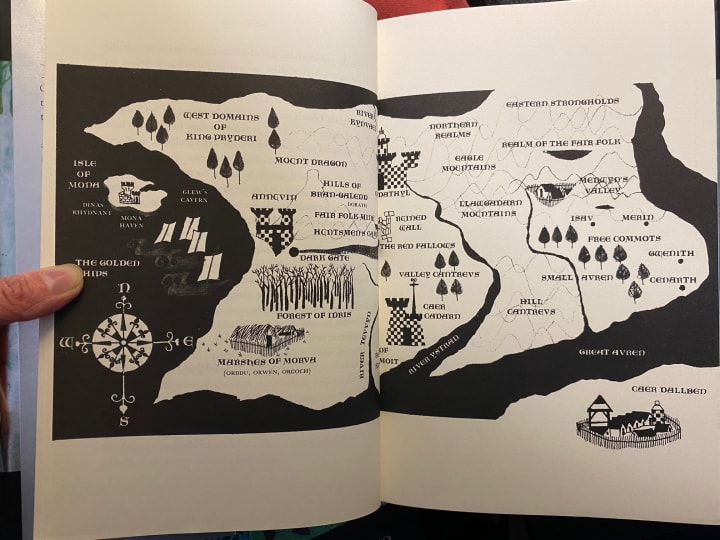 Though beautiful and full of wonder, the land of Prydain is missing much of it's previously held magic. Where once Prydain was a paradise, now the people are forced to toil for their existence, and rather needlessly. Pockets of evil, mythical creatures, and even a trio of witches make for dangerous travels and opportunities for adventure. But it wasn't always this way. Arawn Death-Lord, former apprentice to Prydain's previous ruler, Achren the Sorceress, had stolen everything useful to the people of Prydain, hording it for himself as treasures in his haven of Annuvin.
Because of Arawn's jealousy and greed, Prydain's landscape looks much the same as Medieval Wales, with the accompanying folk tales, which Alexander was introduced to while stationed in Wales in WWII. Alexander explained to readers in his author's note that he wished to capture "the feeling, not the fact," of Wales, and claimed he borrowed names and locations only as a means to an end for the imagery and scale of the legends that inspired him. Most everything else is his own original content.
The Chronicles of Prydain is not the only post-war collection of coming-of-age stories set in Wales. The principle plot locations of Susan Cooper's The Dark Is Rising also take place in Wales. Wales is rich in tradition with people eager to tell it. Just scroll through WelshTok and you'll get some amazing content. The Cardiffian lists out some of the most popular Welsh TikTokers on the app today.
Meet The Cast!
There are four principle characters of the story along with a legendary supporting cast. Like most well-told fantasy stories, the main characters are sort of just ordinary people doing extraordinary things, surrounded by extraordinary heroes. In the tradition of a coming-of-age story (bildungsroman for those looking for Scrabble words), we get to watch the main characters grow up, and provided you come to the books in your own formative years, you grow up with them.
Here's a run down of the main characters.
Taran of Caer Dallben: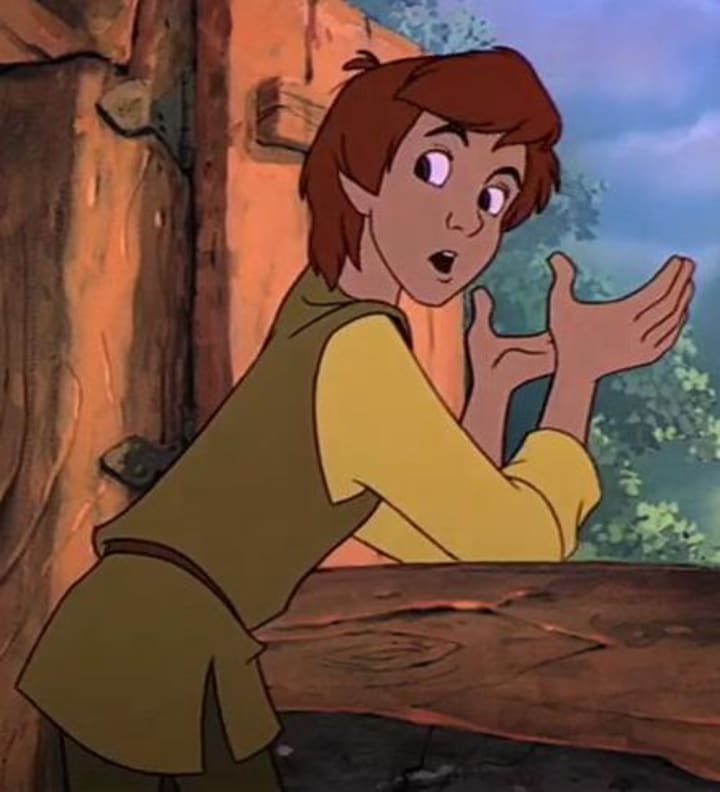 Taran is the main character of the story. He's the farm hand and ward of seer and wizard (maybe?), Dallben of Caer Dallben. Taran tends to the duties of your average teenager living a sheltered life in a secluded wood with all the enthusiasm of--well--any average teenager. Taran dreams of being a hero like the legendary Prince Gwydion, one of the high king's warriors, known as the Sons of Don. Unfortunately he's, like, fifteen years old with no battle experience and no hopes of getting any, as the veteran warrior and blacksmith that manages Dallben's estate, Coll, refuses to teach him any swordplay.
Taran is Caer Dallben's assistant pig keeper, and he's an assistant for good reason. The poor boy can't be trusted to do things right even half the time, and since Coll is the property manager, as it were, Taran is relegated to doing things Coll doesn't have time for, including feeding, bathing, and tending to Dallben's oracular pig, Hen Wen, a sweet-faced sow that can produce precognitive images in a bowl of water.
When Hen Wen escapes Caer Dallben, Taran pursues her, desperate for adventure, but also driven by guilt. He is ultimately to blame for losing her. Our adventure begins as Taran moves further away from home than he's ever been, and from that moment on, Taran would never be the same.
Princess Eilonwy: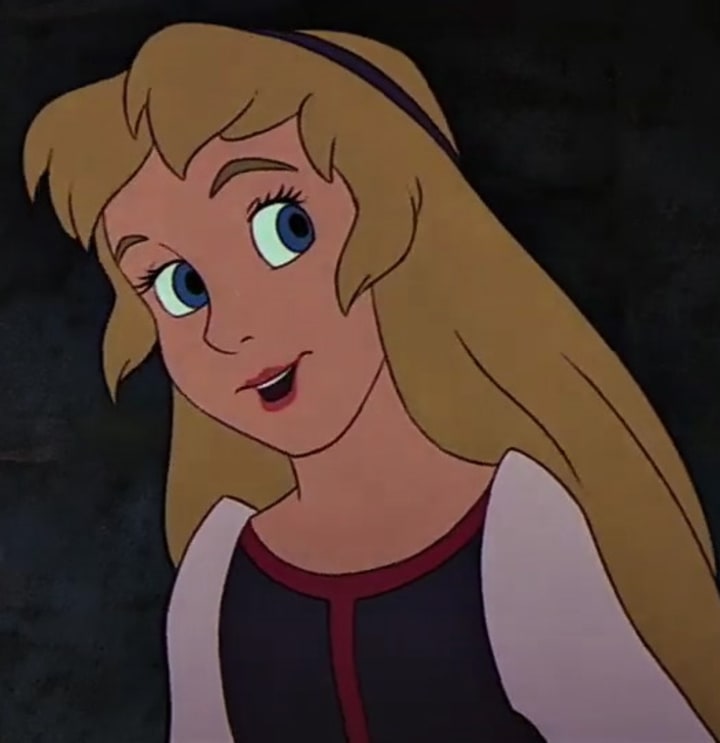 Eilonwy is the young red-haired princess (Disney ignored that) and an all around bad ass that Taran rather unwillingly rescues from the dreaded Spiral Castle, home of Prydain's downfallen ruler, Achren. She carries with her (or is followed by) a glowing bauble (depicted as a ball of light) with magical implications.
Eilonwy's character is truly explored with thoroughness in The Castle of Llyr, when Eilonwy returns to the Isle of Mona to receive formal training as a princess. She does this about as willingly as Taran does chores at Caer Dallben.
She's as eager for adventure as Taran, but much more realistic, logical, and cautious. She and Taran clash fairly often, leaving both of them angry and distant, but never for long. You'll be shipping Eilonwy and Taran by the third book, mark my words.
Fflewddur Fflam: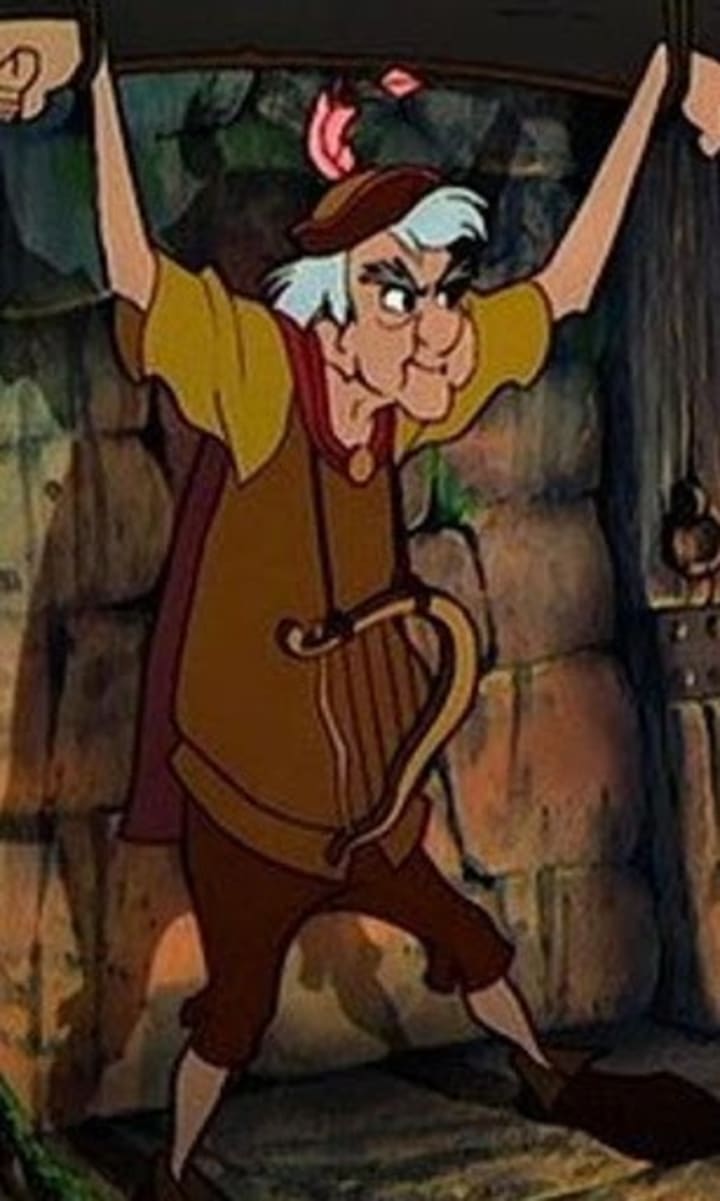 He may not be strong, or particularly brilliant, but there's no denying Fflewddur Fflam has a good heart, and the wisdom that Taran is sorely lacking. He joins the unlikely duo of Taran and Eilonwy on the road away from Spiral Castle.
Fflewddur is a bard with an awkward secret. You see he's not just a bard. He's actually the king of a minor cantrev, smart but not real bright, dedicated, but not really needed. Thinking no one would notice, he leaves fairly often to roam as a bard. He's never gone for long, but suddenly finds it harder to get back as he's kidnapped by Achren and accidentally released by Eilonwy.
Fflewddur actually has two awkward secrets. In addition to being a king, he can never lie. His harp always gives him away. As soon as an untruth of any kind leaves his lips, the harp strapped to his neck blows a string of its own accord.
Though not the most powerful, you find yourself falling in love with Fflewddur's hearty boasts and his courageous moments.
Gurgi!
Gurgi is the most recognizable of the cast, as is his catch phrases. Ever on the look-out for crunchings and munchings, and trying not to get his head bashed in, Gurgi attempts to befriend Taran. However, at the time of their meeting, Taran has no time for the bedraggled beast man, more dog than human, who is perpetually checking Taran's, and everyone else's, clothes for food.
Though Gurgi is a survivalist, he is only too sorry not to be of more use to those he considers his friends. He can't help it. But however cowardly he looks on the outside, there's a brave fighter inside those huge eyes, and the events of The Black Cauldron will leave you sobbing.
Without revealing too much of his character to spoil the books, Gurgi is a powerful source for good. He reminds Taran that the mark of a true hero is empathy, and he demonstrates the meaning of loyalty. There's a reason Gurgi is just about every Prydain fan's favorite character, and it's not just that face!
Accompanying cast:
Prince Gwydion, though not a main character, can hardly be said to just be taking up space. Readers will be delighted at his sudden arrivals and daring bravery. Doli is an ill-tempered Dwarf that is on loan from the fairy folk, who prefer to keep themselves separate from humans and their wars. His ears tingle when he turns invisible. Achren makes a few token appearances, as well as Dallben and Coll. Ordu, Orwen, and Orgoch are the three witches of the Marshes of Morva, who resemble a set of fates, beautifully spinning their tapestry in their hovel, but who are as hideous as toads upon closer examination.
In addition to these, each book has its own supporting set of cast members that the heroic group encounters, for better or worse, from Smoit to Ellidyr, and Glew to the High King himself. There is no shortage of greatness and misery that the group runs into on the main quest of liberating Prydain from the curses of Arawn Death-Lord.
The Books and Other Material
You'll start the journey out with The Book of Three. Each book is very episodic, and they can be read out of order, according to the author. However, I don't really recommend it. As an adult, it probably wouldn't matter, but as a little kid I found it hard enough to follow with the unfamiliar mythology and names, and a foreign-feeling storytelling style, without reading them out of order. If you're considering this set for the kiddos, I recommend getting the full set, as there are omnibuses available.
Taran Wanderer you may find the odd man out in terms of plot, and you might get the impression it wasn't really intended. You'd be right about that. Taran Wanderer was meant to fill some gaps between The Castle of Llyr and The High King. Originally, there were only four books, and Alexander hadn't even really planned for that many.
There are also a couple sets of shorter materials, Coll and His White Pig, The Truthful Harp, and The Foundling And Other Tales of Prydain that serve as prequel material, which can be read in any order you wish, and if you get some of the older stuff, it's even illustrated.
Which is a really great segway into part of the reason most of us even know about this series of books, and the half-assed treatment of the material that masks the true beauty and richness of the characters and the broad expanse of the world Alexander painstakingly brought to life on the page.
The Disney Adaptation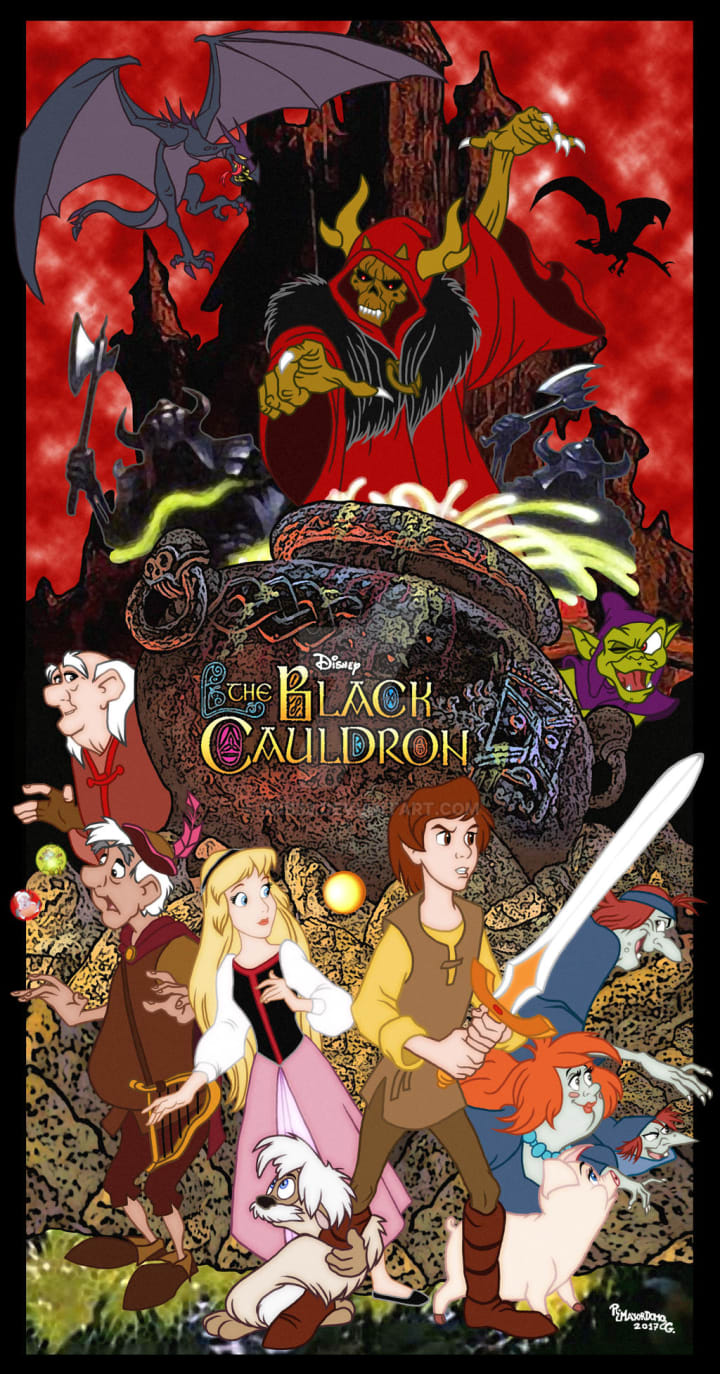 Disney has butchered its fair share of stories, but never had it done as horrible of a job than in its treatment of the content for its film adaptation of the Prydain novels as it had with the film, The Black Cauldron. Sadly, we didn't get the film anyone wanted us to get.
There should be a statute of limitations on ruining the plot of both books and movie, but I'll keep spoilers to a minimum. The film takes most of it's plot from The Book of Three in the meeting of the four main characters, Taran, Eilonwy, Fflewddur, and Gurgi, and for its middle plot, The Black Cauldron. However, instead of fighting the weakened, but still frightening, might of Achren, the filmmakers chose the Horned King as the primary villain. Though the Horned King is terrifying in the books, he plays a much smaller role in the plot. In the film, it is the Horned King himself in search of a horrifying relic, the Black Cauldron, capable of raising the Cauldron Born, undead soldiers who fight for whomever is in possession of the cauldron.
Though the film takes great liberties with the plot, it will go down in history as Disney's darkest picture. The three witches of Morva, who attempt to offer some levity, are still frightfully awful, reminding one of the mad witch Madame Mim of Sword In the Stone. The gwythaints rival Maleficent's dragon form at the end of Sleeping Beauty for thorny evil. But it is the Horned King that fills the film with more than a bit of whimsical badness. The halls of his nameless palace ooze noxious niter, and he steps with slippered (or cloven?) feet through his mausoleums of countless dead soldiers, the remnants of some forgotten army. To add to his menace is the vocal talent of the late John Hurt.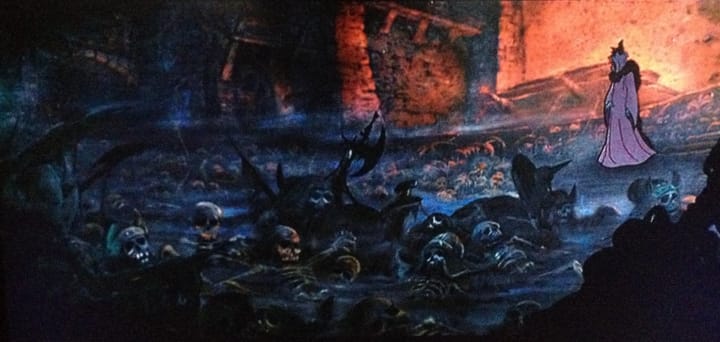 It was the Horned King that won my already Gothic eleven-year-old heart. His skeletal form appealed to my taste for darkness. I reveled in the mental battle I waged between the white Witch and the Horned King, knowing that the Horned King's Cauldron Born would have mowed her down without mercy. It was no wonder I had no interest in Narnia after this film, and the books proved to be even more enthralling.
That's the best parts of the film aside. Let's talk about how thrown together the film feels. Throughout the picture, you'll notice splicing issues, soundtrack problems, audio problems, and color changes. This is due to a slew of problems behind the scenes, which you can listen to and follow along with in this YouTube video, "Yesterworld: The Troubled History Of Disney's The Black Cauldron and the lost Cut Scenes"
Between budget problems, design arguments, a mix of experimental and traditional animation, and clashes of personalities, we're lucky we got the film at all, even in it's ruined condition, and it should come as no surprise that it flopped hard at the box office.
Though the film did no justice to the story that inspired it, it did capture brilliant moments in animation and pushed the edge of what Disney studios was capable of. It wasn't altogether terrible, either. The plot, cobbled together as it was, was serviceable, and gave the filmmakers plenty of room to let the Horned King hit his stride (though possibly not as much as he would have been given if the picture were to be rebooted today). Overall, the movie is worth a watch, but manage expectations.
Lifelong Endurance
The most important aspect of the film was the introduction of the characters and setting to a new generation of readers. Without the film, it's unlikely Lloyd Alexander would have retained his stature among the ranks of C.S. Lewis and J.R.R. Tolkein. Had it not been for my mom getting us the VHS, I would not have known a good piece of fantasy literature from across the pond existed outside of The Chronicles of Narnia. I didn't hear about The Dark Is Rising until I was 34 years old. I didn't read LOTR at all until I was in college. By then I'd already been reading Michael Moorcock. After Elric, I was very much not interested in non-drug addicted main characters without black, soul stealing swords. The Peter Jackson films served their purpose and my fandom went no further.
I went with my friends to see rebooted The Lion, The Witch, and the Wardrobe. I sat in the theater, flabbergasted. I was surrounded by people sobbing into popcorn bags at the beauty and majesty of Aslan (aptly voiced by Liam Neeson), but I am sorry to say I was largely unmoved except for when animals got hurt, and then I cursed Lewis for using precious animals as soldiers. I never really forgave Lloyd Alexander for narrowly hurting a piggy.
In my opinion, Alexander's work has little in common with Lewis and Tolkein except for the elaborate mythological works that came before it and the authors' devotion to sweeping fantastic settings and large character casts. It has its own place in the world of fantasy, and to my mind Lewis could never hold a candle to Alexander's work, not when Alexander painted the nighted world of Prydain in streaks of gold and obsidian, where the Cauldron Born protected Arawn Death-Lord, and the Huntsmen followed the Horned King across the verdant lands, chasing a would-be hero and his piggy companion. There are witches and ill-tempered fairies, and little doglike creatures on the hunt for crunchings and munchings, and a sense of hope that lay on the horizon. Who could connect with the animated beevers and half-goat people of Narnia when the land of Prydain was besieged by literal zombies? I transitioned into middle school from grade school with Taran at my side. The setting is achingly beautiful, and the plot is moving, humbling, and enjoyable.
The copies pictured above are the same ones I've had since I was 12, and I can't wait to read them to my own children some day. If you get a chance, pick up The Chronicles of Prydain. They are guaranteed not to disappoint.
About the Creator
Austin, TX | GrimDark, Fantasy, Horror, Western, and nonfiction | Amazon affiliate and Vocal Ambassador | Tips and hearts appreciated! | Want to see more from me? Consider dropping me a pledge! | RIP Jason David Frank!
Reader insights
Outstanding
Excellent work. Looking forward to reading more!
Top insights
Compelling and original writing

Creative use of language & vocab

Easy to read and follow

Well-structured & engaging content

Excellent storytelling

Original narrative & well developed characters
Expert insights and opinions

Arguments were carefully researched and presented

Eye opening

Niche topic & fresh perspectives

Heartfelt and relatable

The story invoked strong personal emotions

Masterful proofreading

Zero grammar & spelling mistakes

On-point and relevant

Writing reflected the title & theme
Add your insights