'Linda Vista'
He Makes All The Wrong Decisions.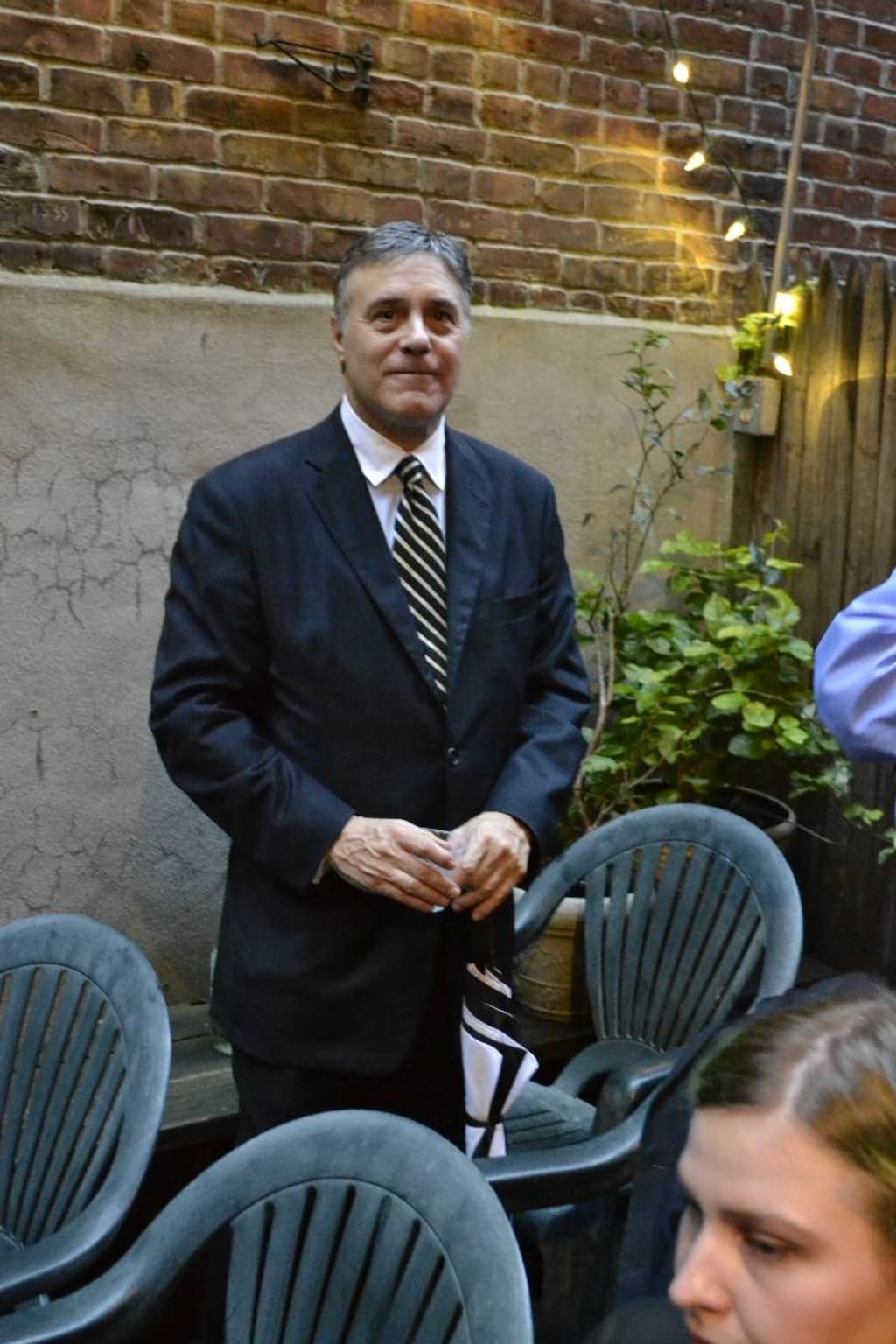 Robert Massimi.
Wheeler (Ian Barford) is too young to be called a curmudgeon, so we will call him a misanthrope. He is a man who life has passed by, and why not, as he never really thought about his life to begin with. A former photographer who is now a camera repair man, he had heaps of accolades thrust upon him for his great pictures, yet he discounts others' opinions about his work. Although we never know why he actually quit being a photographer (the paper he worked at in Chicago cut its staff), we can surmise that it has to do with his aloofness toward life, his deep down hatred towards it. Or it could be that the birth of his son Gabe threw him into life's tailspin. Tracy Letts never fully explains the turmoil in Wheeler's life, he only dabbled in it.
In a funny play that is, at times, downright raucous, Wheeler professes his philosophies about life. He is a matter-of-fact type of guy; he say's what comes to his mind and he never holds back. Not a stupid man, Wheeler knows his strengths and weaknesses; his past and present. An affair killed his marriage, but his marriage was over the day his thirteen-year-old son was born. A mystery in Linda Vista, the boy is never brought deeply into the play until late in the show, and even that was a weak effort at trying to figure out Jim Wheeler and his son's relationship.
Linda Vista has many skits to it: the comedy and scenes are broken apart. In the first scene, Wheeler goes into a political rage, and although I dislike all the Trump stuff on Broadway, this was actually funny. Barford brings intensity and believability to his comedy. Steadfast in his beliefs for the full two hours and forty minutes, Barford works hard throughout the performance, and as such, he is excellent in his role. The entire cast does a magnificent job throughout. Unlike most plays, the breaking up of the play into different subsets works brilliantly. From Ali McGraw being a nymphomaniac at one time in her life, to the bar scene replete with karaoke, and onto the sex scenes (full nudity).
Wheeler has moved out of his ex-wife's garage and into a two bedroom apartment in Linda Vista... which Wheeler says "has a 1980s East Berlin vibe." Cash strapped, he fumbles through his life. He get's fixed up with two old college friends, Margret (Sally Murphy) and Paul (Jim True-Frost), married to each other for 26 years. Paul is non-committal to anything, confused with his life, the anathema to Wheeler. Paul does as he is told and has little opinions about anything. He is taken by Jules (Cora Vander Broek), a life coach, but he get's too many options when Minnie comes along. Options are not what Wheeler is good at; in fact, they not only confuse him, they poison him from the inside out as he rots away at life.
Director Dexter Bullard was magnificent in his direction of Linda Vista. Not an easy play to direct, nor act in, Bullard has the entire cast clicking on all cylinders throughout. Upbeat energy and tempo, we feel his good vibe the entire play. Not that the play isn't devoid of sadness, but the comedy far usurps the tragedy in Vista.
Billed as an arrogant guy in notices before opening, I never saw that here. Wheeler is a guy who just tries to get by. He is smart, insightful and an artist, so he sees things differently than his coworkers, his friends and the people he meets along the way. He is awkward, not cocky, has a questioning about himself, and is not self-absorbed. I expected a more A Man from Nebraska type of play. In Nebraska last year, I saw a man who was successful and cared little about people. Even though Wheeler has little emotion or patience for people, he still falls in love, he still likes Paul as a friend and he cares for him.
Todd Rosenthal's scenic design was done well. A turn-style set that continually switches his apartment, we get a welcome effect of Wheeler's dwelling. In the bar scene, in which the effects of four people drinking craft beer and making fools of themselves singing take place, Rosenthal brings the believability to these four actors. Set in San Diego, California, the palm tree background never lets us forget the laid back style that all these people should have, which never happens to any of them.
Linda Vista could have answered more questions than it did, but the storyline was more than acceptable. Generally the play held your attention (only two small lags), and the humor more than made up for Letts' weak dabble into these peoples lives. If not a play, Letts could have turned this into a really good sit-com. Even the people that work at NIKON were funny. From Mike the weirdo, to Anita (Caroline Neff), the young girl with substance problems. She too is a person who tells it like it is; she has no idea what she wants to do with her life as well.
Linda Vista has a lot of symmetry to it. The characters on its face all seem different when in reality, they are all very similar, just brought forward in a different way.
About the Creator
I have been writing on theater since 1982. A graduate from Manhattan College B.S. A member of Alpha Sigma Lambda, which recognizes excellence in both English and Science. I have produced 12 shows on and off Broadway. I've seen over700 shows
Reader insights
Be the first to share your insights about this piece.
Add your insights