LGBTQ+ Representation In Comic Books
Equality and inclusion are a big deal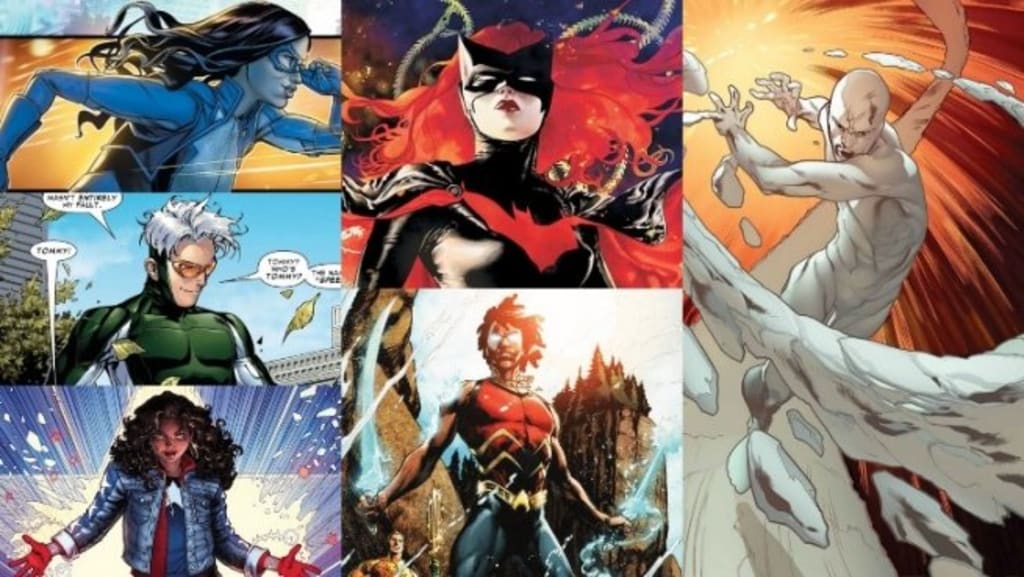 LGBTQ+ characters in comic books have existed since the late 1970s. There are now more than 65 comic book characters who identify as such. Whenever a character comes out, I could never understand the outrage over it. It's 2021 and LGBTQ+ characters are here to stay, no matter how much you complain on social media. They're not going away anytime soon.
Back in 1954, there were rules against comic books mentioning LGBT characters known as the Comics Code Authority or The Code as they would call it. Technically, it wasn't censorship, but unfortunately, this restriction was in place until 1989 that companies such as Marvel and DC were allowed to feature those characters in their comic books.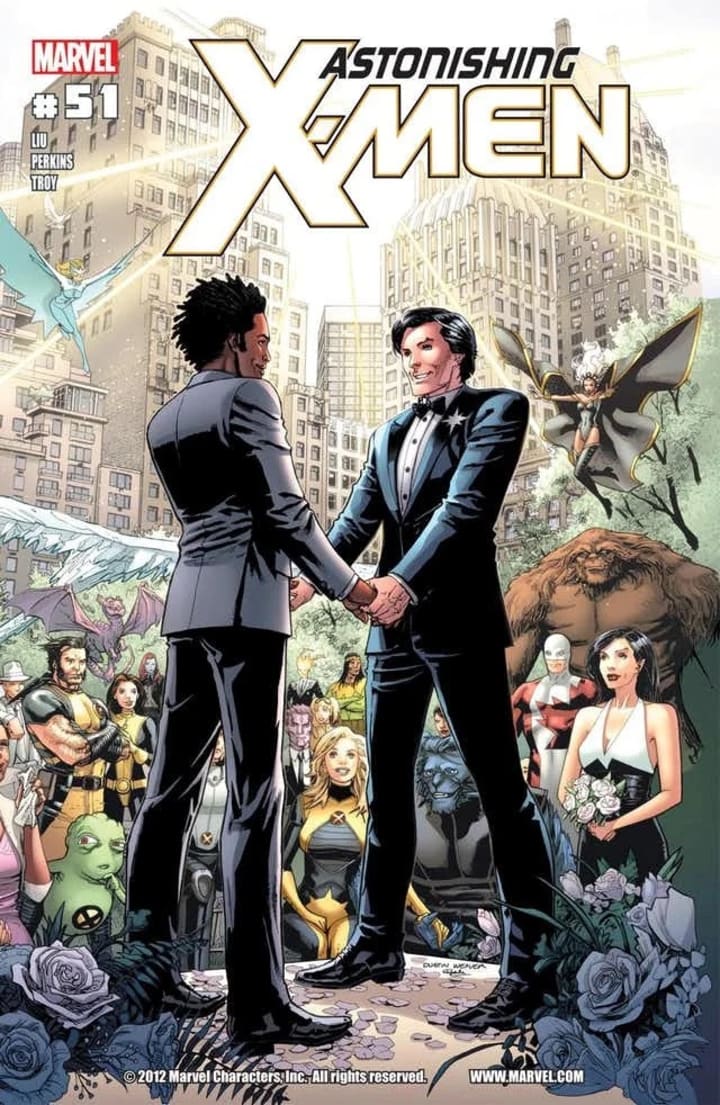 In June 2012, Marvel published Astonishing X-Men #51, where Northstar, also known as Jean-Paul Beaubier, married his husband, Kyle Jinadu. Northstar was one of the first to come out in an American comic book and to be published in Marvel Comics. Not only that, but it was the first same-sex wedding to be featured in a mainstream comic.
One of my other favorite comic book related stories that was announced back in April 2015 was Iceman, also known as Bobby Drake, coming out as gay. This occurred in All-New X-Men #40. Jean Grey talks to Iceman in one of the scenes in the book and has no problems with him being gay.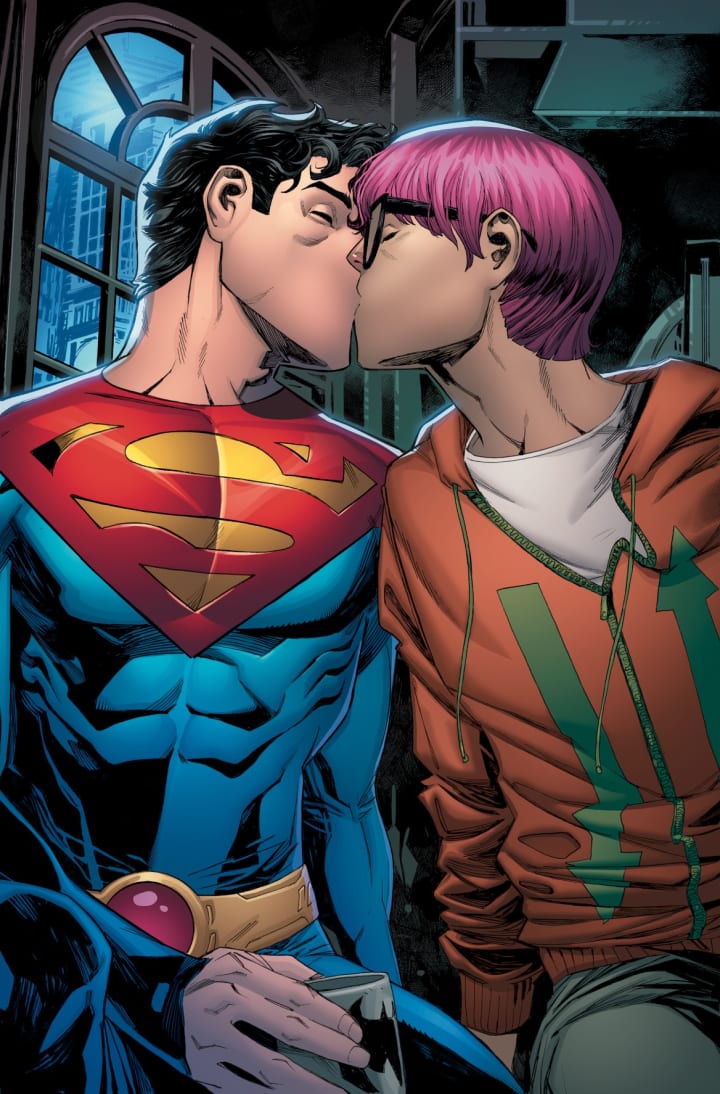 Back in October 2021, Superman's son, Jonathan Kent, came out as bisexual in the pages of Superman: Son of Kal-El #5, which was released on November 9, 2021. Seen above is Jonathan kissing his boyfriend, Jay. Jonathan is the son of Clark Kent and Lois Lane. He is named after Clark's father.
People on social media have asked me what did I think about Jonathan coming out as bi. First and foremost, I am a fan of Superman and he's one of my favorite DC characters. I see this as a wonderful thing and looking forward to purchasing the issue soon. As long as two people are happy with one another and not hurting anyone, I love it.
I can't fathom why many people are so angry about LGBTQ+ characters, whether they're in comic books, on tv, or in movies. They're here for many reasons, but mainly for people to look up to as role models and positive influences. The ones who are upset over this are most likely closed minded conservatives who don't like equality for all people. Their mindset is that they want equality for all, but not for LGBTQ+ people. I have to admit something: years ago, I wasn't too keen about LGBTQ+ characters, even though I'm openly gay. At the time, I thought that the sexuality of some characters in comic books were changed just to appease a certain audience. I also thought that people and the media was focusing too much on a character's sexuality, because it would take away attention from the other characters. I was wrong and came to regret thinking that way. I've since embraced them with open arms.
We've come a long way when it comes to LGBTQ+ representation across the board. If you're easily angered about a character who's living their best life and being comfortable of who they are, then you're part of the problem. Why are LGBTQ+ characters important, you ask? The answer is simple: they are a big deal. So is representation. You can rant on social media all you want, but you're venting your frustrations on the wrong things and people. Equality and inclusion are beautiful things. Instead of displaying hatred and bigotry, learn how to love others. Be more understanding instead of judgmental. You don't know everyone's plights. Even if you don't approve of who someone is, they still deserve to be treated with dignity and respect. Love is all we need right now.
superheroes
About the author
LGBTQ cosplayer in Fayetteville, Arkansas. 2X Cosplay Contest Winner.
Facebook: Texxx-Man Cosplay
Instagram: @thecosplayerfromtexas
Twitter: @texxxmancosplay
TikTok: @thecosplayerfromtexas
Reader insights
Be the first to share your insights about this piece.
Add your insights