Lessons From Turkish Drama
Kiralik Ask (Love For Rent)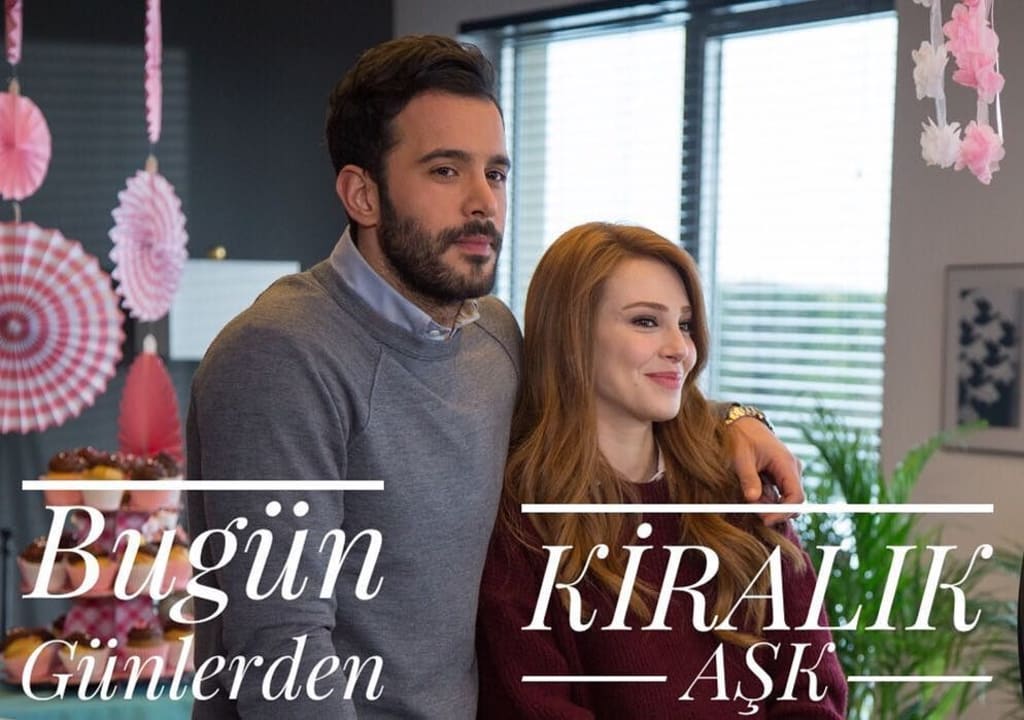 Image from IMDb
May I Never Be At The Mercy Of My Enemy In My Time Of Dire Need Or Trouble - Quote by Author
This quote rings true in the Turkish drama series Kiralik Ask (Love For Rent). Sometimes, in our bid to solve pressing problems or get out of troubling circumstances, we fall into the hands of opportunists who capitalize on our dire situations. This was what befell Defne Topal, the female protagonist in this series. In an attempt to rescue her brother from harm, she accepts a dubious offer that ends up complicating her life.
Kiralik Ask (Love For Rent) is one of my favourte Turkish dramas to date. Baris Arduc and Elcin Sangu do a magnificent job in their roles as Omer and Defne - the central characters in this beautiful tale of love, loss, pain, blackmail, betrayal, breakup, family dynamics and loyalties; jealousy, schemes, lies, work, triumph and much more. The entire cast did a marvelous job of bringing this beautiful story to life. Omer and Defne's beautiful love story went through so many ups and downs but eventually love triumphed in the end.
About This Series
Kiralik Ask (Love For Rent) is a 2-season 69-episode 2015 Turkish romantic comedy-drama TV series written by Meric Acemi and directed by Metin Balekoglu, Baris Yos, and Senol Sonmez. The cast includes Baris Arduc and Elcin Sangu as lead characters Omer Iplikci and Defne Topal as well as Salih Badecemi, Onur Buyutopcu, Nergis Kumbasar, Levent Ulgen, Ferdi Merter, Ismail Karagoz, Hikmet Kormukcu, Melisa Cengiz, Kerem Firtina, sanem Yeles and Osman Akca among others.
Synopsis
Defne Topal is a young waitress living with her close knit family comprising her grandmother and 2 siblings. Abandoned by their parents at a young age, they share a strong bond with each other and their community. Omer Iplikci is a famous shoe designer who together with his bossom friend, Sinan founded their bespoke shoe company Passionis. Omer lost both parents in his younger years and is estranged from his grandfather Hulusi but maintains a relationship with his uncle and aunt, Necmi and Neriman.
Hulusi is determined to leave his fortune to Omer but Omer wants nothing to do with him. He threatens to sell the house Necmi and Neriman are living in if they do not ensure Omer is married. Neriman begins scheming to find Omer a wife. Defne's brother, Serdar borrows some money from the local mafia and cannot pay. They kidnap him and demand their money, 200,000 lira which Defne cannot pay. Neriman sets up a meeting between Omer and a lady in Defne's workplace. Omer needs to escape and pretends Defne is his love interest to get rid of the woman.
Neriman offers Defne 400,000 lira to marry Omer and secure the inheritance and then dissappear forever. Defne, seeing no way out, accepts the advance payment of 200,000 lira to secure her brother's release. Neriman then gets her a job as Omer's assistant effectively controlling her life through blackmail. Things get complicated when Omer and Defne actually fall in love and Defne is torn between her real love for Omer and the charade Neriman has gotten her into. She knows Omer would never forgive her and has to keep everything a secret until she can't.
Social Relevance
This series is as much a romantic comedy as it is a life drama and therefore highlights several themes and social issues such as Love and Relationships; Family and Friendship; Estrangement; Sorrow and Death; Work place drama; Fashion; Culture; Food; Books; Creativity and much more.
Life Lessons
This series teaches many life lessons and pearls of wisdom. These are just a few:
True love will always find its way come what may
True love always wins in the end. Sometimes, it will be tested and tried and call for endurance but will eventually prevail
Sometimes, our earnest effort to solve our problems throws up more problems of its own
Lies, secrets and deceit always seem right at first but eventually become burdens and cages that we cannot readily extract ourselves from
Using means, wealth, power, and position to manipulate others and play god never works out. It usually leads to loss in the end.
We cannot be judge and jury or assume we know the eventual consequences or outcomes of truth. Sometimes all we can do is allow truth to prevail and leave the rest
True friendships are like sure foundations - solid, strong, and resilient. They are rare gems — hard to find but lasting a lifetime
Family is our fort, springboard, and launching pad. Do not be afraid to break forth and soar when the time comes
The great things of life may not come cheap, free, or easy. Sometimes, they require sacrifice, pain, and loss just like the coming of a child requires birthing pains
Some people's purpose in your life or path is to be an example of what not to be or what not to do
Jealousy, envy, and rivalry can lead dear ones to become estranged enemies
Running away does not solve problems
Forgiveness does not necessarily mean readmitting people into your circle. Sometimes, you must keep them at a distance for your own good
The cutthroat business world can be cruel. Trust your instincts and seek sound counsel
Summary and Conclusion
This Turkish drama series is one you will love to watch again and again. It is really beautiful and heartwarming and reminds us that true love still exists and will prevail come what may. It reminds us to fight for what (and who) we love and never back down.
tv
review
movie
entertainment
About the author
I write poems about life & love. I write about movies & other things. Want to know more about my work? Click link below for more info
https://linktr.ee/Imabongfaminu_wordsrwine
Reader insights
Be the first to share your insights about this piece.
Add your insights