'Le Jeu' ('Nothing to Hide') - Review
Netflix: I watch it so as you may not have to.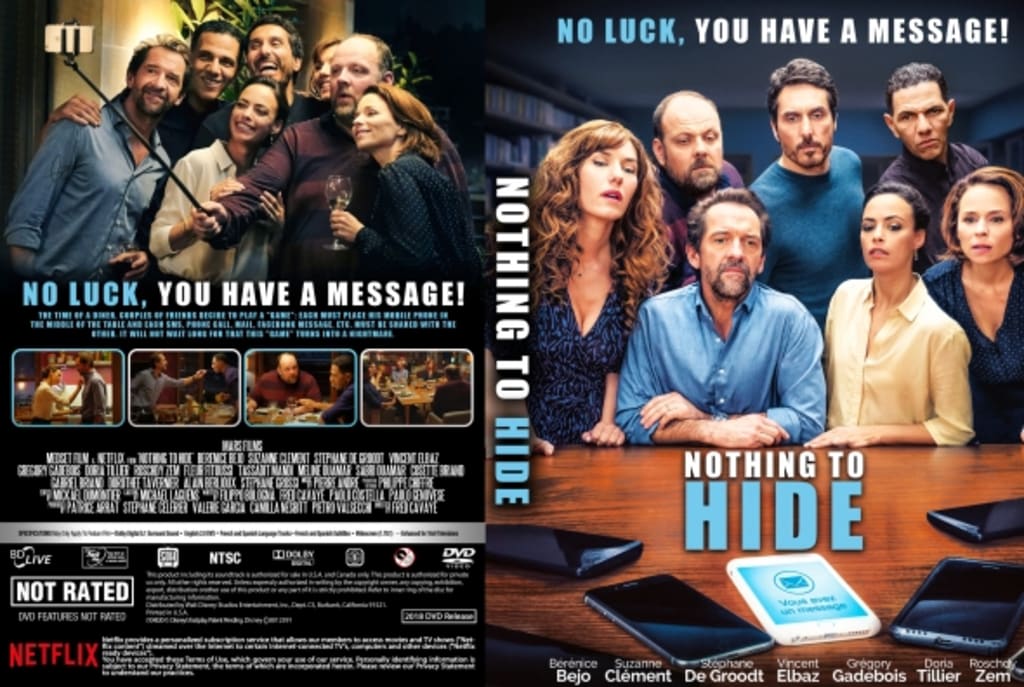 Nothing to Hide or Le Jeu, to give it its French title, is a film about seven adult friends, three couples, and one man whose partner cannot attend, who meet up for a dinner party. The film explores the dynamics not only between the friends but also that of each couple and individual.
A quick peruse of IMDB shows that it is actually a remake of a 2016 Italian film, Perfect Strangers (Perfetti Sconosciuti). It has also been remade in Spanish (Perfectos Desconocidos) so that is the same film in three years and three different languages. People really do not like reading subtitles. Having said that, further investigation shows it even has a Mexican version, which is just lazy!
In this French version of the dinner party story, the hosts, Marie and Vincent (Bérénice Bejo and Stéphane De Groodt), are a professional couple with a teenage daughter, Margot (Fleur Fitoussi). They invite Charlotte (Suzanne Clément) and Marco (Roschdy Zem), Thomas (Vincent Elbaz) and Lea (Doria Tillier), and Ben (Grégory Gadebois).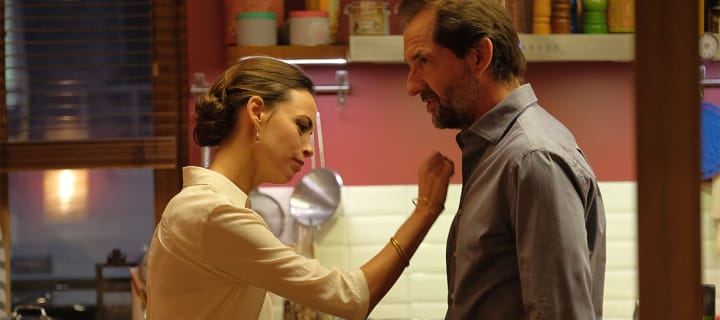 Marie, a psychotherapist, and her daughter have a difficult relationship. Margot rebels against and resents her mother's professional approach to parenting. Vincent is more relaxed. Charlotte and Marco have two young children that are being looked after by Marco's mother whilst they are out, something that does not seem to sit well with Charlotte.
Charlotte is also somewhat passive aggressive towards Marco, with her barely concealed displeasure at him more apparent as the wine flows. Thomas and Lea have no children and are not long married. They are both relaxed and happy, showing no signs of tension in their relationship.
The group are all curious about Ben's new girlfriend, eagerly awaiting his arrival. When Ben does arrive, he is alone. He tells the group that his girlfriend has stomach flu. After a bit of chat and Ben's insistence on a group photograph, they all sit down to dinner.
As the talk continues, Marie remarks on how wed to their phones everyone is. After a brief discussion, she proposes a game of sorts. They are all to place their phones on the table and whatever messages they receive have to be heard or read out to all who are present. After some push back, most notably from Marco, they all agree to join in.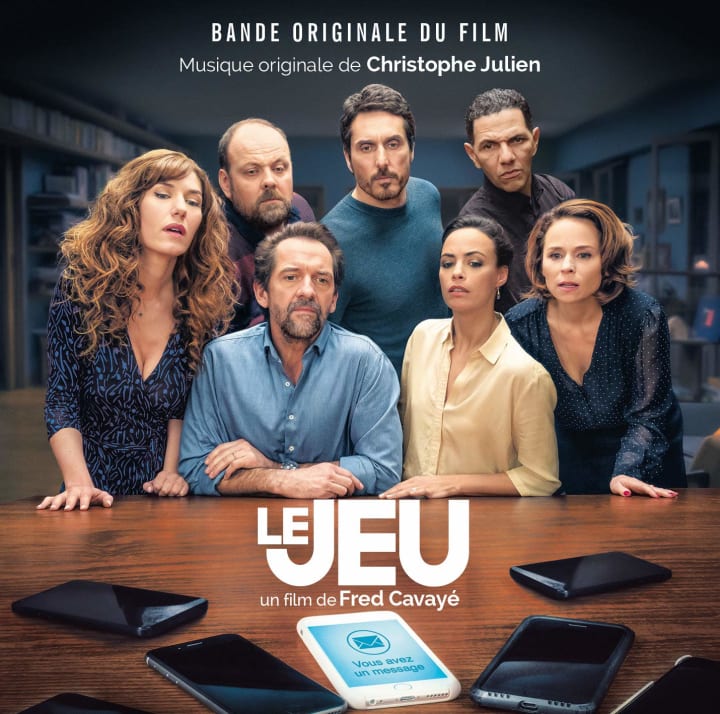 What unfolds after that is an intriguing look at the many tenets that underpin relationships. Not only the spousal relations, but those between friends and the sexes. The things that are never said. The true thoughts and views they hold. The secrets they keep. The uncomfortable choices that are made, hoping that no one notices or finds out about them.
The entire film takes place in Marie and Vincent's apartment, with separate one on one conversations taking place in the kitchen or out on the balcony. When the entire group is together, the film is at the dining table.
With the alcohol flowing and the whole group committed to the game, insisting on every text, email, and voice call or message being public, the tensions in the room continue to build. With the dynamics of all the characters—Marco always stirring, Charlotte drunken and emotional, Lea innocently playful, Thomas unaccountably anxious, and Ben quiet and watchful.
Vincent is considerate, but feeling somewhat emasculated by his wife Marie who—even though he is a doctor, a plastic surgeon—does not respect his medical practice.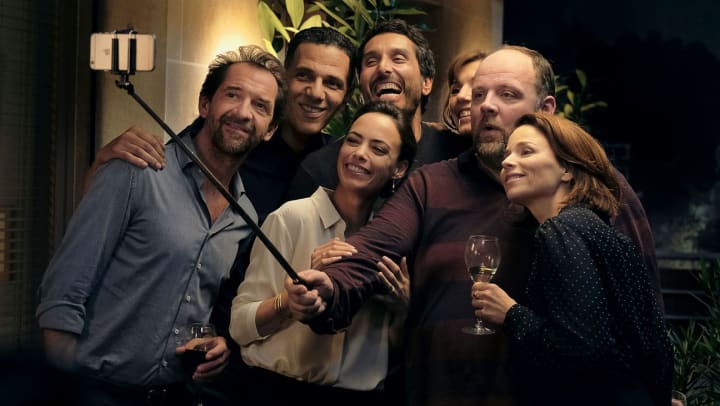 There is a scene in the film when the daughter rings and speaks to her father, voicing her disappointment at the fact that her mother does not understand her or listen to her. It is a brilliant scene, a conversation between father and daughter, where she, as a 17-year-old girl, needs to talk about a situation with a boy. Marie's pain at the fact that her daughter cannot speak to her, much more comfortable talking to her father, is obvious.
After that scene, the film just accelerates from one drama to another. Every message, every text, every call, another bombshell or catalyst to a revelation, to more prejudices exposed. Le Jeu is an ensemble masterclass in acting. Every performance is flawless. The script is an absolute joy and you believe that all involved could, in some universe, be longtime friends.
The way the film ends is probably not for everyone, as it can be seen as a bit of a cop-out. Personally, I found the film's end to be perfect, concluding proceedings without leaving any questions unanswered.
Filippo Bologna's story is obviously very strong and compelling, having spawned four films in as many years. Unusually, I have not written a spoiler-filled review as I feel that any revelations would detract from the film.
I, having only seen the French interpretation, can only recommend that you add Le Jeu to your Netflix watch list. Superb.
Reader insights
Be the first to share your insights about this piece.
Add your insights