Late Review: "Shoplifters"
A continuous series about movies, music, books and other arts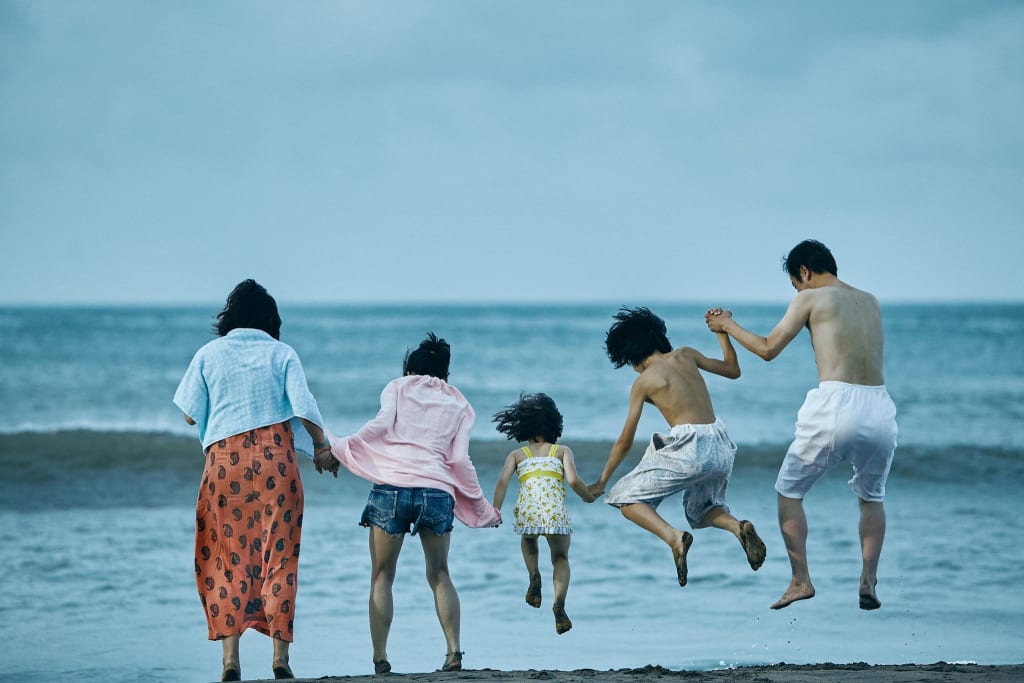 A still from Shoplifters (2018). All rights reserved. Copyright not intended.
**Hello, everyone! Hope your time has been well spent! Just want to preface that I've had this review locked and loaded in the chamber, but I was being lazy among other things. Therefore, some wording might come off a little awkward. Thank you for reading and enjoy!**
Nowadays, it's getting harder and harder to find something to watch. I always find myself bored looking for movies to watch on Netflix, Hulu, Amazon Prime, etc. People constantly say they spend more time finding something to watch rather than actually watching.
I frequently find myself looking at the international releases. Not to say there isn't any good U.S. cinema, but it is slowly becoming more inaccessible by conventional means. They become harder and harder to find, hidden by all the cash-grab movies (I'm looking at you, Dwayne "The Rock" Johnson).
At the end of the day, people forget that film is art. With the capitalist mindset of trying to make a quick buck, a lot of films are made with the intention to sell. Whether it's Marvel putting all the Spider-Men together, or a rehash of old sit-coms, things are being made just to be made.
A film with soul can be extremely hard to find.
Enter Shoplifters.
Not to sound pretentious, but this film is the one of the most moving pieces of media I have seen in a while.
On the surface, it is just a Japanese drama about an unconventional and dysfunctional family. Underneath it all, is a nuance perspective on what it means to be a good person and what it means to be a part of a collective and a family.
*SPOILERS DOWN BELOW*
As the film starts, we see a young boy. His clothes are mattered and it's clear that it is a size or two too big. He coordinates with a man using hand signs to steal some groceries from a supermarket. They successfully steal from the store and bond as they head back home.
At some point, it becomes clear that they are not related.
Things turn for the unexpected when the pair pass by an apartment complex where a toddler is standing outside in the cold. Her name is Yuri. It's clear that even though she may be young, she's been neglected for as long as she remembers. The man, having a heart, wants to bring her home with them. The young boy rejects this idea, though he has no real say in the matter.
Shota, the young boy, and Osamu (the man) live with a run down house owned by an elderly woman named Hatsue. In addition, they live with Osamu's partner, a woman named Nobuyo and another young woman named Aki. The three adults work menial jobs and usually pool together whatever they can scrap (or steal) in order to survive. With the pension of Hatsue, they all live frugal but fulfilling lives. Through the small bits of dialogue, it is revealed that they all have had difficult pasts yet chose to run away, somehow finding each other in the process.
It is at this point where things became more complex. The group welcomes Yuri with open arms, with the exception of Shota, of course. The film constantly switches from the children attempting to bond through the group's frugal lifestyle to the adults dealing with the consequences of their past actions.
It is in these moments, however, where we get to see the bond between the characters. Little "family" moments occur and strengthen the bond we see on screen. There is a scene where all the women take Yuri "clothes shopping". They make her try on all different outfits, regardless if they fit her or not. They stuff multiple clothing pieces to take. The most important detail is that they steal whatever Yuri likes. Through the conversations of the adults, the women reveal that they wish people cared for them like they do for Yuri. They wish to be able to afford the clothes they steal. There are moments like these for each of the main characters. They all have moments where they reminisce about their pasts and how far they've come through the subject of Yuri. All of them are glad to be around each other, even Shota eventually comes around.
Though misguided, it is clear throughout the film that each character really cares for each other, in their own twisted way. Like all relationships, it takes time for this fondness to grow and shine. It is when their backs are pushed against the wall that they reach out to each other in their own moments of desperation.
Back to the main story: after LITERAL months, Yuri's biological parents finally report her missing to the police. This, paired with an untimely death, is where it begins to all fall apart.
They begin to feel pressure from the media. Their past comes back to bite them. To avoid any major spoilers, the characters find themselves in impossible situations where disastrous decisions have to be made. Some "damned if I do, damned if I don't" moments. Real Catch 22's. In the end, some characters are worse off than they were in the beginning, while others realize what they had as a "family" was fleeting. None of the characters regret their decisions, however, they just wish they had more time.
I truly recommend watching this film for yourself. Reading a summary of the events, whether it's my own words or another's, does not hold the same weight.
In the end, the film asks: "what does it mean to be a family?". At times, it's not blood, it's not loyalty. We all have examples of blood relatives being more cruel to us than a stranger. I'm sure some of us have had loyal people to us that end up being just yes-men or have their own ulterior motives. At the end of the day, it's through a commitment to stand by each other, to be realistic yet supportive at the same time; that in itself is what family is about.
*As always, thank you for reading! I hope you enjoy this review and watch this film. Let me know what you think and maybe shoot a tip my way?*