Late Review: 'Joker'
A continuous series about movies, music, books and other arts.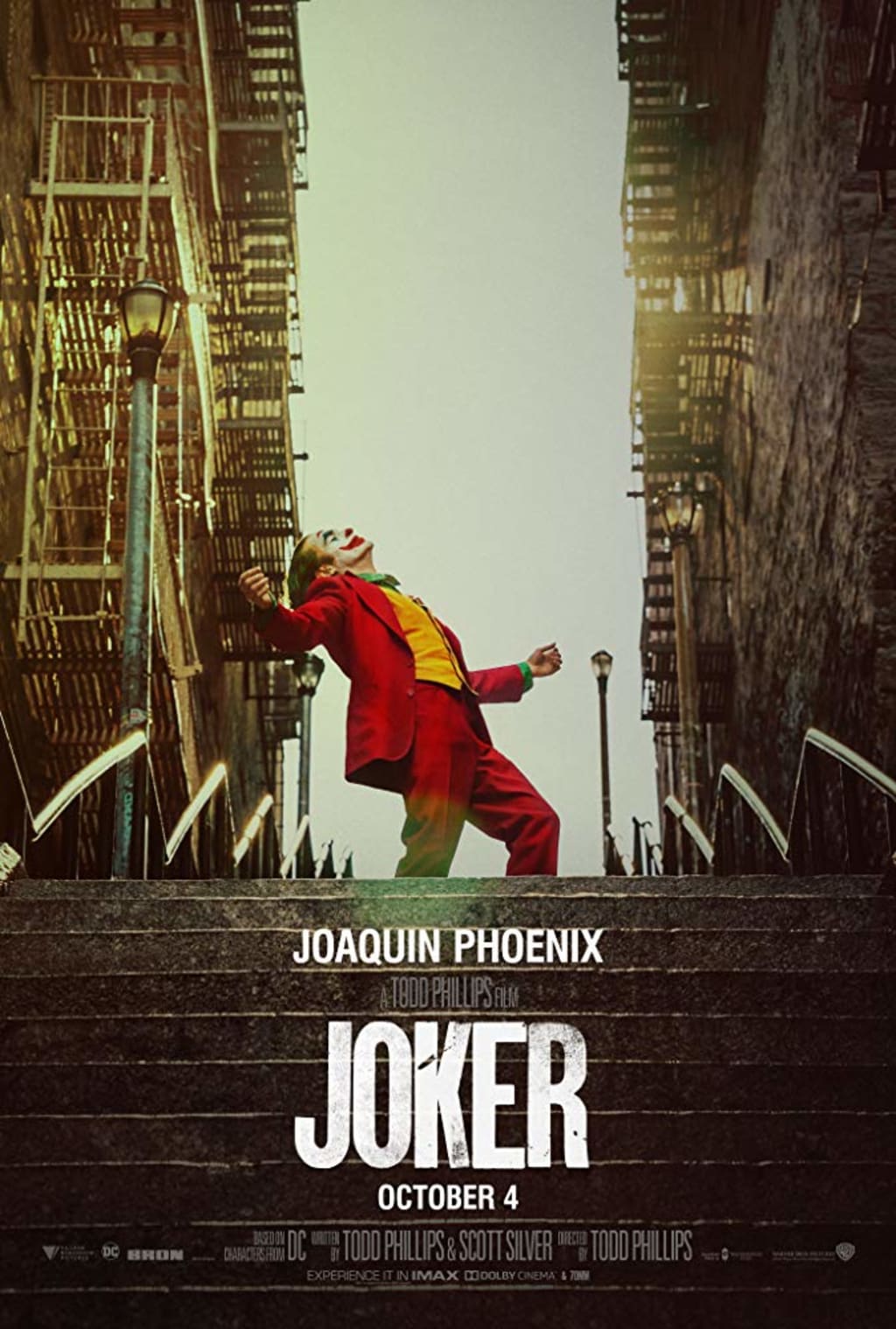 Film poster of Joker. Courtesy of IMDB.com. No copyright intended.
As much as they say they don't, people really do love drama.
The film Joker was primed to be just "one" of those. A film whose subject matter who happens to ridden with guilt and critics say to watch with a cautious eye. After my own viewing, this is far from the truth and people/critics may have interpreted it in a different way.
Many of the critics and early reviews of Joker have labeled the film as glorifying violence or perpetuating white masculinity. Though every movie-goer is entitled to his or her opinion, it is clear through a single viewing that this is not the case and this is not what the main filmmakers (the director Todd Phillips) intended.
*From this point on, there will be small spoilers for the film Joker. READ at your own discretion.*
The film begins with our main protagonist, Arthur Fleck, getting ready for his job. It is implied that he is rather odd from the beginning. As the film progresses, the audience is introduced to the sad world of Arthur. There is an introduction to his therapy sessions, glimpses of his one-sided relationship with his mother and his neighbor, and hints/instances at his physical and mental ailments. From this part of the film, the filmmakers attempt to make the audience (us) feel for Arthur even though any one with any sort of comic book knowledge knows that our protagonist is not a hero by any means. This is where people begin to jump to conclusions. Since much of the film is being told from Arthur's distorted view, many people begin to think that we are to sympathize with his character BECAUSE he is a redeemable person.
That is far from the case.
Film who dive into the characters who bring misfortune and misery are often meet with strong criticism for various reasons. Film such as Taxi Driver, American History X, Imperium, A Clockwork Orange, Natural Born Killers, Funny Games, etc. are known as cinema that glorifies violence and unhinged themes. These are not the intentions of the films. Although intention does not always constitute the effect of a work of art, that does not make it horrible or a glorification of said themes.
To put into simple terms, the world is not a pretty place. Unfortunately, death and violence can appear at any time without any warning. To say it does not need be in our cinema or analyzed in our films is ridiculous since cinema is supposed to be a reflection of AN ASPECT of our real life.
This is what Joker (and SOME of the films listed above) is at its core. A man is wronged by the circumstances and the people who put him there; he decides for X, Y and Z reasons (the audience sees these reasons as the film progresses) to take his frustrations on the society who put him in this situation. Are his reasons right or wrong? The film never really paints a clear picture and it isn't meant to nor does it want to. It is clear that the filmmakers wanted us UNDERSTAND why the Joker is the way he is, not root for him in any way or capacity.
Joker is the stand out hit of the fall. The story could be better; I say this because the climax of the film does not complete Arthur's character arc. It does such a great job getting there but falls flat just short of the finish line. Besides this, the cinematography is amazing in some places. The walking up/down of the huge flight of steps, the shot where we see Joker standing up on top of a police car and the shot where Arthur looks at himself in a public restroom mirror are all iconic. The score is phenomenal. Each piece of music compliments the scenes so well. The musical pieces become an extension of the film.
I could write a whole book about Joaquin Phoenix's performance but it can be boiled down to one sentence: Joaquin Phoenix deserves all the damn awards!
Give Joker a watch. Keep an open mind and admire the other technical aspects of the film. It's the least you can do.
Rating: 9.4/10
movie
Screenwriter at heart. Reviews for anything that peaks my interest at the moment.
gutsfilms.com