Imagine the most ingenious and meticulous heist in history. A heist so clever that every possible scenario is considered in ways that will probably take your breath away. This is how we could try to define La Casa de Papel (2017), a Spanish series created by the producer and screenwriter of Vis a Vis (2015), Álex Pina, who produced one of the most watched television programs of the last year.
Popularized worldwide by the streaming platform Nextflix , the series was produced by Atresmedia in collaboration with Vancouver Producciones and aired on the Iberian television channel Antena 3 . It tells the story of a group of 8 robbers with different 'talents' who are recruited by a mastermind, who has been thinking for years how to rob La Casa de la Moneda y Timbre de España (the place where banknotes are printed) .
Although at first glance this seems to be another heist or robbery-type story, La Casa de Papel (2017) ingeniously manages to present a carefully thought-out robbery in which, as usual in this type of narrative, the viewer crosses the moral line and he 'goes over' to the side of the villains crossing his fingers that they get away with it.
The interesting thing is not necessarily the unexpected narrative twists, because we know in advance that in this genre it is almost an obligation to have this type of abrupt changes in the story, although this happens effectively and ingeniously in the series. The really remarkable thing about this production, and the reason why I think this series has hooked millions of people in the world, are its characters.
Complex, diverse, cryptic, human and charismatic, characters we love and hate throughout the 22 chapters that make it up, in Spain there were 15 but with a longer duration, Netflix reissued them.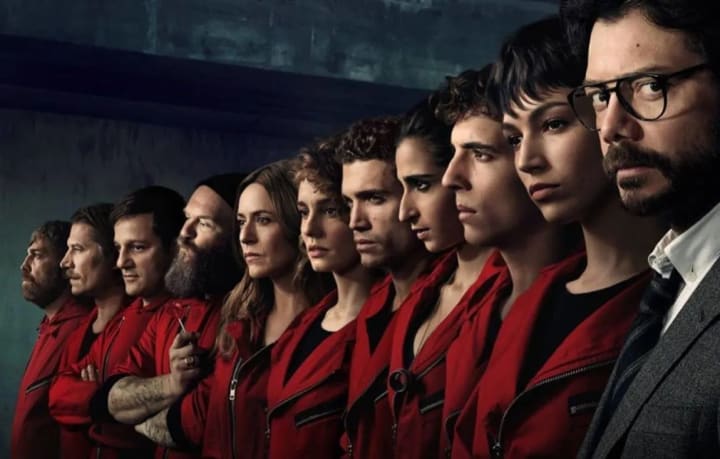 Let's start with the female roles, in the first instance is Tokio (Úrsula Corberó), a contemporary femme fatale ; a woman who is supremely hateful and who is in charge of narrating the series. The truth is that the premise of this character is that everything she touches destroys her and it is like that, but this is precisely what makes one love or hate her with all her might. She complicated, ambiguous, explosive and impatient; Tokyo is the time bomb that ticks permanently and keeps us on edge for hours. She presents us with a clear nod to one of the most remembered characters in cinema, Natalie Portman 's Matilda in The Professional (1994).
Tokyo is accompanied by the role of Nairobi (Alba Flores), the 'heroine' of the villains, who in the midst of a certain passivity becomes the gear that makes the chaos work in some way. A desperate and fierce mother who restores our faith when we are losing it.
Something very similar happens with inspector Raquel Murillo (Itziar Ituño), who is taken from La Casa de la Moneda y Timbre de España with 67 hostages on board, changing her life as much as the thieves. Her character shows a very real facet of today's women, brave, yes, but as strong as fragile.
We must also talk about the antiheroes of the story: Berlín (Pedro Alonso) and El Profesor (Álvaro Morte), the heads of the robbery, who from two opposite perspectives -one bordering on the psychotic and cold, and another in which the intelligence and ingenuity completely overwhelm-, they are just as charismatic, that's why they are the backbone of the story.
They are accompanied by Moscow (Paco Tous), Río (Miguel Herrán), Denver (Jaime Lorente), Helsinki (Darko Peric) and Oslo (Roberto García), whose personalities make what seems like a robbery of astronomical dimensions, be a laboratory that allows us to understand the complexity of human beings and how we relate to each other. Our pains, our loves, our motivations and that instinctive desire to survive.
The exercise of giving thieves almost anonymous identities that are only behind the name of a city in the world is clearly inspired by Quentin Tarantino's debut feature, Reserve Dogs (1992), in which the filmmaker poses a similar scenario in which the anonymity of the 6 protagonists is labeled with colors.
Theft is not just any robbery, it is also an exercise in resistance, rebellion and transgression against the system, and invites one to question: why create money by violating the structures and using the machinery of economic power and take it away without anyone knowing? How is it not an equally undignified scenario in the eyes of society, the same one that allows banks to receive millions each year without asking citizens when and how?
The truth is that the social, moral and emotional reflections that La Casa de Papel (2017) raises are fascinating and make this an unmissable series, one of those that cannot be left on the to-do list for long and that will surely put you on the lookout. sing the well-known Italian partisan anthem of the resistance groups against fascism during the second world war, Bella Ciao .
Check it out and tell us what you think!
"O bella ciao, bella ciao, bella ciao, ciao, ciao

E quest'è il fiore del partigiano

Morto per la libertà"
Reader insights
Be the first to share your insights about this piece.
Add your insights