Ko Sung hee King Maker The Change of Destiny 2020 ON YouTube
TV SHOW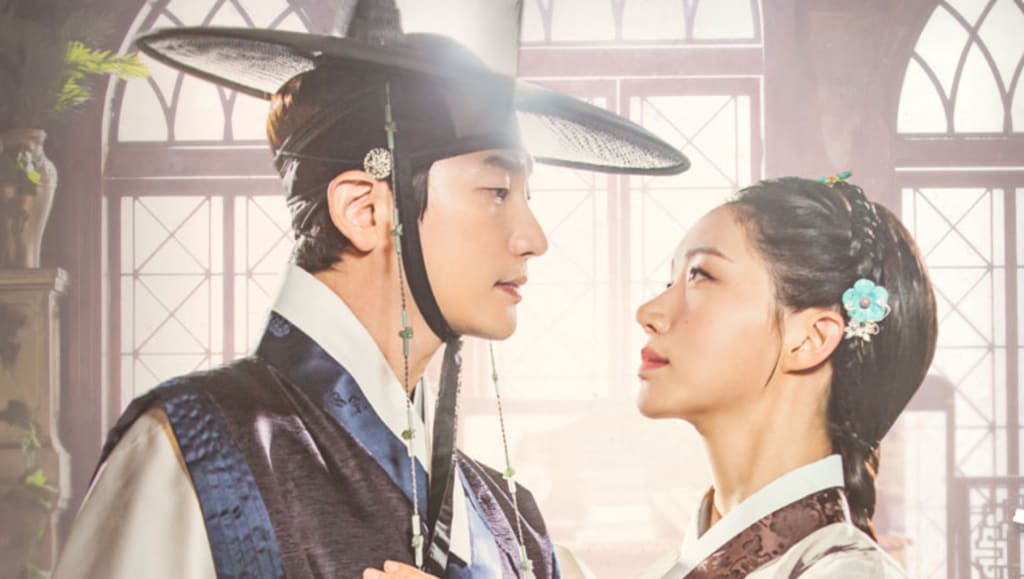 Kingmaker: The Change of Destiny (Korean: 바람과 구름과 비) is a 2020 South Korean television series starring Park Si-hoo, Ko Sung-hee, Sung Hyuk and Jun Kwang-ryul. It is based on the novel Wind, Clouds and Tombstone by Lee Byung-joo[2] and airs on TV Chosun every Saturday and Sunday at 22:50 (KST) time slot starting May 17, 2020. A story depicting a fierce struggle for the throne in Joseon.
Choi Chun-joong (Park Si-hoo) is the best face reader in the nation. He was born into a prestigious family, but his family was killed off. He is looked down upon as a fortune-teller, but he eventually becomes the most powerful person in Joseon. He is aware of Joseon's fate and tries to change it. He also devotes his life to the woman he loves.
Lee Bong-ryeon (Ko Sung-hee) is a beautiful princess and the daughter of King Cheoljong. She has a special ability to see the fate of people. Her ability is a blessing and, at the same time, a curse to her. Lee Bong-ryeon meets Choi Chun-joong and tries to change the fate of Joseon for the better. Main
Park Si-hoo as Choi Chun-joong, Joseon's best fortune teller
Kang Tae-woo as young Choi Chun-joong
Ko Sung-hee as Princess Lee Bong-ryun, King Cheoljong's daughter
Hong Seung-hee as young Princess Lee Bong-ryun
Jun Kwang-ryul as Lee Ha-eung, Prince Heungsun, Gojong's father and an ambitious royal family
Sung Hyuk as Chae In-kyoo, adopted son of Jangdong Kim clan and Chun-joong's friend
Choi Jung-woo as young Chae In-kyu
Supporting
Jangdong Kim clan
Kim Seung-soo as Kim Byung-woon, Kim Jwa-geun's son which his power surprasess the King's.
Cha Kwang-soo as Kim Jwa-geun, Jangdong Kim clan's representative and head.
Yoon A-jung as Lady Na-hap, Kim Jwa-geun's concubine.
Han Jae-young as Kim Byung-hak, The core forces of Jangdong Kim clan.
Royal Household
Kim Bo-yeon as Dowager Queen Jo
The eldest member in the Royal family household and is the one who holds the key to the next succession to the throne after King Cheoljong's death.
Jung-Wook as King Cheoljong, the 25th King of Joseon and Lee Bong-ryun's father.
Eru as Lee Ha-jun, the most likely candidate for succession to the throne.
Park Sang-hoon as Lee Jae-hwang, Emperor Gojong, Lee Ha-eung's 2nd son and the first emperor of Joseon.
Park Jung-yeon as Min Ja-young, Empress Myeongseong
A woman with the fate to become a Queen Regnant (여왕). With Chun-joong's help, she deceives Prince Heungsun and then become Jae-hwang's primary wife and the first Empress Consort of Joseon.
People in Baeogae
Jo Bok-rae as Yong Pal-ryong, Chun-joong's right-hand man and Baeogae's informant.
Kim Joo-ryoung as Joo-Mo, Baeogae's mistress.
Han Dong-kyoo as the Equator's truth; the person who wearing a red coat and disguised as a wig and beard, she was called the Equator.
Noh Hyung-wook as Paeng Goo-chul, Joo-Mo's little brother. well well, one of the best historical Korean dramas these days ..; good actors, new storyline, perfect and deep chemistry between the players.Only problem is the Ending; do not afraid its not a sad or an open one; actually its very unclear, it ends but u have many questions that have not been answered many events in this drama wont be solved or discussed in the end :S I have read that this drama was planned to have 24 episodes but due to COVID pandemic and its consequences in countries economies the production has beed stoped so the producer and director summarised and finalised the final episodes. Apart from this point, I had watched 3 dramas of Park Si Hoo (Babel, Lovely Horribly and The Princess Man) and I could never liked him a bit BUT in this drama He shined ,he was awesome his smiling his acting and his emotional behaviours were so pure and original and I am so impressed by his acting, I am not sure if its a Korean historical love obsession or he is really good in this series ;)))))) I mark this drama 8/10 and I am happy of watching it I truly enjoyed this drama. Historical periods are one of my Kdrama favorites. This one didn't disappoint. Park Si Hoo was made for the lead part. Superb acting and he's good looking.😍🥰🥰 And that deep voice.😍😍😍 The supporting casts was great too. I'm glad that it had a happy ending because I'm a die hard for happy endings.❤️❤️ A previous person commented that the ending was confusing
I do not agree.
The ending was when he came back to his loved ones and his people
he was protected by the bullet proof vest that was made for him so it had fantastic ending and that they also lived happy ever after.
I was mesmerized by this whole series hoping for a second season
fantastic acting, costumes and personalities
I loved it It was fresh and different, and this is why for this role you put a man not just a long lost sun.a man who can be badass and antelectual in the same time......yesss.i liked this drama alot.the plot was clear and actings were believable, how many time we saw the first female character is just scared and running but wants to do great thing and first male character should just love her and beg her to be with him.here every thing is different,and I like how serous every thing is.👌👌👌 Loved this drama!!! I'm so happy the female lead has had projects such as these to project her wonderful talents. Don't get me started on the male lead though!! <3 I've seen other dramas of his and absolutely loved them. The casting was perfect. I cringed every time Sung Hyuk appeared as In-kyu as a bad person all around, and melted whenever chun-jung and Bong-ryeon were together. Brilliant performance of yet another awesome period drama… First Korean telenovela. I loved it! The costumes and tradition were so vibrant. The cast so beautiful and talented to watch. The storyline interesting to follow. Overall, I can't wait to see another.
About the Creator
https://videofunds.buzz/4852475553184810/ sign up to get a 10 US Dollar newcomer bonus! I made more than 200 US Dollars by watching the video here, so you can try it.
Reader insights
Be the first to share your insights about this piece.
Add your insights