Jim Carrey's Best Biden Moments On SNL
What the comedy legend gets right about our president elect.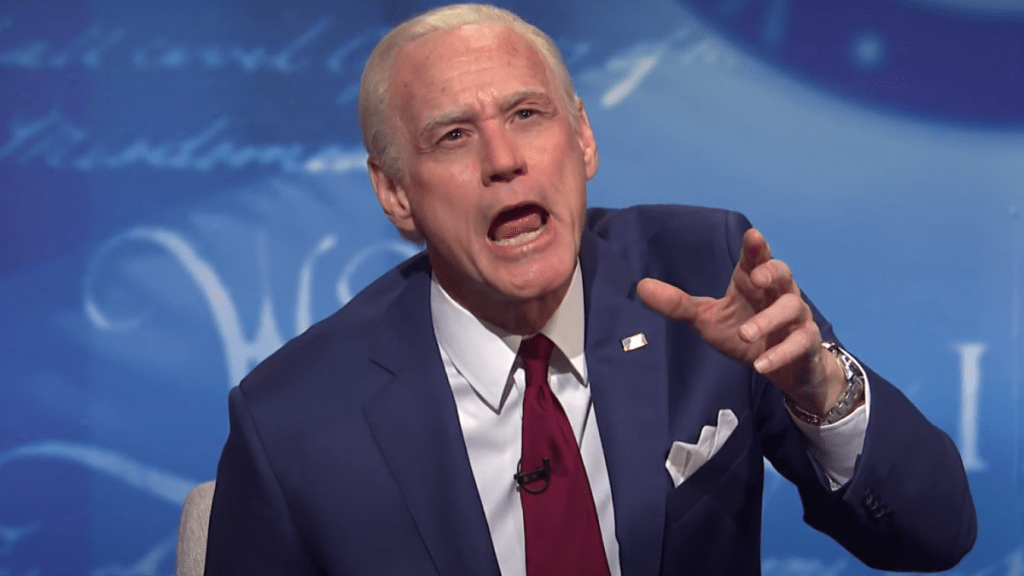 It's over! After a very stressful week of us staring at a red and blue United States map, the election came to a close earlier this month on Saturday, November 7th. Joe Biden will become the 46th president of the United States. For many, it's a weight off our shoulders after four long years of racism, bigotry, sexism, and flagged tweets.
You may have experienced election burnout after months of worrying who the next Commander in Chief will be. For my roommates and I, we conquered the stress by sitting on the couch every Saturday evening and watching our favorite television program...
SNL!
This year, the iconic sketch show hired everyone's favorite overly-expressive comedy actor, Jim Carrey, to play former Vice President, Joe Biden. Maya Rudolph was cast to play his running mate, Kamala Harris. Alec Baldwin reprised his role as Donald Trump. So far, Carrey has starred in six cold opens and is set to play Biden for the foreseeable future. Several cast members and guests have played Biden on SNL (including Woody Harrelson, John Mulaney, and Jason Sudeikis) but Carrey's take is far wackier, weirder, and wilder than the rest.
While many critics have pegged Carrey's portrayal as being too explosive for the calm, 77-year-old candidate, you have to give the man credit for nailing Biden's voice and mannerisms. He's held his own against Alec Baldwin's Emmy-winning performance, and has had a couple standout moments on the unpredictable sketch show.
When I think of Jim Carrey as Joe Biden, there are six specifically hilarious moments that come to mind. Here's a recap of them, in no particular order...
1. THE HARRY STYLES MEDITATION TAPE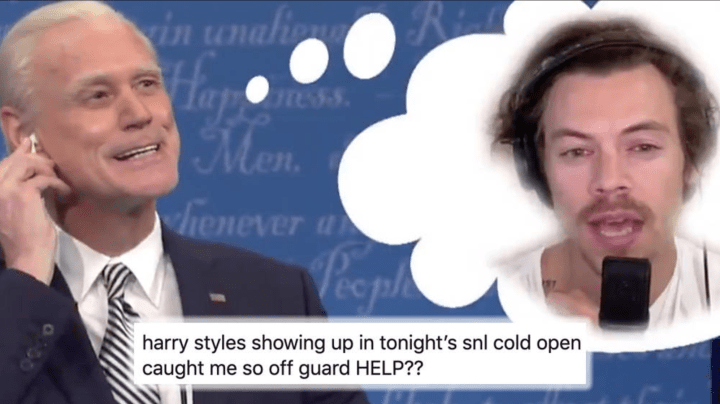 Not only did we get Jim Carrey as a guest actor for the SNL season premiere on October 3, 2020, but we also got an unexpected appearance from everyone's favorite British heartthrob, Harry Styles.
In a thought bubble, Styles appears as the speaker for Joe Biden's "meditation tape" while the candidate is trying to calm down during the first presidential debate. In retaliation, Donald Trump also listens to a meditation tape - but it's just Kimberley Guilfoyle's 'The best is yet to come' speech from the RNC.
I wonder who from the SNL team called Harry Styles to tell him, "so we need you to speak calmly into a microphone and we'll greenscreen you into Joe Biden's thought bubble." If you didn't know, Harry Styles read a Sleep Story for the Calm app - very similar to a meditation tape. Could his SNL cameo be a parody of the soothing bedtime ASMR? Perhaps.
What makes me crack up the most about the meditation tape moment is Biden's proud use of airpods. He may be our oldest president elect, but he's hip with the times!
2. SCIENCE AND KARMA
My roommates and I quoted this speech days after it aired!
In the same presidential debate cold open, Biden manages to "pause" Trump with a TV remote a la Adam Sandler in Click. "I think we all needed a break. Isn't that satisfying? Just not to hear his voice for a single goddamn second," Carrey says to a warm round of applause.
He asks Chris Wallace if he can directly address the American people, to which Wallace replies, "Is it gonna be weird?" Biden says, "Totally" and goes on a long ramble about how he's the presidential candidate who believes in science and karma.
"Now just imagine if science and karma could somehow team up to send us a message about how dangerous this virus can be."
Carrey looks over at Baldwin, and the whole room erupts in laughter.
"I'm not saying I want it to happen...but just imagine if it did."
Of course, we all know the joke is a nod to Trump's COVID-19 infection, announced between the real presidential debate and the SNL premiere on October 3rd. People had a feeling the SNL writers would cleverly slip it in.
It's Carrey's zany delivery of the speech that made my gut hurt from laughing. If only his special TV remote existed in real life! And if only more people believed in science and karma.
3. TURNING INTO THE FLY
As soon as I saw the tiny little dot on Mike Pence's head, I knew SNL was going to do something crazy.
If you've stayed away from Twitter these past few weeks and didn't know, a fly appeared on Mike Pence's head during the Vice Presidential debate and stayed there for over two minutes. If you looked at social media during that debate, you know all of America was laughing. I don't know how Kamala Harris kept it together.
When it came time for Saturday night, SNL took the fly mayhem to the extreme. During the VP Debate Cold Open, it was revealed the true cause of the fly on Pence's head was from Joe Biden using a teleportation device.
Apparently a fly was in the machine (like in the movie, The Fly), and Joe Biden himself became the infamous interrupter of the VP debate.
Once on Pence's head, Carrey dons a pair of fly wings and a fuzzy black costume, complete with some badass shades. He also does two creepy impressions of Jeff Goldblum and talks to the deceased Herman Cain (Keenan Thompson), who has been reincarnated into a fly.
The whole thing feels like something out of a fever dream. I hope this sketch spawns some conspiracy theories about where the fly came from. Personally, I think it was RGB's doing.
4. WON'T YOU BE MY NEIGHBOR?
After the presidential town halls on October 15th, 2020, a Trump advisor posted a viral tweet comparing Joe Biden's event to an episode of Mr. Rogers Neighborhood. It was ironic considering both men are from Pennsylvania. It also wasn't a well-thought-out tweet, since it was meant to be an insult when Mr. Rogers is universally beloved.
Because of the tweet, 'Mr Rogers" trended on Twitter that evening and sparked a social dialogue about the legacy of Fred Rogers. It also left people bewildered as to why members of the Republican party consider the legendary children's show host a bad man.
SNL took full advantage of the confusion during their Dueling Town Halls cold open. About ten minutes into the sketch, Jim Carrey slips into a red cardigan and sings "Won't You Be My Neighbor" with a chorus of SNL castmates behind him. "Whaddaya say? Will you be my neighbor, George?" he asks the town hall host, George Stephanopoulos, after finishing.
It's a hilarious contrast to the wild Trump town hall, where the president encounters wacky audience members (like 'Nodding Woman' and Paulette Dale, who complimented his smile), and faces off with Savannah Guthrie. After town hall host and candidate fight in a wrestling match, we go back to Biden, who has transformed into Bob Ross!
I wonder how many more peaceful TV show hosts SNL could have turned him into. Personally, I would have loved to see him as Barney the dinosaur. Imagine him singing the "I Love You" song to America!
5. ALL THE FINGER GUNS
Is there a better way to greet the American people? I don't think so.
It's not a singular moment - in most cold opens, Jim Carrey sneaks in a finger gun or two into his Joe Biden performance. Whether he's got his sunglasses on, is dressed as a fly, or he's using two hands to shoot instead of one, the finger guns never fail to make an audience crack up.
It's unclear why he does it, but if I had to take a guess, it probably has something to do with the president elect's tendency to point at things. It's sort of a trademark of Joe Biden.
Carrey's basically taken Biden's finger pointing to a hilarious extreme. The way he shoots his finger guns have a wild west revolver vibe to them.
Watching Carrey do it makes me want to greet all my friends and family with finger guns. It's undeniably silly...but also low-key cool.
6. LOOOOOOSER!
Joe Biden officially became the president elect on November 7th, 2020. It was a Saturday, meaning not only was America celebrating - they were anxiously awaiting how SNL was going to pull off a cold open with such little time.
Fortunately, not only did the SNL team get Harris's victory speech outfit ON POINT, they also delivered a hilarious opening sketch. Maya Rudolph explained to all the little Black and Brown girls of America that their mothers were drunk, Alec Baldwin played "Macho Man" on the piano as Donald Trump, and while explaining how election results should be accepted graciously, Jim Carrey delivered one of the most iconic lines of the night...
"Unfortunately, there are situations in life, and this is one of them, where there must be a winner and..."
Carrey pauses dramatically.
"AAAAAAAA LOSERRRR!"
The audience bursts into laughter and applause, knowing Carrey's inflection is a nod to his beloved film, Ace Ventura: Pet Detective.
"LA-HOOOO, SA-HERRRR!" Carrey and Rudolph shape their hands into L's and place them on their foreheads.
The next day, I remember seeing this moment all over social media! Not only was it a clever reference, but it felt so cathartic when looking back at the stress these last four years have caused so many Americans. Many have said the 2020 election was more about Trump losing than it was about Biden winning, so the 'loser' joke truly was a great closer to a historical cold open. Hopefully Carrey gets to make more Ace Ventura references as he continues his role as Joe Biden!
And with that...those are my favorite Jim Carrey Biden moments so far. There's usually 21 episodes to an SNL season, although last season had 18 due to the pandemic. Hopefully we get to see more Jim Carrey regardless!
Any Jim Carrey Biden moments I missed? Feel free to DM me @katyisaladybug on social media and let me know! Thanks for reading, and make sure to drop a like if you enjoyed. :) SNL is on every Saturday at 10 pm EST on NBC. Until next time!
-Katy