J.K. Rowling's Wizarding World Loot Crate Review—March 2018
March 2018: Enchanting Essentials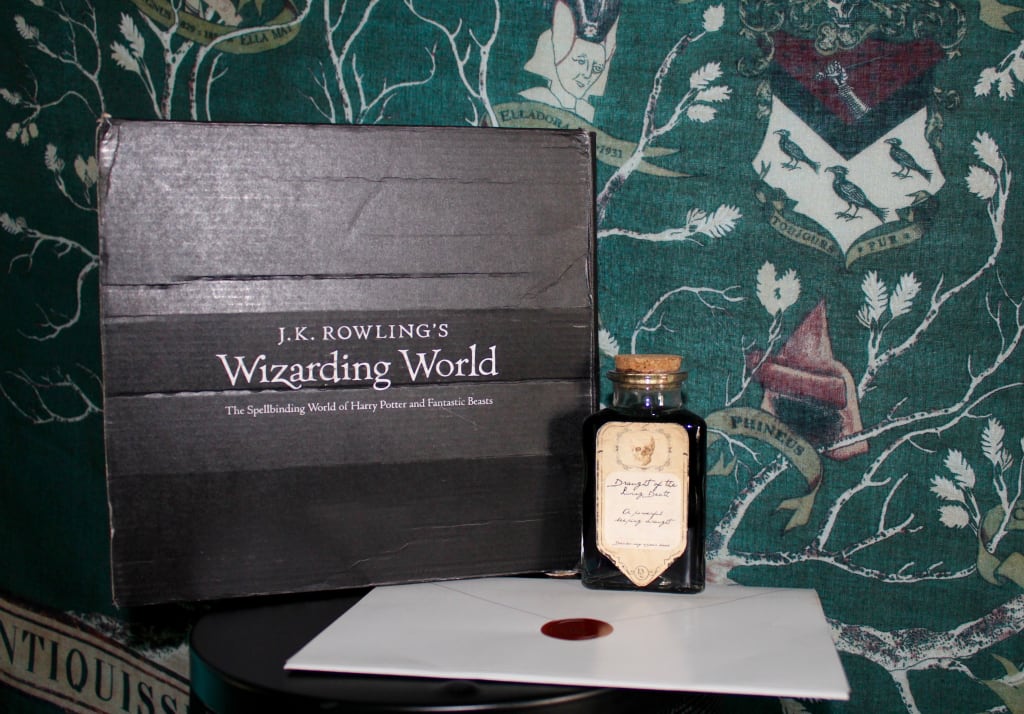 Loot Crate is a subscription box service that provides exclusive, quality items for fandoms — this is my review for the March 2018 Wizarding World crate. I am not sponsored by Loot Crate. All opinions are my own.
Shipping: I had contacted the support team at LC to insure that shipping would be on time for this month, and was happy to hear back the same day that the shipping would not be delayed—and as always my tracking number was active and accurate. However, I had some major issues with this month's box. My box arrived at my doorstep damaged to the point that it was bursting open, there was a duplicated item by mistake, and I was missing an item which is most likely due to the damaged box. REALLY not a good start to my magical unboxing- which I didn't even have the pleasure of actually doing because the box was broken open for me.
Update: After contacting the Loot Crate support team with pictures and an explanation of the observed problems, I was notified that a replacement was on its way to me with LC's deepest apologies. This was my first poor experience with Loot Crate, it made me very uncomfortable thinking about all the possible reasons why my box was in such poor condition; cue the image of The Dark Lord himself tampering with my postage. However I am pleased with LC's quick response and action to send me a replacement, and was told that it would be on it's way in two to four weeks (this review will be posted very late due to this delay, but I'm glad to wait in order to properly review the March 2018 Wizarding World Loot Crate).
Overview: Six Magical Items, Ravenclaw House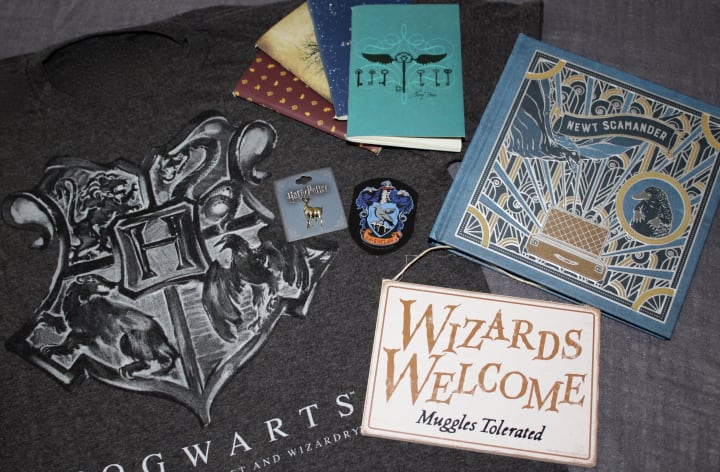 "A new year calls for new wizarding gear!"
This month's theme is Enchanting Essentials, providing items that any witch or wizard will find useful. This box had a lot to offer in the sense that every item is useful, making them "essential." The actual box itself transforms into a night scene of Hogwarts castle, which I thought was very charming and simple.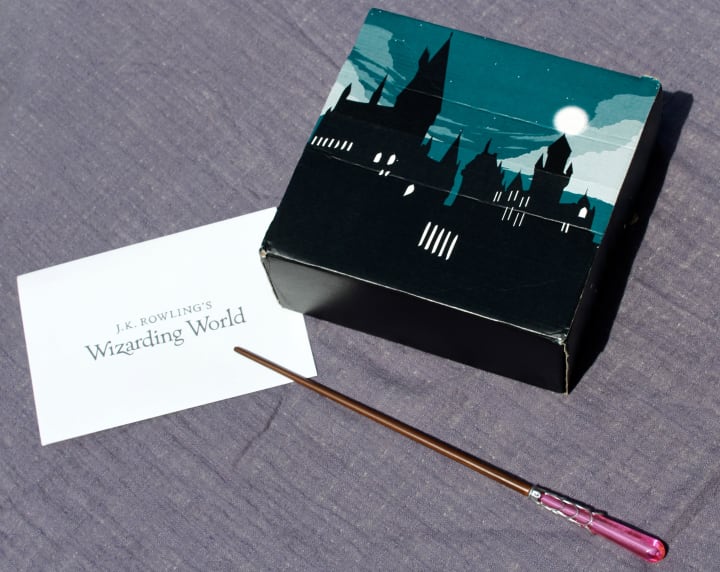 Item #1: Hogwarts Crest T-Shirt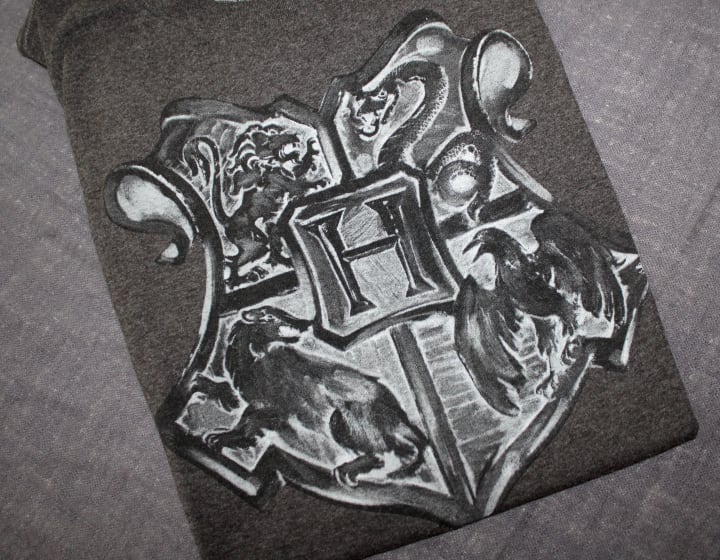 First item: the wearable! This is a simple yet artistic take on the Hogwarts crest, which represents each house's mascot. The shirt is a grey, cotton blend, unisex tee that features a brush stroke graphic and print. I really like the design, because it's subtle and monochromatic which I believe is suitable for any wearer. What makes this item an essential is that every witch or wizard should have a basic school pride t-shirt, perfect for everyday wear.
Item #2: Newt Scamander Scrapbook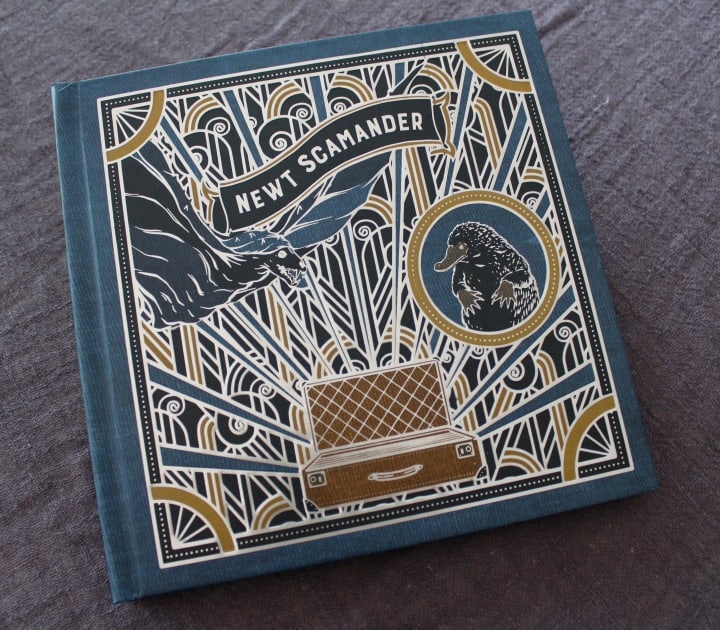 Up next we have the only non-exclusive to Loot Crate item: the Newt Scamander Scrapbook by Rick Barba. This is a movie guide for Fantastic Beasts and Where To Find Them, essential for the new film series. The beautiful book cover features silver details wrapping around Newt's incredible case of creatures, including our favorite Niffler. It's also an interactive book with removable artwork and a copy of the Daily Prophet. Newt Scamander's Scrapbook takes you through the roaring 20s, introducing readers to MACUSA, amazing creatures, and his new wizard friends. I think this book is a fun attribute to the Essentials box, as we've just begun Newt's adventure in Fantastic Beasts and Where To Find Them.
Item #3: Wizarding Journals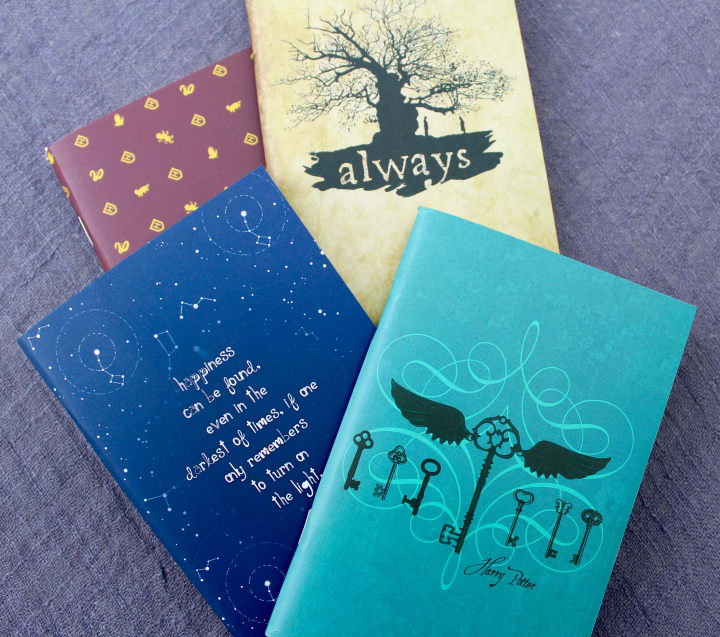 The next item are these little notebooks that came in a pack of four, each including a different design. As a returning student to Hogwarts, you can't have enough notebooks. But if you didn't pick up enough at Flourish & Blotts before term started, Loot Crate has you covered with these lined notebooks that can fit in your robes. From top to bottom, the notebook designs are: aqua color, featuring the flying keys from Philosopher's Stone; royal blue, covered in constellations and stars, with a famous Dumbledore quote: "Happiness can be found in the darkest of times, if one only remembers to turn on the light" -J.K. Rowling; parchment printed design featuring Snape and Lily's childhood tree scene with our favorite line, "Always"; and maroon, patterned with yellow symbols of the Hogwarts logo, serpent, honey-badger, eagle, and lion. These notebooks are really nice and their LC exclusive designs are subtle, ideal for any sort of Muggle-Studies.
Item #4: Double-Sided Wizardry Sign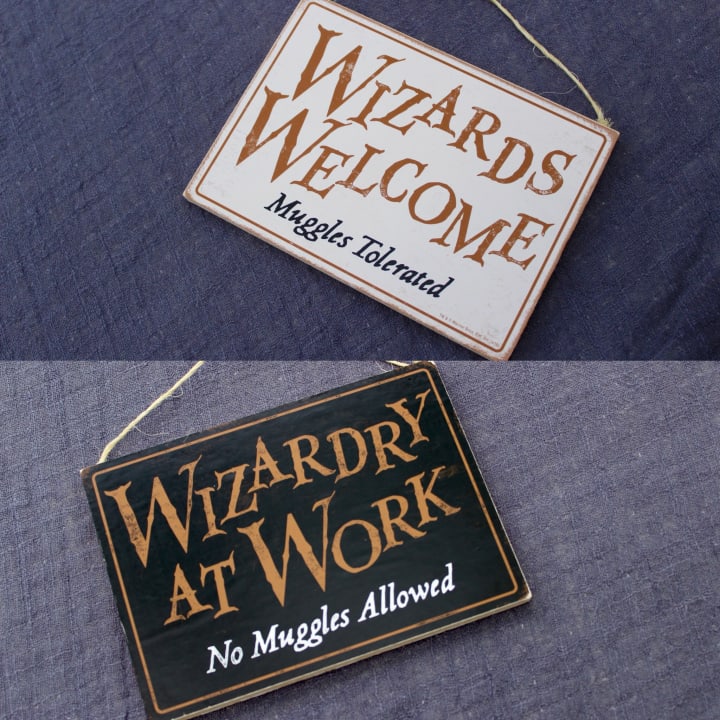 This next item is my favorite in this month's box: the double-sided hanging sign. What I love about it is that it's a decoration that had a homemade feel to it. It's sturdy and the print is an original design on both sides. I think this item is perfect for incorporating magic into any home or work space. Essential to any wizard practicing hexes who should not be disturbed.
Item #5: Hogwarts House Magnet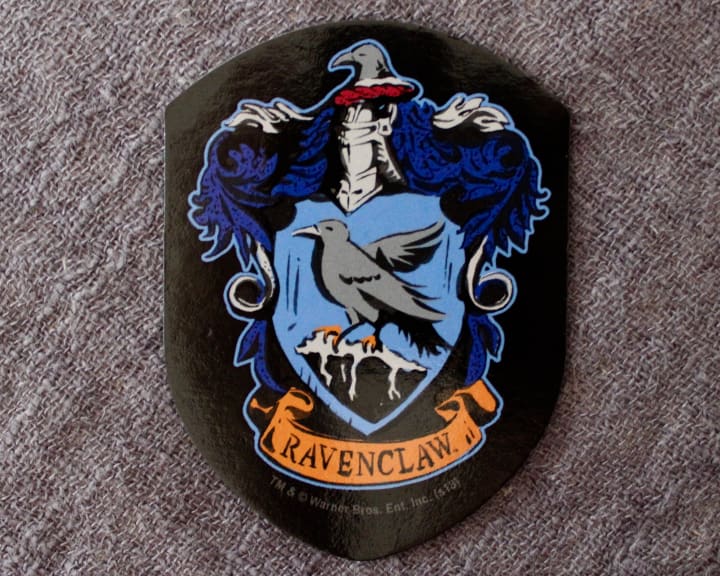 Every box is house themed, so I receive Ravenclaw items. This is a magnet, and there's not much to say about it... Last month, Loot Crate messed up royally, by not only being extremely late on shipping, but also only sending four items when they advertise that each crate contains five to seven items. So this magnet is a bit—for lack of better words—laughable. It felt like it was an afterthought in the unboxing, it's just there yet it counts as an item. However it is a useful item, as any magnet does serve a purpose.
Item #6: Patronus Lapel Pin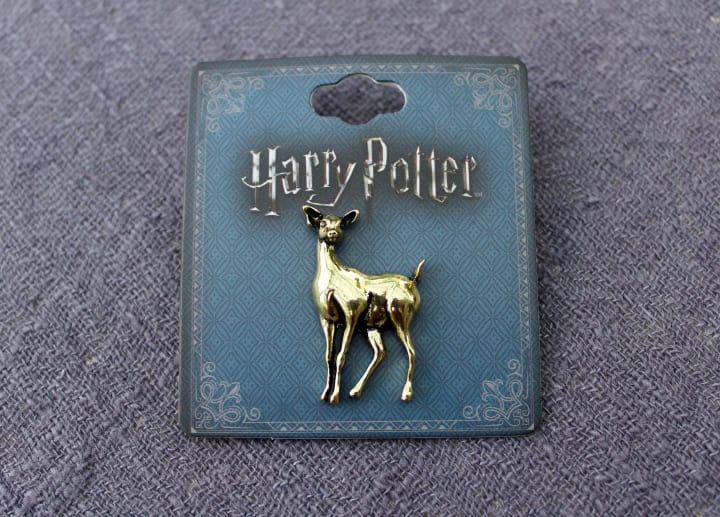 Last but not least, the pin! This month Loot Crate took a break from Horcruxes. In place, we received this patronus pin. Snape and Lily share the same corporeal patronus; a doe. This pin is a token to carry around Snape's memory as the misunderstood, great wizard he was. These pins keeping getting better in quality and design. Ican't wait for next month's.
And that concludes the J.K. Rowling's Wizarding World Loot Crate for March 2018! Overall, I thought this month's crate had nice surprises, but I look forward to improvements in the upcoming box. Thank you for reading my review!
Until the unboxing of May's magic,
Alexandria ☽