Is the Olivia Rodrigo/Joshua Bassett/Sabrina Carpenter Love Triangle the New Miley Cyrus/Nick Jonas/Selena Gomez?
Because it certainly feels a little 2008-ish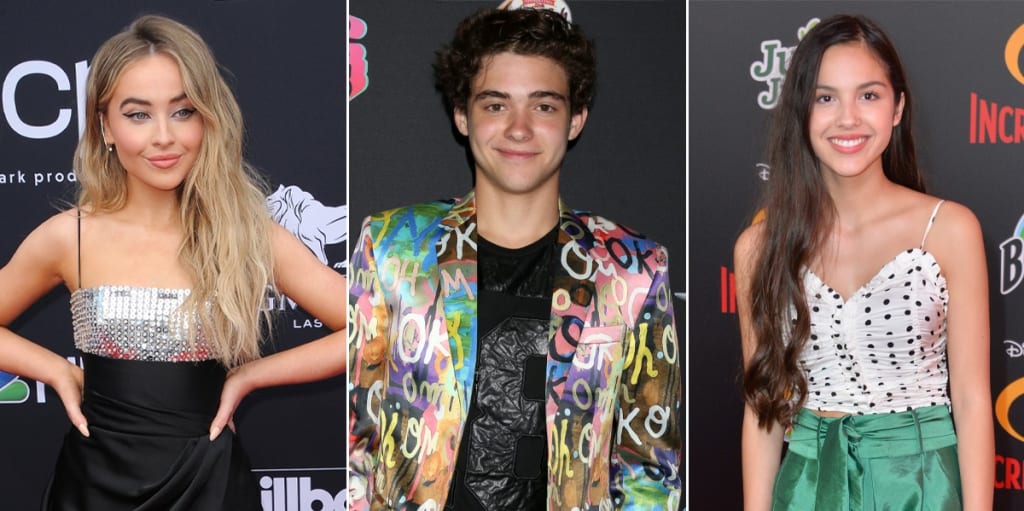 (From left to right) Sabrina Carpenter, Joshua Bassett, and Olivia Rodrigo
A few weeks ago, I got into a debate with my 14-year-old niece about why my generation of Disney Channel was better than hers. My argument, besides just having better quality shows, was that the current generation lacks the entertainment of the drama that came with the Disney stars like mine did. I argued that the more recent Disney stars couldn't muster up a lover's quarrel like Joe Jonas and AJ Michalka, which resulted in the iconic "Potential Breakup Song" by Aly & AJ. Nor could this new generation provide a love triangle that could live up to the Miley Cyrus, Nick Jonas, and Selena Gomez triangle of the late 2000s. A few days ago, I was proven wrong however.
Six days ago, Olivia Rodrigo, who is best known for her roles on Bizaardvark on Disney Channel and High School Musical: The Musical: The Series (HSMTMTS) on Disney+, released a song titled "drivers license," which has been rumored to be about her HSMTMTS co-star, Joshua Bassett. The two are rumored to have been dating at one point but recently, Joshua has been seen spending a lot of time with another Disney Channel starlet, Sabrina Carpenter. Best known for her roles on Girl Meets World and the Disney Channel Original Movie, Adventures in Babysitting, some of the lyrics in Olivia's song seem to point to her.
And you're probably with that blonde girl

Who always made me doubt

She's so much older than me

She's everything I'm insecure about
Sabrina Carpenter is in fact blonde and at 21 years old, is older than Olivia, who is only 17. Sabrina and Joshua were caught on Tik Tok with one another, wearing coordinating costumes when they dressed up as Shark Boy and Lava Girl for Halloween, leading many to believe that they have started up a new romance.
On top of that, people feel that it is no coincidence that Joshua has announced the release of his song titled "Lie Lie Lie" on Jan. 14, right after Olivia released her song. His song includes some very pointed lyrics as well, starting with "you've been lying to yourself/ you lie to everyone else/only think about yourself" which leads people to believe that he is trying to send a message about Olivia's song. Up until now, Sabrina has largely remained silent on this issue.
One thing that this generation of Disney stars have that mine didn't is the freedom to express themselves pretty openly. While my generation of Disney stars were able to release music about break ups/heartbreak like "Potential Breakup Song", "7 Things" by Miley Cyrus, and even "Much Better" by the Jonas Brothers, in recent years, it has been no secret that the Disney company kept a tight rein on their stars in the past. By censoring what they could say in interviews, what they could post on social media, and what they could say in their music, Disney was able to present squeaky clean images of almost all of their stars while they were on the network. That doesn't seem to be as much of an issue with this current generation, however. From Olivia saying in her song "drivers license" how "I still f*cking love you" to Joshua saying in his song "Lie, Lie, Lie" that "I'll kiss your ass goodbye"; this is something that never would have been allowed in the 2000s- early 2010s Disney era.
The biggest question centering around this drama is how will it affect season 2 of HSMTMTS? With production postponed from the summer of 2020 due to COVID, the second season has been highly anticipated for 2021. But if the two leading actors of the show are supposedly feuding, will that create tension on set? Or worse, will it lead to someone leaving the show all together? There's really no way to know at this point and it hasn't even been confirmed that there is a love triangle between these three Disney stars, but three things are for certain:
1) Olivia Rodrigo made a bop
2) These new generation of Disney stars are a lot more bold than earlier generations.
and
3) This Disney drama is one that could give my generation's drama a run for its money.
If you enjoyed this article, feel free to leave a like and/or tip and check out some of my other stories. Also, follow me on Instagram @c.r.hughes