Is Heartbreak Around the Corner for #Olicity Fans?
The actress who portrays Felicity is leaving the series.
Felicity Smoak has been a fan favorite since she debuted in the first season of Season 1 of Arrow as the IT specialist with a knack for saying the wrong things. Though not intended to be a series regular, Emily Bett Rickards, the actress who portrays the witty wifi goddess, brought such a spark to the character that she was written into the series.
Right out of the starting gate, Felicity and Oliver Queen, portrayed by Stephen Amell, oozed chemistry, and many fans began clamoring for the couple to gain traction. At the end of season three, their patience was rewarded as Felicity and Oliver, dubbed "Olicity" by fans rFaode off into the sunset. Unfortunately, with the show only beginning its fourth season, a happily ever after wasn't in the cards for the couple... at least not yet.
Only fifteen episodes into the fourth season, the now-engaged Oliver and Felicity separate after she discovers he has a son he never told her about. She believe he doesn't trust her. Shipper hearts broke as their favorite ship split in two.
Fans were forced to endure a new boyfriend for Felicity in season five and a short-term fling for Oliver as well. They were offered a spark of hope during the season finale of season five when the couple share a kiss before the island of Lian Yu explodes.
The crossover event in Season 6 brought much happiness to #Olicity shippers when Oliver and Felicity tied the knot in a surprise ceremony that was originally intended to be just Barry Allen and Iris West's wedding. Fans were ecstatic and prepared to watch their favorite couple settle into domestic bliss... for a little while, at least. The powers that be had other plans.
Season 6 brought more pain to the couple as Oliver landed on the FBI's radar and fought to rid Star City of Ricardo Diaz, a task that proves to be more than even the Green Arrow can handle. Without letting Felicity know in advance, Oliver makes a deal with the FBI for help in taking down Diaz—a deal that had him agreeing to out himself as the Green Arrow and to spend a considerable amount of time behind bars.
Only a few months into their marriage, Felicity and Oliver are separated when he is sent to Slabside, and she and Oliver's son, William, are forced into hiding from Diaz.
After seven months, Oliver is released from prison, and fans were relieved that #Olicity had finally been reunited. Better news followed with the discovery that Felicity was pregnant a few episodes later. All was right with the world... until it wasn't.
Arrow is concluding next season with a 10-episode run, and fans assumed that would wrap up this beautiful couple they've adored for seven years. But Emily Bett Rickards announced this week that she would depart the series at the end of this season, meaning fans won't see Felicity Smoak during any of the upcoming ten episodes which begs the question: how will she be written out of the final season?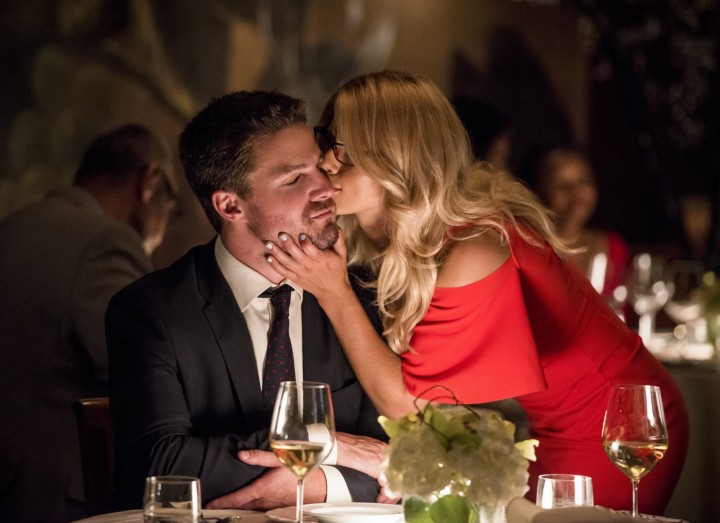 It stands to reason that the focus of the final episodes should be on Oliver Queen/Green Arrow, but Felicity Smoak is as much a part of Oliver as he is of her. So separating the two won't be easy or pleasant.
Fans have already seen Felicity alive and well in the year 2040 so, presumably, she will not be killed off at the end of this season. Only five episodes remain until the end of season 7 so that doesn't allow for much room to establish a plausible story for her departure, especially since there has been no indication she is leaving up to this point.
Understandably, fans are concerned. They've followed this couple for seven years, and they want a happily ever after. But is there a way to show that without Felicity Smoak being present?
Oliver and Felicity are expecting a child and show no signs of marital trouble so whatever leads to Felicity's exit, hopefully, will allow fans to believe that the couple have not gone their separate ways. There are many possibilities, but it's doubtful that #Olicity shippers will welcome any of them.
#FelicitySmoak #OliverQueen #EmilyBettRickards #StephenAmell #Arrow #Olicity