Interview: Matthew Holmes, Director of The Legend of Ben Hall
Why the Story of an Aussie Bushranger Is One He Felt Had to Be Told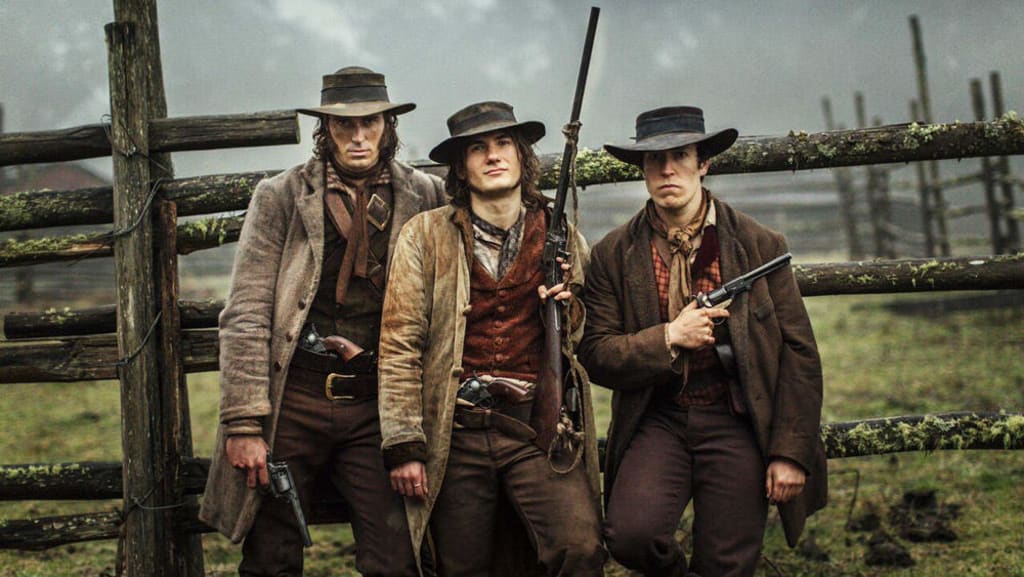 Sean Patrick: Talk about why you are so fascinated with the life of Ben Hall. Having dedicated so much time to telling his story, what draws you to him?
Matthew Holmes: Australian history has always held a fascination for me. Partially because it's so fundamental to our culture, but also because of the mysteries surrounding it. Outlaws and criminals are also fascinating and make more terrific characters in films, so bushrangers have become a focus point for me because it combines the love of history with great characters. I knew from the age of 13 I wanted to make a movie about an Australian outlaw, and I had my eye on Ned Kelly from years. But when they made Ned Kelly with Heath Ledger in 2003, I started looking around at other lesser known outlaws. To my surprise, I discovered Ben Hall, an outlaw whose criminal career over-shadowed Ned Kelly's and was far more prolific. I was also surprised at how little Australians know about Ben Hall, so I took it upon myself to bring this wonderful history back to life using the film medium. That started in 2007 for me.
What drew me to the Ben Hall story is that I could make a gun-slinging "Western" that is set in Australia and have it be based on a true story, which makes it all the more interesting. I also love the Western genre; it's so cinematic. What excited me about Ben Hall is that he's such a complex character and the more I studied about him, the more I fell in love with his story and all the characters within his world. It was like being lost in a series of novels. I love protagonists in films that are imperfect and conflicted, and Ben Hall embodies the anti-hero so perfectly. I felt I could tell a very rich, human story with this film rather than just another generic good guys vs. bad guys tale.
You give nearly as much attention to Ben Hall's failures as to his successes as an outlaw, was this a conscious choice or rather a function of being true to the real life of Ben Hall?
It was both a conscious choice and a function of being true to the real story. The history dictated what I put in the script, there are no characters or events in the story that are not real. I recreated those events whether they were positive or negative. I was 100% committed to telling the truth, not a biased version of it. Ben Hall was a man of great contradiction. He was both good and bad; he had great success and huge failures; he had great strengths and terrible weaknesses. That makes for a great, three-dimensional character and I wanted to show the full spectrum of the man. I did not want to glorify him or his motives in a romantic way because I don't feel he deserves that; Ben Hall was a criminal after all and did some truly bad things. But nor did I want to condemn him an evil man and portray him as a heartless villain because he clearly was not that either. He was a man with a moral compass, but a man at war with his own dark nature.
Americans tend to romanticize outlaws in movies, is there a difference in the way Australians view outlaws?
We view our outlaws in Australia in an almost identical way as Americans do. People here tend to brand our bushrangers as "heroes" or "villains" with little room in between. There is much debate in Australia over these two polarising views of our outlaws. Often Australian films tend to romanticise them and portray the police in a very bad light, but I was not interested in following that tradition. I was careful to be empathetic to Ben Hall and his gang as characters but never to glorify them or their actions. I wanted to make a film that humanised everyone on both sides of the conflict rather than stereotyping them. It was a fine line to walk, but I did my best to keep it authentic.
What do you look for in the stories you like to tell?
I look for fascinating characters, first and foremost. Characters that are deeply flawed are the most interesting to me both when watching films and looking for film ideas. I love characters that blur the lines between good and bad because they always surprise you, and they feel more real. Ben Hall is a perfect example of a flawed protagonist, which is why I love his story so much. It took me a long time to really understand Ben Hall as a character. Years, in fact! I also look for stories that defy convention in some way and do something different than the way it's normally presented.
Tell me about your visual style, what do you look for first when you are setting up a shot?
Visually, I always seek authenticity. The lighting, location, props, costumes, and character all have to look believable, as though I have arrived in that real place and time. I want my films to look tangible; I work very hard to take away anything that will make it look like a "costume drama." I try to pay attention to smallest details because I think it's those small details that sub-consciously work the most for the audience to forget that they are watching a movie and get sucked into the drama.
I worked very closely with my Cinematographer Peter Szilveszter to make the images in The Legend of Ben Hall appear realistic. We didn't want anything overlit or looking too perfect. Everything had to appear natural, with a raw and unpolished quality. I think cinema is the landscape of the human face, so we shot a lot of our movie in very tight close-ups so the audience became very intimate with the characters. I believe this draws people in emotionally if done correctly.
What do you hope people take away from the story of Ben Hall?
That people are affected on some emotional level is the most important thing. Any emotional response is fine by me—anger, sorrow, frustration, pity, reflection—as long as the story gets them thinking and asking questions. I want them to feel as though they can decide for themselves whether Ben Hall was a good or bad guy and that the film has not dictated to them how to respond. The film is supposed to challenge the conventional way outlaw stories are depicted, and I hope audiences appreciate that aspect of it. I also hope they have their eyes opened to a world they never knew existed: the colonial period of Australia which is such a fascinating time that has not been explored much in cinema. There are so many stories from that time and place; I could make a career just making films about them.
Final question: What do you love about movies?
I love movies because they are windows into worlds we can never visit in real life, such as the past and the future. Perhaps that's why historical films and sci-fi are amongst my favourite genres. I love being a filmmaker because I can get these wonderful visions out of my brain and share them onscreen with others so they too can enjoy it. That's all it's ever been for me—making movies is my way of sharing my imagination with other people.