If You Like Superhero Movies, You Should Check Out The Crow
The Gothic Superhero Movie Horror Fans Will Love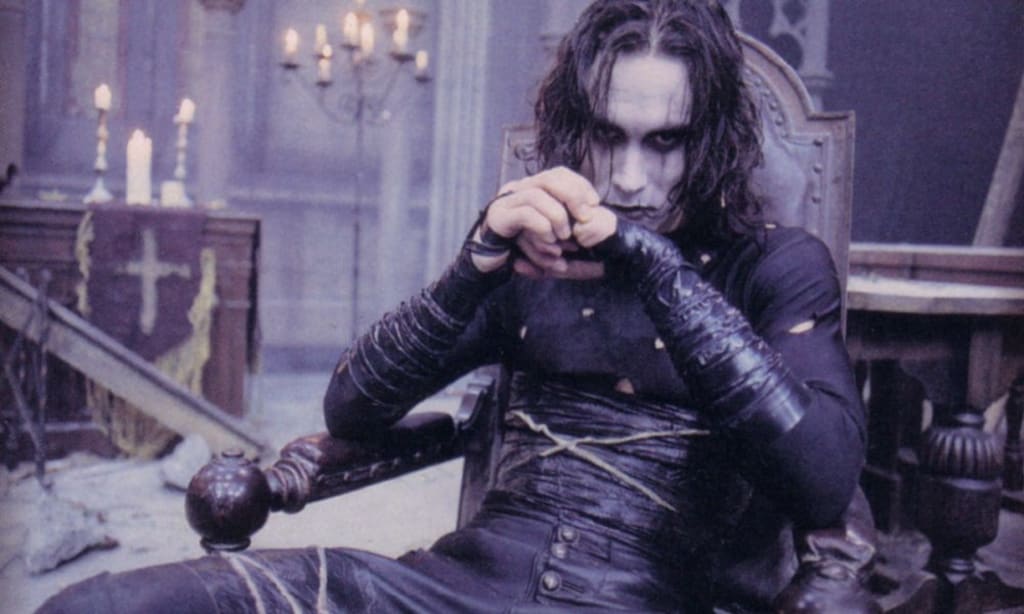 Brandon Lee on the set of his final movie
The Crow isn't a superhero movie in the traditional sense, but I think people who enjoy Marvel and DC movies would love it. The Crow shares many similarities with many Marvel movies, especially those like Blade and the Punisher. The movie follows former guitar player, Eric Draven on his quest to exact revenge on those who murdered him and his girlfriend, Shelly. Yes, you read that correctly, the story's protagonist is killed before the events of the movie take place. He returns with a new winged companion, a crow.
The Crow has become a cult classic, with many fans embracing its gothic style. The movie starts with an overview of the city, with many of the buildings aflame, as we are treated to narration from Sarah. Sarah is one of the two people who aid Eric on his journey. We are then taken to a gruesome crime scene that turns out to be the catalyst for the movie's events.
A young couple, Eric Draven and Shelly Webster were brutally murdered during an event called "Devil's Night", which is the night before Halloween. One of the officers finds an invite to Eric and Shelly's wedding and remarks, "Who gets married on Halloween?" to which Eric's other ally, Sergeant Albrecht, grimly replies, "No one."
We are later given the couple's backstory through flashbacks that haunt Eric as he returns to the apartment he shared with Shelly. Each item in the apartment seems to hold a memory of Shelly. Eric remembers the two laughing as they dance together during happier times, but the memories only seem to torment him, as they seem to be overtaken by memories from the night she died. It is also shown that he can heal from any injuries that he occurs, something he will later use to his benefit. He later decides to hunt down the murders one by one.
Eric's journey isn't one based solely on revenge as we are shown him interacting with Sarah on multiple occasions. He looks out for her and even ends her mother's drug addiction. He is shown to truly love Sarah as he protects her. His interactions with Sarah give us a glimpse of the person he was before he died.
So why have I suggested a movie that predates the current Marvel movie universe? The Crow started as a comic book, and although it differs greatly from what is presented in the movie, it is a unique movie that features beautifully filmed sequences. The scene where Eric crawls out of the grave and returns to the apartment he shared with Shelly is one such scene. I believe the Crow had an impact on the current state of comic book-based movies. I also know that a lot of younger comic book fans have likely never heard of The Crow. The movie is violent and grittier than current Marvel movies, with each of the villains facing a gruesome fate. I think fans of Netflix's Punisher and Daredevil would enjoy The Crow.
I must admit that I do have another reason for suggesting The Crow. The Crow was my late father's favorite movie, and I know he'd be enjoying the superhero movies of today if he had been given the chance. I watched The Crow for the first time with my dad after I bought him the DVD of it for his birthday one year. After he passed away, I got the DVD back. Whenever I watch the movie, I remember how much my dad loved it.
Tragically, The Crow would be action star Brandon Lee's last movie. Lee was killed in an accident on set, leading many to believe in a curse that affected both him and his father (Bruce Lee).
superheroes
Jade is an indie author from Louisiana. While her first book failed, she has plans to edit and republish it and try again. She has a senior min pin that she calls her little editor, and a passion for video games and makeup.