If the shoe fits.
The shoe has often defined our characters, personalities and created prestige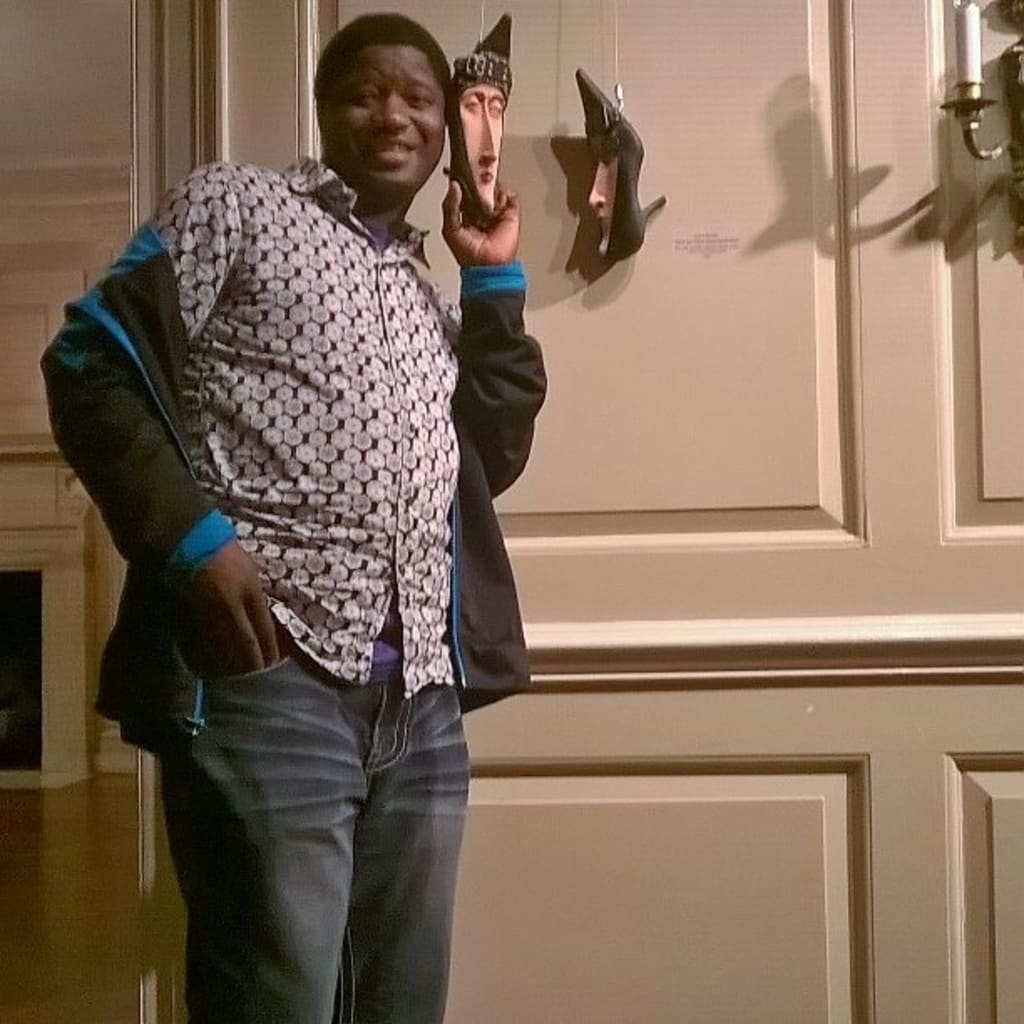 Here I am at the exhibit entitled 'If the Shoe fits' visiting with my friend Elaine.
IF THE SHOE FITS
The shoe has often defined our characters, personalities and created prestige. Through out many generations, it has evolved in both style and fashion. It has transcended many generations, inspiring artist, designers and musicians. The shoe has propped up models and fashion artist to cat-walk on stage...it has defined our civilization. Yet, the shoe was born out of necessity to protect the feet which has one of the most bones in the body (some 26) bones. At the exhibit is the chance to 'learn the art and sole of the shoe, to trace its footprints through history and culture. Part fantasy, part function, this exhibit looks at footwear from every angle, and features shoe design, sculpture, and invention, plus a bonus of shoe-painting designs and workshops .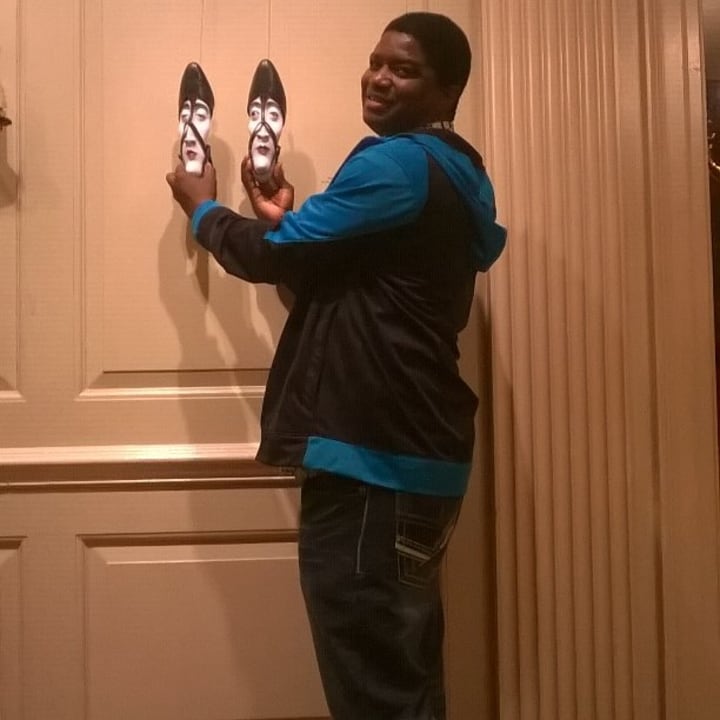 A while ago in the spring of 2015, I was attracted to an exhibition entitled 'If the Shoe fits' at the Strathmore Mansion in Rockville Maryland which is part of the Strathmore music and arts entertainment center.
Christian Louboutin once said: "A shoe isn't only a design…it's a part of your body language." Nowadays, Louboutin is synonymous with style, but there was a time when shoes had nothing to do with style. They were functional items to protect our ancestors' feet and it was meant to be that feet protector in those days when men often wandered around thick forest, bush and huddled over logs. So, how did something that was originally utilitarian become a symbol for beauty? The shoe has evolved and will forever continue to evolve not just for it's initial purpose of protecting the feet, but for making it appeal to the wearer's heart and soul. At this event I learnt firsthand, about the art and sole of the shoe, which traces its origin and its footprint through history and culture. The exhibit, I must say was part fantasy, part function, and the exhibit looks at footwear from every angle and 'feet-uresshoe' design, sculpture, and invention, plus its accompany shoepainting workshop.
According to Harriet Lesser, If the Shoe Fits, explores this question. "This exhibit examines, extends, transforms, and informs our ideas about shoes as art," Lesser says, "and art as shoes."
It is Lesser's belief that 'humans have a genetic affinity for aesthetics'. Lesser admits that. "When we first made bowls, the first thing we did was decorate them. Why? They would have held the soup regardless. I think attraction to beauty is in our nature."
The call for exhibits was meant to bring together the artistic work of twenty-three or so artists, and drawing from their creative lenses to depict the theme (if the shoe fits) and a collection of footwear designs that could really well be highbrow. From the shoes on your feet to shoes transmogrified into sculpture the 'If the shoe fits, brings the artist to show and tell and shed light on the ever evolving nature of the shoe .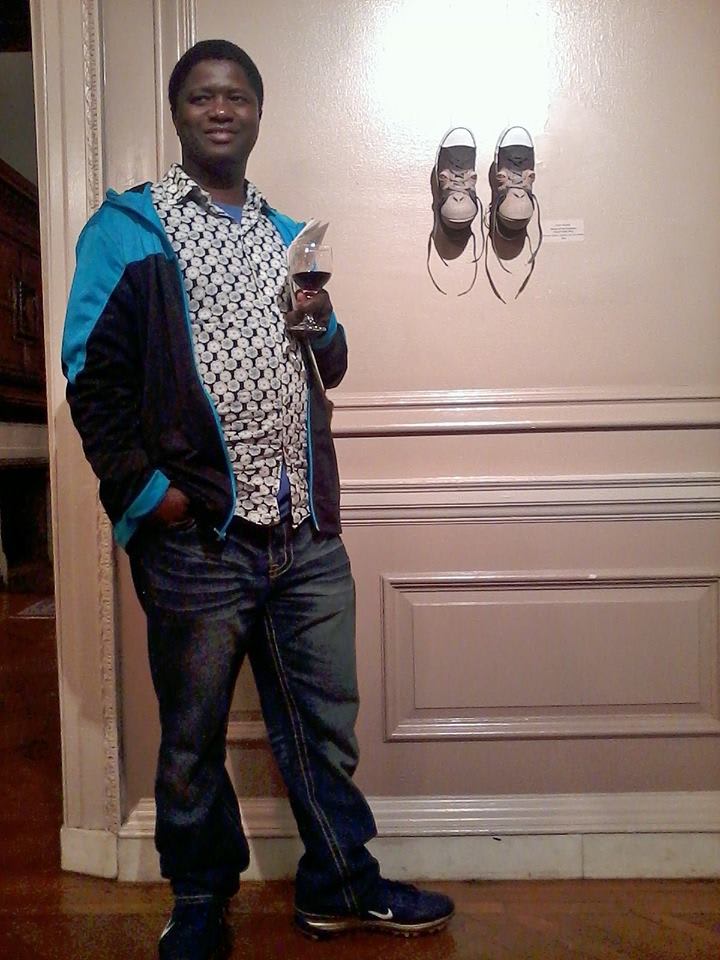 Artist like Joyce Zippener emboldens feminist viewpoints in her depiction of the shoes and creatively embraces the inflexibility often imposed on women in their shoes by crafting high and imposing heels out of a combination of metal and wood. Austrian-born Carolin Holzhuber uses the art form to depict shoes that look organic and chimerical.
The artist predominant motif in the exhibition of shoes made in many high heel shoes may continuously evoke society's undiluted preferences for high hill shoes for women. There was also room for the display of other styles especially in the work of artist Anne Marika Verploegh Chasse and her students who provided masterpieces of bespoke boots and original oxfords exclusively for men. Artist Ruth Pettus on the other hand uses shoes as an illustration of where the wearer has been, and where they are going bringing heritage and future thinking and transformation to the forefront of the shoe industry. The exhibit deliberately deconstructs footwear to challenge world view, not only for viewers to look at shoes differently, but to discover the beauty in the mundane objects we use on a diurnal basis. So I brandished my favorite pair at Strathmore to show my appreciation for the art and the artistic value in this concept (If the shoe fits) .
'Strathmore is a nonprofit multi-disciplinary arts center and presenting organization based one-half mile outside the Capital Beltway in North Bethesda, Maryland. Best known for performances and events at the Music Center at Strathmore, the organization has been presenting accessible, affordable visual and performing arts in the smaller Mansion at Strathmore and all over its 16-acre site since 1981. Strathmore also presents throughout the community and at a new 250-seat venue, AMP, at Pike & Rose.
High quality arts programming, designed for audiences of many tastes, served with the hospitality and warmth of a family enterprise, are the hallmarks of Strathmore. Stratmore's unique seasonal outdoor events seek to be inclusive in their programming appeal, reaching out to people of all ages, interests, and cultural heritage.'
I had a chance to see the artistic offerings presented by Strathmore in the Music Center and they are simply awesome. From the world-class performances by major international artists of folk, rock, blues, pop, R&B, jazz, world music, show tunes, dance, and classical music, the rhythms of a variety of music genres never ends. Stratmore Music Center is also home to several arts and education partners including the Baltimore Symphony Orchestra, The National Philharmonic, Washington Performing Arts, Levine Music, CityDance, InterPLAY, and Maryland Classic Youth Orchestras.
The Mansion at Strathmore where I spent a good lot of time is home to more intimate artistic programs presented by Strathmore like the one I attended about foot wear (If The Shoe Fits). The Old and quaint mansions holds in a warm and acoustically superb 100-seat Dorothy M. and Maurice C. Shapiro Music Room, the Gudelsky Gallery Suite exhibition spaces, the outdoor Gudelsky Concert Pavilion, and outdoor Sculpture Gardens. The Mansion also features the Strathmore Tea Room, serving Tuesdays and Wednesdays, and Shop at Strathmore.
AMP by Strathmore is located 2 miles north on Rockville Pike in the Pike & Rose neighborhood. This 250-seat cabaret style club features gourmet dining alongside rock, blues, jazz, folk, R&B, comedy, and other genres of performance.
As Strathmore is deeply committed to maintaining affordable and accessible arts programs to all audiences, an abiding partnership of both private and public support for Strathmore is required to nurture and perpetuate this creative endeavor. to provide a "home for the arts" in our growing community.
Strathmore is also considered 'a premier art institution of the mid-Atlantic region hosting more than two dozen exhibitions a year, with educational programs for children and adults by professional artists and curators all set in an historic gallery space'.
Throughout its spacious galleries on the first and second floors of the Mansion, Strathmore offers art lovers an eye-catching and thought-provoking array of works in every medium by artists from the region, the nation, and around the world. In addition to mounting its own exhibitions, Strathmore collaborates with renowned museums and other art institutions, such as the Baltimore Museum of Art, the Walters Art Gallery, and the Corcoran Gallery of Art.
After the event, I had a deep reflection on the phrase 'If the shoe fits' which is the shortened form of 'If the shoe fits...wear it', an often American version of the earlier British phrase 'If the cap fits, wear it', which is also still in general use. In my research, I realized that Daniel Defoe used the earlier phrase in the satirical poem The Dyet of Poland. Defoe's point in the poem was that readers are responsible for their own opinions; he (or rather Angliopoloski) may have written the poem but that any conclusions drawn from it were owned by the reader, not him: 'Gentlemen, and if the Cap fits any Body let 'em wear it'.
'If the shoe fits' is a rarity in that it has gone the other way - having been used for centuries in a figurative sense, its most common usage now is in shoe shop advertising slogans around the world.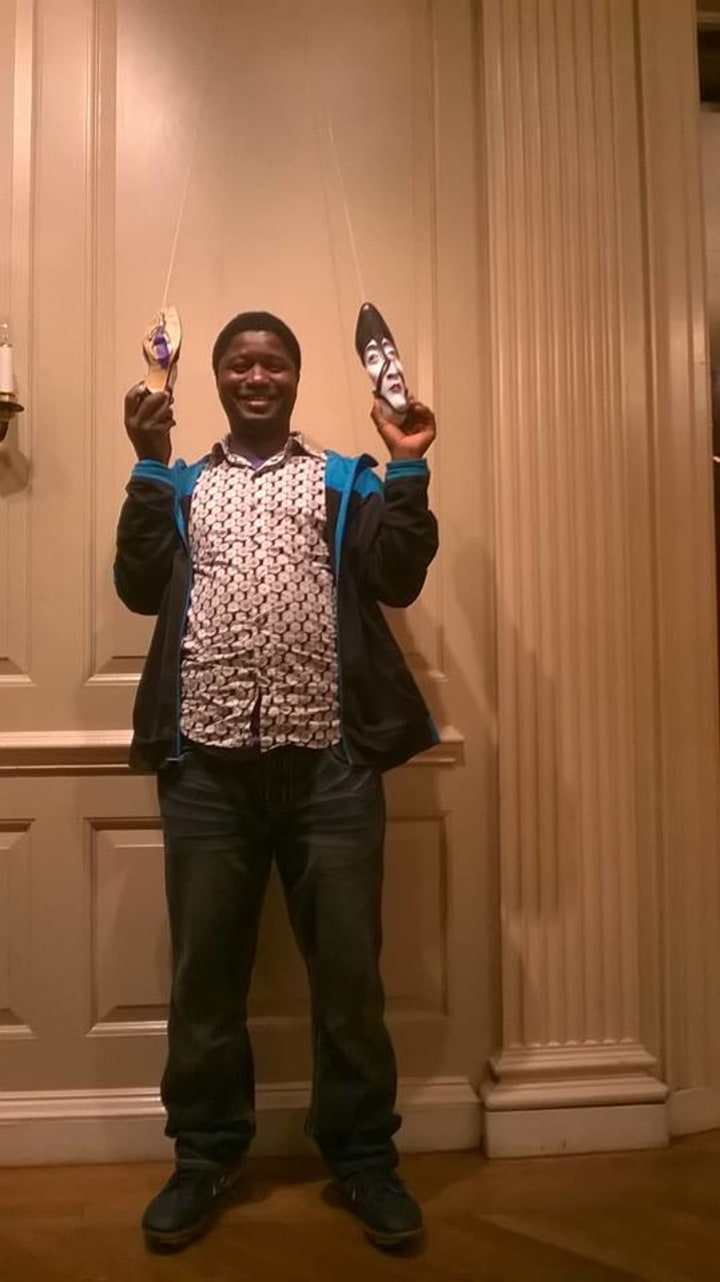 Now apart from the memorable event at Stratmore Mansion, I am constantly being reminded that since the origin of the phrase 'If the Shoe Fits, there are as many variants of this old joke as there are tellers of it.
About the Creator
Andrew was a Sauve Scholar at McGill Canada, a UN ITU Telecom World Digital Innovation Fellow in Geneva, a Masters of Science in Law student at Francis King Carey School of Law. He earned his BA from Fourah Bay College, Sierra Leone in 1998
Reader insights
Be the first to share your insights about this piece.
Add your insights