If 'The Notebook' Made You Cry, Here's 10 More Tearjerkers
Need a good cry? Don't be shy!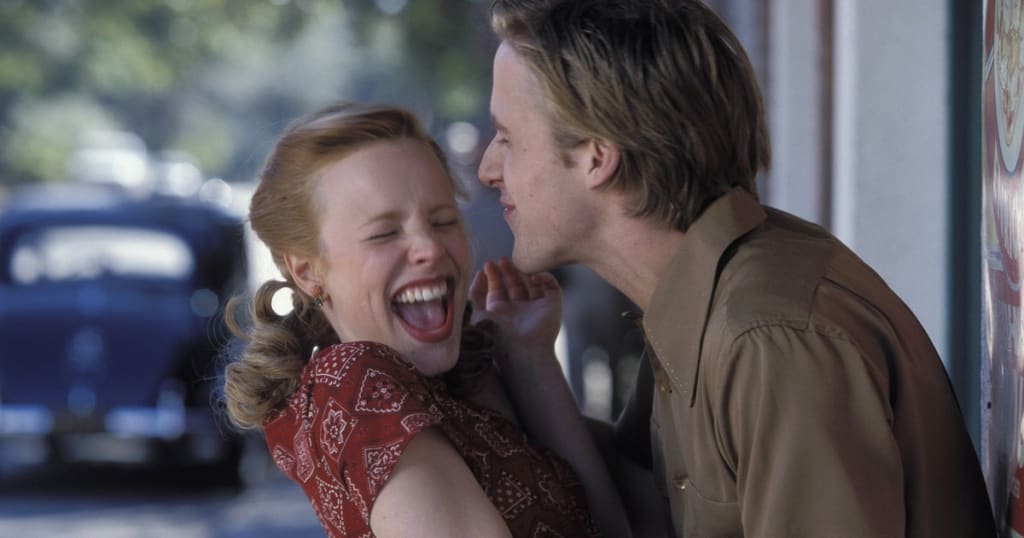 Credit: New Line Cinema, 2004
Every once in a while we need a good cry, and there's nothing like a sad film to bring that rush out of you. If you bawled over The Notebook, here are ten tearjerkers that'll do the job. Spoiler free.
1. Manchester by the Sea (2019)
"After his brother's death, Lee Chandler (Casey Affleck) is named guardian to his 16-year-old nephew, Patrick. This forces him to return to his hometown and confront his past."
Manchester by the Sea, directed by Kenneth Lonergan, delivers a beautifully devastating story of grief, guilt, and regret. Affleck's character alone is enough to get you down, but with the awful events that take place, that seem to just keep coming, you're left to reflect on his actions. Award-winning Michelle Williams accompanies Affleck in a scene that breaks down the core feelings of remorse.
2. Hachi: A Dog's Tale (2009)
"A professor finds an abandoned dog and takes him home. Over a period of time, he forms an unbreakable bond with the dog."
Directed by Lasse Hallström and starring Richard Gere, Hachi: A Dog's Tale is an unforgettable masterpiece for anybody who's known the loyalty and unconditional love a dog has to offer. Based on the true story of Hachiko, a Japanese Atika, who in the 1920s waited for his owner every single day, despite his unexpected death.
Upon Hachiko's death in 1935, the locals of Ōdate erected a monument in his honour at the train station he'd spend most of his days.
The film came out around the same time as Marley & Me (2008), so those living through the noughties had a rough few years.
3. The Road (2009)
"In a post-apocalyptic world, a father must protect his son from a group of cannibals who have menaced the streets. They plan to head south, where there is a hospitable environment to live in."
The Road, starring Viggo Mortensen, might not be recognised as a tearjerker due to the majority of the film quite action-packed; however, this story of a father who would do absolutely anything to protect his child definitely deserves consideration. One of the main reasons is down to the ending of the film, which left viewers emotionally devastated and exhausted from start to finish.
Director John Hillcoat managed to successfully adapt Cormac McCarthy's book into a visual rollercoaster of intense stress.
4. City of God (2003)
"In the poverty-stricken favelas of Rio de Janeiro in the 1970s, two young men choose different paths. Rocket is a budding photographer who documents the increasing drug-related violence of his neighbourhood. José "Zé" Pequeno is an ambitious drug dealer who uses Rocket and his photos as a way to increase his fame as a turf war erupts with his rival."
Adapted from the novel by Paulo Lins, City of God is a loosely based true-story on the struggle of growing up in a rough town in Rio de Janeiro, while doing whatever it takes to succeed and survive.
The child actors in City of God (Seu Jorge, Alexandre Rodrigues, Douglas Silva) are breathtaking and bring physical and emotional torture to new heights. There are moments where it's too uncomfortable to watch, yet you can't take your eyes away from the pain they're experiencing.
5. The Secret Life of Bees (2008)
"Lily, a lonely teenager, flees from her home and reaches a small town in South Carolina. Once there, she finds herself in the company of the Boatwright sisters who introduce her to a new world."
The Secret Life of Bees shares a story of acceptance, countered with racism and hatred. The Boatwright family takes a runaway white girl (Dakota Fanning) into their home, but her presence attracts the local bigots. We follow the lives of a humble family who are met with violence and damnation.
With a star-studded cast (Queen Latifah, Jennifer Hudson, Alicia Keys) and directed by Gina Prince-Bythewood, The Secret Life of Bees is a must-watch for fans of historical drama.
6. Green Mile (1999)
"Paul Edgecomb, the head guard of a prison, meets an inmate, John Coffey, a black man who is accused of murdering two girls. His life changes drastically when he discovers that John has a special gift."
This American classic, adapted from Stephen King's novel, will make you weep no matter how many times you see it.
Following the innocent John Coffey (Michael Clarke Duncan) and Paul Edgecomb (Tom Hanks), The Green Mile takes the feeling of helplessness and multiplies it, delivering a hard-hitting scene that leaves viewers with intense anger, yet an element of peace for John Coffey.
Despite Stephen King's supernatural additions, we're given a realistic story of bigotry through a failed justice system.
7. Blue Valentine (2010)
"Cindy and Dean's dysfunctional marriage fails to stand the test of time as they try to raise their young daughter and rekindle their relationship."
Derek Cianfrance directs this realistic take on an unhealthy relationship, especially with a child in the picture. Ryan Gosling and Michelle Williams star as the young couple in their honeymoon phase, until an unexpected pregnancy throws a spanner in the works. Desperate to make it work, they power through the clear warning signs of emotional abuse and depression, ultimately leading to the realisation of regret.
For any of us that have loved and lost, Blue Valentine portrays happiness met with complete sadness, and is a tearjerker for anybody reliving that experience.
8. The Boy In The Striped Pyjamas (2008)
"Bruno is the eight-year-old son of the commandant at a concentration camp during WWII. His friendship with a Jewish boy he meets across the fence leads to unexpected consequences."
Director Mark Herman brings us this sorrowing adaptation of John Boyne's renowned novel. On top of a harrowing depiction of the holocaust, Bruno and Shmuel's friendship helps us forget about the monstrosities, until Shmuel meets his horrific fate.
This realistic take of two children who have no hatred in their hearts, living in a world of destruction, brings us great insight into the brutally honest events which took place during the holocaust.
9. Beautiful Boy (2018)
"Teenager Nicolas Sheff seems to have it all with good grades and being an actor, artist, athlete and editor of the school newspaper. When Nic's addiction to meth threatens to destroy him, his father does whatever he can to save his son and family."
Steve Carrell and Timothee Chalamet star in this story of a father's desperation to get his son back on track in life. We're met with the unpredictability of addiction, and the helplessness of those it affects.
In a scene where the two reunite, it quickly turns to frustration and conflict, spiraling back into a series of despair.
10. Room (2015)
"After years of being held captive in an isolated shed by a kidnapper, Joy and her little son, Jack, manage to escape the confinement and gain their freedom."
This academy award-winning drama takes despair and isolation to new heights. Starring Brie Larson, we follow the mother and son, who was conceived in captivity, as they attempt to escape.
The hardest moments to watch aren't necessarily while they're being held hostage, but their rehabilitation to the real world. Joy (Larson) has some recollection; however, her son Jack (Jacob Tremblay) has only ever known the confinement of four walls. As he struggles to adjust, we also see Joy crumble into depression as she's unable to come to terms with her life.