I Watched Netflix's Jingle Jangle
This Netflix Christmas musical adventurous film filled with an all-star African American cast.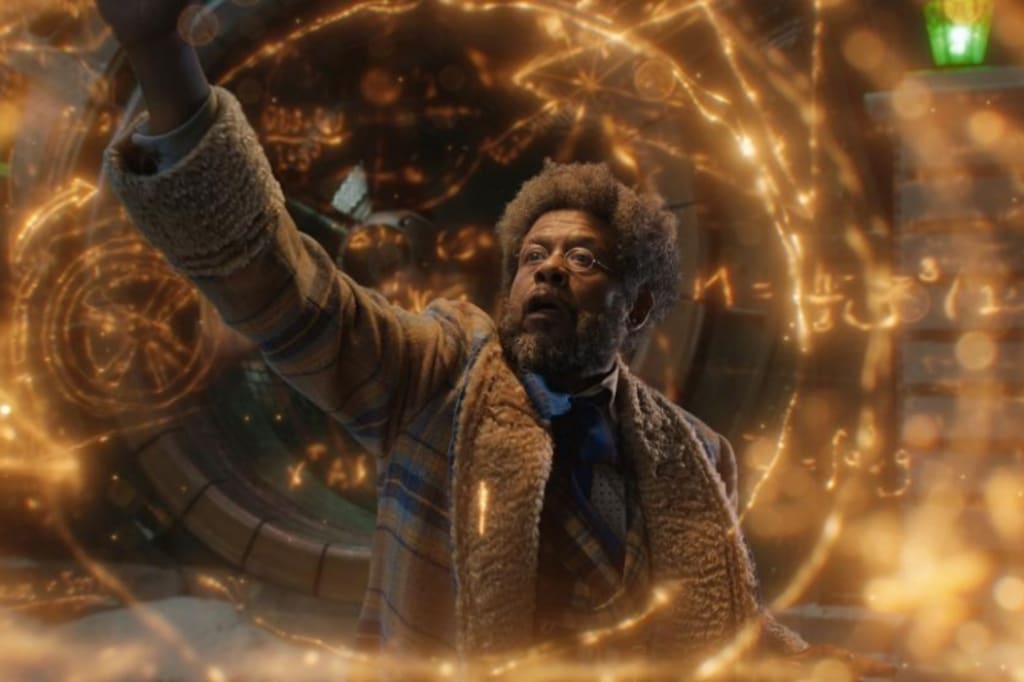 Forest Whitaker as Jeronicus Jangle in Netflix Jingle Jangle: A Christmas Journey
A magical musical film that is filled with wishes, wonder, and magic.
This musical film opens with a grandmother (played by Phylicia Rashad) reads her two grandchildren a bedtime story called The Inventions of Jeronicus Jangle. Inside the book, it is filled with robotic puppetry telling the story while the grandmother narrates the story. The story begins at a shop called Jangles and Things, owned by the young inventor Jeronicus Jangle (played by Justin Cornwell). The song opens "This Day"(not the Usher and Kiana Lede version), a beautiful opening song with his wife Joanne Jangle (played by Sharon Rose) singing along and his daughter Jessica Jangle (played by Diaana Babnicova) and the whole townspeople of Cobbleton dancing with incredible hip hop moves.
After the song was over, Jeronicus shows his family his newest invention Don Juan Diego, a talking robotic matador doll (voiced by Ricky Martin) he started off charming then he sings "Borrow Indefinitely " but then something snapped with him when he sees young Gustafson (played by Miles Barrow), Jeronicus's assistant and aspiring inventor who wants to be a toy inventor just like Jeronicus but he keeps failing miserably when the inventions keep malfunctioning, he meets Don Juan Diego and Don convince to take him and Jeronicus's book filled with Jeronicus's ideas and future inventions to create his own toy-making empire. He did what he says and disappears with Don.
Fast forward, 30 years later, Jeronicus Jangle now older (played by Forest Whitaker) turns his magical toy shop into a pawnshop and since his wife died, he and his daughter Jessica haven't spoken in years. At the shop, We meet Eddison and Ms. Johnston. Eddison (played by Kieron L. Dyer), Jeronicus's newest clumsy assistant and youngest inventor who helps Jeronicus's shop. Ms. Johnston (played by Marisha Wallace), a widower who likes to flirt with Jeronicus and always calls him "Jerry". She sings "Miles and Miles" as a way of telling Jeronicus he needs to find love (maybe with her) and move on even though he lost everything he had with the help of her background singers to back the song or background dancers Jeronicus calls them.
Jessica Jangle, all grown up, (played by Anika Noni Rose) sents his granddaughter/her daughter Journey (played by Madalen Mills) to stay with him until Christmas. At first, when they meet he wasn't welcoming until she enters his now pawnshop and sees everything so Jeronicus agrees to let her stay.
As for Gustafson, Jeronicus's former assistant, now older (played by Keegan-Michael Key) became rich and he owns an enormous toy factory enjoying taking Jeronicus's credit while being controlled by the evil robotic doll Jeronicus created, Don. So far, he ran out of Jeronicus's ideas so Don convinces him to steal (in Don's defense "borrow") Jeronicus's invention.
Edison and Journey meet and found this robot named Buddy3000 or "Buddy" for short. Journey puts the battery heart on Buddy's chest to turn Buddy on. I didn't work at first until it started to power up and levitates Journey up in there until Gustafson spies on them and plans to steal Buddy3000 to make him richer.
The snowball scene was one of my favorite scenes. When Journey throws snowballs at her Grandfather Jeronicus twice, Jeronicus does a mathematical equation to hit Journey with a snowball. The scene was entertaining and fun, makes you want to get up and dance. The song "Grandpa Me Nie'" by Bisa Kdei (I love it!!!!) very cultural, very fun, and very matchable to the scene.
Another favorite scene of mine, the musical number "Make it Work" when Jeronicus decides to rebuild Buddy and Jessica makes a return trip to Cobbleton after 30 years for the first time since their strained relationship. The song explores whether Jessica and Jeronicus will rebuild their father-daughter and how everything will unfold. The townspeople of Cobbleton went hard with the choreography even in the middle of the night. So enjoyable to watch!!!!
In the near end, Gustafson confronts Jeronicus, Journey, and Jessica with the police accusing Jeronicus of "stealing" Buddy but Journey proves Gustafson is a liar once and for all leading Gustafson arrested and Jeronicus shuts Don the doll down for good. In another end, the Grandmother telling the whole story was Journey the whole time and she takes her grandchildren to the factory with the levitation help of Buddy3000.
What did think of this film?
This musical film is visually beautifully magically made. It is like a mixture of Doctor Strange and the Greatest Showman without the whole circus, the trapeze, and the cast of circus act characters mixed with an all African American cast. You'll laugh and cry simultaneously at this musical film. David E. Talbert captures an incredible story with an outstanding cast and incredible, energetic choreography by Ashley Wallen (who previously choreographed the Greatest Showman) obviously!!!! I love the music and songs of this film. This film shows the epitome of how a black movie musical should be.
Director:David E. Talbert
Producer (s): John Legend , Mike Jackson , David E. Talbert , Lyn Sisson-Talbert , Kristin Burr
Writer: David E. Talbert
Cast: Forest Whitaker , Keegan-Michael Key , Hugh Bonneville , Anika Noni Rose , Madalen Mills , Phylicia Rashad , Ricky Martin
Choreography: Ashley Wallen
Music by: John Debney
Cinematography: Remi Adefarasin
Production Companies: Brillstein Entertainment Partners , Get Lifted Film Company
Usher feat Kiana Lede "This Day" (A song you must listen to, I kept this song on repeat non-stop. )