I Watched Cuties on Netflix & I Must Say.....
I just watched the most controversial oversexualized film "Cuties" on Netflix and I have some thoughts on the film.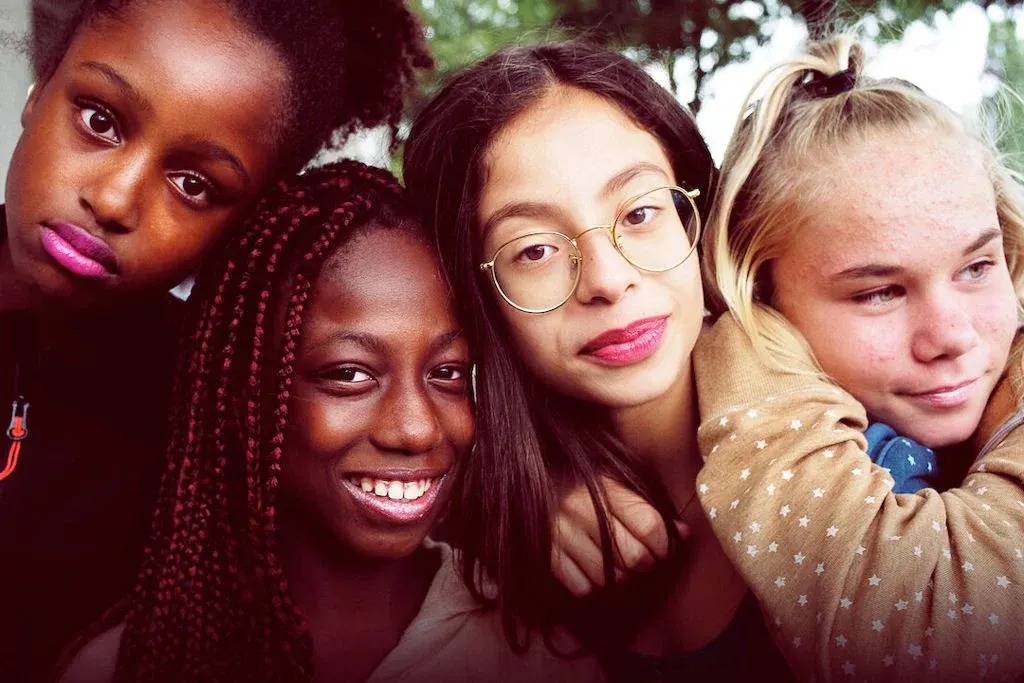 Cast of "Cuties" / French title "Mignonnes" (Actors (left to right): Fathia Youssouf as Amy, Esther Gohourou as Coumba, Médina El Aidi-Azouni as Angelica, Ilanah Cami-Goursolas as Jess)
I just watched Cuties on Netflix and I must say . . . Holy crap!!!!!
When I first saw the movie poster, I thought it was extremely inappropriate. Whose responsible for this poster?????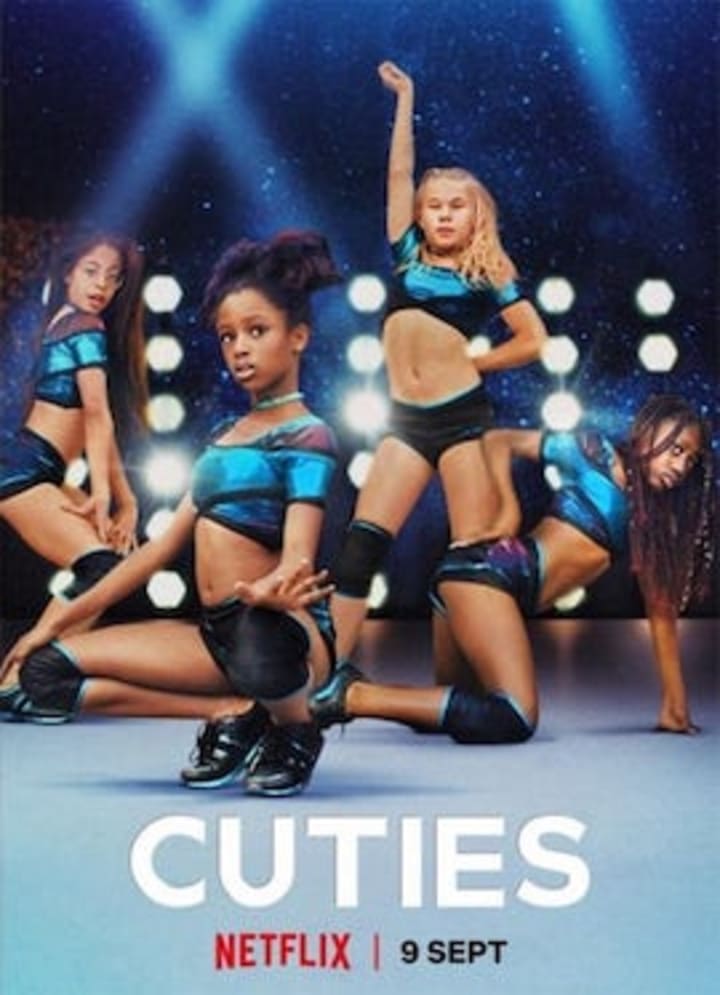 Then I watched the trailer, it didn't show anything that screams inappropriate. I just saw like a young lady wanting to be a dancer but her family isn't letting her because of their Muslim beliefs. I thought there was something in this film like a story that might inspire young girls to go after their dream or a life lesson.
Boy, what was I thinking????
As much as I want to explain all the details I must warn you some of the scenes of the film is not appropriate for young children to watch.
Septemeber 12, 10pm
The film opens at Amy (Ami or in pronunciation Om/ee, played by Fathia Youssouf), an 11-year-old girl living in a small apartment in France with her mother and her brother. Amy's families are conservative Muslims disapproving of women . During the prayer scene, Amy's expression she seems bored with her family's religious beliefs. Everything seems pleasant until she sees Angelica (played by Médina El Aidi-Azouni) dancing and flattening her hair with iron in the laundry room. When she entered school, Ami sees the whole school and the Cuties, a girl clique: Jess, Yasmine, Coumba, and Angelica, the same girl who Amy saw in the laundry room (played by Ilanah Cami-Goursolas, Esther Gohouro, Myriam Hamma, and Médina El Aidi-Azouni) doing the mannequin challenge, a popular internet trend to stand still like mannequins.
What I noticed so shocking?
The Cuties dressed in sexy outfits like they're in the 20s and wearing high heels in school with no reason why behind it (what are 11-year-olds doing dress like that?). Thankfully, the headmistress took them to her office.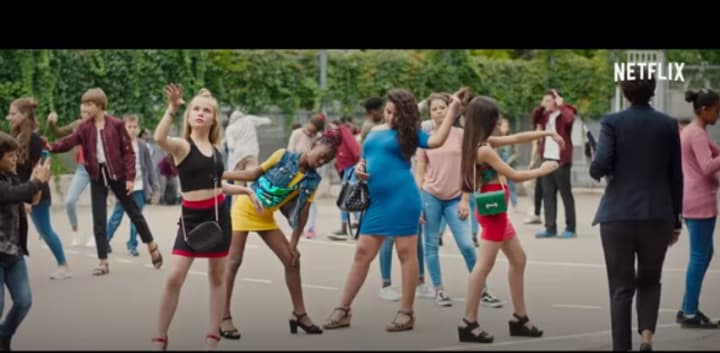 There were scenes that were very disturbing. For example, Amy sitting in the bathroom stall overhears the Cuties joking about rape when she comes out of the stall and approaches them they were looking at one of the Cuties' phone, I don't know if they are watching porn on the phone. The worst part was when they dared Amy to go to the boys' bathroom to film a boy's genitalia unfortunately that failed when one of the boys using "the john" saw Amy with her phone filming and told her to get out. Such an Epic fail!
It kept getting worse.
More disturbing parts when Amy asks Angelica to join the dance crew. She shows Angelica her dance moves that went from innocent to hardcore procative. Then she taught the girls to dance in a sexual way for the competition(I'm guessing it's her fault.). In the laser tag scene, I don't understand that scene why they had to sneak in the laser tag room until one of the employers asked for their parent's phone numbers for sneaking in the laser tag room when Jess found out that they're selected in the competition and here's the worst part Amy showed them that they're in a dance team by twerking in front these weird, creepy employers. It was just plain creepy.
In this horrifying scene
Amy's cousin sees Amy using his phone. Amy attempts to strip her clothes in front of her cousin. Her cousin pushed Amy against the wall, Amy and her cousin fight over the phone, she grabs the phone, runs into the bathroom, and takes a picture of her private parts sends the picture on social media. Cringe Alert!
Warning: Please don't watch this video around your children.
I was confused about what Amy was trying to do with her cousin when he saw her using his phone, which Amy stole from him. The dumbest thing is that he didn't even know the whole time that Amy had his phone didn't bother to enter the scene asking anyone if anyone had his phone (what the hell?). I was mortified when Amy does the unthinkable that 11-years-old aren't supposed to do on social media for attention.
In this scene...WTH?
This scene was after she got in trouble in school for stabbing a boy in the hand with a pen for slut shaming her. Amy's mother and her Aunt were sprinkling holy water at Amy like every religious family would do. Amy dressed half-naked did this weird seizure-like twerk dance while her mother and her aunt stood there watching.
I was beyond confused by this scene. I don't know if she was possessed or that's how it happens in their religion. The camera zooms way over the top on this scene but I love how the camera goes around Amy in a circular motion.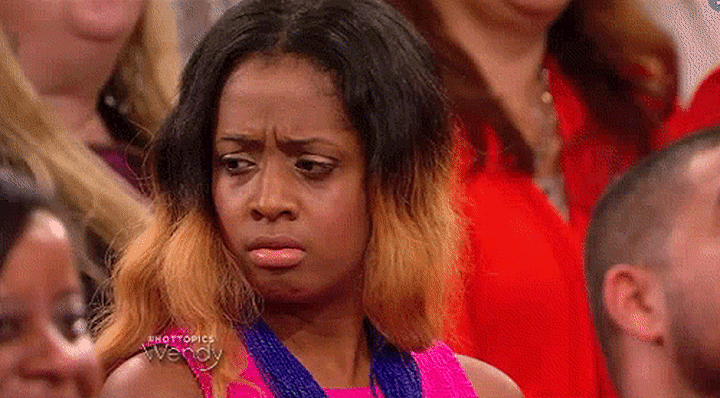 When I saw their dance routine at the competition:
In this scene, Amy and the Cuties hit the stage and danced in a sexual way.
Warning: Please don't watch this video around your children.
At first, the dance routine started out innocent until they started twerking which later turn into a grotesque oversexualized stripper moves. Thankfully, the audience boos at them then silently grew disappointed watching them.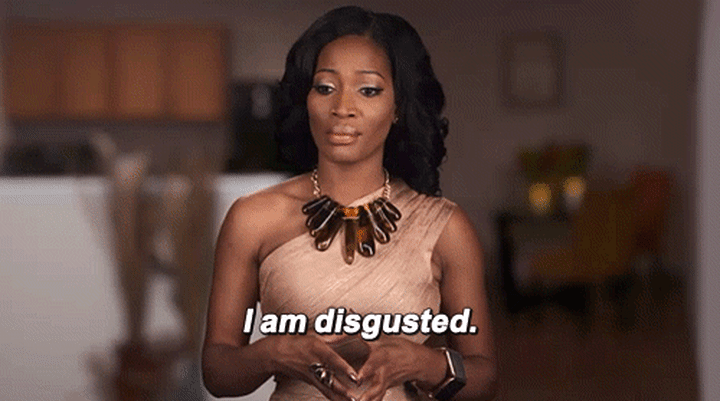 Honestly, I cried watching that scene not because it was touching. It was way to gut-wrenching to watching a dance group of 11-year-olds dancing like dirty video vixens. It hurts my soul to watch.
In my Opinion
After watching Cuties, I must say this is one of the most shocking, disturbing films I ever watched on Netflix. Unlike Netflix's controversial films 365 Days and Love, it made me feel embarrassed to be eleven years old. Thank God, I am not eleven years old anymore. But as a parent, I find all the scenes from the film disturbing and uneventful for 11-years-old to play a part in. Actress Fathia Youssouf who played the role as Amy did well in this film however I am concerned for her because this role could lead her to be blacklisted in the industry. In the Netflix version, it was English dubbed and honestly, their voices were very annoying I prefer watching the French version reading the subtitles translating the actors. I love the songs from the film. The cinematographer was beautifully made except it was too many zooms on the young girl's bums and to many camera pan shots on Amy and the Cuties which is why the audience finds the movie disturbing. I do believe they should change the movie poster. Instead of putting the girls dressed in provocative attire, they should put the picture of the one on the right (look below).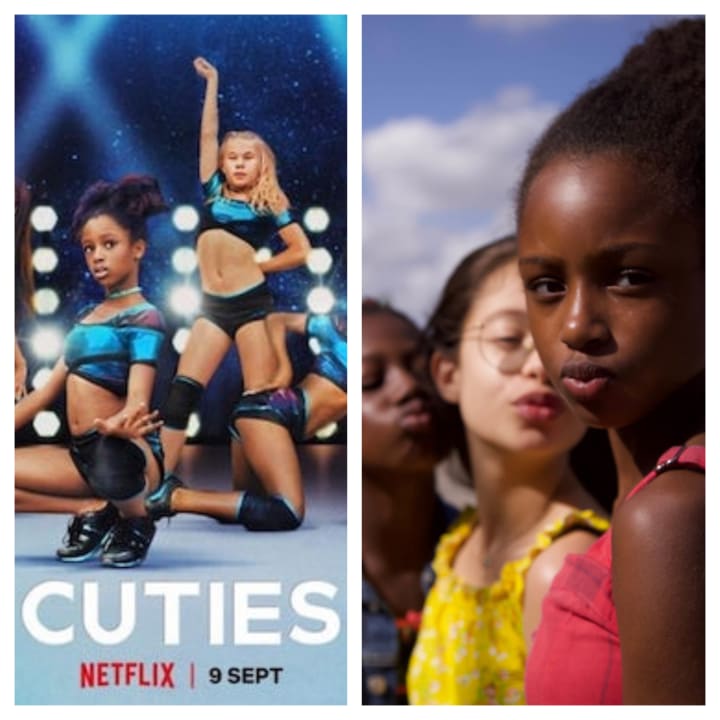 It's way more appropriate, less controversial, and less proactive. I understand this supposed to be a lesson for young girls not to be oversexualized but it wasn't showing everything that shows to stop over-sexualization for young women. This was exposure to children being sexualized which leads them to dress sexy and dancing like sexy video vixens. However, I feel like this is a lesson for parents to talk to their kids when they are coming of age when it comes to social media, music videos, or kids they hang out with. This is something I would never watch again but I would recommend parents talk to your kids. Be careful how they act and most importantly protect them.
Production Companies: Bien ou Bien Productions , France 3 Cinéma
Distributor(s): BAC Films, Netflix
Rating: R
Cast: Fathia Youssouf, Médina El Aidi-Azouni , Esther Gohourou , Ilanah Cami-Goursolas , Maïmouna Gueye, Myriam Hamma,
Directed by: Maïmouna Doucouré
Producer: Zangro
Written by: Maïmouna Doucouré
Edited by: Mathilde Van de Moortel , Stéphane Mazalaigue
Music: Niko Noki
Running time: 96 minutes
Country: France
Language: French