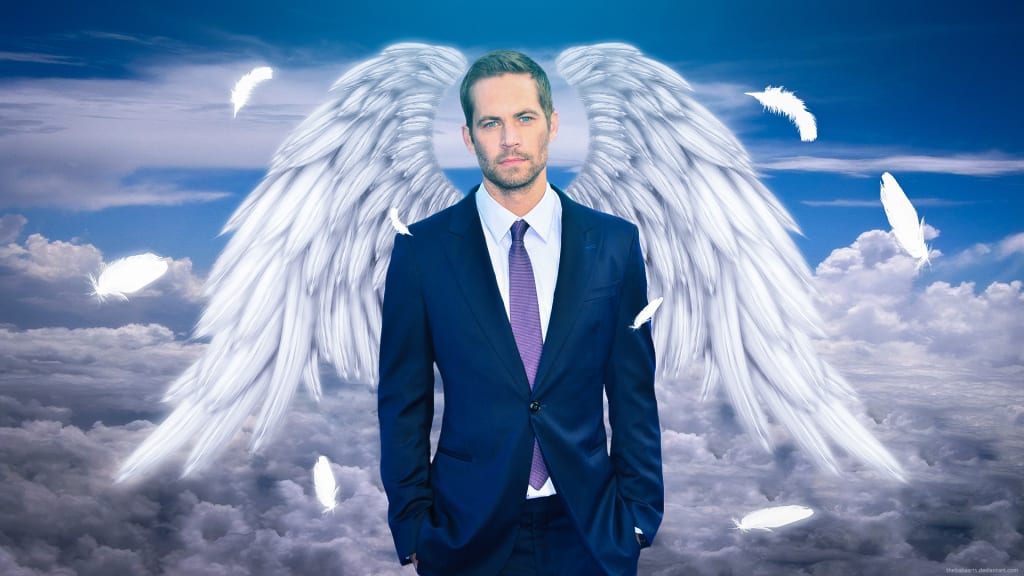 I Am Paul Walker
Paul William Walker IV, better known as Paul Walker, was an American actor . His most recognized performances were: Lewis Thomas in Never Play With Strangers (2001) and Brian O'Conner in five of the Fast and Furious franchise films . Timeline (2003), Lethal Immersion (2005), Below Zero (2006) and The Crime Test (2006) were other of his projects.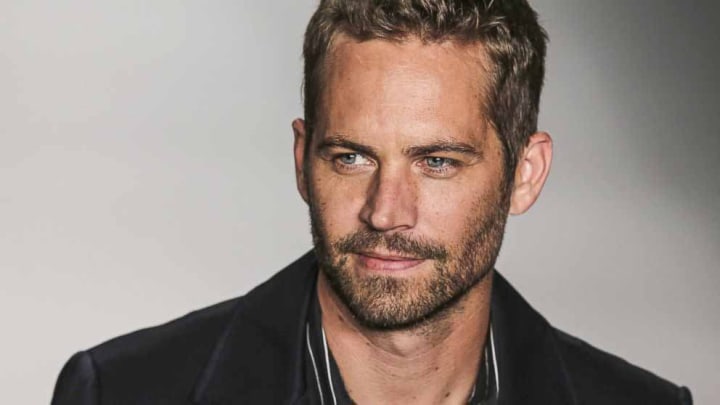 He was born on September 2, 1973 in Glendale, California. He spent his childhood in the San Fernando Valley, Los Angeles. Her father, Paul Walker III, was a wrestler who won the Gold Gloves twice, later working as a sewer contractor; For her part, her mother, Cheryl Crabtree, was a model. He has four siblings, one older (Caleb) and three younger (Cody, Ashlie, and Amie).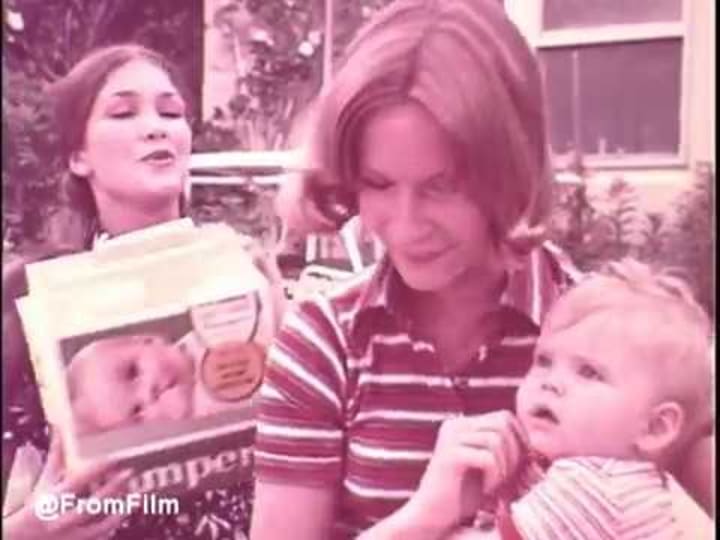 His love affair with the camera began when he was in diapers since he starred in an advertisement for Pampers .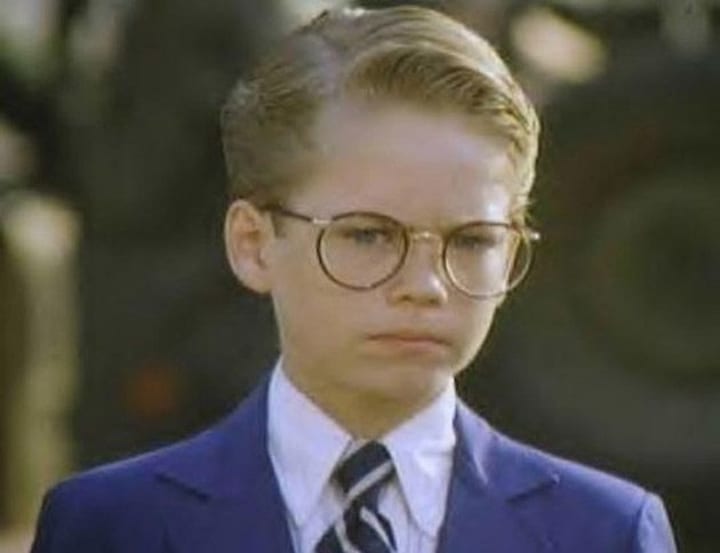 His first film appearance was in the 1986 film Monster in the Closet . Almost immediately after recording this film he joined the cast of the series Throb (1986), playing a 12-year-old boy, Jeremy Beatty (son of Sandy ). He later worked on Programmed to Kill (1987) and Ammy and the T-Rex (1994).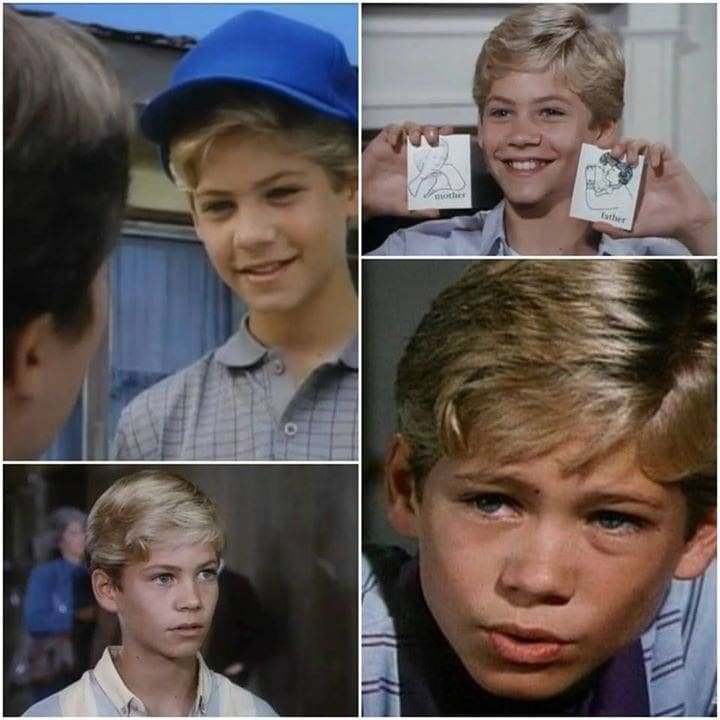 Between 1985 and 1994, he had the opportunity to play small roles in television shows such as The Young and the Restless (1993), Who's the Boss? (1991), The Boys Are Back (1994), I'm Telling! (1988) and Touched by an Angel (1996).
He studied at Village Christian High School and graduated in 1991. He then went on to study marine biology at the University of California. In the time that remained between studying, acting and his hobbies (surfing and martial arts), he began a modeling career with which he came to work promoting the fragrances The Coty Prestige and Davidoff Cool Water.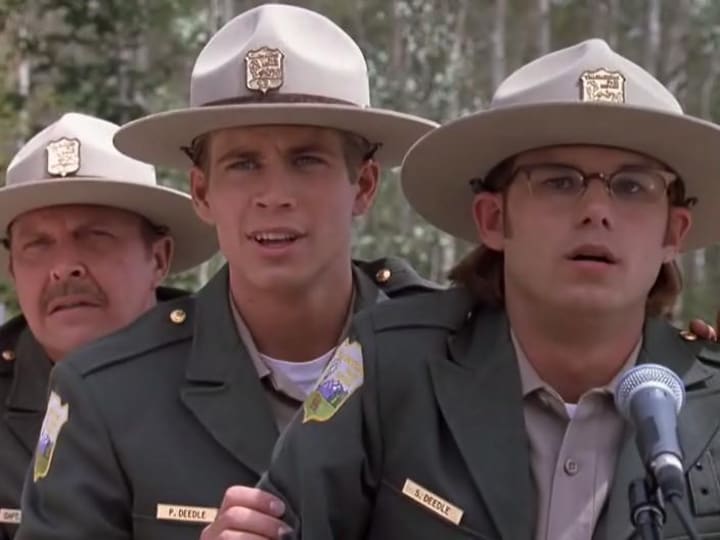 In 1998, Paul Walker worked on Meet the Deedles, playing Phil Deedle. Additionally, he worked alongside Tobey Maguire, Reese Witherspoon, and Jeff Daniels on Pleasantville. Shortly after he worked in two very successful teen movies, Someone Like You (1999) and Game of Champions (1999), thanks to which he managed to increase his fame considerably.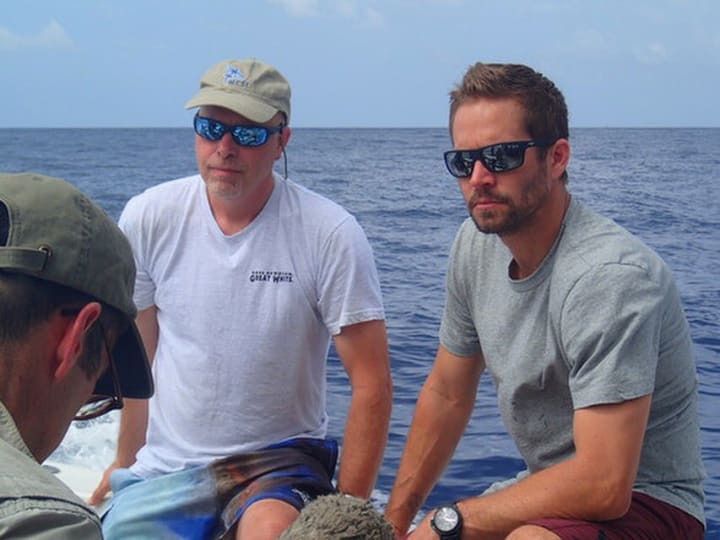 Aside from his film work, he worked with the National Geographic channel on the series Expedition Great White for which he spent 11 days on a boat while trying to catch and tag seven great white sharks in Mexico.
From the beginning of his career he began to profile himself as a philanthropist. He founded Reach Out Worldwide, a charity that helps places affected by natural disasters.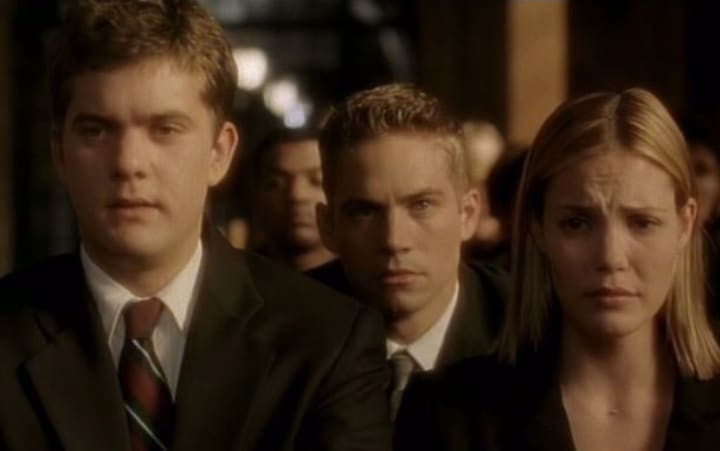 In 2000, he starred in The Skulls with Joshua Jackson. A year later he played Lewis Thomas in Joy Ride (Never play with strangers). It is year he was designated as one of the sexiest people by People magazine.
In 2003, he became the lead in Timeline and soon after was able to work with Robin Williams, Susan Sarandon and Penélope Cruz in Noel. This project was followed by Into the Blue ( Deadly Dive), in which she worked with Jessica Alba. She subsequently appeared as the lead in 2006's Running Scared. That same year he joined Walt Disney Pictures to film Eight Below.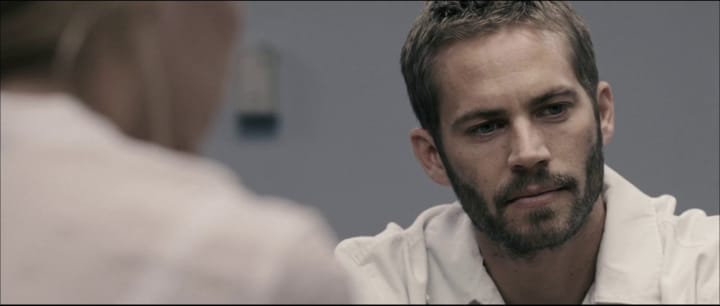 In 2008, Paul Walker was positioned as the main character in the independent film The Lazarus Project . And two years later he shared a scene with Matt Dillon and Hayden Christensen in Takers.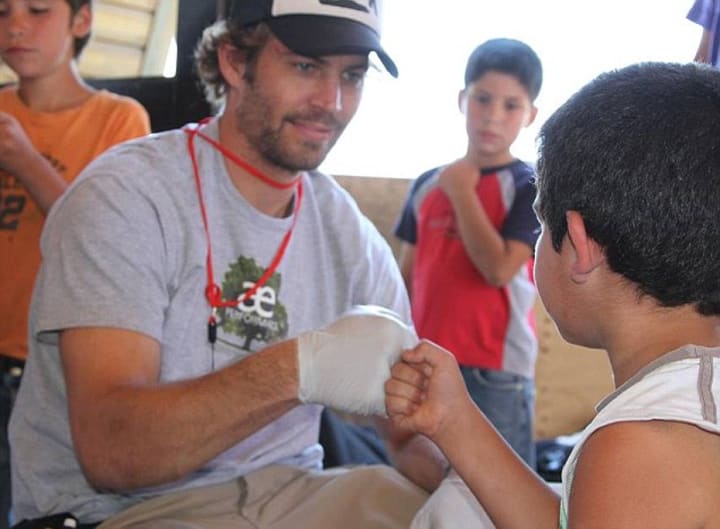 In March 2010, after the earthquake that hit Chile at the end of February of that same year, he visited the country to offer his help to the victims.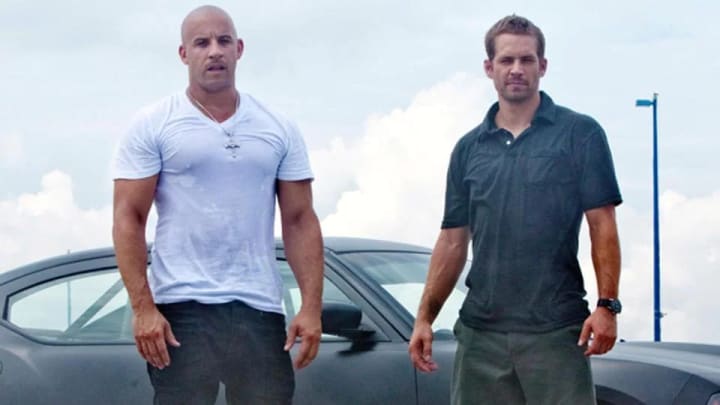 It is impossible to talk about him without referring to his work in The Fast and the Furious saga. The first time we saw him bring Brian O'Conner to life was in 2001's The Fast and the Furious. This is followed by 2 Fast 2 Furious, known in Latin America as Faster and More Furious.
Then Fast & Furious appears : even faster in 2009. Followed by Fast Five (Fast and Furious: 5in control) from 2011. Continues with Fast & Furious 6. And ends with Furious 7 (Fast and Furious 7).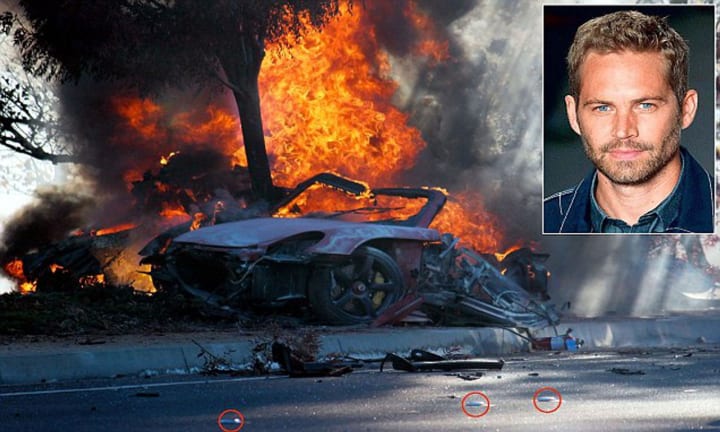 On November 30, 2013, at just forty years old, his life came to an end due to an unfortunate car accident . She was on her way to a Reach Out Worldwide charity event that had been organized to raise funds for victims of Typhoon Haiyan in the Philippines. The car in which he was traveling as a passenger crashed into a tree on Santa Clara Avenue (north Los Angeles) and burst into flames.
However, his death did not mean an automatic end to his career as three of the films he was involved in came out after his death: Hours hit theaters in 2013, Brick Mansions in 2014 and Fast & Furious 7 in 2015.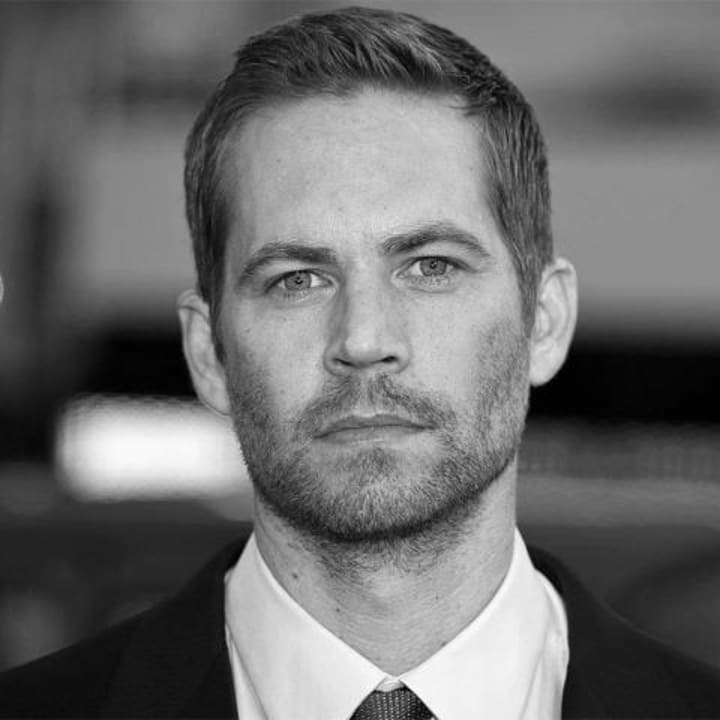 In Loving Memory Of The Great Paul Walker
Reader insights
Be the first to share your insights about this piece.
Add your insights