Hustle is full of heart
Hustle is the latest Netflix original gem.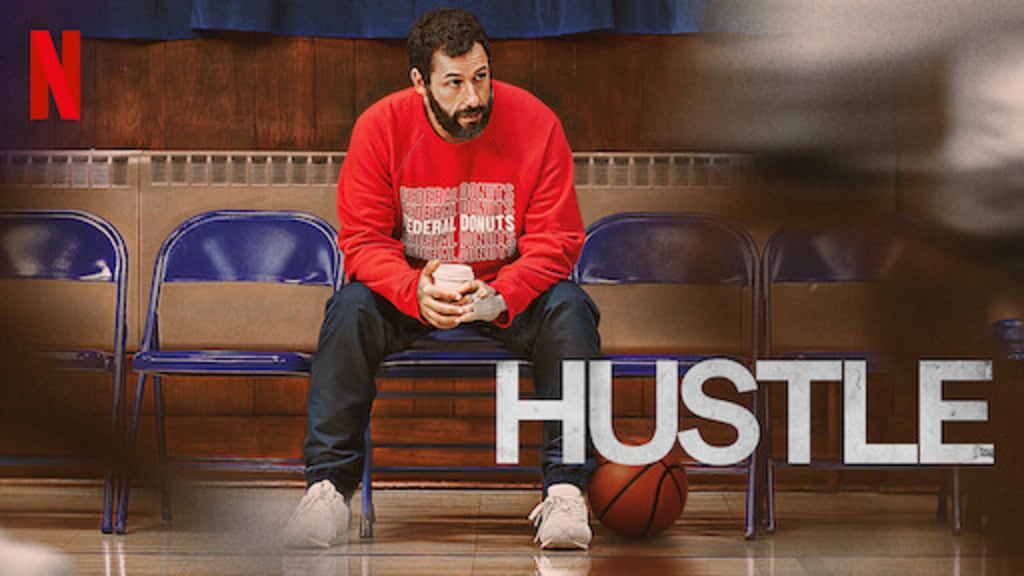 Adam Sandler has been in the business for over 20 plus years. He has done everything from raunchy comedies to feel good comedies to heartwrenching drama. His latest comes courtesy of Netflix and definitely combines all the things people have grown to love about Sandler over the years.
In Hustle, Sandler stars as NBA scout Stanley Sugerman. He is respected among the league but has spent the better part of the decade on the road. He wants to be a coach and make the leap so he can spend time with his family. He heads to Spain where he happens to find Bo Cruz, a raw talent who sometimes lets his emotions take control. Bo lives with his mother and young daughter and making it to the NBA would be a game changer for the family.
Hustle works so well because it literally shows us the Hustle it takes to make the NBA. The poise, the skill, the determination are all on display. NBA player Juancho Hernangomez stars as Bo and he shows that he has the capability to hang with a veteran like Sandler. They create the believable chemistry that brings this drama to life. That is all a film like this truly needs to succeed. Believability.
As the film progresses we get to see more of the softer side of Sandler as he takes on Bo's dream single handedly. He believes in Bo and will stop at nothing to make sure this kid gets the fairest chance possible to live out his dream. There are plenty of real life NBA talents and commentators who make appearances to add to the appeal and make the film feel more authentic.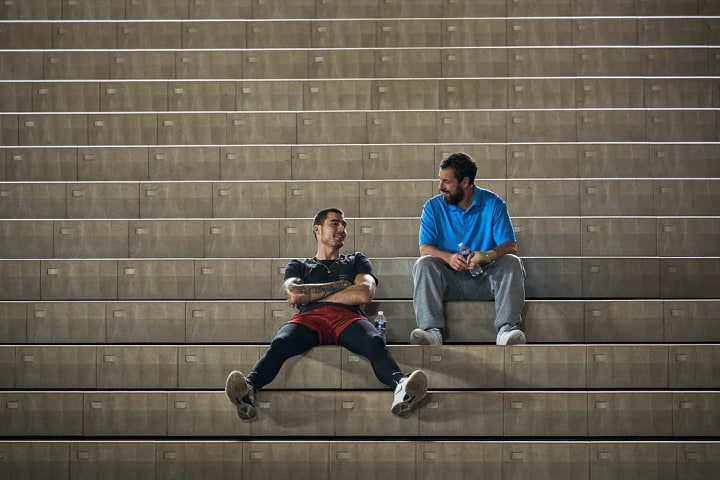 Films like this are often the type of film that I gravitate towards. They combine both the elements of a happy ending while still keeping it realistic at the core of the film. It showcases all facets of the game, including street level play, the NBA combine and others. You can tell the love of the game is apparent and having been a huge fan of Basketball all my life I certainly appreciated that aspect of the film. Without that authenticity this film would have fallen flat on its face. It is just that simple. A film of this nature rides or dies on the concept of authenticity.
Netflix has yet another gem on its hands with this one. It is raw, at times heavily emotional and very truthful to who these characters would be in a real environment of this nature. Some of the smaller roles such as Fosters helped craft just how ruthless this world can be. I love it when a film relies on the ensemble and love watching reliable actors play smaller roles that impact the larger picture.
Hustle is a very good film. It left me on the verge of tears multiple times. When Stanley talked about his career ending injury and when Bo saw his daughter again at the hotel. That is what makes life and the movies so much fun. They make us feel things that we didn't see coming. I personally have a soft spot for movies about basketball. It is by far my favorite sport and seeing the ins and outs of the game will never get old to me. Seeing the greats of the game will never get old to me. Watching their highlights is a treat. Seeing them showcase that in a movie that respects the culture of the game will never get old to me. The highs and lows of the sports world wide forever yield amazing stories and Hustle is a shining example of that.
review
About the author
All things pop culture. Movies, TV, Music,Comics as well as some dabbling into the Sports world. If you can record it, watch it and play it back. I have an opinion.
Reader insights
Be the first to share your insights about this piece.
Add your insights