Husky English Tone That Everyone Recognises
No mere man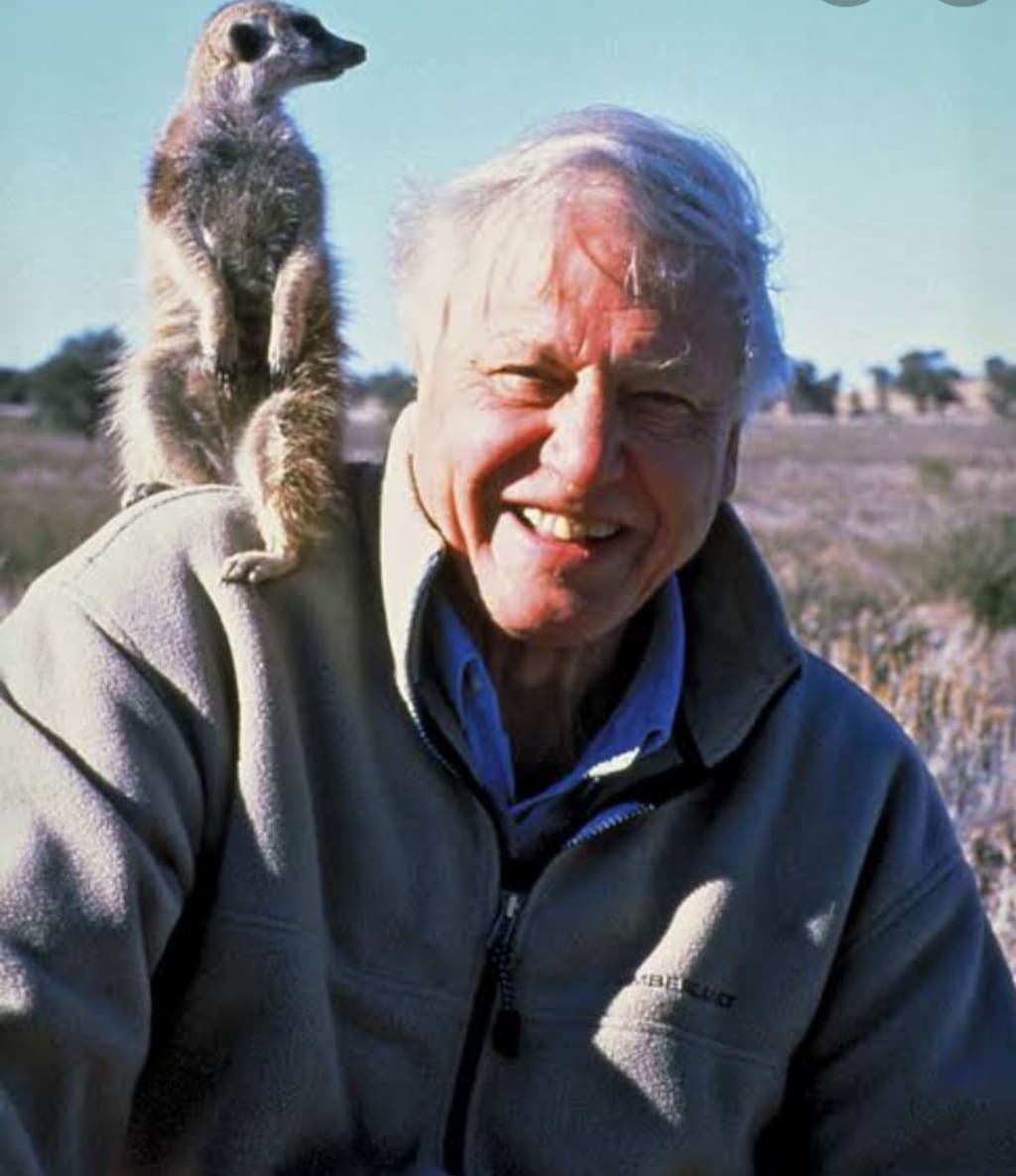 Sir David Attenborough
Now, if you have been under a rock you may not know who Dave is. AND if you were under a rock Mr. Attenborough would be flat on his body, lifting the rock so we, the viewer could investigate, with him. His husky, British accent, explaining to us the life of "the rock children".
We all know David Attenborough as the host, explorer and educator of animal documentaries. He is is on the plains of Africa. He is near a swamp looking at a frog. There are insects on leaves and he is talking us through their life cycle. His love for all the planet's creatures reaches us. Reaches me, leaving in his wake all other nature shows and leaving everyone feeling happy.
As a child, he collected rocks and fossils. The interest in the earth there in his psyche. Curiosities and the questions that need answers forming. This has become his life quest, it would seem. Tirelessly covering ground and his knowledge gained he passes to us.
BUT why I thought of Sir David Attenborough for this challenge is the way he has made documentary and viewing for us by
HIS VOICE. HIS DEDICATION DELIVERING to television the world of nature. NO-ONE does it like Dave. He has such a longevity in this domain and he has travelled so far and so close I feel a connection to animals through him. I am an animal lover and sitting to watch David Attenborough, specifically brings that real dimension of connection to the show and the interest. There is something about his voice! Whether it be a preying mantis, a lion, or a rodent David Attenborough has me hooked. I wonder if he has made a meditation app' to go to sleep, too. His husky, gentle but informative voice sending me on a journey through the atmosphere in harmony with everything.
IT IS HIS INNATE LOVE of nature that reaches and connects with me. If there were three channels with nature programmes on them I would choose Attenborough's. Whatever species he was exploring. Because I love the real infatuation and explorative manner he has with everything in nature. And that voice! I could never imagine him telling off his children.
"And the child retreats to his room, down the passage waaay - only to be seeen -when called upon, at supper. Once again the living-room is silent."
What a gentle, kind man. Delivering special messages and information in episodes. Each time making us feel more understanding and more empathetic towards another creature. Animal shows are always relaxing. Our world, so concrete and chaotic is nice to escape in ones own living-room. With David Attenborough it is even better. The REAL DEAL. He goes everywhere in the world! Animals seem to like him. I could imagine a Great White shark going passed him in a cage thinking "Oh, it's Dave. Come on boys! Give him some great angles and don't bump the cage! Then let's go. I think there's a body boarder two kilometres from here."
I also think it's his interest and real passion with his shows, it's not just a job he got into from a university degree. That enables us to feel what he's delivering - knowledge, interest, respect, love. It is WHO he is.
I love David Attenborough. He stands alone, aswell. While there are people shooting footage with him and supporting him, he really has an upstanding role in his own merits completely. Just completely owns the set wherever he maybe. Whales in Antartica holes popping up to say "Hi Dave." Penguins scooting down slopes. "Hi Hi Hi Hi!" Ladybugs pressing on with highpitched voices. "Mr. Attenburah!" Yes, I feel they all know David like we do. Close, kind and recognisable.
The white hair caught in a wind as he stands on a hill. There's no camouflage gear, no over the top get-up. Just his casual, smart attire. I think that's what is so intriguing, too. He appears balanced with everything he is about to investigate. In a world unbalanced there is David delivering the documentaries. He wraps up every show like a beautiful gift with a bow tied and gives it to us, the viewers. To open and enjoy.
What David Attenborough gives us, is a gift. Each time, with each episode. His love reaches us. I think the animal kingdom would like that. He is the best teacher. The one who teaches us and even after an hour or two, leaves us with more than we had a couple of hours earlier. This planet certainly needs more advocates. So much gets pushed to brink of extinction or in itself struggles for survival. Somehow David's shows takes the sting out of some sad journeys.
I feel because of some-one such as David, we are all more informed. We all love our planet more. When there is a man amongst us, like that then generations are improved. Because what we learn from him, we, in turn teach our children. The question, often posed for varying reasons.
"What can one person do?"
ALOT! If you really care. Look at David Attenborough. He's spoken to millions and millions. And we have listened. Thank you for the soothing voice.