How to Negotiate a Contract in 2023?
Negotiation can be scary for the salesman, but you can learn this skill. Do not run away from it. You must negotiate well with your business partners to achieve a win-win scenario and protect your bottom line.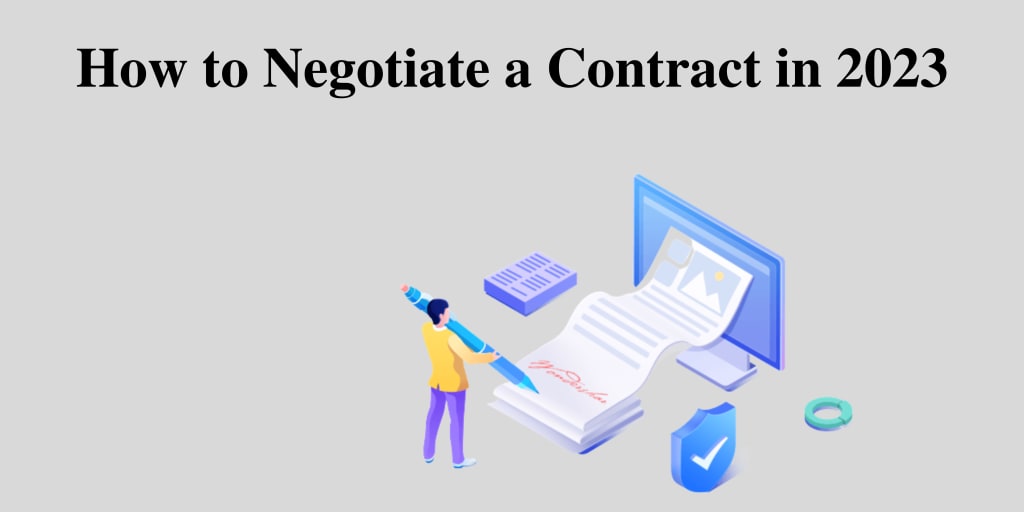 How can you make sure this happens smoothly?
Let's discuss contract negotiation in more in-depth. We'll share some tips and insights along the way to ensure your negotiations go smoothly.
What's a Contract Negotiation?
Contract negotiation is when two or more parties discuss the terms of a contract to reach a legally binding agreement.
You can negotiate or change parts of the contract before it is signed until all parties to the business relationship accept the new terms.
A contract can be renegotiated during its term or after it expires.
Most often, renegotiations occur while you are still under an agreement.
An "intradeal" legal process allows you to cancel or modify a contract. If the original agreement allows them, intra-deals can be smoother.
This is why you should read all business contracts before signing.
Contract Negotiation Definition
Everyone involved in a legal contract negotiation will evaluate their responsibilities and rewards (pay, benefits, etc.). They must assess their responsibilities and accept the risks to form new terms. A legal team may be necessary if dispute resolution is your primary goal in renegotiation.
Contract negotiation should result in a win-win situation. You may have to compromise to please everyone.
The Goals of Contract Negotiations
Setting goals is a good idea during contract negotiations. They help you focus and keep your motivations in check.
Although it'd be nice to ask your boss for more pay, you will likely get what you need if you explain why you deserve it.
Understanding the underlying goals of every contract can help make the discussions more productive.
With this in mind, consider whether your contract negotiation goals can stand up to these questions:
Are all terms and conditions clearly stated in my renegotiation offer?
Are the services or goods I provide properly defined?
Was my compensation including a payment schedule, financing terms, and total cost?
Are there reasonable expectations about the future business relationship?
Do you have all of the renewal dates, effective dates, and completion dates that are required?
Did I address the liabilities and risks associated with the contract change?
We'll show you how to answer these questions using a Yes.
Find Out More About the Other Party
Sherlock Holmes would not be able to catch criminals without doing some sleuthing. To help you make a great counter-offer, take a leaf out of Sherlock Holmes' book.
You can be more familiar with the person you are speaking to than you might think.
Preparation is one of your best negotiation strategies. It will quickly build trust and respect with the other party, which will help you to build rapport.
It is essential to find common ground in negotiations early on. What better way to do this than to encourage mutual interest and friendship?
Although it takes effort, research can lead to the desired agreements.
Improve your Contract Negotiation Skills
With a bit of practice, negotiation is something you can learn. What are the best contract negotiation strategies and skills to close a profitable deal?
These are the skills that you should learn before entering the negotiation room.
Basic Contract Law
Many businesses have legal departments. The law is complex and endlessly confusing. It can be time-saving to know where to begin.
The law of contracts in the United States is different for each state.
State-controlled contracts are governed by Contracts governing the sale of goods are controlled by the Uniform Commercial Code. This standard collection of guidelines is integrated with state-related sales laws.
Contracts are made when there is an offer and acceptance of a request. An attorney can help you determine whether your agreement is legally binding.
It is worth reviewing contract terms such as procurement (to persuade somebody to do something), bid, and others.
There are many types of negotiators. Some are more skilled than others and use questionable tactics. Understanding the law and the codes involved in the process can help you to distinguish between a good deal and one that could be disastrous.
Get Professional Advice
Did you ever need to rip your hair out while reading about contract law?
We don't blame you. Sometimes it is better to let the pros do the heavy lifting.
It can be challenging to negotiate legal issues. Small businesses often use well-structured templates to cover essential business matters.
However, it is possible to need support when negotiating terms and conditions for a contract with a large-business legal team, regardless of how minor the change may be.
Be a Professional
Employers will judge your professionalism based on how it appears.
While it is essential to be respectful to the negotiator and appear ready to meet all parties, you will only get far with a suit and an adequately positioned body.
Your negotiation counterparts must quickly judge your personality, trustworthiness, and skill. You'll be successful if you are professional and confident.
Take your Time
Signing a contract quickly can lead to confusion and tears. It is possible that you are committing years of your life to an organisation that makes it miserable.
We don't like to negotiate so we hurry to get it done.
We understand that. However, you owe to yourself to take the time to read the proposal thoroughly.
Consider negotiation an opportunity to add value and work together, and not to "beat the other side." A fresh approach to negotiating can help you to relax and even enjoy it.
Use Templates
Templates make it easy to create legally binding contracts in just minutes. Contracts are generally very detailed and rich in legal information.
You might have trouble drafting a contract if you don't know everything.
You can always hire lawyers to help you draft contracts. But, it can be expensive and take a while to receive the final draft.
You can also use pre-made contract templates that you can customize to meet your business's needs.
Be Realistic
Understanding what skills you bring to the table is critical in contract negotiation.
Although one of our top priorities in contract negotiation is to receive a better deal from our counterparties, you have to offer up something in return to get what you want.
That's why a term sheet is handy.
A term sheet is a nonbinding agreement that outlines the basic terms of the contract in a bullet-point list. It can serve as a basis for future negotiations between both parties.
It's better to keep your term sheet handy to address oversized picture items. If you can't agree to a term sheet, there's no point in signing a contract.
If your term sheet proposal is rejected, there's a strong possibility you're asking for too much and not giving enough back in return.
Ask yourself if your request for better healthcare benefits is worth a pay decrease or whether it's fairer for the buyer to pay closing costs in a real estate purchase agreement.
You should always know your worth, but researching the company beforehand can help you determine what you can ask for in your contract negotiation.
Write it Down
In some cases, employers will tell potential new hires that they can't accommodate a request immediately but will revisit the proposal later.
Unless that statement is written down as part of the contract, that request may never happen. At best, your employer will forget. At worst, your employer will deny you asked in the first place.
Nothing is guaranteed unless it's in writing.
Don't accept anything at face value. Protecting yourself is one of the most important contract negotiation strategies, so ensure your terms are written down before signing.
We consider this step vital that we disable your ability to sign contracts in our contract negotiation feature until all suggestions are resolved.
If you or your client add a suggestion to a contract, it will invalidate all electronic signatures. Both parties will have to finalize the document and sign again. This feature protects you and counterparties from accepting terms you weren't aware of!
The Key Takeaway
We hope you found our guide helpful in preparing and negotiating a contract efficiently and without sacrificing quality.
You'll soon be a master at negotiation if you are prepared, confident, and knowledgeable.