How To Make an Award-Winning Short Film From Scratch?
Get inspired to create something special.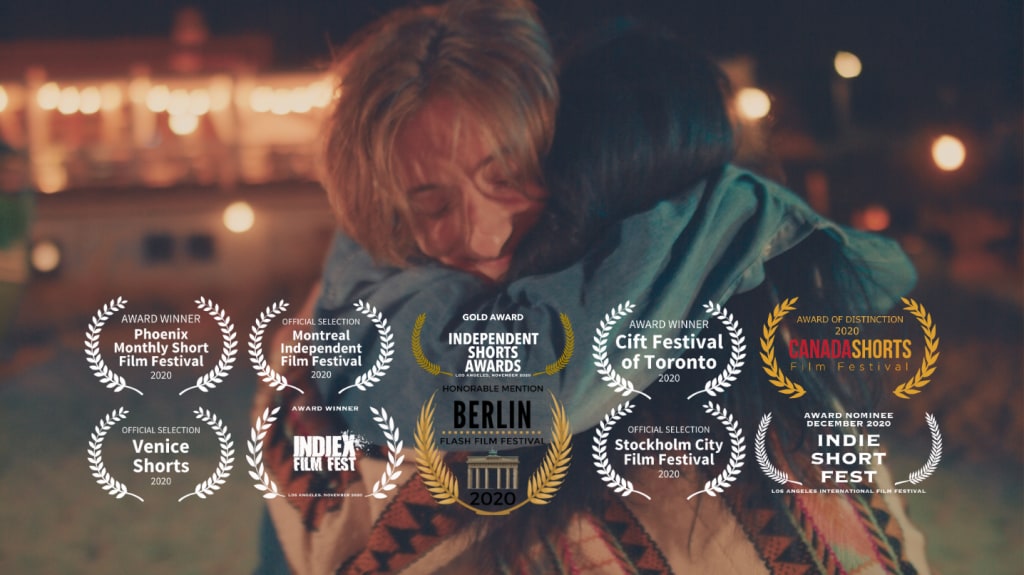 A still from my award-winning short film 'What I Can't Tell You' with some laurels.
The first and probably the most important thing is whether or not you are truly passionate about the film industry. A daredevil trying to get into this industry for profit reasons should consider a different career path.
Ask yourself the following question:
1. Am I passionate about this?
If the answer is yes, that's all you need for now. Passion and hard work will get you where you want to be.
IDEA
Everything starts with an idea. In May 2020, in a global pandemic, I got one. I wanted to make my first ever short film. The ongoing global pandemic has not been easy on anyone. It's so easy to let your creative side die when it feels like the world is falling apart. I started feeling that way in May last year. So, when I got an idea about making a short film I felt like it was the time to transform my thoughts into solid actions.
Make sure that whatever you come up with is something YOU feel passionate about, something that excites YOU. Don't try to please anyone, don't look for an idea that you feel like people will like, but maybe in reality you don't vibe with the subject at all. As long as you are happy and excited about what you are writing, your collaborators and your audience will feel it as well. Trust me.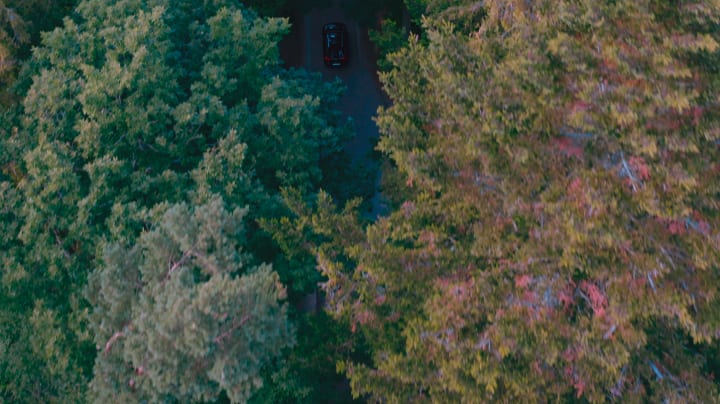 SCRIPT
The idea for my script came to me very easily. I was thinking about one of my dear acting friends throughout the process, and I knew deep inside that she would be as excited about the project as I was. I ended up writing the 12 pages long script within 2 days. The story was clear, the characters as well. Everything just felt right. Whenever you have an idea that just feels good and makes you excited- GO FOR IT.
Write down anything, literally anything. A scene that just popped into your head, a great title that makes you smile just by thinking about it, an idea for a character that excites you, a topic you would like to focus on... Anything. Whatever you write- it's a step forward. You may think to yourself: "Yeah... but I'm not a writer". Well, me neither. You don't need a Ph.D. in Literature to write a good script. Don't let excuses such as "I'm not a professional writer" limit you. Again, if you're truly passionate about this, you will be just fine. Also, nowadays there are countless resources to get inspired from such as YouTube advice videos, online articles, online script-writing programs... There are no such excuses these days.
ACTING
As an actor, I know that the most important part of the filming process is acting. The last thing you want is to have the best script, the best film production crew, post-production crew, and locations just to find out that your actors can't act and the investment was completely pointless.
When I was writing my short film "What I Can't Tell You" I was writing it having myself and my friend in mind to play leading roles. Later on, we spent about 3 months preparing for the filming with my acting coach. Practicing over and over again, working on our characters, relationship, and breaking down the script. If there was one thing I wanted to make sure of, it was good acting.
Think if you know any actors. Maybe one of your friends will be a great inspiration for your story, and maybe they will end up being a part of it... Whenever you offer a role to someone you know, or you cast actors to be in your film, make sure that they know what they are doing and that they are simply good. There is a lot of magic that can happen in post-production but nothing will ever save bad acting.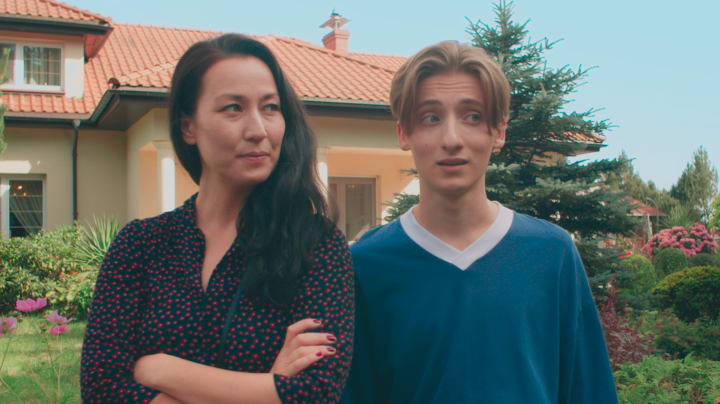 LOCATIONS
Scout for locations. Ask your friends, family members, small businesses if you can use their locations for a short film. If the film takes place indoors, you may be able to use your apartment or house. If the shoot is happening outdoors, find a safe and legal place to film. You might need a permit when the shoot is happening outside. Do your extensive research on locations. Once you decide on a few favorites, see which one suits your project best. While booking the location make sure that it has everything you need and where you need it. Some things to keep in mind: transport routes, access to electricity, noises around the location, lighting. ..
I was lucky with my locations. They have been confirmed before literally anything else. A family friend owns a big mansion that is usually empty the whole time and was willing to rent it for my filming for the entire day for free. That's really lucky and understandably not very likely to happen for everyone, although not impossible. Do your research. Ask people you know, think many times about what exactly you need. Don't write a short film that is set in a very elaborate location when you know you won't be able to fulfill this vision with your budget. Dream big but also make sure you are reasonable. There's nothing wrong with starting small. You will have time to fulfill your more elaborate visions when your debut is a big success!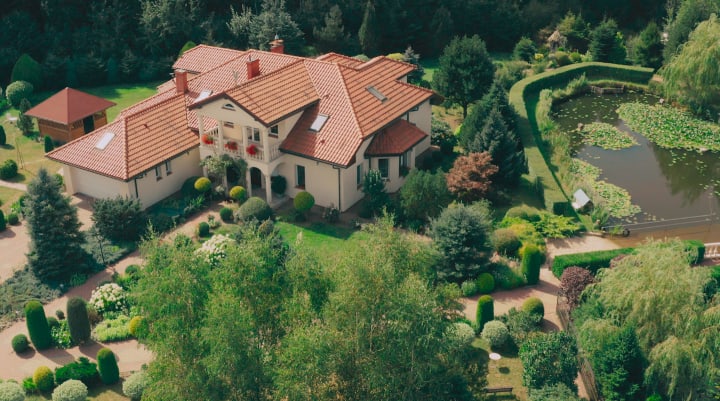 FILM PRODUCTION CREW
Film making is pricey. No doubt here. I had to do a lot of research before proceeding with the next step of the process which was finding professionals who would shoot my film. I am based in London but grew up in Gdańsk, Poland. I knew that filming anything would always be way cheaper in my home country. I also knew that I wouldn't have to pay for accommodation which already saves a lot. If you are from a small town and currently live in a big city like me, think about maybe filming in your home town. Even when you were born in a big city like London, think about filming somewhere elsewhere you don't have to spend a fortune you probably don't own.
You should do your research on all film production companies available in the area. Every film project is different and requires either more or less work. So, to get an estimated service fee you need to call or email the companies with all the details regarding your film such as the script, storyboard, how many shooting days are you planning to have, whether you need someone for makeup, etc... Once you provide enough information to the production company they will give you an approximate idea of the production cost.
After gathering that information from all the companies, it's your time to choose. Some companies might require less money for their services but their reputation is not as good as the more expensive ones. It's important to do your research on previous company projects as well as what equipment they use, the online opinions they have, etc. Sometimes it's better to invest a bit more money in a good company with a great reputation and have peace of mind while doing your thing than paying less and constantly worrying that the people you booked are not experienced enough to pull off your creative vision.
The next step in this section would be to book the production team. Once you decide on the date and you are penciled in by the crew, you will most likely be asked to pay the deposit for the service. Make sure you receive a specific breakdown of services you are paying for, not just a receipt with the total. Check daily rates for all crew members (DOP, light, sound), whether you pay for extra light, transport, mics, drones, extra camera lenses, etc... Also, keep in mind that as a producer of your film you will be responsible for the crew's on set meals and refreshments. So, depending on your budget that also has to be reasonably and professionally organized.
Keep in mind that you will need 2x Hard Drives with at least 1TB capacity (if it's a 10-15 minutes short film) to transfer all the files from camera cards. You should always have at least one extra hard drive to ensure your hard-worked files are safe.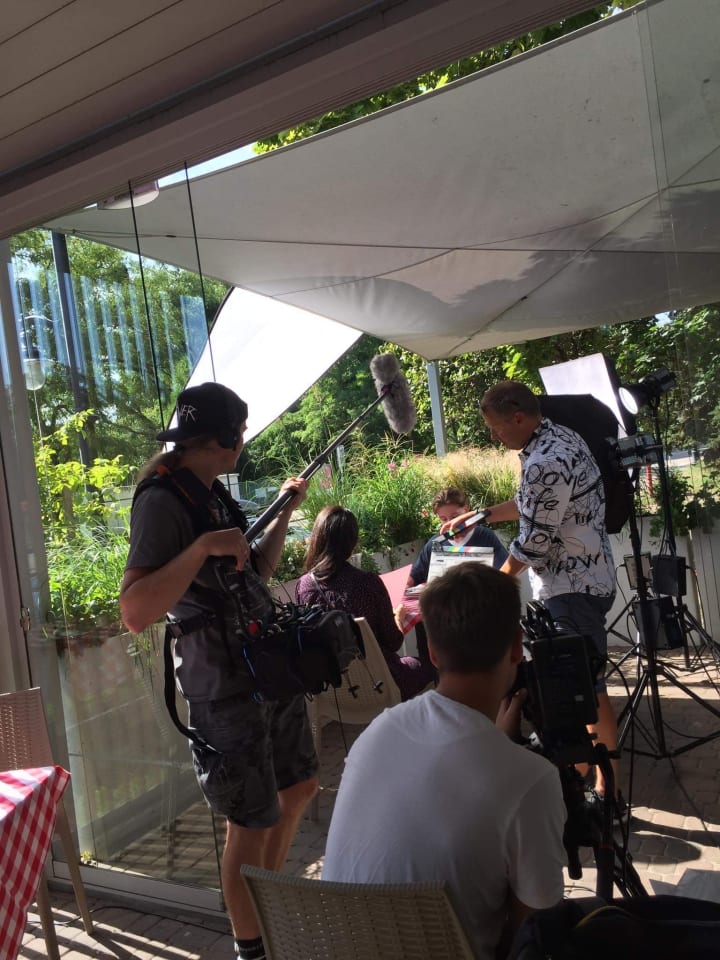 POSTER
You don't judge the book by its cover but that doesn't change the fact that a film poster gives the first impression on the project. It is really important. If you have a clear idea of what you would want your poster to look like, go for it! For my film's poster, I wanted a picture of the main characters that would show the element of mystery that my dramatic short represents.
Here's the 'What I Can't Tell You" official poster: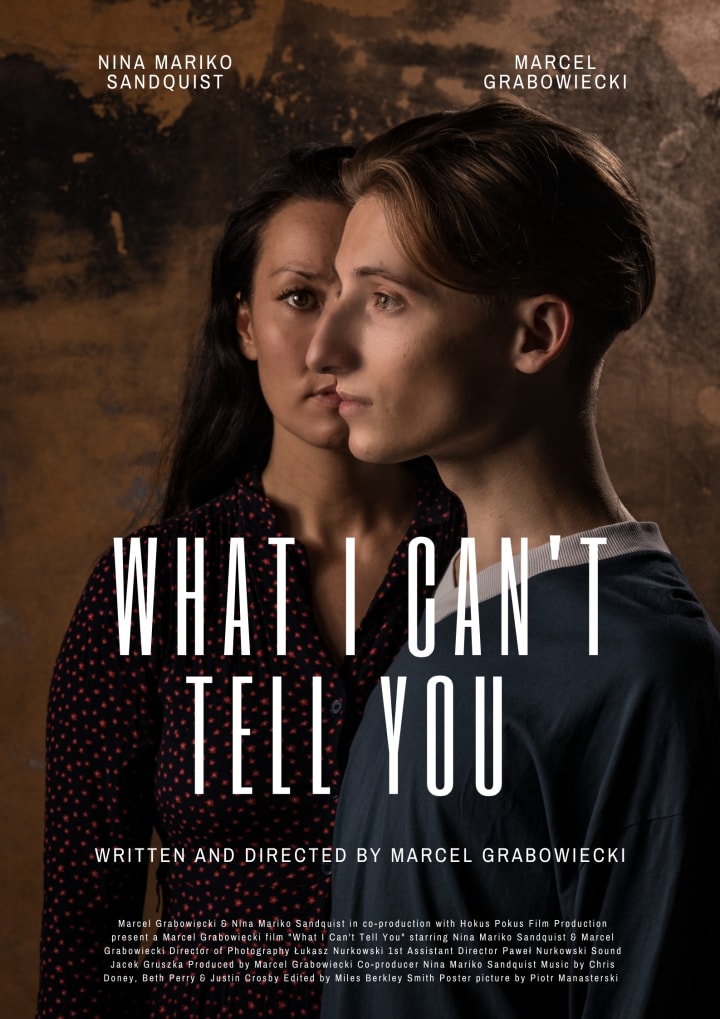 Since I had a very clear idea of what I wanted (the atmosphere, set-up) I hired a professional photographer who took a very high-quality picture of us. Keep in mind that it doesn't have to be shot by a professional photographer. It might as well be one of your friends who happens to own a good camera. Once I had the picture, I edited it a bit to make it look even better and designed the poster by myself using one of the online design websites.
A poster doesn't have to include a picture. It can be a very simple design as long as it serves the story and matches the genre of your film/shares something about it.
TRAILER
Your film's teaser doesn't have to be anything huge but it is nice to have something to draw the audience in. The film can sometimes be shared with the general public after a long time due to film festivals' screening rules.
Here's a link to my short film's "What I Can't Tell You" official teaser:
As you can see it is very simple, yet compelling. It shows the main characters and key locations that are crucial to the story. The teaser also includes the film's theme song as a background which gives you more of an idea of the overall tone and genre of the short film.
While my editor was editing the film in the post-production I came up with an idea for the teaser so I made a rough version of it simply in iMovie, then asked him to recreate it with high-resolution files. It ended up being just a few more hours to overall hours spent on this project which I think is totally worth it!
POST-PRODUCTION
Even though my film was shot in Poland and with a Polish film production crew, all the post-production business was done in London. When you are a part of the creative industry there is always a friend who knows a friend who knows a friend... I asked one director/editor that I knew from the time when we shot my showreel scene together if he would not be interested in editing my film (of course as a paid job) and since we knew each other from before he offered me a really good day rate. Once, he got a job on a sequel of Fantastic Beasts he found me a different editor who was willing to take the job for the same day rate. There is always someone who will be interested in collaborating with you. You just have to look for them.
For the post-production, you will need an editor, sound mixer, and color grader. Again, do your research. Watch YouTube channels of people who work in the film industry or who create showreels for actors. Check out Instagram accounts of editors, color graders, sound mixers in your area who you could potentially hire. Choose ones that suit your project most at the time. Contact everyone individually with your project's details so that they can give you an estimate of the costs. Once you have all of that you can plan your budgeting for the post-production.
Post-production takes time and lots of effort and can feel a bit overwhelming but it is crucial. All the magic always happens in the post-production period. Editing the scenes together, making sure that it all looks as you wish it does. I wanted to be present for the majority of editing and it was a great experience for me to be able to give as much insight as possible and also learn a lot about the editing process. Make sure you are very specific on what you want and how you want the scenes to look like/represent. Editors love when directors have a clear vision of their projects. My film was very much character-focused so I wanted to make sure that the relationship between the two leading actors was clear and specific.
Once your editor does the picture lock sound mixer and color grader do the last bits (making sure that everything looks and sounds good). There is nothing more rewarding than your post-production crew sending you the last fine cuts of your project. When you see months of hard work finally coming together.
FILM FESTIVALS
It is obvious that when you invest so much time, work, and money in your project you want to get some recognition for it, or simply just share it with other filmmakers and industry professionals (get some feedback, comments). Film festivals cater to both of these needs. For film festival submissions I use FilmFreeway. It allows you to submit your projects to festivals worldwide. Some film festivals though, use different platforms such as Short Film Depot, or submission forms provided on their websites. Most of the festivals charge an entry fee that varies from 10 to 100 USD per entry, although there are some exceptions when a submission is free.
Save festivals that interest you the most and that you feel like spending your festival budget on. There are tons of festivals (including monthly ones) to submit to throughout the entire year so don't feel like you need to do it all at once. First things first, check which festivals have upcoming final deadlines and see whether or not you are interested in submitting to any of those. If you see that an interesting festival has a final deadline in about 6 months, save it on your list and decide later on whether you want to submit it.
Festivals will, later on, let you know whether or not your project was officially selected to be included in the festival. Once selected, you may go on to be a semi-finalist, finalist, award nominee, honorable mention, or award winner. Every IMDb recognized film festival allows you to add your film festival nomination and/or win credit to your IMDb profile.
See awards section as a reference on IMDb:
I managed to make my film despite the global pandemic, working a full-time job, and studying. I know you can do it too! The film industry is waiting for you. Good luck!
how to
Look at you doing what you once thought you couldn't do.
Actor / Writer
@marcelgrabowiecki on Instagram
Receive stories by Marcel Grabowiecki in

your feed