How to Make a Feature Film with 750 Dollars - Part 2
Crowdfunding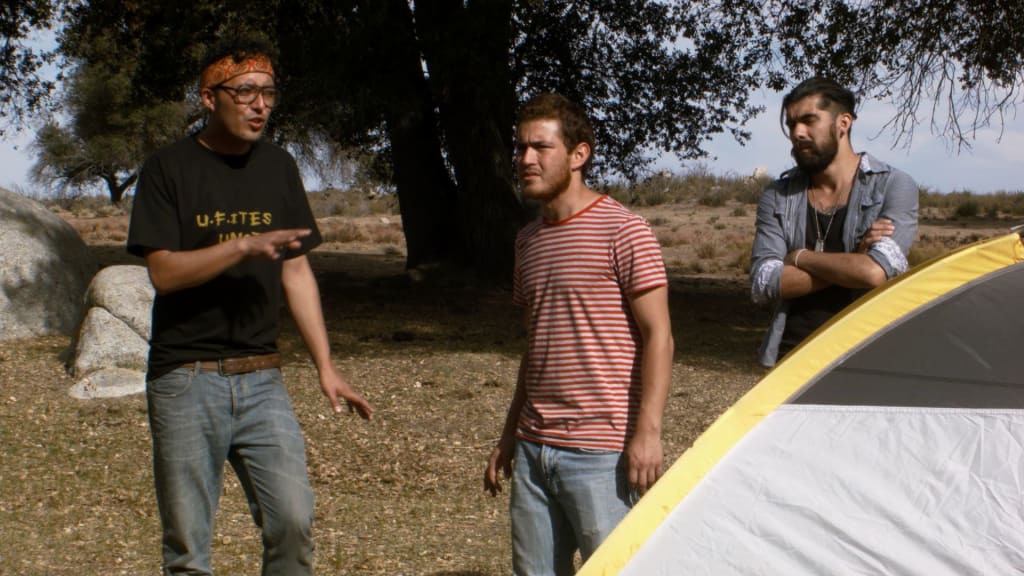 Luis, Omar and James In The Garden's Keeper.
First off, let me tell you that if you are here trying to find a magic formula to raise money using Kickstarter, Indiegogo or any other Crowdfunding platform, this is not the place for you. What you will find here is what I did wrong and what I'm doing on my next campaign for my second feature film which is the sequel to "The Garden's Keeper".
My biggest mistake was not catering to a certain niche audience in my movie, it has a bit of a geek factor, a bit of zombies, a bit of aliens but it's not a geeky movie. It's not a zombies movie and it's not an extraterrestrial movie, so what is it? How can you categorize my film? I still don't know the answer to that. For my next movie, I'm certainly going to find a niche audience be in Horror/Gore, and apply that genre to my story. Why? Because horror and gore have a huge fan base and they're used to low-budget films. Now this is only me speculating that in creating the next installment of the Gardens Keeper trilogy in a horror/gore genre will help me raise funds and sell the movie once its out.
This is not the best advice, but, if it's your first time crowdfunding, then set up your campaign page for friends and family. That's your audience for now. They are the only ones who will give you money at the beginning. I got about 2000 views on my project and only 1 dollar from someone I didn't know who liked the project and the rest of the 500 dollars from friends and family, "But Adrian, you said you had 750 dollars." Yes, I did. I got the rest from friends and family after the indiegogo campaign ended, so, if you are not planning on paying Facebook to run ads for your campaign, then set it up for friends and family. (I'm not an expert on crowdfunding, you might have different luck than me).
So what I'm doing on my next film/crowdfunding campaign is use Facebook ads to target specific people who love horror/sci-fi films and actually get people who could be interested in my film to land on my campaign page.
What I did Wrong and what I Learned
I assumed that fundraising was easy, that people would love my project as much as I did. The truth is no one saw the campaign page and the campaign did not focus on the awesomeness of the film to people who love science fiction movies. I also didn't run Facebook ads for my campaign, but that's another story.
Don't target everyone, target your friends and family. Your film is not for everyone and if you can't specify your audience then odds are you will be another statistic on the failed campaigns page. Cater to your niche demographic, find one and adjust your story to it or you will end up with a Garden's Keeper type film, but what do I know? I'll let you know in a couple of months if I was successful with my second crowdfunding campaign.
I also learned that I had to bother people personally including friends and family so that they would give me money for my film, it felt like i was nagging them.
The most important thing to remember out of all of this is that once you actually finish a low-budget film with "X" amount of money, people will start offering you money for your next film. It sounds crazy but that happened to me. People get on board when they see that you actually start something and the most important part, finished it.
Next post, I'm going to write about how we adjusted the script to shoot it with 750 dollars, but if you have any questions let me know and I'll write about them in a later post.
You can reach me at [email protected]
About the Creator
B Movie Film Director | Writer | Geek | Avid video game player | lover of pizza and Science Fiction | Currently Filming a Docu Series about the food of Baja California.
Reader insights
Be the first to share your insights about this piece.
Add your insights