How Come Stacey Dash and Chrisette Michele keeps getting Cancelled? Not Ye! Hmmmm....
These women tried so hard to get their black card back but still keep getting cancelled.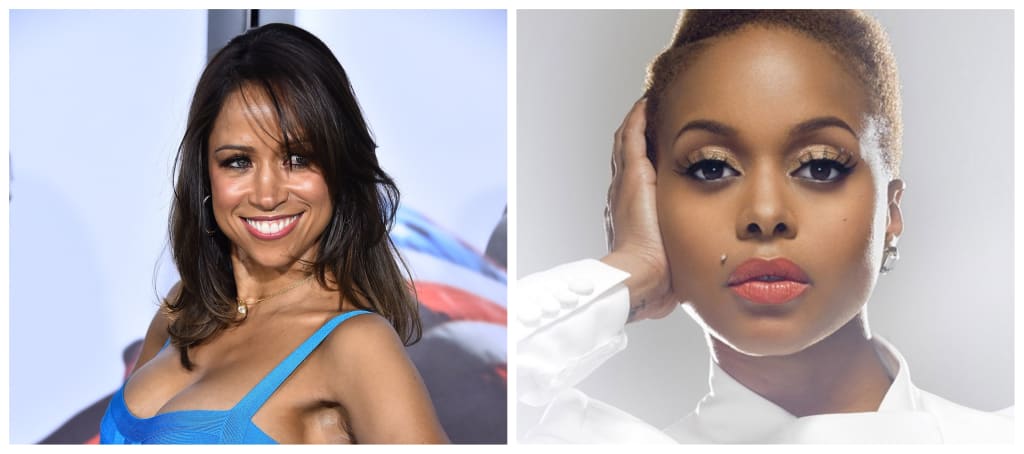 Stacey Dash and Chrisette Michele
These two black women tried so hard to get their black card back but still keep getting cancelled from the black community unlike Kanye West. Stacey Dash was one of the most beloved actress and model until she became a conservative working for Fox News saying anti-black remarks and calling out then-President Obama. R&B Singer and Songwriter Chrisette Michelle made songs like "Be Ok" feat will.i.am, which earned her a Grammy and "Aston Martin Music" featuring Rick Ross and Drake which would become the most popular song on Tiktok until she sang at Trump's inauguration defending her choice causing her music to be cut from radio air ways. These two women were blacklisted after they disappointed the black community until they tried to gain the black status but it was too late. Dash started acting at age 14 when she starred in her first acting gig The Cosby Show and 1988 series TV 101 until it was cancelled after 13 episodes. She would star in films like Moving, Mo'Money, and Renaissance Man. Dash received her big break with the 1995 teen comedy film Clueless. Dash played Cher's high school best friend Dionne Davenport.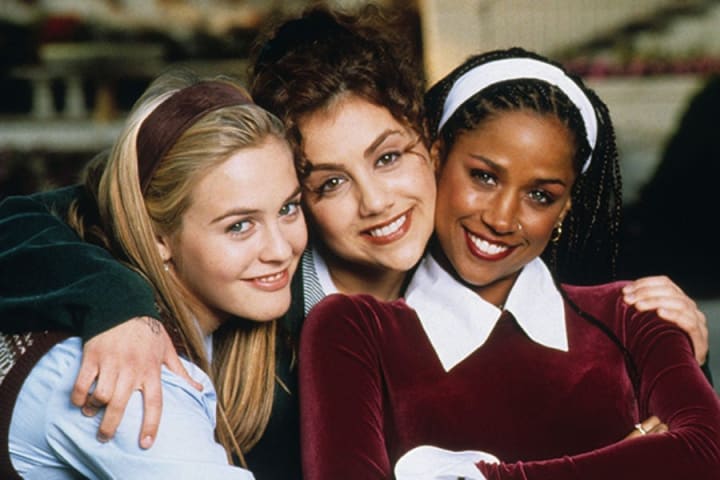 Fun Fact: Stacey Dash was 28 years old playing as Dionne, a teenager in Clueless.
She would reprise her role as Dionne in Clueless, the tv series from 1996 to 1999. Dash would star in more black films like and also pose sexy photos for black owned magazines. Dash has been a devoted Democratic and voiced on her support for then candidate Barack Obama until 2012.
In 2012, Dash converted herself as a Republican and shows her support for then-Republican candidate Mitt Romney by posting a red Baywatch inspired swimsuit behind the American flag on Twitter.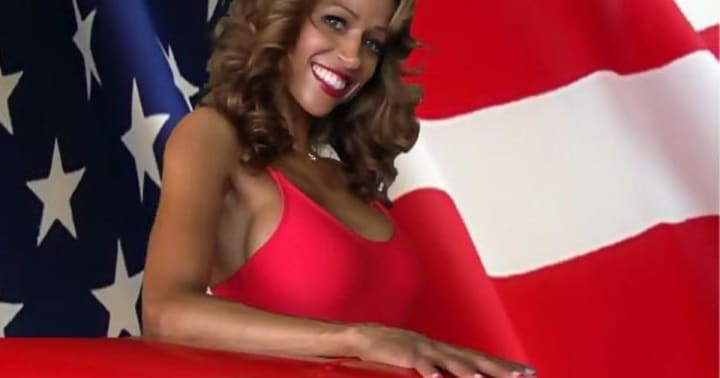 Dash was slammed on social media for showing her support for Romney not Obama including actress Vivica A. Fox. But she's not the only actress who slammed Dash but this time for a different reason.
In 2011 before Dash became a conservative, Dash starred in Vh1's scripted series Single Ladies as Val. The show was smashing hit and gained a fan base. While on the show there was some issues between her and fellow co-star LisaRaye McCoy. According to McCoy who went on TV One Uncensored, she explains the issue on Dash that she wouldn't deliver the line that director told her to until she calmly tells Stacey to do it until Dash not pleased with McCoy pointing her finger in her face by saying:
"YOU DON'T TELL ME ANYTHING!!!!"
Which almost escalated with these two co-stars to fight.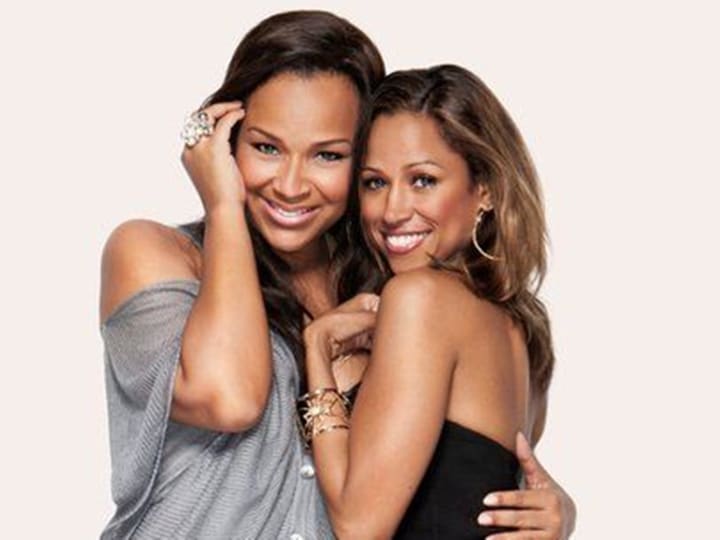 Dash would also be difficult to work on the show according to some sources on the blogs. She even suggested that McCoy should be fired off the show but instead she was given the boot off the show in 2011. Single Ladies would continue on without her until its cancellation in 2015. In 201, Dash would get a job as a Fox News Contributor on Fox News, voicing her conservative opinions with the contributors. First, Dash called out then-President Obama for by saying he "didn't give sh*t" she would later get suspended for two weeks. Then, she would return on Fox News after weeks being suspended from the network voicing her opinion on the #Oscarssowhite after actress Jada Pinkett Smith and director Spike Lee considers to boycott the Oscars for not recognizing performances from actors and directors of color including Michael B. Jordan for Creed, Will Smith for "Concession", Corey Hawkins for "Straight Outta Compton", Idris Elba for "Beasts of No Nation" and Straight Outta Compton for Best Picture Nomination. Dash had the nerve to say:
"Either we want to have segregation or integration, And if we don't want segregation, then we need to get rid of channels like BET, and the BET Awards and the Image Awards, where you're only awarded if you're black. If it were the other way around, we would be up in arms. It's a double standard.

We're Americans. Period."

Dash said on Fox & Friends

Source: FoxNews
BET fired back at Dash on Instagram under the caption " Soooooo [Stacey Dash], can we get our check back … or nah?" posting a photo of her guest starring in the show The Game.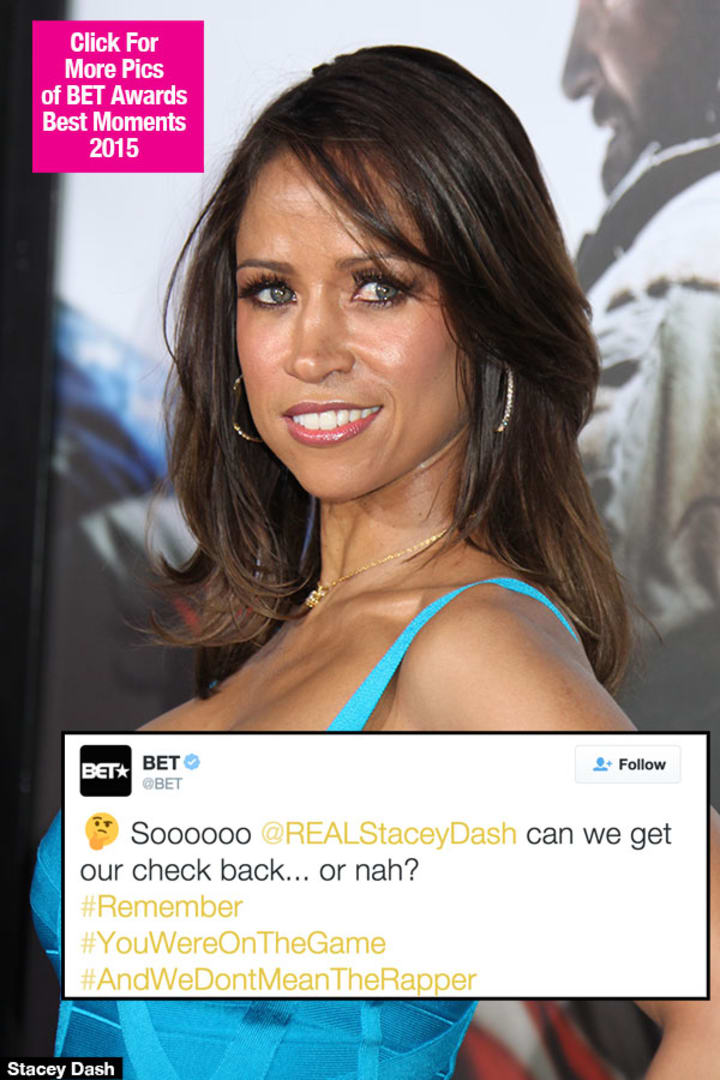 Dash went on to write a blog on BET calling them "liars" by saying "you lied to Black Americans" However, co-star D.B. Wood wasn't surprised and tweeted by saying "I told you so". Former Fresh Prince of Bel Air Janet Hubert sits down with Huff Post Live expressing that Dash is working with Fox for a check (obvi!!!)and calls Dash a "media ho". Actress Gabrielle Union-Wade asked about Dash's opinion on canceling BET and Black History Month would say:
"Who's Stacey Dash?"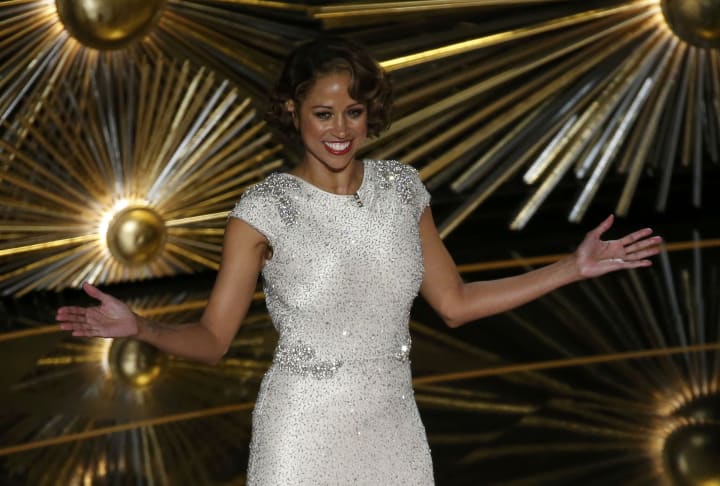 Her family would disowned her including Damon Dash calling her a "coon". She would appear at the 88th Oscars making an awkward cameo Oscar appearance.
She went on to criticized celebrities on social media like Jesse Williams, Jay-Z, Beyonce, Patricia Arquette, Lady Gaga and Seal. Pretty much celebs who are bigger and better than her. She also criticized the UVA banning sorority girls attending frat parties by calling them "bad girls" but later backtracked after she posted on Facebook that she was also a victim of sexual assault. In an interview with ET, while Dash was promoting her new book, she criticized conservative transgender Caitlyn Jenner on transgender using the bathrooms and tells them to go to the bathroom in the bushes.
Karma got the best for Dash! Stacey was fired from Fox News after they decided not to renew her contract which a huge celebration for Black Twitter. She starred in Roe V. Wade film that is based on the court case during the 1970s alongside Jamie Kennedy, Jon Voight and Tomi Lahren which received poor harsh reviews. I might find the movie get my take on it. She would eventually tried to run for California congressional district until she bailed the race and she told that she wasn't political enough. She got married to third husband in 2018 until 2020. Dash was arrested and charged for domestic battery after an argument with him.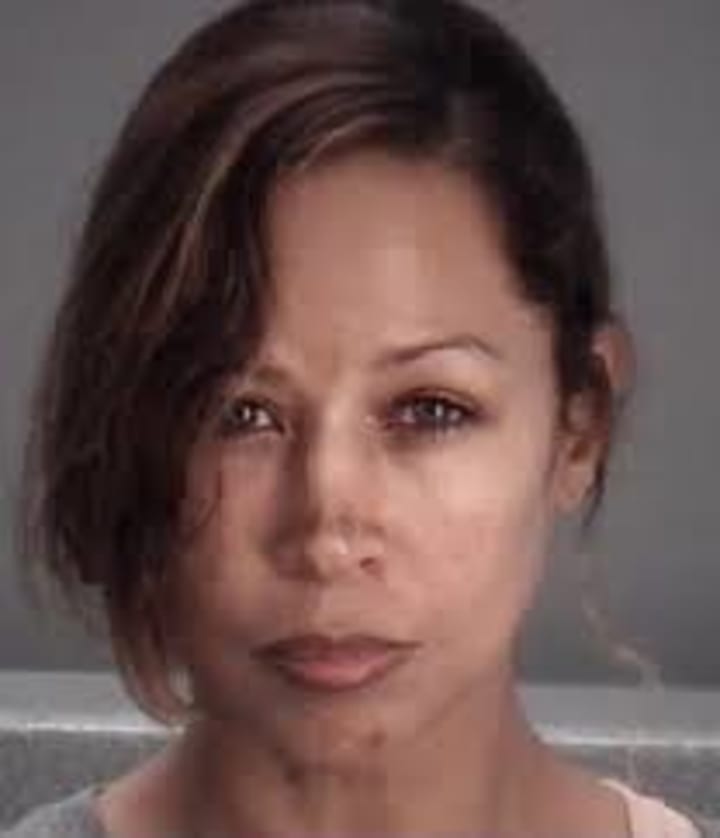 The funniest part she identified herself as "Caucasian"in her race as seen on the police report. The two would divorce in 2020. Dash would appear on the Dr. Oz show opens up on her past trauma, drug abuse, sexual abuse and her sobriety. In 2021, Dash tells the Daily Mail that she regrets being a Republican and that it made her the "angry black woman" and wants to give President Joe Biden a try as the new president of the United States.
So far, Dash has been acting in some films but hasn't peaked that much success and has starred in BET plus reality show College Hill: Celebrity Edition alongside reality star Nene Leakes, singer Ray J, rapper Big Freedia, and former NBA star Lamar Odom. She appear and made headlines after she was seen crying on Tiktok after she found out that rapper DMX died a year ago.
Seriously, I don't know if she was trolling to nab attention or if she was cause DMX's death made headline and national news and it wasn't hidden under the radar so everyone should know.
Chrisette Michelle is R&B singer and songwriter who had hit songs like "Epiphany (I'm Leaving)", "Unforgettable", "Aston Martin Music" featuring rappers Rick Ross and Drake and "Be Ok" featuring rapper will.i.am, which earned her a Grammy for Best Urban/Alternative Performance.
In 2017, after Trump was elected president of the United States, media outlets circulated that Grammy Winner Chrisette Michele was performing at Donald Trump's inauguration. Fans and Michele's families have begged her not to do it but it was too late she did it anyways. At Trump's Inauguration, Michele was performing "Intentional" alongside with gospel singer Travis Greene.
After the performance was over, Michele and Greene left didn't meet or shake hands with Donald Trump. Michele's family disowned her and stop communicating with her after her performance at the inauguration, she was dropped from three labels, she has lost followers on social media and director Spike Lee removed her song "Black Girl Magic" from his Netflix series She's . Michele would later call out Lee and say "F**k You" . Michele started her own record label and recorded her own music independently. Years later after she performed for Trump, Michele admitted she was wrong performing for Trump and regrets it. She has released new music but hasn't gain that much attention.
You know I'm on the fence with Stacey because she is too much of a rude diva to be honest and plus she is a troll for what she did or said on Fox News. I do feel sorry for her what she went through in her past that caused her to be angry she could've gotten some help instead of bashing the black community and I'll give Chrisette Michelle a pass because honestly she made a simple mistake and it cause here. What doesn't makes no sen (I know I have said this before) Rapper Kanye West who is a conservative. He says something controversial or anti-black, he gets media attention, still makes music, and still succeeding and he still gets love and support from the black community besides canceling him. I swear the black community is losing it. I hope the best for Stacey and Chrisette. Comment below if you would support Stacey or Chrisette despite their wrongs.
If you want to read my article story on "Ye's WLM" T-Shirts, the article is below.
Source
YouTube
Black Feminity TV
Fox News
Twitter
Google
CNN
ET
About the Creator
Hello, My name is Gladys W. Muturi. I am an Actress, Writer, Filmmaker, Producer, and Mother of 1.
Instagram: @gladys_muturi95
Twitter: @gladys_muturi
Facebook: facebook.com/gladystheactress
YouTube channels in the works
Reader insights
Be the first to share your insights about this piece.
Add your insights