House Of The Dragon Season 1 Review:
Proves Its Mettle To Be Game Of Thrones' Blazing Successor As It Sets Out On An Untamed Dragon Ride That Only Soars Higher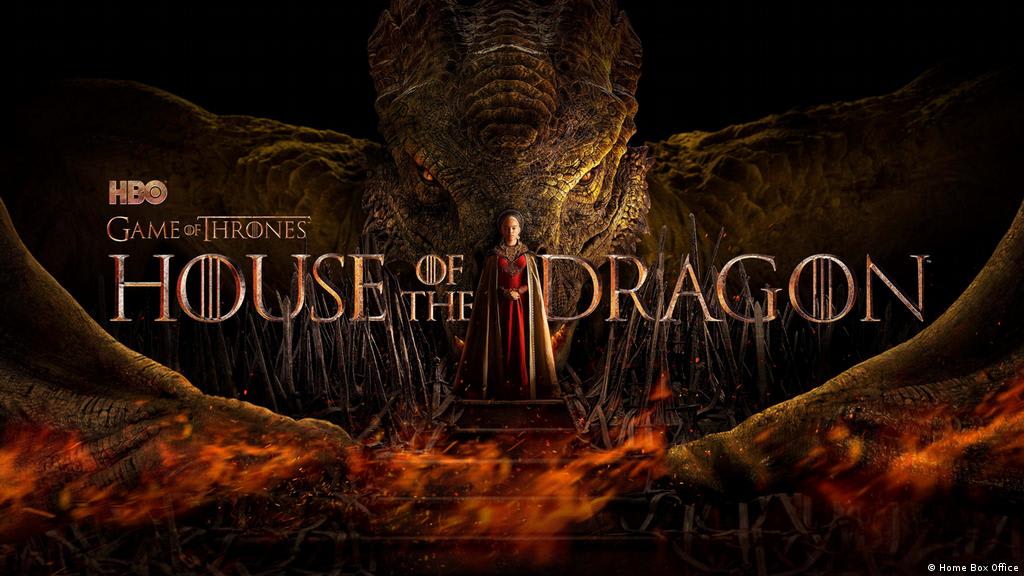 Cast: Emma D'Arcy, Paddy Considine, Matt Smith, Olivia Cooke, Eve Best, Rhys Ifans, Fabien Frankel, Eve Best & ensemble.
Creator: Ryan Condal, Miguel Sapochnik & George R.R. Martin
Director: Miguel Sapochnik, Clare Killer, Geeta Vasant Patel, Greg Yaitanes & Alan Taylor.
Runtime: 10 Episodes Around 60 Minutes Each.
House Of The Dragon Season 1 Review: What's It About: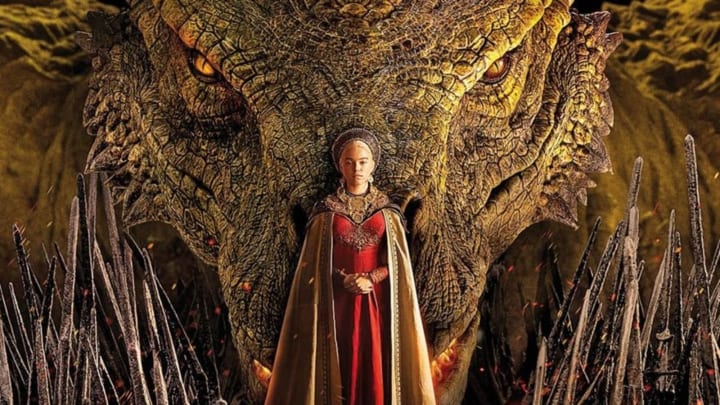 So episode 5 ended with young Rhaenyra getting married to Laenor Velaryon literally on the dead body of his lover. Episode 6 takes a giant leap and now Alicent and Rhaenyra are grown-up women with a couple of kids and the latter expecting her third. The cold war has only gotten intense and the bad health of King Viserys has taken a brutal toll. Amid this happens all the politics about who sits on the throne.
House Of The Dragon Season 1 Review: What Works: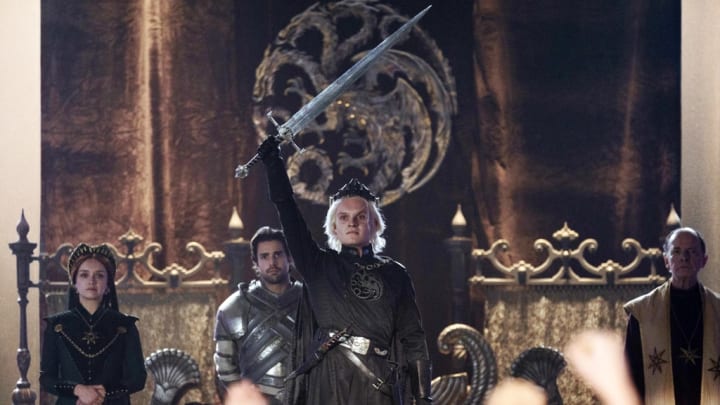 Season 1 of the House Of The Dragon walked into the world with a massive responsibility. It had to prove that it can fly even while the penultimate season of its predecessor (Game Of Thrones season 8) had left the audience on a sour note. Add to it the pressure that it was also in a way competing with Amazon's $1 Billion show The Lord Of The Rings: The Rings Of Power Season 1. So between regaining trust and proving their potential, dragons had to fly high and also focus on being one of a kind.
And now that I sit to pen down my thoughts after having witnessed the gory finale, let us all celebrate a show that has managed to bring back the Westeros we missed over the past 5 years and add to it even more with its supremely able creators Ryan Condal, Miguel Sapochnik & the God of it all, George R.R. Martin. While I have already spoken about the first 5 episodes in my Mid-Season review (click on the last three words), the next 5 episodes are nothing less than an untamed dragon ride which is as directionless as its characters but exactly knows what it has set out to achieve.
So now everyone has grown up, there is no naivety involved because things only get dirtier. The idea that creators walked on was always to show the real war that happened during childbirth as opposed to the literal one. Everything depends on the gender of the newborn, whose heir he is supposed to be, what House do his hair represent and much more. The last five episodes take that thought on a very wild journey as we see not one but three wars that the women fight. While at first Rhaenyra leaves a blood trail after freshly going into labour, by the end she is crowned besides the pyre of her stillborn. Two scenes that will continue to haunt me forever.
The biggest bothering factor about the show has been the objectification of women as just heir yielding machines. But the second half of the season brings out the real power in them. In a world ruled by men and their misogyny, here are a couple of women trying to change the course of the tide in good, bad, ugly, whatever way they seem is right. Martin, Sapochnik & Condal explore these women through lurking gazes and it is fun how they first let the brutal world bite them so their reign could look even more promising.
What is also promising is the decision to not dilute things at all, not even telling the audience once what they are supposed to feel about anything happening on the screen. Look at Daemon and Rhaenyra for a minute. Prude Uncle and clueless niece in love, separated, united after a decade but at the cost of three lives (one of which is taken by Daemon), but their love remains pure for each other and now they march into the war from the side that is the correct one. And yes, Daemon is also physically abusive towards Rhaenyra, there's a hint. So are we supposed to root for their dynamic or are we supposed to be scared that they can go to any extent to let their fire live? Totally up to a viewer. A shining example of fine writing.
House Of The Dragon Season 1 Review: Star Performance: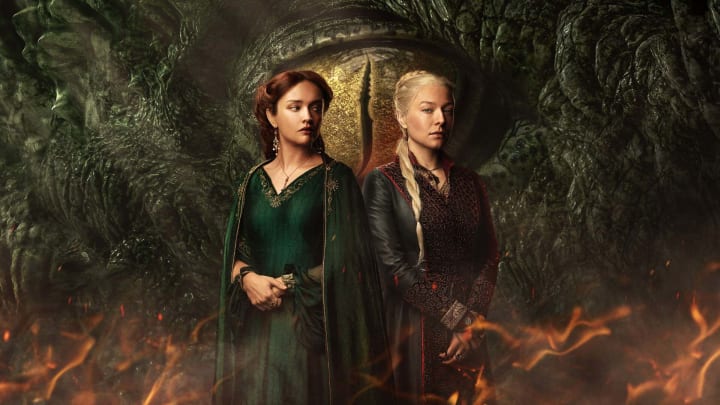 Emma D'Arcy takes over from Milly Alcock to play Rhaenyra. It's a tricky twist because now there cannot be the wild spirit in the demeanour because she is a mother of two in labour to welcome her third one. D'Arcy understands the task and does exactly what is expected. The best part is that the drama is always in the situation so the actors have to be subtle and never overtly dramatic.
Olivia Cooke is now Alicent Hightower and the actor possesses such fine talent. She can be loving, mad, evil, emotional all in the same frame and never going overboard while doing it all. It will be fun to see how she makes Alicent more complex in the coming seasons.
Matt Smith continues to be the force that he started to be and only gets better at playing Daemon. Fabien Frankel has now taken a 180 degree turn because he is now kind of evil because obvious reasons. He continues to do his job well. As said it's about the women now so the second half of the season doesn't have them driving the vehicle much.
Also, can someone tell Eve Best to be Rhaenys all the time because the poised boldness that she brings to the table is so unique and I am sure she can be brutal even without her dragon. Team Eve for sure. Even Paddy Coinsidine is a treat. His portrayal of the king who is physically and metaphorically decaying should be used as a masterclass. Oh what talent! That walk to the throne and the mini-coronation from Daemon, I was shook.
House Of The Dragon Season 1 Review: What Doesn't Work:
Not like the season 1 doesn't falter. The makers need to justify the massive leaps they take in season 1 because they are hard to process and track. This also affects the pace that gets fast around the leap. Like when Laena tells her dragon to burn her because she doesn't want to die in the hands of Maesters with a stillborn inside her, it's very haunting scene, but comes so fast that it doesn't hit as much.
Also, for a show that is about a kingdom, where are the people. The majority of it happens inside the castles and the forts, so there is very little scope to venture outside the gates. But there are ways to include it for sure. There is one scene that does bring in the people of Westeros but it's kind of late by then.
House Of The Dragon Season 1 Review: Last Words:
We got what we deserved and turns out the dragons are ready to spew that most intense fire now. Be prepared because their dance is about to begin in the next season.
About the Creator
Writer focused on film, media, fandom, music, comic, and all things geeky. Here you'll find Breakdowns, Analysis, Easter Eggs of Movies and series. Every universe comes together at this place. So just sit back, relax and enjoy the ride.
Reader insights
Be the first to share your insights about this piece.
Add your insights