House of the Dragon: Episode One Review
The Heirs of the Dragon tackle Women's role in a Male-Dominated Society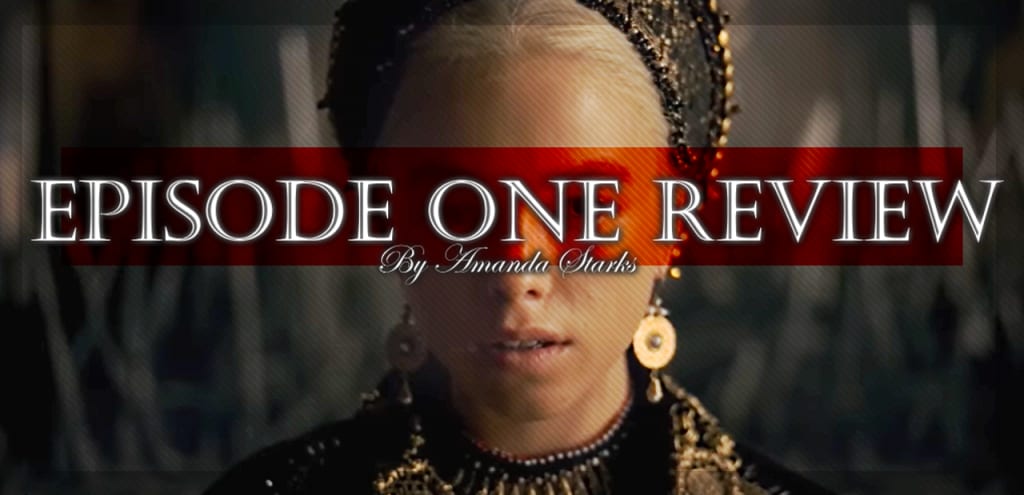 "The child bed is our battlefield. We must learn to face it with a stiff lip." - Aemma Targaryen
It's rare that a pilot episode leaves me in shock after the initial viewing, especially one that hails itself as a medieval-inspired fantasy with lots of political intrigue.
As one of my favorite genres in fiction, I've seen much of what fantasy openings have to offer from the engaging in-media-res cold opener to the low-stakes world lore dump. However, House of the Dragon did something I rarely ever read or watch in fantasy; it took a relevant, modern-day issue and showed - without restraint - the cold reality of that issue through a historically inspired lens.
If you have watched the episode and the "Inside the Episode" mini-episode already, then you might have already caught on to what I'm alluding to: the role of women in a male-dominated society.
This show, even more than its predecessor Game of Thrones, is strong in its delivery of establishing the viewer in an old, patriarchal-run society while front-lining several female characters who wish to break into those roles of power, or simply survive them.
From Rhaenyra Targaryen's fight to be recognized as the rightful heir, to Alicent Hightower's quiet internal struggle to find her own voice, to the elder Rhaeneys Targaryen whose title "The Queen that Never Was" still leaves a bitter taste in her mouth, the show never leaves the audience empty-handed when it comes to engaging female characters to root for.
The one scene that brought these themes together in the first episode was the tourney intercut with Aemma Targaryen's birthing scene. A trigger warning ahead for those who do not wish to read about a violent birth scene.
The combination of knight-on-knight violence and a bloody birthing bed left me gutted on an emotional and visceral level. I find it ironic now thinking back to how every time the tourney came on screen, my eyes would stay glued to the TV following each sword swing and lance hit, while during Aemma's scenes, it became hard to keep my eyes open when her cries and screams of "no" were ignored. Tears sprung up in my eyes, and I couldn't help but think about the current state of women's rights in the United States.
Aemma's situation was exactly what certain politicians and 'pro-lifers' want: to sacrifice the life of a woman in exchange for a future generation without that woman's consent. Seeing Aemma dragged down onto the mattress on orders of the king and cut open like nothing more than an animal brought to slaughter...it's no wonder many viewers could not watch at all. I think every viewer could agree this was the defining scene of the entire episode, regardless of their personal feelings on seeing such violence on screen.
Miguel Sapochnik, one of the House of the Dragon showrunners, talks about his reasoning behind the shocking sequence in the "Inside the Episode" video for episode one.
"We wanted to look at them ( the tourney and birthing scenes ) the same way that we would look at battle sequences. A battle sequence needs to be about something otherwise it has no purpose. If you're going to put that kind of violence on screen, it needs to be for a reason."
"With the birthing, it was the same," Sapochnik continues. "We really wanted to see the female perspective, because it's a realistic portrayal of things that used to happen at the hands of men to women."
And it's true. Women's survival rates back in the time of kings, knights, and castles were rough. According to History Extra, the official website for BBC History Magazine and BBC History revealed, "statistics paint a bleak picture of childbirth and infancy in medieval Europe. In 1420s Florence, giving birth was responsible for about one in five of all deaths of married women, while archaeological evidence from medieval Wharram Percy in North Yorkshire indicates that 19 percent of infants died before the age of two." Keep in mind this is just married women and does not mention instances of rape or incest.
It's a grim reminder that, while women's health has come a long way, our rights and choices have not budged nearly as much when it comes to bodily autonomy. In the presence of societal pressures and expectations when it comes to pregnancy, childbirth, and child-rearing, one can watch this show and feel an uncomfortable amount of relatability.
And it is here that, despite the rough viewing experience, I greatly appreciate the work of the writers, directors, and actors involved in that scene. While gruesome, it did not feel cheap or forced. It was the natural flow of events, and something that has historical precedence. Plus, it was a powerful statement that will leave a mark on the minds of many viewers, which for any media, is an accomplishment.
Despite the expectations of gratuitous sex and gore levied by the previous show, Game of Thrones, House of the Dragon still delivers on these shocking scenes while also having a very real and grounded view on the role of women in the fictional world of Westeros, and in our own modern world. This was a very strong and impactful start for the show, and I am anxious to see more of what the creators behind this show have to offer.
Click here to read the review for episode two!
tv
review
entertainment
About the author
Book hoarder, fantasy author, gaming goblin. I love all things fantasy and have a lot of thoughts on today's stories in anime, books, tv, and games. Subscribe to my free newsletter at amandastarks.com for monthly updates!
Reader insights
Be the first to share your insights about this piece.
Add your insights