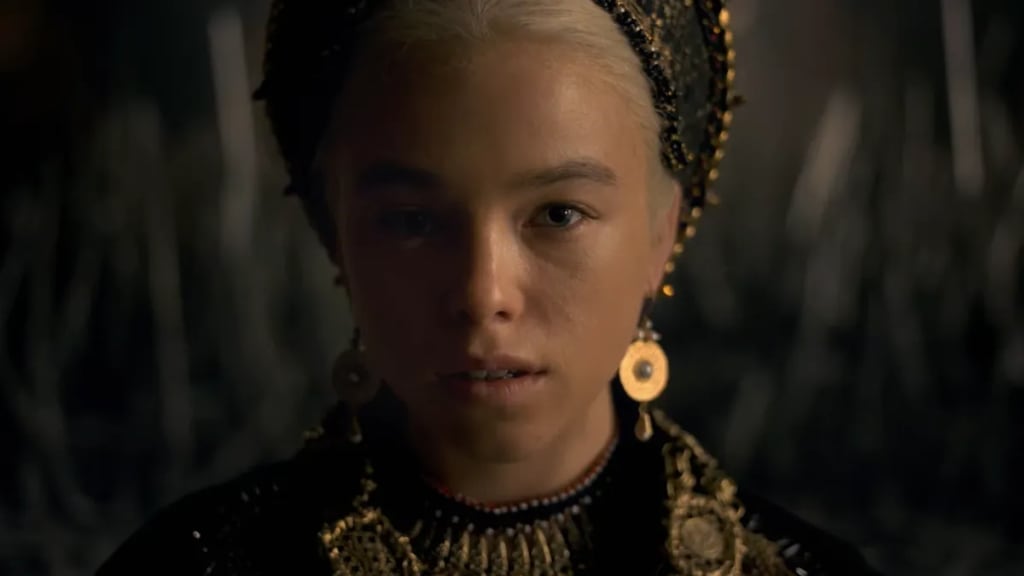 The first two episodes of the series were both captivating and infuriating, I am liking the show so far so let's see what they did with the third episode.
Daemon is crazy but he is hot…he is Matt Smith and the writers still have an uphill battle to get me to not love him.
We've done another time jump…three years. These time jumps aren't written very well, there is so much that needs to be seen in this time. The fall out between Alicent and Raeynera, the alliance between Daemon and Corlys, Viserys' reaction, how Raeynera adapts these are things we need to see. To simply see the aftermath does a disservice to these characters and the audience.
Raenerya's struggle is the most relatable, yes this is a fantasy show but she is getting overlooked and overshadowed simply because she is a girl. She is more than qualified to continue to be Viserys' heir and yet because the hand to the king pimped out his daughter for a power grab she is not of secondary importance.
"No one's here for me" a raw and powerfully delivered line. The actress that plays Raenerya is exceptional.
Viserys' is trying to marry off Raenerya and as is her character she fights back, like she should. I can see Viserys trying to be a good father, but there are thousands of years of sexism to overcome as well as a million whispers in his ear to turn on his daughter and name his son heir.
This dude really just suggested the king betroth Raenerya to her two year old brother…I can not.
Raenerya bonding with her king's guard is the cutest thing. I really stand by prediction from the pilot in that he is who she's going to end up marrying, either by arranged marriage or by choice.
The king's confliction in killing this deer was 100% representative of whether or not he was going to replace Raenerya as heir to the throne, and ultimately he definitely decided that's exactly what he was going to do.
At least once an episode Raenerya makes me scream "that's my girl" at the screen. This time is was her riding back into camp with her dead boar, covered in its blood. She is so badass and I want more of it!
Again, speaking about the sexism in this show through dialogue and then STILL leaning into it IS SEXIST. Blatantly telling the audience this show is misogynistic does not make it better.
Also marrying the princess off is one thing, forcing her to marry down doesn't even make any sense. Sending the princess to Casterly Rock with a Lanister is like the worst political move in all of royal history.
I just want to hug Raenerya and tell her to burn everyone to the ground…I'm so over the aggressive sexism. Baby girl seems genuinely confused that the king said that she could marry who she wants. And he swears not to name his son as heir…we will see how long that lasts.
Daemon really doesn't seem the type to surrender, and they really let that scene hang. Matt Smith is incredible, his acting is truly amazing. From possibly the dorkiest Doctor to a badass warrior Targaryen, the man's range is impressive. So now this three year long war is over so the question is, is Daemon going to go home to the king?
Dracarys has about a million different pronunciations apparently. I'm going to need a definitive one please.
This episode was a little more compelling than the previous two but if we are going to keep doing these time jumps they really need to be written better.