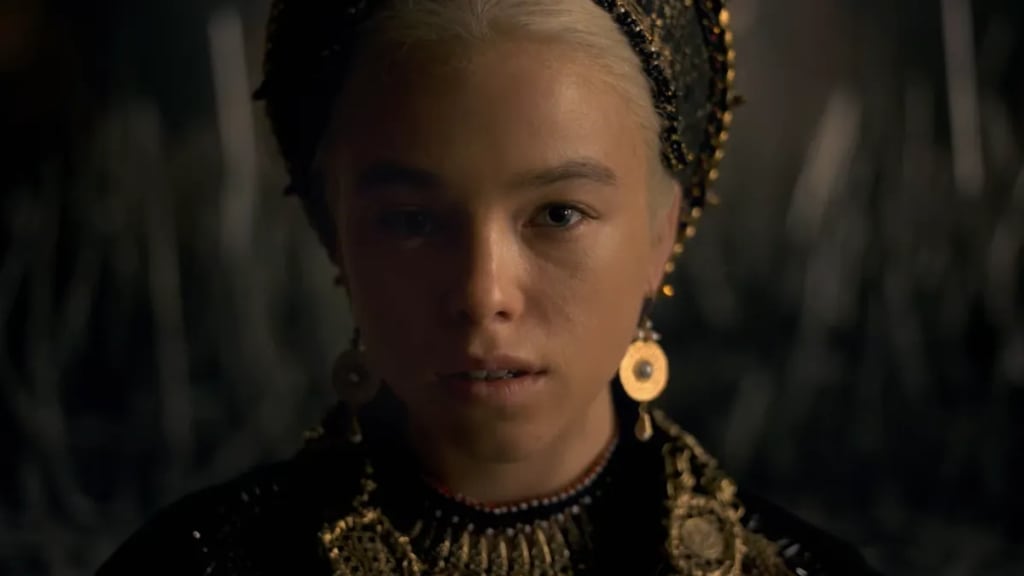 I've had ups and downs with this series already and we are only 3 episodes in. I am sure we are in for another time jump as I watch the 4th episode of House of the Dragon.
Raenerya has to listen to a line of precocious men make their pitch for her hand. She remains very unimpressed and as the men fight over her she simply leaves. I love Raenerya's energy and her ability to hold to her boundaries and standards despite tradition and the pressures being placed upon her.
Daemon returns to King's Landing and Raenerya is clearly excited to see her uncle (who has gotten a haircut). Side note the short blonde hair doesn't work on Matt and I do not like it. That said Daemon is still very likable, having gained power of his own he kneels before Viserys. The moment between Daemon and Viserys is really beautiful and I love it. I know it won't last very long but I don't care.
Raenerya and Alicent have a moment when a drunk Viserys is an ass to both his wife and his daughter. Alicent is an idiot, but Raenerya still clearly has a soft spot for her old friend. Them rekindling their friendship is so cute.
Raenerya and Daemon are kindred spirits, he sneaks her out of the castle to see a play about her being named heir. Raenerya tells Daemon that she'd rather be alone than be married off in order to bear children and I absolutely love that for.
Raenerya is going to be forced to marry despite her father telling her that she could marry whomever she chooses.
Viserys has had like 5 "deadly injuries in 4 episodes, and somehow we've got through time jumps and he's still here? How does that logic work out?
And we have gratuitous nudity, but of course.
The king does his business on Alicent as she just lies there, very clearly not wanting to be there. For those claiming there wouldn't be a sexual assault scene, we call that rape. She was coerced under the name of "duty" and "tradition" she did not consent.
Immediately followed by very graphic sex scenes that are entirely unnecessary and Raenerya and her uncle deciding to do it in the sex den. This whole episode is disgustingly misogynistic and the producers and writers that tried to walk back their original statements about the use of sexual assault in this show can go fuck themselves. Seriously Ryan J Condal should never be able to write again, be ashamed of yourself.
After Daemon leaves Raenerya in the alley, naked and alone she goes back to her room and undresses her guard. And we watch this literal child fuck her guard for what seems like 30 minutes.
All of a sudden Viserys cares about Raenerya again, this man is so inconsistent it is ridiculous. "Are you so blind with ambition that you would have my daughter stalked" well he pimped out his daughter to you so yeah my guy.
Alicent confronts Raenerya about her late night activities and the girl is way too worked up about it. Raeynera is totally gonna kill the dumb bitch that told the king's hand about her. Again a double standard, every man in King's Landing goes to pleasure houses but we are questioning the princesses "virtue". A man in a pleasure house = normal, woman in pleasure houses = unfit to lead. So very tired of the sexism entrenched in this show.
"We were young men, she is just a girl"
"Who will wed her now, in this condition?"
How embarrassing for you to just lay out sexism like that. AGAIN talking about sexsim does not excuse the show from being garbage if you lean into it. Look, Game of Thrones had it's problems and it absolutely had misogynistic things happen but this show is wholly and unequivocally sexist crap.
Raenerya once again stands up to her father and basically tells her to fire the hand to the king. She agrees to wed to keep Viserys political relationships intact.
I still love Raenerya's despite her absolutely suffering under truly terrible writing.
"I have never recovered from Emma's death" that you caused…I will not ever let that go, you have no right to grieve a woman that you murdered.
This dude just handed the princess abortion tea, I am so over this show.
I am liking this show less and less every episode.