Hollywood Gets Hoop Dreams
When the sport of basketball became the talk of Tinseltown in the 1990s...
I don't know about you, but if someone asked me to name a movie about basketball, my mind would immediately go to Space Jam. Space Jam, the film where Michael Jordan has to team up with the Looney Tunes to help them win a basketball match against a team of space aliens that have stolen the mojos of notable NBA players. It may sound ridiculous, but it does make sense that I choose the film that features the most iconic basketball player of all time making his big-screen debut in the most successful basketball film of all time. Grossing $230 million in 1996 to become the 12th-highest-grossing film of the year, with an accompanying soundtrack album that went 6x platinum, and an official website that you can still visit today, Space Jam was a pop culture phenomenon.
The basis for the film came from a series of adverts starring Jordan and the Looney Tunes. Beginning with a pair of Nike adverts featuring 'Air Jordan' and 'Hare Jordan' (Bugs Bunny), the partnership continued with ads for MCI and McDonald's in the mid-90s. These adverts became popular enough that Hollywood decided to transfer the MJ/BB partnership to the big screen, a gamble that ultimately proved successful. However, Space Jam was just the latest in a series of films released during the 1990s where basketball was the focus.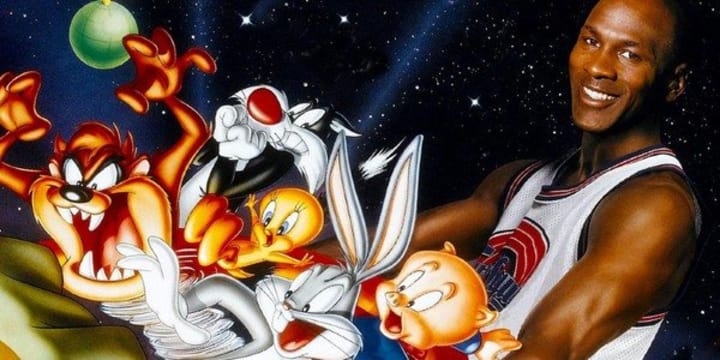 While the previous decade had produced Inside Moves, Teen Wolf and Hoosiers, the 1990s had seen basketball reach a new level of popularity, thanks to the work of Michael Jordan and his comrades. A brand-new degree of popularity that Hollywood was keen to exploit. Between 1990 and 1999, the sport of basketball and its players became the stars of many a cinematic release. This article will look at the majority of these films. So allow me to take you through the decade when basketball went to Hollywood.
1990-92: The Calm Before The Storm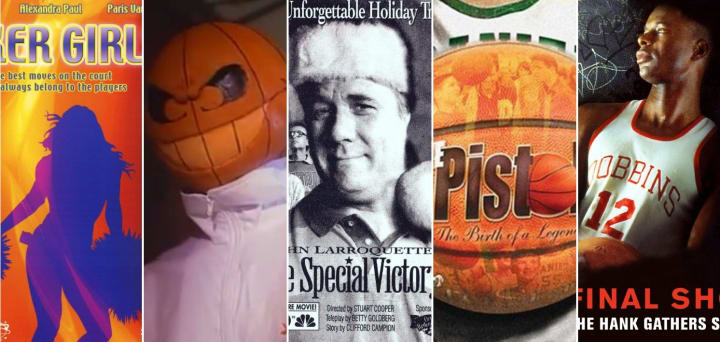 The 1990s would begin in inauspicious fashion for basketball movies. The first notable basketball movie of the 1990s would be Laker Girls, a TV movie in which three young women (played by Tina Yothers, Alexandra Paul and Paris Vaughan) try out for the LA Lakers cheerleading squad, becoming friends along the way. Since originally airing on CBS on 3rd April 1990 and being watched by 15.2 million viewers, not much can be found about Laker Girls, aside from a DVD on Amazon that costs £15.57. Laker Girls was soon followed by Night of the Dribbler, a low-budget slasher film in which a masked killer picks off members of a college basketball team. A slow start for basketball movies.
1991 would follow the pattern of 1990, with basketball being represented on screen by a mix of low-budget cinema releases or TV movies. One Special Victory, a TV movie that aired on NBC on 18th December 1991, saw John Larroquette play hotshot executive Bo who, as part of his community service, is assigned to coach a basketball team comprised of mentally disabled players. Through hard work and perseverance, Bo learns to love coaching this particular team. One Special Victory would earn a 13.1 Nielsen rating in its timeslot, with the film gaining a 20% share of the viewing audience.
Two more basketball films were released during this time period, both centred around former real-life players. First, The Pistol: The Birth of a Legend, told the high school basketball career of future NBA All-Star Pete Maravich. Second, the TV movie Final Shot: The Hank Gathers Story aired in first-run syndication early in 1992. Final Shot told the story of Eric 'Hank' Gathers, an All-American college basketballer, who tragically collapsed during a game in 1990, and later died of a heart problem at the age of 23.
At this point in early 1992, basketball is yet to make its mark on Hollywood this decade. However, one film released in March of this same year will change everything and make basketball a viable subject matter to base major Hollywood movies around.
1992: White Men Can't Jump
White Men Can't Jump would be the film to make basketball a hot property in Hollywood. After its release on 27th March 1992, Hollywood producers were clamouring to recreate its commercial success, hence the following films on this list. Starring Wesley Snipes and Cheers star Woody Harrelson as 'streetball' hustlers, the film opened at #1 at the U.S. box office, knocking Basic Instinct off the top after just one week. White Men Can't Jump spent two weeks atop the box office, eventually spending a total of 10 weeks inside the U.S. box office top 10 before dropping out at the end of May 1992. From a budget of $31 million, the film would gross $90 million worldwide. Its final domestic takings of $76.2m were enough to land the film in 14th place in the end-of-year U.S. box office rankings, ahead of Unforgiven, A Few Good Men and Father of the Bride.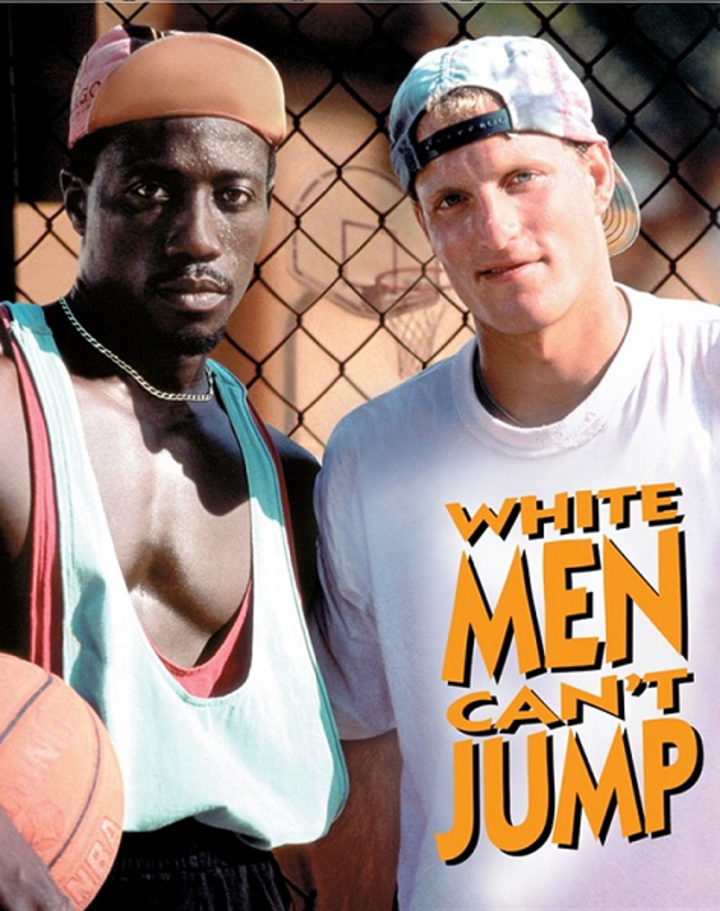 1994: The Blue Chippers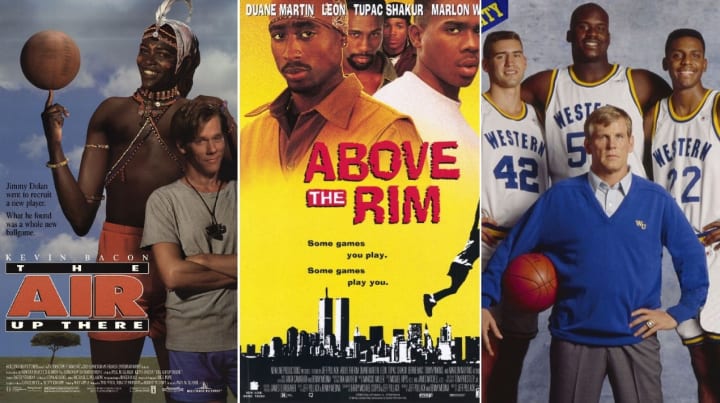 Despite no significant releases in 1993, Hollywood producers were keenly trying to replicate the recent success of White Men Can't Jump. The first three months of 1994 alone saw a trio of basketball-based releases, with the latter two focusing on blue-chip athletes.
The year began with the film The Air Up There, a film produced by Disney which may not exactly hold up today. The film starred Kevin Bacon as college basketball coach Jimmy Dolan. One day, Dolan sees a home video of a Kenyan named Saleh playing basketball in a missionary video and subsequently travels to East Africa to recruit him. Attempting to convince the head of the Winabe tribe to allow Saleh to play basketball, Dolan ingratiates himself in their culture and earns their trust. The film ends with Dolan teaming up with the Winabe in a do-or-die basketball game to prevent their village from being turned into a copper mine. The Air Up There would not replicate the success of White Men Can't Jump, grossing $21 million at the U.S. box office from a budget of $17 million. While some critics passed the film off as formulaic and cliched, others saw it as downright offensive, utilising the 'white man goes to save the African tribe' storyline. Not a slam dunk for Disney then.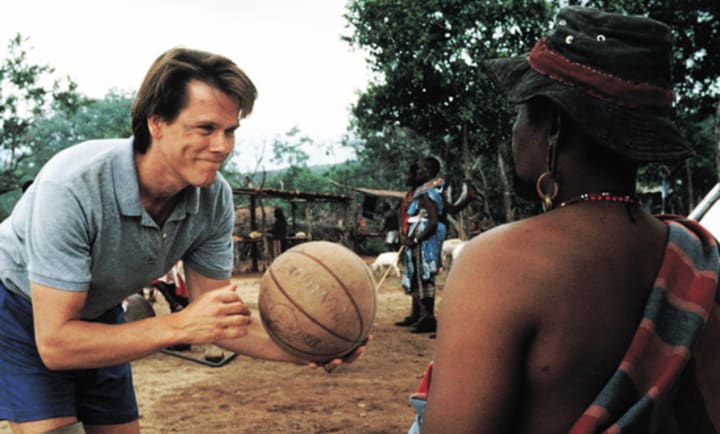 One month later, New Line Cinema would release the coming-of-age film Above The Rim. The film was written by Barry Michael Cooper as the final part of his 'Harlem Trilogy', following New Jack City and Sugar Hill. Above The Rim follows promising high school basketball player Kyle Watson (who is waiting on a scholarship from Georgetown University), and his decision to either play for his regular coach or local drug dealer Birdie in a local playground basketball tournament. The film also explores Kyle's relationship with Birdie and his older brother Shep; a former high school prospect turned security guard. The film featured a notable cast with Duane Martin (himself a former college basketball player) as Kyle, rapper Tupac Shakur as Birdie and supporting roles for Marlon Wayans, Wood Harris and Bernie Mac.
From a budget of $6.5 million, Above The Rim would gross a respectable $16 million at the box office. However, the film would receive much greater recognition for its soundtrack. Produced by Death Row Records and featuring tracks by Dr Dre, 2Pac, Warren G and Nate Dogg amongst others, Above The Rim's soundtrack album would eventually go 2x platinum.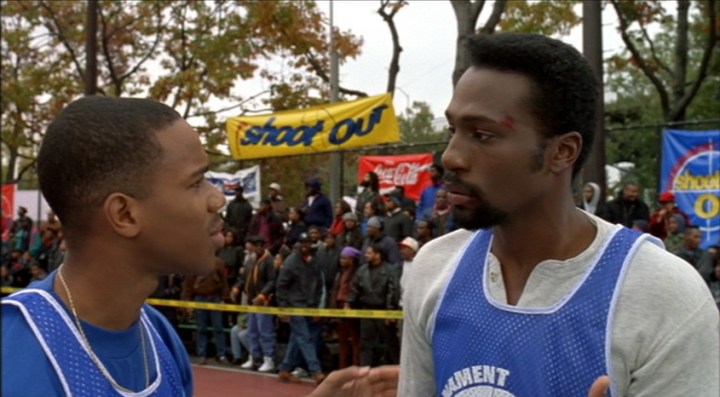 Another month later, another film about blue-chip basketball players. Blue Chips would serve as the most high-profile of the three big basketball films released in 1994. Directed by The Exorcist director William Friedkin, the film was the first of many films released during the 1990s to feature not just the sport of basketball, but basketball players as the stars of the film. Nick Nolte would lead the cast of Blue Chips as Pete Bell, the college basketball coach of the Western University Dolphins team in Los Angeles. However, the film would more notably feature the cinematic debut of 22-year-old Orlando Magic centre Shaquille O'Neal and his teammate Anfernee 'Penny' Hardaway. In the movie, Bell pays off college players Neon Boudeaux (Shaq), Butch McRae (Hardaway) and Ricky Roe (Matt Nover) with money and gifts to get them to play for the Western University team. As the film progresses, Bell becomes increasingly guilty for having cheated, while trying to keep the scandal hidden.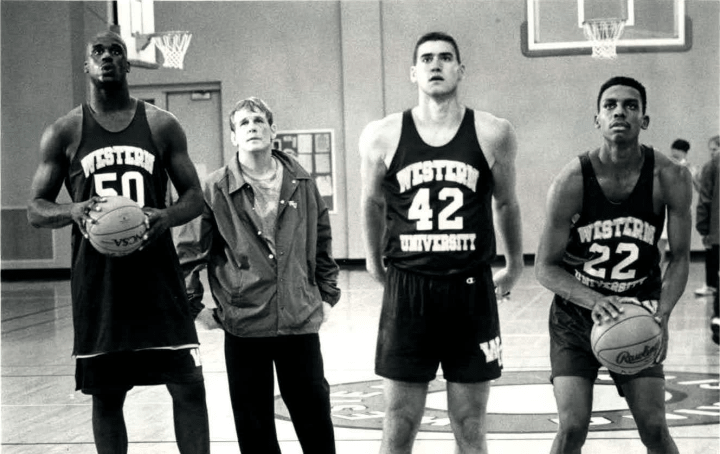 Despite Shaq sharing the film's poster with Nick Nolte, Blue Chips was a commercial failure, domestically grossing $23 million against a $35 million budget. The film would also receive mixed reviews from critics, with Shaq receiving a nomination for the Razzie Award for 'Worst New Star'. Despite the mixed critical reception upon its initial release, Complex Magazine would later include the film its list of The Best Basketball Movies in 2018.
1994: Hoop Dreams
After mixed results earlier in the year, basketball would eventually strike gold in 1994, with a documentary called Hoop Dreams. Hoop Dreams follows the story of high school basketball players William Gates and Arthur Agee, and their dreams to move from the projects of Chicago and eventually play in the NBA. Even though Gates and Agee's basketball dreams would end at the college level, Hoop Dreams would prove to be hugely successful. From a budget of just $700,000, the film managed to gross $11.8 million worldwide.
The critical reaction to Hoop Dreams would be even more incredible. Premier critics Roger Ebert and Gene Siskel, would give the film 'Two Thumbs Up' on their TV show and both would rank the film as the best of 1994. The film would find favour with both critics and audiences alike. Hoop Dreams would win the Audience Award at the 1994 Sundance Film Festival, and would later receive an Oscar nomination for Best Film Editing. Now one of the most acclaimed documentaries of all time, Hoop Dreams is preserved in the National Film Registry in the Library of Congress for being deemed "culturally, historically, or aesthetically significant". With an independent documentary having become the most successful basketball film of 1994, it was now time for Hollywood to try match the success of both Hoop Dreams and White Men Can't Jump as 1995 would see basketball truly enter the mainstream of Hollywood cinema.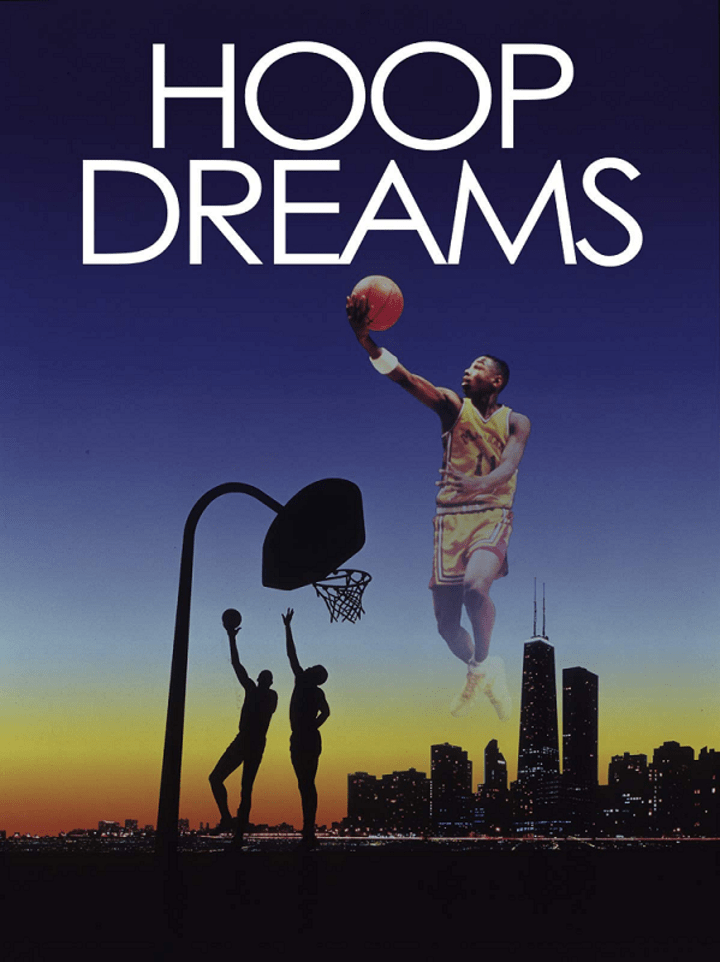 1995: Basketball Enters the Hollywood Mainstream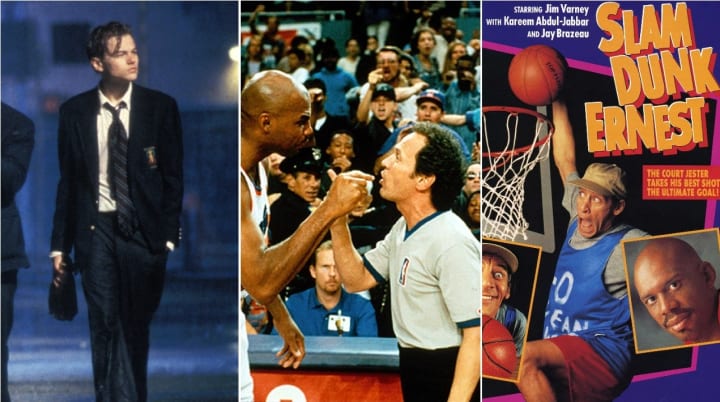 In 1995, another trio of basketball films would emerge from Hollywood, and what a differing set of films they would be. Once again, all three movies would be released just months apart. The first release would return to ground previously covered by Above The Rim. Unlike Above The Rim, the star of The Basketball Diaries would eventually achieve much more in his acting career than Duane Martin. The Basketball Diaries, released in April 1995, would tell the true story of Jim Carroll, a promising high school basketball player. After a friend dies from leukaemia, Carroll develops a heroin addiction, causing his life to spiral out of control. Carroll would be played by 21-year-old rising star Leonardo DiCaprio, with a supporting cast of Lorraine Bracco, Bruno Kirby, Ernie Hudson and Mark Wahlberg. The film would receive mixed reviews from critics and would gross just $2.4 million at the box office despite the efforts of DiCaprio.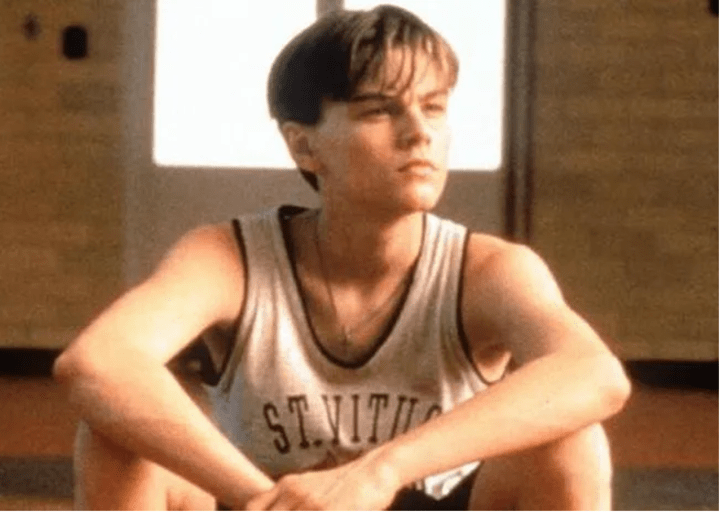 One month later, Columbia Pictures would release a very different type of basketball film. A host of basketball stars past and present would feature in this film including Kareem Abdul-Jabbar, Patrick Ewing, Charles Barkley, Reggie Miller and David Robinson. However, in this romantic comedy film, all of these basketball stars would be supporting another star of the 1990s, Billy Crystal. Crystal, an LA Clippers season ticket holder, would choose basketball as a basis for his second directorial effort, following 1992's Mr Saturday Night. The result would be Forget Paris, a romantic comedy that Crystal would direct, produce, write (with Lowell Ganz and Babaloo Mandel) and star in.
In Forget Paris, Crystal plays NBA referee Mickey Gordon. While in France to bury his father's remains, Mickey meets airline employee Ellen (played by Debra Winger), who works out of Paris. The two fall in love and later get married, but their relationship isn't immune to trials and tribulations. In Forget Paris, Mickey's job as an NBA referee serves as a plot point throughout the film, as his life is often dictated by his time on the road as part of the league. The film's climax even involves a basketball game. Similar to The Basketball Diaries, Forget Paris would receive mixed critical reviews. The film would fare slightly better at the box office compared to the former, opening at #3 in its opening weekend at the U.S. box office. The film would eventually make $33 million against a $21 million budget, a minor success compared to Crystal's more significant achievements When Harry Met Sally or City Slickers.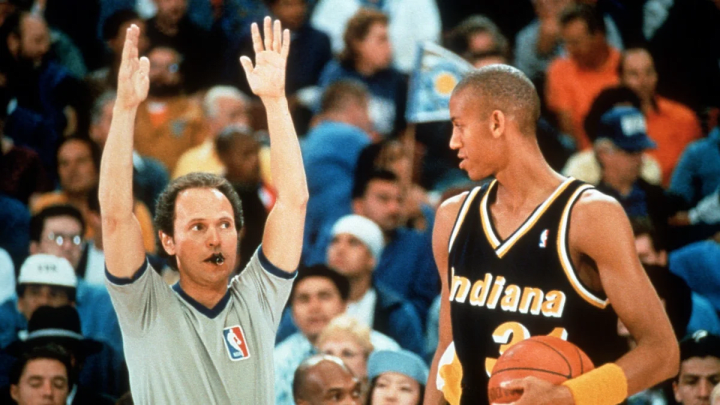 Another month passed, another basketball-based film released. However, compared to The Basketball Diaries or Forget Paris, this film had the sport of basketball squarely at its centre. In June 1995, Slam Dunk Ernest (the 8th Ernest film), would be released directly to video rental shops around the world. In the movie, Ernest is visited by an angel (played by Kareem Abdul-Jabbar), who gives him a pair of magical shoes that allow him to be good at basketball. With his added abilities, Ernest helps the local basketball team (made up of cleaners from the mall) begin a winning streak that eventually leads to a match with the Charlotte Hornets. The film would receive negative reviews from critics.
1996: The Peak, Part 1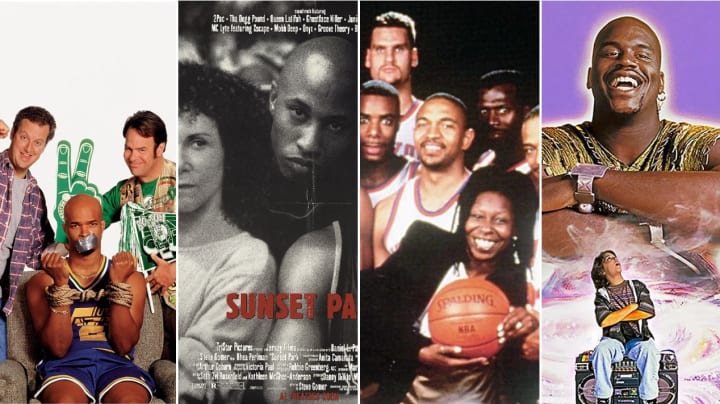 In the year that Michael Jordan and The Chicago Bulls began their second three-year-hold on the NBA Championship, five basketball-related films were released by Hollywood. Four would be about basketball, and two would feature basketball players in the starring roles. (One has already been talked about in this story, so it will only receive a minor mention in this section.)
Of these five releases, just one week would separate the first two. First would come Celtic Pride on 19th April 1996. The film would see Disney jump onto the court once more following 1994's The Air Up There. Celtic Pride starred Daniel Stern and Dan Aykroyd as PE teacher Mike O'Hara and plumber Jimmy Flaherty, two friends united by their love of the Boston Celtics. To help the Celtics win the 1996 NBA Finals, Mike and Jimmy kidnap rival Utah Jazz shooting guard Lewis Scott (Damon Wayans) and hold him hostage until after the final match has been played. Celtic Pride would serve as the second major screenplay credit for Judd Apatow. Apatow would also serve as an executive producer and co-write the film's story with Colin Quinn. Apatow's hard work would not lead to good critical reception, as Celtic Pride would earn a 9% rating on Rotten Tomatoes. The film would also fail to make an impact commercially, grossing just $9.2 million at the U.S. box office. The film opened at #7 in its first week before dropping out of the top 10 a week later.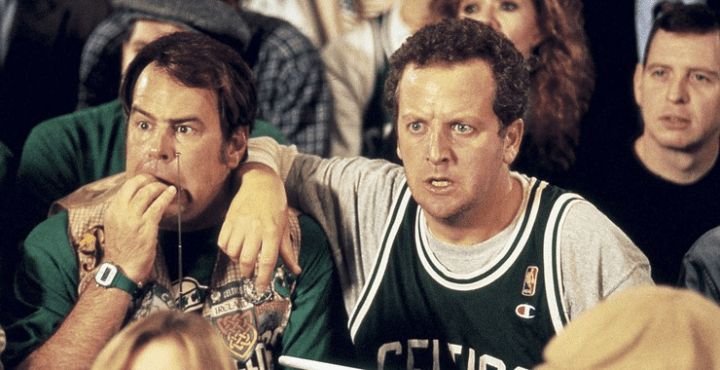 One of the films that would replace Celtic Pride in the box office top 10 would be Sunset Park, a basketball drama starring Rhea Perlman from Cheers. Perlman played a PE teacher, who becomes a high school basketball head coach in the Sunset Park neighbourhood of New York City, despite not knowing a thing about basketball. Sunset Park would fare slightly better than Celtic Pride at the domestic box office. The opened at #3 in its opening weekend, eventually grossing $10.1 million amid a host of negative reviews.
A month after the failure of Celtic Pride, Disney would hope that their second basketball film of the year would fare much better with audiences. If people weren't watching a basketball film starring Dan Aykroyd and Daniel Stern, surely the fans would come out for a basketball film starring Whoopi Goldberg in the lead role? In May 1996, Disney would release the movie Eddie, where limousine driver Edwina 'Eddie' Franklin (Goldberg) becomes the new head coach of the New York Knicks. Despite her appointment initially being met with ridicule, Eddie manages to whip the team into shape, moving them into play-off contention and a make-or-break match with the Charlotte Hornets. That is now two films in consecutive years where the climax of a basketball has involved a match with the Charlotte Hornets. I guess Hollywood had Hornets head coach Allan Bristow on speed-dial during the mid-1990s.
Along with a supporting cast featuring Frank Langella, Dennis Farina and Richard Jenkins, active NBA players Greg Ostertag (Utah Jazz), Dwayne Schintzius (Indiana Pacers) and Rick Fox (Boston Celtics) would play characters in Eddie. Along with Ostertag, Schintzius and Fox, a further 19 NBA players would feature in cameo roles, including future film stars Muggzy Bogues and Dennis Rodman. Eddie would finish in 4th place at the U.S. box office in its opening week and would remain in the top 10 for four weeks afterwards. The film would gross more domestically than Celtic Pride and Sunset Park combined. However, Eddie's box office takings of $31 million against a $30 million budget was only enough to see the film barely break even. The film would receive negative reviews from critics, including an 18% consensus rating on Rotten Tomatoes.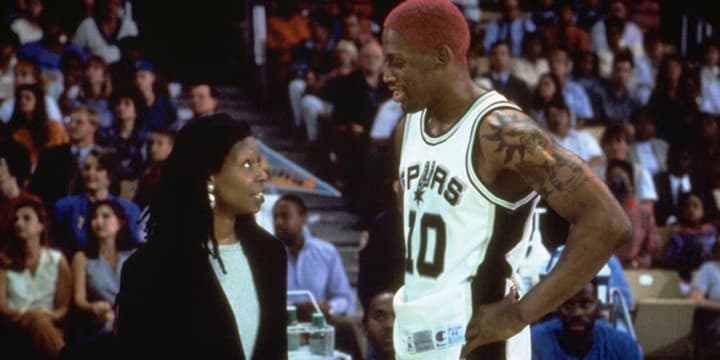 By featuring in Eddie, Greg Ostertag, Rick Fox and Dwayne Schintzius had followed in the path of predecessors Shaquille O'Neal and Penny Hardaway (Blue Chips) in playing fictional basketball players in a film about basketball. However, it was now time for the Orlando Magic center to go one step further. In 1994, Shaq's name had shared top billing on the poster for Blue Chips along with the film's main star Nick Nolte. Now in July 1996, Shaq's name alone would appear on a film's promotional poster. Shaq was about to change the game for basketball players in Hollywood, and he would do it by playing a rapping genie.
Directed by Paul Michael Glaser of The Air Up There fame, Kazaam was released by Touchstone Pictures (a Disney subsidiary) in July 1996. In Kazaam, Shaquille O'Neal played the film's titular character, a 5,000-year-old rapping genie who appears to a 12-year-old boy after being summoned out of a boombox. Since 1994, Shaq had become a more prominent figure in the NBA, having made two All-Star teams and featured in an NBA Finals loss in 1995. However, his fame on the basketball court was not enough to convince people to watch him play a rapping genie for 94 minutes. Kazaam would open at #8 at the U.S. box office, spending just one week in the top 10 before dropping out. Domestically, the film would make $18.9m against a $20m budget, becoming Shaq's second box office bomb in a row.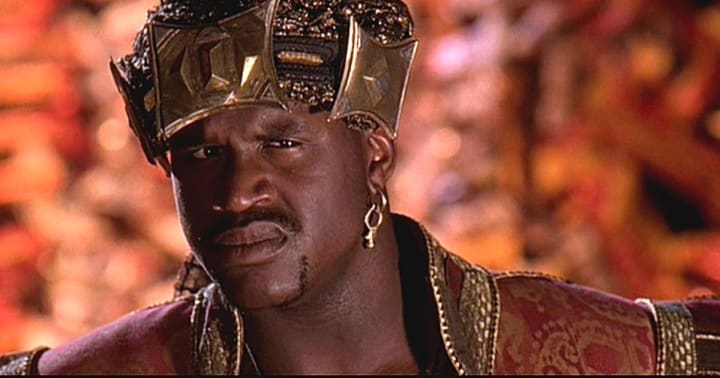 Despite Hollywood's enthusiasm to capitalise on basketball's popularity in 1996, the four major films released that year had grossed a total of $69.2 million (a $17.3 million average per movie) at the U.S. box office. Little did Hollywood know that the next film released involving the sport of basketball would make $90.4 million domestically by itself. In November 1996, it was time for the release of Space Jam, and for basketball's most marketable player to make his cinematic debut.
1997: The Peak, Part 2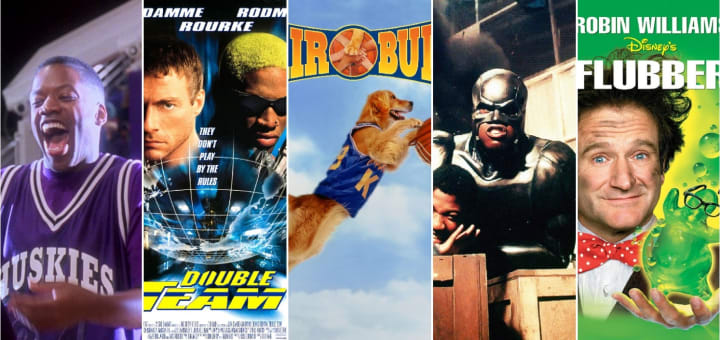 Still riding off the commercial success that was Space Jam (see top of post), Hollywood would be hoping that the next set of films they produced would be able to attain at least a fraction of its success. First to test that theory would be The 6th Man, released by Touchstone Pictures (AKA Disney) in March 1997. The film starred Marlon Wayans and A Different World star Kadeem Hardison as University of Washington basketball players and brothers Kenny and Antoine Taylor. Early in the film, Antoine suffers a heart attack during a game and later dies from it. However, Antoine soon begins to aid Kenny and the team from beyond the grave, helping Washington make the NCAA basketball tournament. From a budget of $11 million, The 6th Man would gross $14 million domestically after opening at #6 at the U.S. box office. The film, like many others on this list, would receive negative reviews from critics, mostly for being cliched and formulaic.
Following the success of Michael Jordan in Space Jam and the 'success' of Shaquille O'Neal in Kazaam, it was now time for another prominent figure in basketball to play a leading role in a major Hollywood movie. In April 1997, Columbia Pictures would release the action-comedy Double Team. The 'Double Team' in question would see the teaming up of Jean-Claude Van Damme with Dennis Rodman of the Chicago Bulls. In Double Team, Rodman would portray a flamboyant weapons dealer who helps Van Damme's counter-terrorism agent save his wife from the clutches of a terrorist played by Mickey Rourke.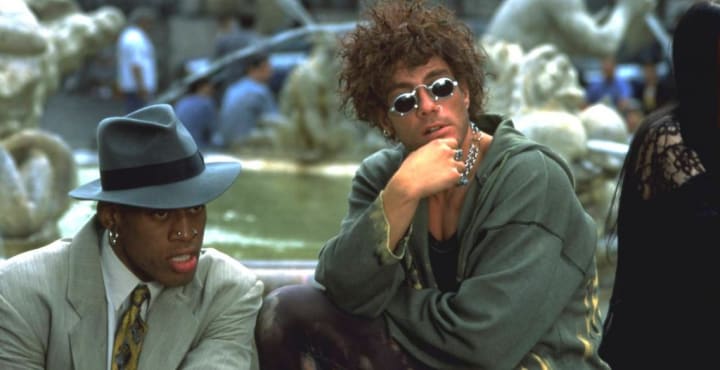 With this role, Rodman was hoping to repeat the success of his Bulls teammate Jordan but instead ended up replicating the failure of Shaquille O'Neal. Domestically, Double Team would gross even less money than Kazaam, opening in 5th place at the U.S. box office and grossing $11.4 million against a $30 million budget. The film would reclaim its production budget, thanks to a $36.7 million international gross for a total worldwide gross of $48.1 million. However, the film is still labelled as a 'box office bomb'. Double Team would see Rodman win three Golden Raspberry Awards for his performance in the movie for Worst Supporting Actor, Worst New Star and Worst Screen Combo (with Van Damme).
Following the failure of the sport's previous summer release, Kazaam, Hollywood would now be hoping that the major basketball film released in the summer of 1997 would (this time) be a success. Once again, Disney would step out onto the court to throw out their latest offering. The result would be Air Bud, the film where the dog plays basketball. In more words, Air Bud tells the story of a golden retriever who is abandoned by his owner, becoming a stray. He is taken home by a 12-year-old boy, who sees that the rechristened Buddy has a knack for basketball. Later in the film, Buddy is brought on to play for the boy's middle school basketball team. Why? No rule states that dogs cannot play basketball. Air Bud was based on the true story of Air Buddy, a dog who had received media attention in the 1990s for his ability to shoot hoops.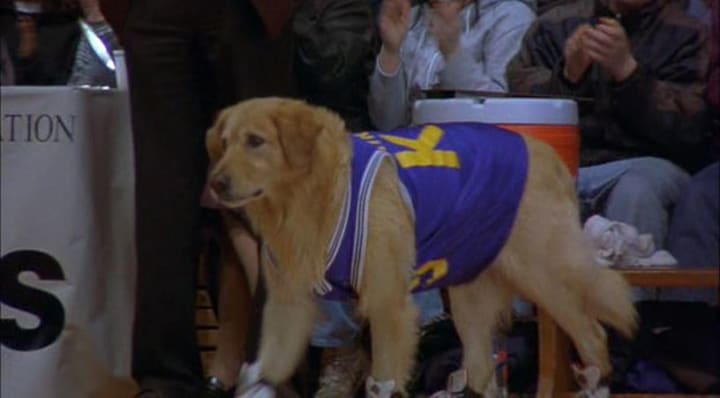 Produced with a budget of $3 million, Air Bud would quickly make this back in its opening weekend, opening at #7 at the U.S. box office with $4.8 million. Helped by its low budget, Air Bud would be a success with a domestic gross of $24.6 million (bettering The 6th Man and Double Team) and a total worldwide gross of $27.7 million. Cue the franchise, spin-off franchise, and spin-off of the spin-off franchise.
Hoping to make up for the failure of Kazaam the year prior, Shaquille O'Neal, now of the L.A. Lakers, was given a second chance at leading a major Hollywood film. For his second leading role, Shaq would move from being a rapping genie to being a DC Comics superhero. Two weeks after the release of Air Bud, Warner Bros. would release the film Steel, based on the comic book of the same name, with Shaq playing the titular role. In Steel, Shaq is John Henry Irons, a weapons designer for the military. After his weapons fall into the wrong hands, Irons resigns from the army and forms his own brand of vigilante justice, complete with a mechanised suit of armour.
Surprisingly, Steel would perform even worse than Kazaam, grossing just $1.7 million at the U.S. box office against a $16 million budget. The film's opening weekend gross of $870,000 was only enough for 16th place in the box office standings, a full six spots lower than the third week gross of Air Bud. Three leading roles for Shaq, three box-office bombs.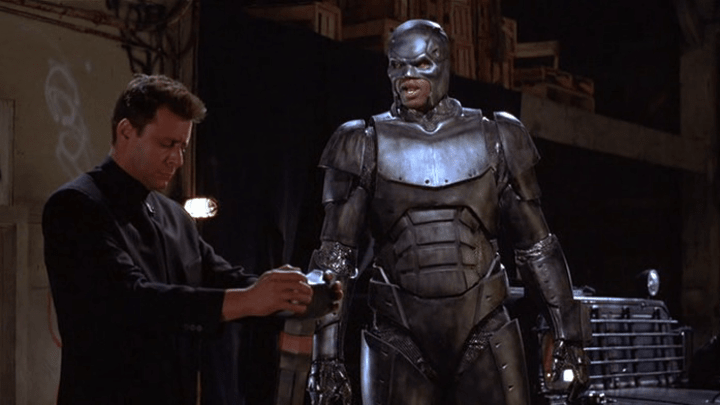 However, the most successful basketball film of 1997 would not be Air Bud or Double Team. It would be the Robin Williams sci-fi comedy Flubber. Of all the events that take place in Flubber, the part of the film that everyone remembers is when Williams's absent-minded Professor Brainard uses the sentient green goo for basketball. After testing the effects of Flubber on a basketball and his shoes, Brainard gives Flubber-padded shoes to the terrible Medfield College basketball team. With the performance-enhancing goo on their feet, Medfield manages to win their match against their opponents Rutland College. The film continues after this, but that isn't important. With a domestic gross of $92.9 million and a worldwide gross of $177 million (from an $80 million budget), Flubber is the second-most successful basketball film of the 1990s after Space Jam.
1998: A Mix of Seriousness and Silliness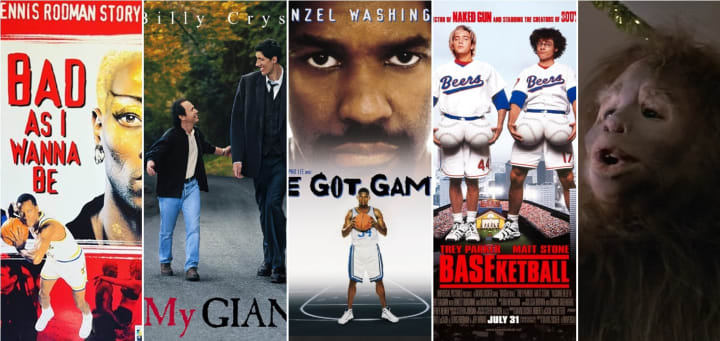 At the beginning of 1998, Dennis Rodman would receive his own biographical made-for-TV movie. On 8th February 1998, ABC would air Bad As I Wanna Be: The Dennis Rodman Story. Based on Rodman's 1996 memoir of the same name, the film tells Rodman's life story from his beginnings in New Jersey to his present days playing for the Chicago Bulls. The TV movie would air opposite CBS's coverage of the Winter Olympics, The X-Files on Fox and a showing of Under Siege 2 on NBC. Bad As I Wanna Be would obtain an 8.8 Nielsen rating and a 13% share of the audience, losing out in its timeslot to the Winter Olympics and Under Siege 2.
After this hard-hitting drama, Hollywood would return to the more comedic side of basketball in April 1998 with My Giant. My Giant would star Billy Crystal (of Forget Paris fame) alongside Gheorghe Muresan of the Washington Wizards. To this day, Muresan is the tallest player to ever play in the NBA, standing at 7ft 7in (2.31m). Similar to Forget Paris, Billy Crystal would act as a producer on My Giant as well as writing the film's story. The film's plot saw Crystal play Hollywood talent agent Sammy Kamin. While in Romania for work, Sammy crashes his car but is pulled from the wreckage by a tall man named Max (played by Muresan). Sammy immediately sees stardom in the young man and takes him back to Hollywood as an actor, leading to much success. Crystal based the character of Max in My Giant on wrestler Andre the Giant, whom he had befriended during the filming of The Princess Bride in 1987.
Despite the film's premise and its eye-catching basketball star, My Giant would fail to capture the public's imagination. After opening at #8 at the U.S. box office, the film would gross just $8 million domestically from a budget of $20 million, becoming a box office bomb.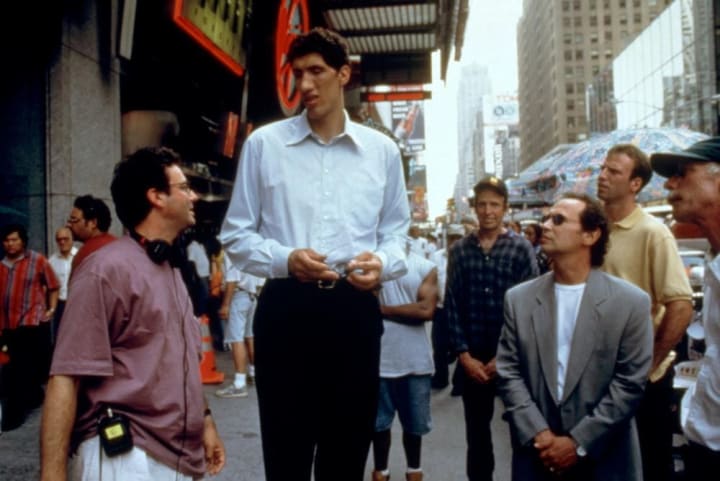 One month after My Giant, a prominent Hollywood director would try his luck at making a successful basketball film that would hopefully succeed with both critics and audiences. In May 1998, the Spike Lee-directed effort He Got Game would be released to the public. He Got Game would reunite Lee with leading man Denzel Washington, following their previous collaborations on Mo' Better Blues (1990) and Malcolm X (1992). In He Got Game, Washington played Jake Shuttlesworth, a man serving time in prison for the murder of his wife six years earlier. Jake's son Jesus is one of the top high school basketball players in the country. The state governor soon gives Jake one-week parole, with the agreement that the state will shorten his sentence if he can convince Jesus to apply for the local 'Big State' college. However, convincing Jesus to go to 'Big State' proves hard for Jake, as many top colleges and the NBA are courting his son.
Unlike the majority of the films previously discussed on this list, He Got Game would receive positive reviews from critics, including an 81% consensus rating on Rotten Tomatoes. Denzel Washington would unsurprisingly receive praise for his performance, but so would the NBA player who played his son. In the movie, 23-year-old Milwaukee Bucks shooting guard Ray Allen would play the role of Jesus Shuttlesworth. Allen would get the part ahead of fellow NBA players Kobe Bryant, Tracy McGrady, Allen Iverson, Stephon Marbury and Kevin Garnett. For his performance, Allen received high praise from Roger Ebert, when he wrote that Allen "is that rarity, an athlete who can act,". However, despite the critical acclaim the film received, He Got Game would not be a success commercially. Despite topping the U.S. box office in its opening week, the film would gross just $21.5 million domestically ($22.1m worldwide), failing to make back its $25 million budget.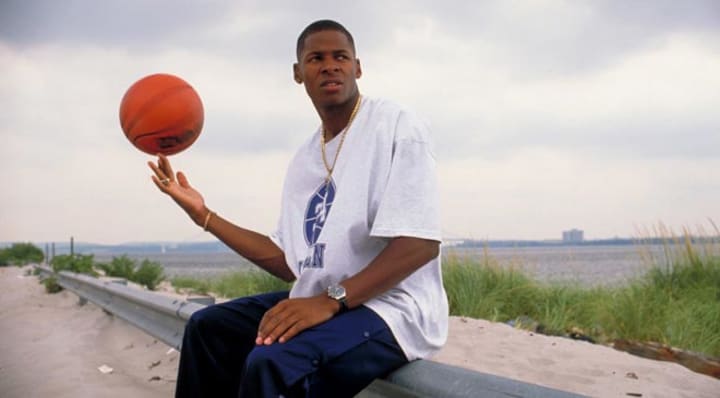 After all that serious subject matter, the release of BASEketball in July 1998 would attempt to bring the comedy back to basketball movies. David Zucker (The Naked Gun, Airplane!) would direct the film and South Park creators Trey Parker and Matt Stone would star. BASEketball tells the story of Joe Cooper and Doug Remer, two slackers who invent the sport of BASEketball to beat more athletic types. The sport soon grows in popularity, forming a national league and earning corporate sponsorship. BASEketball would open at #11 in its opening week and would domestically gross $7 million against a $23 million budget. The film has since received a cult following.
Even though the year 1998 would not end with a major cinematic release about basketball, the year would end with a TV movie about Sasquatch playing basketball. Airing on cable channel Showtime in November 1998, Big and Hairy told the story of Picasso Dewlap, a kid who moves to a new school and joins the basketball team. Despite not making many friends initially, Picasso's luck changes when he, somehow, convinces a Sasquatch to join the team, leading to much success. The film does not hold positive critical reviews.
1999: The Films Dry Up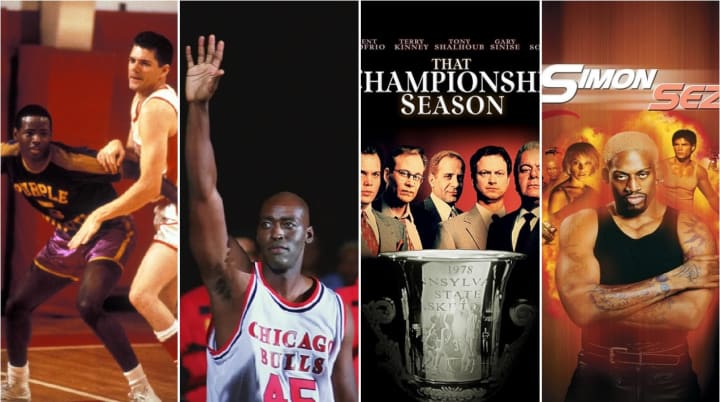 As you may have noticed by now, films involving basketball or its players were not overly successful in the 1990s, despite Hollywood's attempts to capitalise on the sport's popularity. By 1999, the year of a lockout-shortened NBA season and the second retirement of Michael Jordan, the circus had left town.
The first notable basketball film of the year would be shown on TNT in February 1999, two weeks into the new NBA season. In the film Passing Glory, Father Joseph Perry (Andre Braugher), coach of an unbeaten all-black high school basketball team, challenges an unbeaten all-white high school basketball team to a match in 1960s civil-rights era New Orleans. The film is based on the true story of the first integrated basketball game that took place in New Orleans between all-black St. Augustine High School and all-white Jesuit High.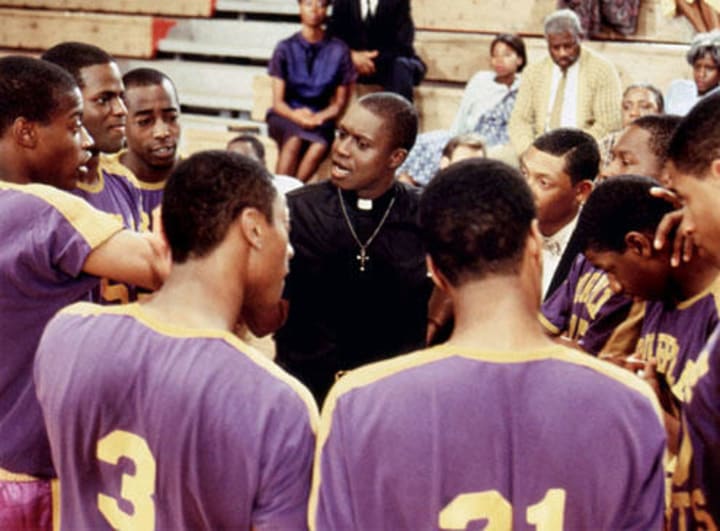 On 13th January 1999, Michael Jordan retired from basketball for the second time at the age of 35. Three months later, his life and career to that point would be the subject of a TV movie. One year earlier, ABC had aired a similar film about his teammate Dennis Rodman in a primetime slot. However, in a sign of the times, Michael Jordan: An American Hero would be produced and aired on the Fox Family Channel (now known as FreeForm). In the film, MJ would be played by Michael Jace, who would later become known for his role as Julian Lowe on The Shield.
In a slow year for basketball films, June would see the airing of another TV movie on cable television. That Championship Season, an adaptation of Jason Miller's 1972 Pulitzer Prize-winning play, would feature a recognisable cast of Gary Sinise, Vincent D'Onofrio, Terry Kinney, Tony Shalhoub and Paul Sorvino. The plot of the film sees four former members of a high school basketball team reunite 20 years after their championship-winning season. However, a light-hearted reunion quickly turns sour as dark secrets about each man's life are revealed, causing the foundation of their friendship group to crumble. The movie would air on Showtime on 6th June 1999 to mixed critical reviews.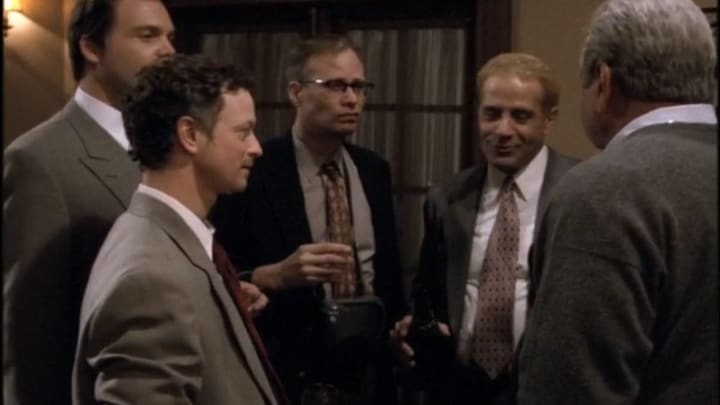 The closest thing to a major cinematic release involving basketball in 1999 would come from 'The Worm' himself, Dennis Rodman. After sharing top billing with Jean-Claude Van Damme in 1997's Double Team, Rodman was now being given the same opportunity as Michael Jordan and Shaquille O'Neal to lead his own film. The result would be the action comedy film Simon Sez released in September 1999. In the movie, Rodman would play an Interpol agent tasked with saving a kidnapped girl and defeating an arms dealer, all while being accompanied by Dane Cook.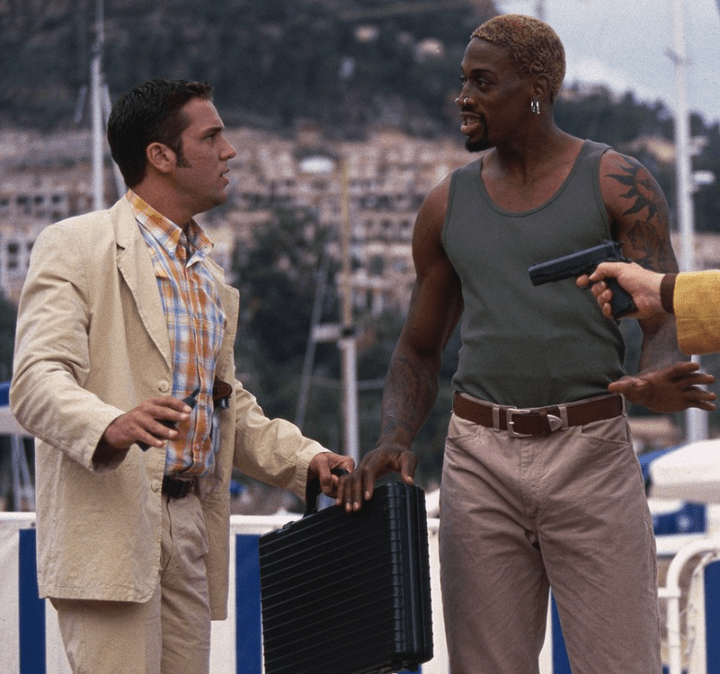 Like Shaq before him, Rodman would go two for two in starring in films that were both critical and commercial disasters. On Rotten Tomatoes, Simon Sez possesses the unenviable score of 0% taken from 20 critic reviews along with a 17% user score. Along with this critical mauling, the film would open at #29 at the U.S. box office in its opening weekend. From a low budget of $10 million, Simon Sez would gross just $292,152 domestically, somehow faring worse than the $1.7 million brought in by Shaquille O'Neal's Steel in 1997. The Worm's career at the top was over, as was basketball's for the time being. Basketball's only major release of 1999 had ended in a whimper. It was a good thing that the next year would produce Love and Basketball, a critical and commercial success.
Conclusion
How can you sum basketball's affair with Hollywood in the 1990s? If you take out White Men Can't Jump, Hoop Dreams and the commercial juggernaut that was Space Jam, the experiment turned out to be a failure. More high-profile basketball films than in any previous decade, and the majority failed critically and failed commercially. Films like Forget Paris and Eddie, that at least managed to make some money, still failed due to the size of each film's production budget. Aside from the three films mentioned at the top of this paragraph, only Air Bud proved to be successful. That is only because Air Bud cost $3 million to make and has since produced a franchise. Other than those four films, basketball was not a subject matter that led to critical and commercial success in the 1990s.
More importantly, except for Space Jam, all the films produced that featured active NBA players in leading roles can all be seen as failures. From Shaquille O'Neal to Dennis Rodman to Gheorghe Muresan, none of these guys managed to get the box office receipts flowing. Of the 21 basketball-related films mentioned in this article that received a major theatrical release between 1990 and 1999, nine managed to gross above $20 million at the U.S. box office, and five grossed above $30 million. Of the nine films that grossed over $20 million at the U.S. box office, only two featured basketball players in leading roles. Those two films were Space Jam ($90.4m) and Blue Chips ($23 million).
Despite Hollywood's best efforts, people were not willing to pay money and watch basketball players acting. From Kazaam to Double Team to Steel to My Giant to Simon Sez, Hollywood could not replicate the player's on-court success on the big screen. The more successful basketball films of this decade were the ones that featured legitimate actors like Woody Harrelson, Wesley Snipes, Billy Crystal, Whoopi Goldberg or a dog named Air Bud. Film audiences in the 1990s were more willing to watch basketball films featuring actors than watch basketball players trying to act.
Therefore, despite Hollywood's best efforts to capitalise on basketball's peak popularity in the 1990s, they ended up scoring four three-pointers, a handful of twos and a whole host of air balls.