Harper Stewart's forehead kiss legacy
"I guess I ain't as authentic as old Harp here"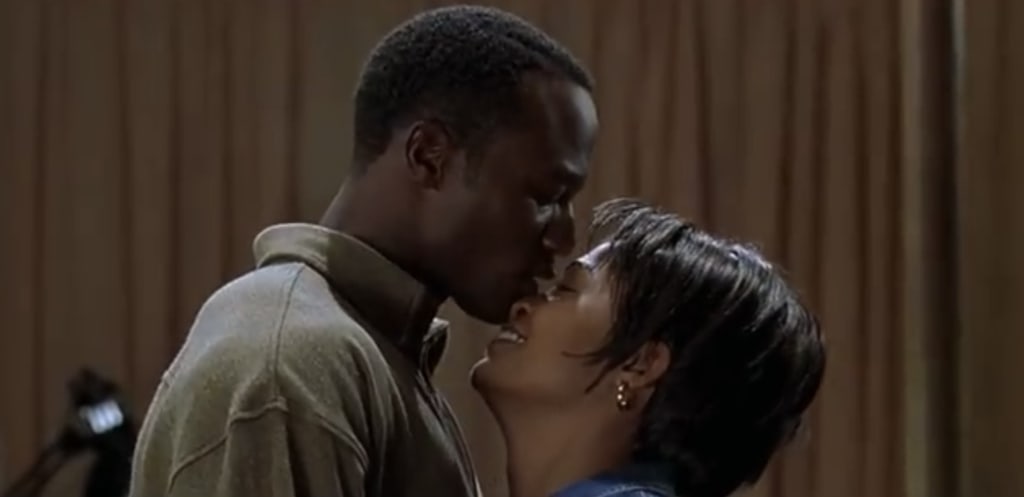 Image credit: Screenshot from Movieclips on YouTube
Taye Diggs played the character Harper Stewart in The Best Man(1999), The Best Man Holiday (2013) and Peacock's The Best Man: The Final Chapters(2022). His character was very… controversial to say the least and it would be covered in another of my upcoming The Best Man articles. However, this article is focusing on Harper's forehead-kissing legacy.
A spoiler warning is in effect! If you like this, you can get more of my articles when you subscribe to my account.
The Best Man marks the start of this as we are informed numerously of forehead kisses being Harper's thing. Despite Robin's(Sanaa Lathan) existence and acknowledgment of being his girlfriend, Harper gave Jordan(Nia Long) forehead kisses as well. She was absent for most of Lance's (Morris Chestnut) and Mia's (Monica Calhoun) wedding preparations. However, the forehead kisses aided in the secret decoding. He kissed Jordan's forehead during their moment in college and as she was uncovering his secret.
After Harper's drawn-out memory is expressed visually, Jordan realizes Harper slept with Mia who is supposed to marry his best friend, Lance soon. Harper had the audacity to write this secret into his book and dedicate it to the couple as well. However, Jordan had the power to get an exclusive book before it's publishing release and fame in Oprah's book club. He included his friends as characters sourcing their lives in college as the content. Jordan expresses that the forehead kiss is a dead giveaway saying, "The forehead kiss! It's endearing, it's…shit! It's damn near erotic! I mean you almost got me with it. It's passionate, it's…". This endearment of a forehead kiss is expressed by Mia as well who summarizes to Jordan that what was shared between herself and Harper was "as sweet and as endearing as a forehead kiss".
We are made known of the effect of his forehead kisses even more as the guys go for their tuxedo fittings. As a beloved and successful athlete, Lance encounters some female fans and his interaction with them leads the guys to discuss women and game. Lance focuses on Harper and his impending success saying women will flock to him because he will be sought after, therefore have no need to put in the effort when his book goes live. Lance shows he's still reading the Unfinished Business book, despite Harper's efforts to discourage him, as he refers to Harper's forehead kiss thing. He says, "Panties gon' drop without coercion, cuddling, caressing or…or kissing them on the forehead to get 'em moist."
Quentin (Terrence Howard) and Julian/Murch (Harold Perrineau) are confused but Lance says, "yeah, you know Harp be kissing the babes on the forehead, man. Panties drop with the quicks". Murch asks if it's true and Harper denies it but Lance said, "yeah…bullshit, nigga. You ain't slick". Quentin, knowing Harper's secret and the impending damage watching it all play out, backs Lance saying, "yeah nigga, you ain't slick.". Harper fully aware of what's happening as well looks at Q as Murch says, "another secret, huh Harper?" referencing his secretive ways and his not telling Murch about his moment with Jordan in college. However, Lance says he gets Harper's forehead kiss thing because, "honey's love that sensitive paternal tender stuff" before saying, "Mia's the same way." Q just loving the drama says, "oh, Mia too, huh?". Q then says he tried it one time but it didn't work for him and also said, "I guess I ain't as authentic as old Harp here" before entering the store.
There's nothing like the original but the forehead kiss attention decreased in The Best Man Holiday. Harper is married to Robin now and they are expecting a child together. They are invited to spend some time during the holidays with the old gang at Lance and Mia's home but realize Mia, Jordan's best friend has cancer.
Jordan is crying because she's always busy and will be losing her best friend. She says she should have known and Mia really tries to talk to her with calls, emails, and texts but feels she's too late. Harper consoles her as he hugs her standing up (therefore her head is on his chest) he says as long as she's still here, she's still on time. This is okay, helpful, supportive and all, but Jordan then says "I love you, Harper" and he responds "Love you too". There is a difference between these two statements, Jordan still loves him and he responded with a friendly "love you".
This is not too bad or crossing any lines yet but, the moment Robin enters the kitchen Harper says "I love you too" and kisses Jordan's forehead which Jordan said was "damn near erotic" in the first movie. He does this twice before looking up and seeing his wife Robin standing by the door. Feeling betrayed, she leaves and he follows her. This causes turmoil in their relationship amongst other things that will be detailed in my articles coming soon.
The Best Man: The Final Chapters series does not stress his forehead kisses, especially as he was absent a lot on book tours and supervising the Unfinished Business book adaptation. Also, Jordan had a suitor and then a boyfriend for a large part of the series while he and Robin were at odds severally as well.
If you enjoyed this, for more of my articles:
About the Creator
I write on various things: social issues, well-being, cinema and out of curiosity. For contact and all other things, click this. Inactive.
Reader insights
Be the first to share your insights about this piece.
Add your insights