'Hamlet'
Shakespeare in the Parking Lot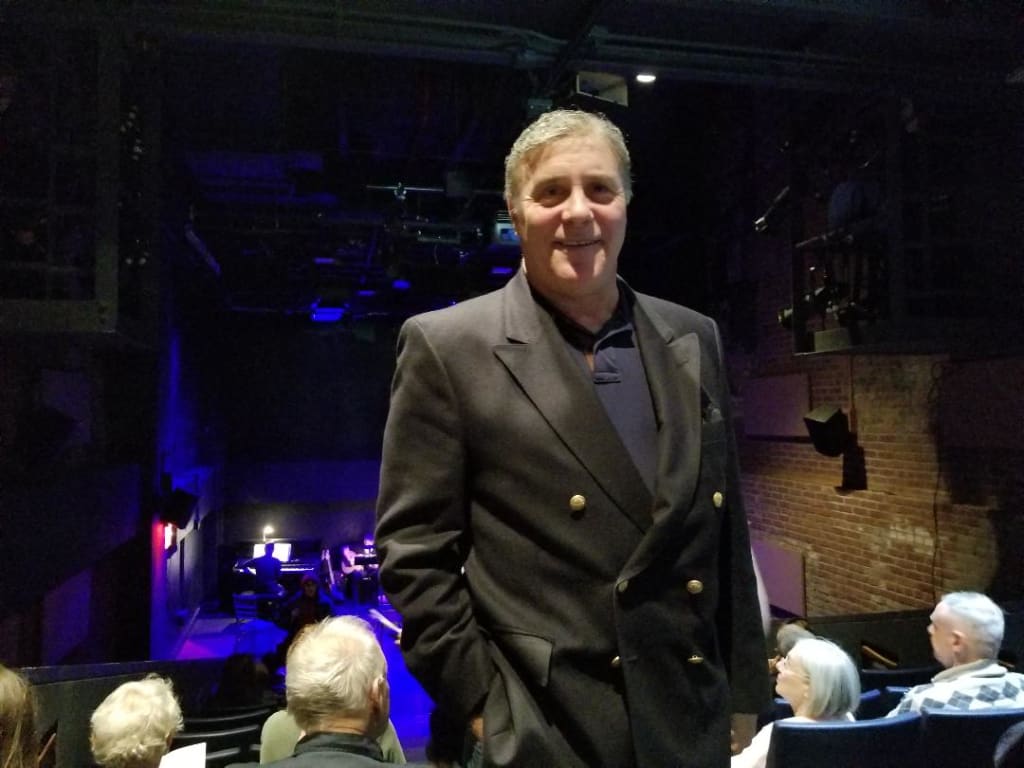 Shakespeare in the Parking Lot, or SITPL as it is referred to, has been performing behind the Climente Theater since 1995. The Drilling Company is now the sole producer of SITPL. When it first started under Jennifer Spahr, she was the sole director and producer of the productions. Soon after her retirement, the Ludlow 10 began to produce Shakespeare and in 200 the Drilling Company co produced with the Ludlow 10. In 2005, The Drilling Company was the sole producer of what we see today in the "Parking Lot." In its 24th year, we find Director Karla Hendrick putting on Hamlet, and with a big twist. For the first time, Hamlet is played by a women (Jane Bradly), who I saw last fall in Gabriel-A Polemic. Bradly was quite good in this role; her facial expressions and timing made the show fun.
We all know Hamlet, so I will not bore you with what the story is about. I will tell you the twists that come with this performance. I told you Hamlet was a women, but so are Rosencrantz and Guildenstern. Polonius becomes Polonia, a mother. Hamlet's relationship with Ophelia becomes a lesbian love affair.
Having a women adds many facets. The show is cut down to two hours to show time spinning out of control. Hamlet against Loertes is brains vs brawn. We ask ourselves watching Bradly, is Denmark maybe better off with a female leader? Bradly makes us think so. The other thing about this different cast is that it challenges us to see the play differently. Great direction enables this. Hendrick had Hamlet making quick, rational decisions that needed a reasonable person as well as a rational one. It is thinking and a performance like this that leaves little wonderment as to why Shakespeare in the Parking Lot is now seen in many different states around the country as well as many different countries. SITPL can be seen as far as New Zealand and it is New York City at the forefront today changing the general mechanics of the great William Shakespeare. What I thought would not work well, worked perfectly well. The actors in a tight space with a very economical set were effective in their roles as well as very focused in line and delivery.
Some of the notable roles were aside from Ms. Bradly: Bob Acaro as Clarduis, The Uncle. His confidence and his role were well done. Many do not realize as Clarduis goes in Hamlet, so goes the play. Hamlet is my favorite play by Shakespeare; I have seen it many times, if The Uncle is not believable and commanding, the play will not be successful. Adam Huff is another worth mentioning, he was commanding in his role as well. Understated, but very effective when on stage, he is one of the many standouts in this play.
The costumes were also different and why not; if we are going to mix up roles, why not costumes? The King's spirit was dressed in a hospital gown and a well worn rain coat, shades and sandals. Mother was dressed elegantly and acted and spoke as such. Although most of the cast were dressed down, the costuming was also well done. The whole performance was enjoyable and I encourage everyone to get down to the East Village and enjoy it. It is free and no one will be turned away, not even the one year olds who were in the audience!
Hamlet will play for another week. After that, As You Like It will play at The Clemente Parking Lot. The Drilling Company will be putting on other productions until the end of August, then will go inside to their Fall to Spring location at North of History located on Columbus Ave and 81st street. The Drilling Company will put on two shows this season which have not been named yet. The production company usually puts forth shows that are thought-provoking and present an argument or a case point to their various productions.
The Drilling Company is also the exclusive producer for Shakespeare in Bryant Park. Like The Parking Lot, Bryant Park is also free and on a first come first serve basis and performances are also during the summer months.
review
About the author
I have been writing on theater since 1982. A graduate from Manhattan College B.S. A member of Alpha Sigma Lambda, which recognizes excellence in both English and Science. I have produced 12 shows on and off Broadway. I've seen over700 shows
Reader insights
Be the first to share your insights about this piece.
Add your insights