Halloween in Vintage Hollywood
10 Actresses from the Golden Age of film all dressed up for trick or treat.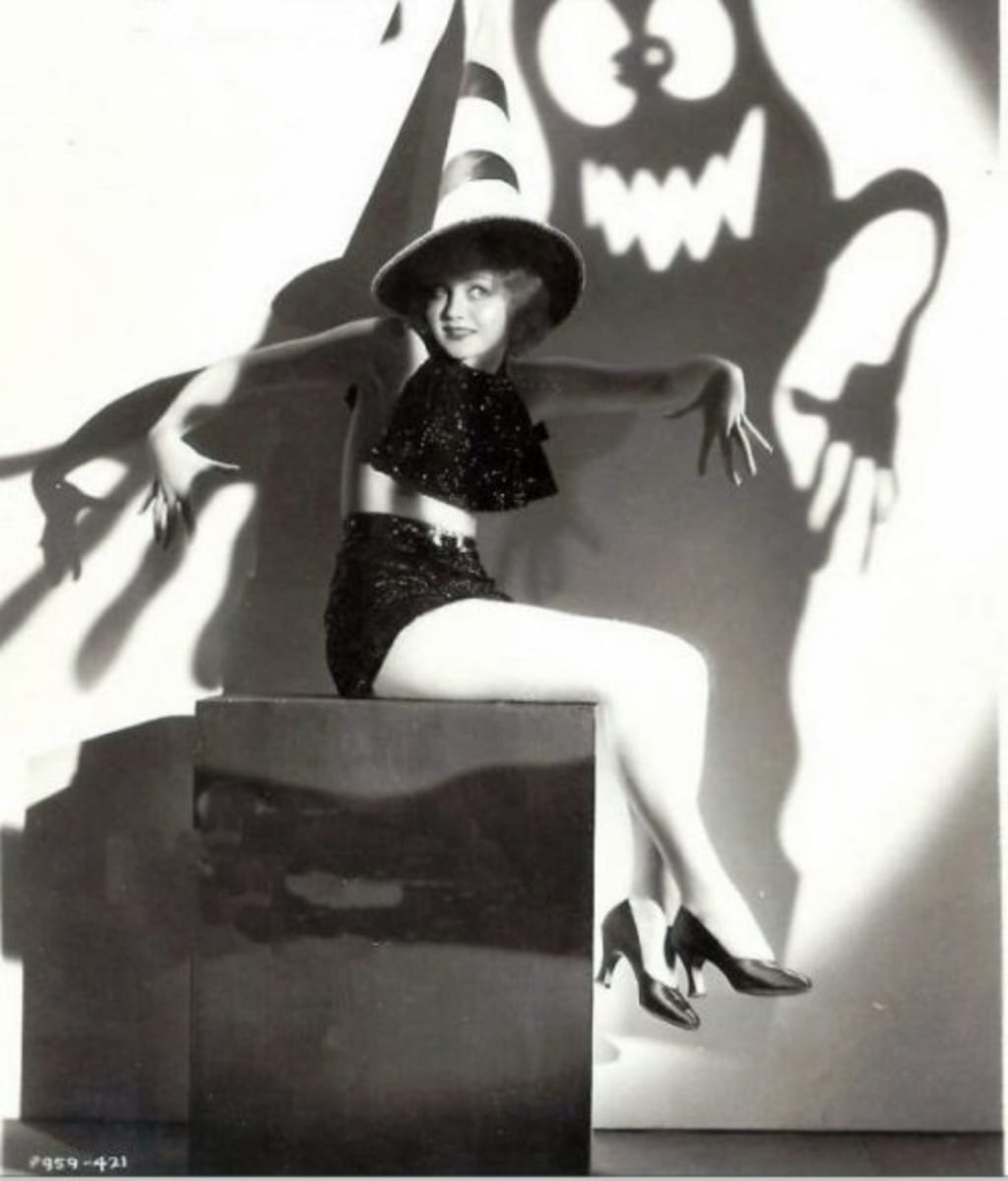 Nancy Carroll
The Star: Clara Bow (1905-1965)
How you're most likely to know her: Clara was literally the first "It Girl" in Hollywood-- she gain the title from starting in a movie simply titled It (1927). Her name is more likely to ring a bell though because a cartoon character with a play on her name is still appearing today. While it's not attributed to Clara Bow, when Disney created a anthropomorphic cow in 1928, they named her Clarabelle, which doesn't feel like a coincidence.
The Star: Esther Ralston (1902-1994)
How you're most likely to know her: From her most prominent sound picture, To the Last Man (1933). I'm just kidding, you've never heard of that. I mostly wanted to mention Esther because Clara Bow also posed with that exact same pumpkin prop:
The Star: Peggy Ryan (1924-2004)
How you're most likely to know her: Peggy was most famous in the 1940's when she appeared in numerous musicals. The thing modern audiences are most likely to have heard of that she was in was the show Hawaii Five-O (1968), where she had a small recurring part as the Governor of Hawaii's secretary.
The Star: Nancy Carroll (1903-1965)
How you're most likely to know her: She was in the original The Wolf of Wall Street (1929). More importantly note: that is the same pumpkin that was in the first Clara Bow picture. Man, old timey Hollywood did not splurge, everyone had to take turns posing with the same crappy props. In fact Nancy apparently did multiple shoots with this pumpkin:
The Star: Judy Garland (1922 -1969)
How you're most likely to know her: As Dorothy in The Wizard of Oz (1939) and generally for being a camp icon. I never really knew why she was camp icon, but now upon seeing this picture I think I get it.
The Star: Veronica Lake (1922-1973)
How you're most likely to know her: Veronica's most remembered film today is Sullivan's Travels (1941). You've never heard of that film, but wait, there's more. Sullivan's Travels is about a pompous director that wants to make a gritty film about real Americans. The name of the film he wants to make is titled O Brother, Where Art Thou? --which is where the Coen brothers got the name for their year 2000 film.
When Lake showed up for the first day of filming Sullivan, it was reveled that she was six months pregnant, infuriating the director. Yet they still used her in the film, they just tried to hide her belly (It's pretty noticeable). Wouldn't it have been amazing if they just rolled with it and had her play the sexy love interest who happened to also be pregnant?
The Star: Betty Grable (1916-1973)
How you're most likely to know her: From How to Marry a Millionaire (1953) or from having the greatest legs in the world. Seriously, hosiery specialists of the era often noted the ideal proportions of Grable's legs and her legs were insured by her studio for $1 million.
The Star: Theda Bara (1885 1955)
How you're most likely to know her: You've almost certainly never seen a Theda Bara movie since she only appeared in silent movies and most of them were destroyed in a fire. Yet you're still probably familiar with Bara's influence; she was the first Hollywood "Vamp." She was built up as exotic, mysterious and dangerous. In retrospect this was pretty hilarious considering she was a white girl from Cincinnati.
The Star: Mary Pickford (1892-1979)
How you're most likely to know her: Pickford was huge in her day, dubbed "The Queen of Movies." She was kind of the opposite of Theda Bara as she would be the first Hollywood "Ingénue" meaning a young woman who is endearingly innocent. Though the reason you would have most likely have seen her today is that time she wore a tuxedo.
The Star: Yvonne De Carlo (1922-2007)
How you're most likely to know her: This image is from her days a film star, but she's mostly remembered nowadays for her later turn as a vampire mother on the TV series The Munsters.
celebrities
Viscount of Hyrkania and private cartographer to the house of Beifong.
Receive stories by Buck Hardcastle in

your feed