Marvel Superheroes
Halle Berry Was Right Choice to Play Storm in 'X-Men' Movies
But 18 years after she was cast as the beloved Marvel Comics superhero, some people are still complaining
Dear traumatized-former-Saturday-morning-X-Men-cartoon-watchers-of-the-1990s, puh-leeze feel free to get over your not ruined childhoods already.
Yes, Halle Berry (the award-winning actress) played Storm in Fox's X-Men film franchise instead of Angela Bassett, the other talented actress whose name was mentioned frequently back in the day—and ever since—in relation to the role of this comic book heroine. But how can y'all still be bemoaning this?
Seriously. Make like the words of that Disney Princess theme song: Let it go. Let it gooooo! And heaven forbid you ever have to let go of something especially near-n-dear, like a comic book collection. Or a stockpile of intentionally unopened action figures.
So the Storm thing didn't pan out the way you'd hoped. But it isn't as though were talking about something major like, say, the 2008, 2012, or 2016 elections––where folks had difficulties accepting the candidates (highly qualified or otherwise) who were cast in the real life role of the president of the United States.
Halle's role was one of eleven ensemble players in a series of superhero movies. How can you all still be bemoaning this?
At least with Halle's casting in the original film—sandwiched between a TV movie she starred in 1999 that garnered best actress awards in 2000, and then a theatrical film that resulted in another trophy two years later (see: Monster's Ball)—she got the kind of career boost that called for an expanded screen presence for Stormy in the 2003 sequel, X2: X-Men United.
Our beloved Angela Bassett had no such leveling up working in her favor.
In fact, Bassett's talents would have been even more sorely underused in a film focused mainly on Wolverine, Wolverine's amnesia, Wolverine's love triangle with Jean and Cyclops, Wolverine's lesser love triangle with Rogue and Bobby, Rogue's origin, and Xavier and Magneto's philosophical tug of war over the place of mutants in society. But there's also a more obvious reason why Halle was the studio's best choice to play Storm in this film franchise.
Halle Berry Was Younger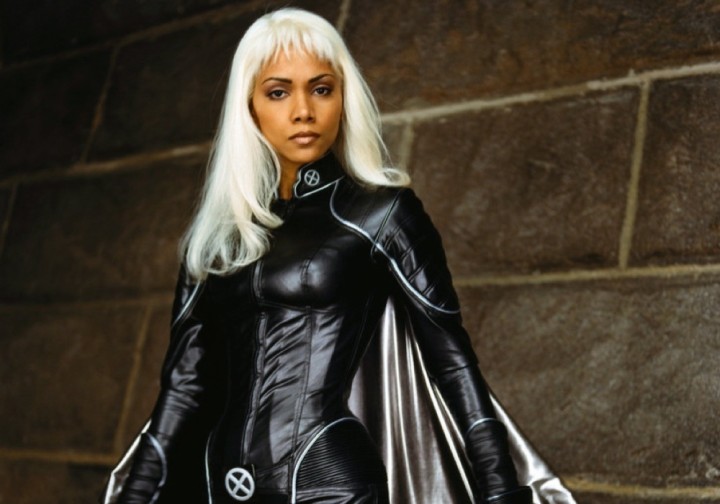 While it's true that "age ain't nothing but a number" in some areas of the dating world, and in a 90s jam by the late Aaliyah, it's something else entirely in Hollywood. At least when it comes to women: it's a very nasty reality.
Halle is eight years younger than Bassett, and when the first X-Men film was released in 2000, Bassett was 42. This means that she was older than every other major player in the cast except for Patrick Stewart and Ian McKellan.
And although Bassett's age at the time the first film came out wouldn't have been a tremendous issue, how about fourteen years later, when X-Men: Days of Future Past was released? At that time in 2014, Bassett was 56 and Halle was 48—just six years older than Bassett would have been if she'd been originally cast as Storm.
With the exception of Jackie Chan and Jet Li, how many actors can you name who were running around on film sets, and flying through the air doing wire stunts while in their fifties? Okay, sure, Sammo Hung. But how about somebody who isn't an actual action film star?
Bassett certainly had what it took once to be an action film star if she'd wanted (see: Strange Days), and if old-fashioned patriarchy wasn't the lay of the land. But she wasn't, maybe also due to the fact that she wasn't the best age to play a character like Storm in the X-Men franchise.
But there's still yet another reason why Halle may have been the better pick.
Halle Berry Was Bigger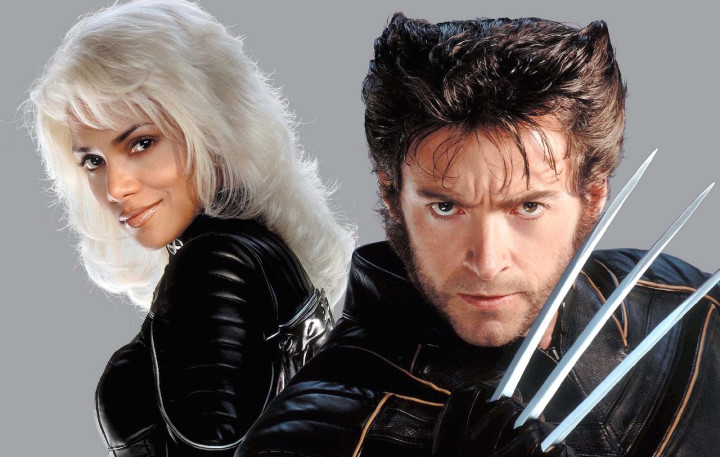 When production on X-Men began in the late 1990s, Halle Berry was a bigger star than Angela Bassett. We often define stardom now by terms like "social capital," but back in the day, it was called "star power." And what it all boiled down to was the power of actors and actresses to motivate audiences to head out to the movie theater. So if you were hot, you were hot, and if you weren't hot, then you were much less likely to be cast as Storm in an X-Men movie.
And by hot, I do not mean looks. Angela Bassett is still one of the most gorgeous women in Hollywood. But Halle was hotter in that she was much more visible. In the years after her major debut in Spike Lee's Jungle Fever (1991), she rocked the screen in The Flintstones (1994), graced the cover of People Magazine's "most beautiful" issue, appeared in print and TV ads for Covergirl and Revlon, and starred in several movies, including a James Bond flick.
Circling back to 2000, when the first X-Men film was released, Berry won five best actress awards, including an Emmy, a Screen Actor's Guild Award, and a Golden Globe for her lead role in 1999's Introducing Dorothy Dandridge. Two years later, she won an Oscar. It was this multi-hit combo that eventually led to an expanded screen presence for Storm, as Halle was a bigger star than nearly every one of her cast mates. But she had something else, too.
Halle Had 'Berry' Valuable Assets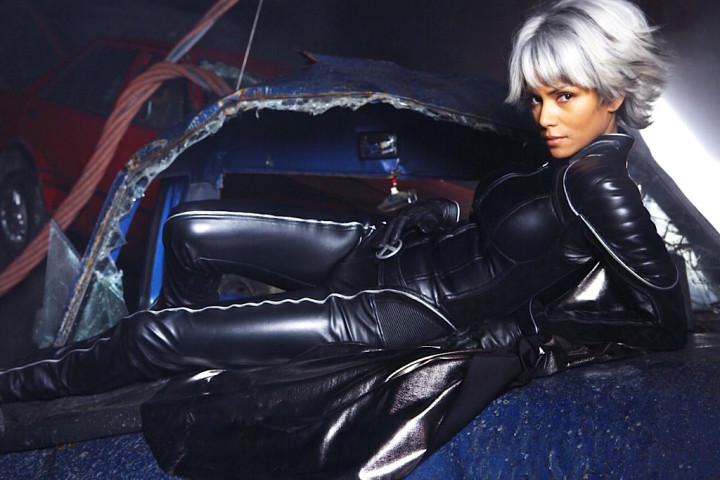 How many actors can say they were paid crazy C.R.E.A.M. to appear topless on screen? One: Halle Berry, for her role in the 2001 film Swordfish (co-starring John Travola, Don Cheadle, and fellow X-Men actor Hugh Jackman). On top of her two-million dollar paycheck, Halle allegedly got a half-a-million-dollar bonus to show her lovely lady lumps. Why? Um, because somebody thought lusty human beings would pay the price of theater admission to see?
No, fans of actors like John Travolta, Don Cheadle, Hugh Jackman (and Halle Berry––naturally), would have already been easily enticed to see an uber cool heist thriller like Swordfish. But the bonus blessing of seeing Halle in teeny-tiny black lace underwear in one pulse-pounding scene, and then just as Mother Nature intended in another? That was like having sweet caramel sauce drizzled on top of your hot buttered popcorn: Berry, Berry delicious.
Of course, in the X-Men movies her svelte but curvaceous physique was often covered in a semi-form fitting superhero uniform. But even when it was wrapped in shiny black leather, it still helped to make up part of the complete and "perfectly flawed" Halle Berry package––which leads us to maybe one more reason why the actress was the right choice for Storm.
Halle's The Stuff That Comic Book Characters Are Made Of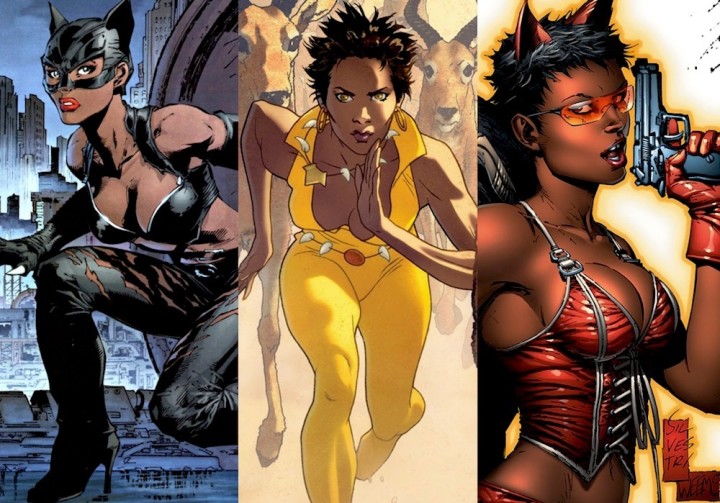 A lesser known aspect of Halle's significance in pop culture is the impact that her image has had on the aesthetics of comics themselves. Not only has her likeness appeared in Marvel's comic book adaptations of the X-Men movies and in DC's adaptation of the 2004 film Catwoman (a beautiful mess, yes). Halle has been the physical template for the look of two other characters.
The DC Comics superhero Vixen, created by artist Gerry Conway and writer Bob Oksner, made her first appearance in Action Comics #521 (July 1981). Back then she had two different styles, one of which featured long hair and another that was somewhat feral-looking, akin to Wolverine or Timberwolf from Legion of Super-Heroes, but with braids added. After Halle's meteoric rise across the pop culture sphere, Vixen's visage was given a Halle Berry remix.
The other character modeled after Halle comes from the Top Cow comic book Wanted. The 2008 film of the same name was loosely based on this miniseries by writer Mark Millar and artist J.G. Jones. The story centers around super-villains and super-powered assassins, like the book's secondary protagonist Fox. Actress Angelina Jolie played Fox in the film, but on the comics page, Fox is a Halle Berry clone dressed in skimpy gear and cosplay ears.
Despite her many detractors, Halle has no shortage at all of fans that have loved her subdued portrayal of Storm. With the box office success of Marvel's 2018 film Black Panther, many in the nerdiverse are already calling for her to reprise the role in the BP sequel; in the comics, Storm and T'Challa were young sweethearts, and were also married for a time. And even with the age difference between Halle Berry (52) and Chadwick Boseman (40), it could still actually work.
In a fantastic flashback sequence in Captain America: Civil War (2016), with the help of a CG composite, the 50-year-old Robert Downey Jr. looked like a twenty-something college kid. That digital age regression for Tony Stark was seamless, and the same could be done if Marvel wanted Halle to appear in the Black Panther sequel as Storm. (The X-Men film rights currently in the process of reverting back to Marvel from Fox also makes this all even more possible.)
Okay, and for those diehard Angela Bassett fans who still can't let it go: Yes, technically, the same digital wizardry mentioned above could also work for her. But it wouldn't exactly be an option now, seeing as how Bassett has already taken on the role of T'Challa's mother, Queen Ramonda.
That, true believers, might be the ultimate mic drop on why Halle was the right choice to play Storm.
Shazam.