Guillermo del Toro's Pinocchio Examines What It Means To Be Real in a Fascist World
"Pinocchio," Guillermo del Toro (2022)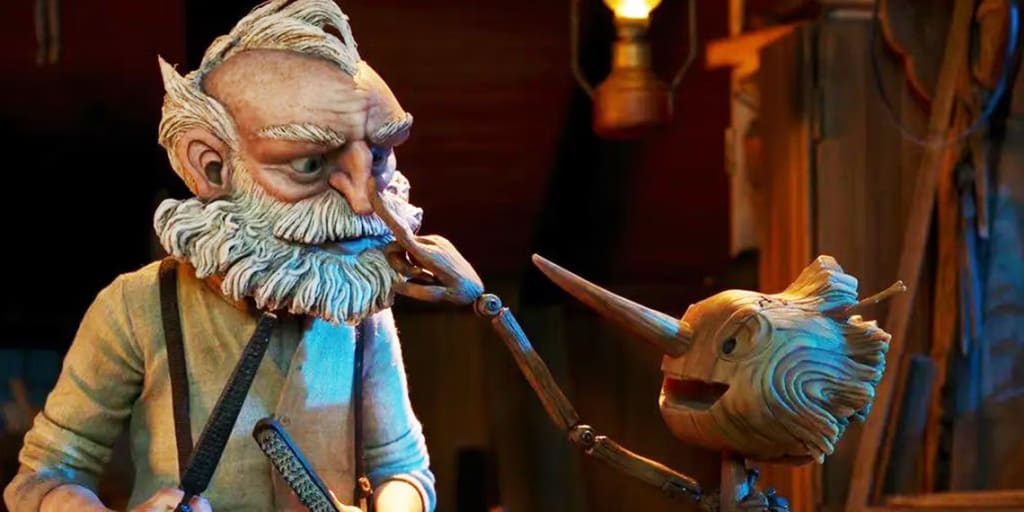 A still from Guillermo del Toro's Pinocchio of Pinocchio touching Gepetto's nose.
There's no way to talk about the utter significance of Guillermo del Toro's Pinocchio without first addressing the legacy of its hallowed predecessor.
A fairy tale is like a puppet: it is brought to life by those who control it. When Walt Disney Studios began releasing full-length animated films in 1937, Fascism had a strong grip on huge swaths of Europe. With the December 21 release of Snow White and the Seven Dwarves, World War II loomed from just under two years away. Disney's second feature film, Pinocchio, released in February of 1940, predated Pearl Harbor by a year and half. From the perspective of having been on the winning side of the war with common cause among the other Allied Powers, the conflict has become something of a moral fable of its own. At the time, however, it was not a foregone conclusion that America would be on the side against Fascism and National Socialism, as both forces had their share of sympathizers and supporters ranging from those bearing Old-World ethnic pride to some of the most powerful titans of industry. Among those sympathetic titans of industry was Walt Disney himself.
Like all moral fables, Walt Disney's Pinocchio finds itself tied down, controlled, and animated by a lot of hidden strings. It is a timeless classic to be sure, arguably one of the greatest animated films ever made. It boasts dramatic achievements in technical and storytelling craftsmanship, remaining one of the most culturally enduring stories of the last century. We remember it in large part because of its powerful emphasis on tried-and-true, salt-of-the-earth virtues - on being "brave, truthful, and unselfish." One of its most famous characters is a literal representation of the abstract concept of "conscience!" Morality in itself, though, is not a politically innocent force. The signs and signals of good morality can be found in some of the most immoral systems ever to have existed on this earth. Fascism and National Socialism tapped into deep sentiments of exactly the kind of morality upheld by Disney's little wooden puppet. In the end, what saves Disney's Pinocchio from the unforgivable is that this morality, in as much as it is not anti-Fascist, is likewise neither pro-Fascist.
At least, that depends on the viewer, and therein lies the trouble. We live in an age where the moral obviousness of the evil of Fascism has given way to an atavistic authoritarian, anti-democratic impulse. In that light, a fairy tale emphasizing such virtues as obedience and unselfishness starts to feel perilous. What is an audience to make of the morality that lies within the Venn diagram overlap between American middle class sensibility and Fascist indoctrination? How do our art and our stories speak to the moral precariousness of living in a time when we cannot assume as innocent what it once meant to be "real?"
Guillermo del Toro's adaptation does not fit into the traditional moral fabled-ness of its predecessor. The character most alike to the Pinocchio of 1940 is Geppetto's (David Bradley) deceased son, Carlo (Alfie Tempest), a spirited, delightful boy who commands the old man's affection. Carlo is completely loyal to his father, always obedient, aspiring to follow in Geppetto's footsteps as a woodcarver himself. He marvels at war planes flying overhead and at pinecones with all their scales. He assists his father in carving and constructing a large, exquisite crucifix for the town's church. In the film's inaugural tragedy, Carlo dies while staring into the face of the crucified Christ as a bomb falls on the church where he stands. Pinocchio, on the other hand, visually resembles less the idealized boy of the Disney film, and more, well, a creature from a Guillermo del Toro film. Like an ancient creation myth, he is born of a drunken, maniacal grief, with none of the great care that Geppetto usually takes in his work. His very appearance, grotesque and rough, startles the town locals. He is energetic, intractable, and obstinate, prone to tantrums and querulousness. In the way of real children, he takes an active interest in everything around him, seeking to know his environment as intimately as possible. He inquires about a hammer, a cuckoo clock, and, wearing it as a hat, a chamber pot. Geppetto's annoyance and frustration is palpable. Pinocchio becomes a concern in the eyes of the town's local Podesta (Ron Perlman), or magistrate of the Fascist Party, who seeks to control the boy so as to make of him an ultimate warrior. The predecessor seeks to be real - del Toro's Pinocchio seeks not to be a burden. This Pinocchio, if anything, is too real.
Pinocchio best expresses his moral insecurity in an exchange as he accompanies Geppetto to the church to repair the crucifix. "He's made of wood too. Why do they like him, and not me?" Pinocchio struggles to understand who and what he is. Pinocchio knows he's not Carlo, and he never will be. This adaptation knows it's not a traditional moral fable, and it doesn't want to be. At heart is an exploration of the different accounts of realness that vie for Pinocchio's allegiance. The Blue Fairy (Tilda Swinton), in one of the many scenes where Pinocchio dies and enters a mysterious underworld populated by grim, black rabbits (Tim Blake Nelson) who bear the coffins of the dead, explains that he will never be a real boy, as human life is made precious and meaningful - and therefore real - by death. Geppetto sees Carlo as real. The Podesta sees unyielding, self-sacrificing obedience to the state as a good soldier as real. Count Volpe (Christoph Waltz), the carnival owner who seeks to exploit Pinocchio as a performer, instead of worrying about what's real, asks, "Why be real, when you can be famous?"
Nonetheless, Pinocchio finds himself singing and performing a piece of nationalist dreck as Volpe reveals himself to be a Fascist supporter who revels in the opportunity to have Mussolini himself (Tom Kenny) in the audience. He lashes out violently against his monkey assistant Spazzatura (Cate Blanchett) (Spazzatura being, literally, the Italian word for "garbage") and, in turn, Pinocchio. Pinocchio retaliates by subverting "Italia We Are Strong" during his performance for Mussolini to a song about Mussolini eating his own shit. Pinocchio is shot, and he returns to the underworld, and when he comes back, he's greeted by the Podesta in the back of a truck full of boys on their way to a Fascist youth training camp. As they lie in adjacent beds that night, he comforts the Podesta's son, Candlewick (Finn Wolfhard), with the same words that Sebastian J. Cricket (Ewan McGregor) said to Pinocchio to console him after Geppetto called him a burden:
You know all fathers love their sons, but sometimes fathers feel despair like everyone else, and they say things they only think they mean in the moment. But with time, they learn they never really meant it at all. And they may even call you ugly things like burden or coward, but inside, they love you.
Even this consolation proves too simplistic. As it turns out, Fascism's zero-sum, warmongering worldview has made the Podesta incapable of love. Volpe's opportunistic nihilism and the Podesta's authoritarian viciousness illustrate the same thing: there is no "inside" within the twisted soul of Fascism. Everything of human value requires an interiority that Fascism denies. Fascism glorifies dying for the Fatherland - Pinocchio, in contrast, gives up his immortality to die for his Father. The decision to die for love, rather than duty, makes him real. What connects him to the wooden crucifix he contemplates earlier in the film, besides the wood itself, is that the crucifix signifies exactly the interiority that constitutes love and makes one real.
Del Toro is not offering a Christian apologetics. He offers a subversion. In the real world, Fascism takes up the crucifix as a tool for its own work. Pinocchio's first experience as an outcast was within the church, where the Podesta stood shoulder to shoulder with the Priest, who was among the first to hurl accusations of sorcery and witchcraft toward Geppetto and his puppet. During their final confrontation, Volpe affixes Pinocchio, quite literally, to a wooden cross. This is perhaps what makes Disney's 2022 remake feel so bloodless. The live-action adaptation never once explores in any depth what it means to be real, nor does it question its straightforward morality, even in light of 82 years of history and its founder's own troubled record on matters of deep morality. That remake ends on an empty "maybe he became real and maybe he didn't" note that rings, not only hollow, but deeply cynical.
It's the theme of love, not religion, that del Toro drives into the heart: the acceptance of loss, the embrace of one's own eventual end, and the unbearable preciousness of a finite human life. As a counter to every archetypal monomyth ever made, to love your human father, you have to reject the mythical Father.
And the Fatherland.
About the Creator
A recent transplant to Seattle from Texas, Julien is a longtime writer and poet whose interests span film, food, philosophy, and the things that make us go "huh?"
Reader insights
Outstanding
Excellent work. Looking forward to reading more!
Top insights
Heartfelt and relatable

The story invoked strong personal emotions

Easy to read and follow

Well-structured & engaging content

Expert insights and opinions

Arguments were carefully researched and presented
Eye opening

Niche topic & fresh perspectives

On-point and relevant

Writing reflected the title & theme
Add your insights